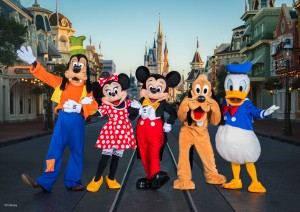 And we are back from our six night, seven day Disney vacation.  If you follow along on Instagram, then you have seen some of the fun and food (yes, there was LOTS of food) we had on this trip.  The last time we went to Disney, our kids were 3 and 5.  My son doesn't remember anything from his first trip, except for what he sees in the scrapbook that I made of the vacation.  We were really excited for this trip because he's now seven and we could all ride the roller coasters together.
We ended up leaving on Wednesday night at 10 PM and driving straight through the night.  The goal was for us to get past Washington D.C. before morning rush hour.  We actually made it to North Carolina by 7:30 AM, where the Weekend Chef took a little detour to get some Krispy Kreme doughnuts and of course….coffee!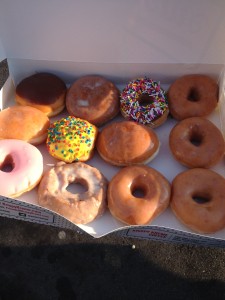 We had hotel reservations in Savannah Georgia and made it there by 2:00 PM with lots of bathroom and stretch breaks along the way.   We ate at our first Waffle House and then went to the hotel and crashed for several hours.  We woke up, watched some television and by 10 PM we were all asleep again.  We were exhausted!  We woke up around 6:30 the next morning, had breakfast at the hotel and then left for Disney.  We arrived at Disney Pop Century hotel around 1 PM and were able to get into our room early.
We unpacked and then headed to the pool.  We decided not to do a park the first day since we weren't sure what time we'd get to the hotel and had 6 PM dinner reservations at Cape May restaurant at the Beach Club Resort.
Saturday we spent the day at Magic Kingdom with a lunch break at Whispering Canyon at the Wilderness Lodge Resort.
Sunday we spent the day at Animal Kingdom with dinner reservations at Tusker House with Mickey and other characters.
Monday we had breakfast at the Contemporary Hotel with Chef Mickey and Friends and then headed to Hollywood Studios for the day.
Tuesday we spent the day at Epcot and had dinner at Akershus in Norway with the Princesses.  Wednesday we were back at the Magic Kingdom and later had dinner at Ohana at the Polynesian Resort.
Thursday we spent the day at Epcot and ended up leaving around 8 PM to start our drive back home.  We stayed at the same hotel in Savannah, Georgia Thursday night, got up at 6:30 AM (or more like 7 in my case!) and spent the entire day driving home.  We ended up getting home at 1:30 AM!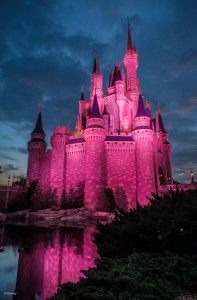 Despite the heat and crowds, we had an amazing trip to Disney.  With my super planning before we left, coordinating Extra Magic Hours, Fast Passes, dining reservations, etc. we feel like we did everything that we wanted on this trip.  We rode all the major rides and my son only cried after Space Mountain, Expedition Everest, Tower of Terror and Haunted Mansion (I had to walk him out after the intro of Haunted Mansion, he didn't even make it on the ride!).
We have tons of character autographs including at least three different Mickeys, Aladdin, Princess Tiana and Dr. Facilier (as seen above, from The Princess and the Frog, which we own and I've never seen!) Mary Poppins and Alice in Wonderland! I referred to Disney lover Brenda from Chatting Over Chocolate prior to our trip about the Memory Maker package and ended up purchasing it.  Between our cell phones, our DSLR camera and the Memory Maker package we have TONS of photos!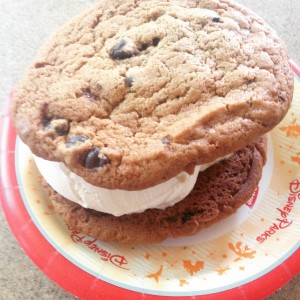 And of course, we tried to make the most of our meal plan, trying new restaurants and eating lots of yummy treats!
Unfortunately, the way we do Disney (at the park when it opens and staying until the fireworks/night time show/etc.) is not relaxing.  We've spent the weekend catching up on sleep and getting readjusted to "real life."  We think we may do another Disney vacation in four years or so, with our next big vacation being something more relaxing!