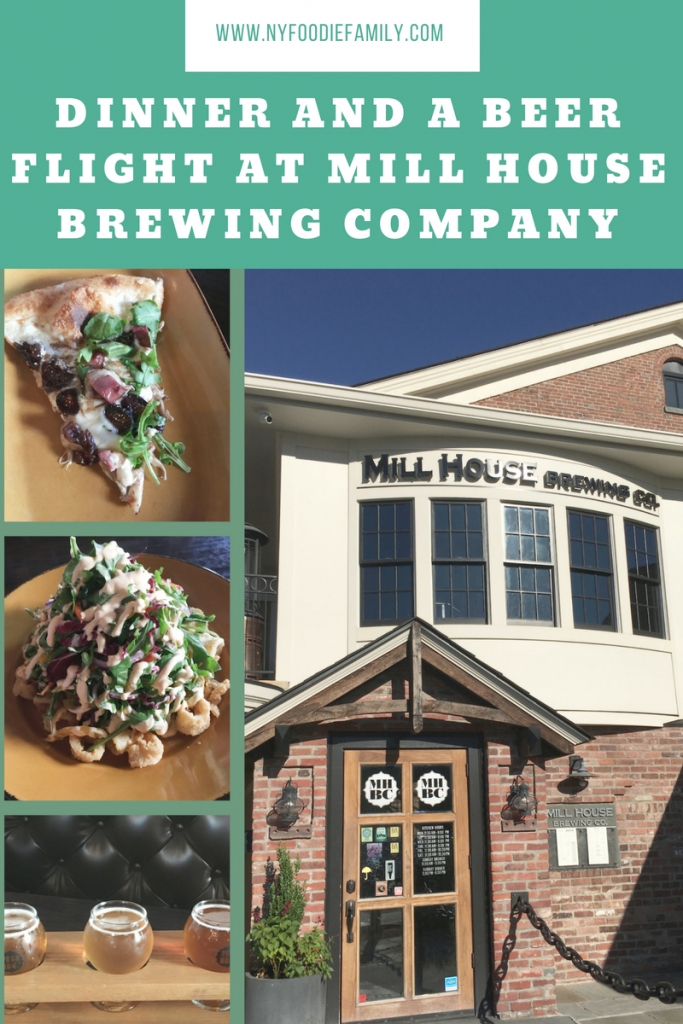 (Thank you to Dutchess Tourism and Mill House Brewing Company for hosting NY Foodie Family.  As always, all opinions are our own.)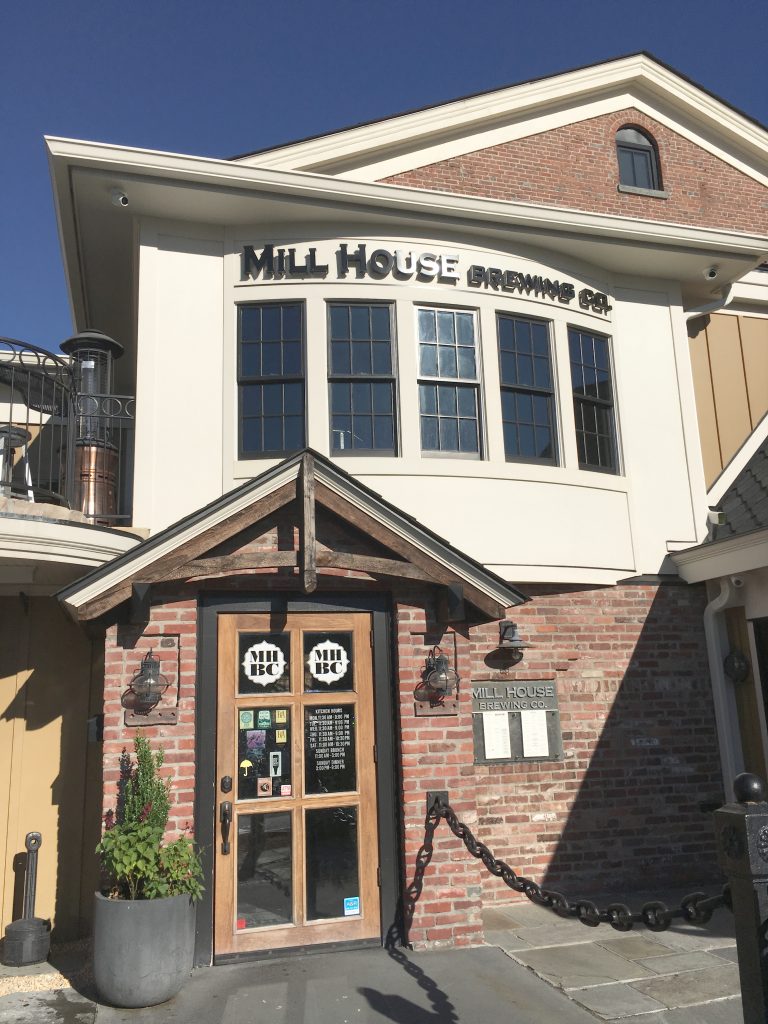 Mill House Brewing Company is located on Mill Street in Poughkeepsie, right off of Rt. 55.  Surprisingly, the restaurant was never actually a mill and was most recently a Chinese restaurant! My husband and I didn't realize until visiting that we've driven by this place multiple times on our way across the river!  Now that we know that it's there though, we will be back.  Mill House Brewing Company is a brewery and a pub.  When we talked to people at other stops on our Dutchess Craft Beverage Trail tour and mentioned that we were visiting Mill House Brewing Company, they always commented on how good the food was here.  And they weren't wrong!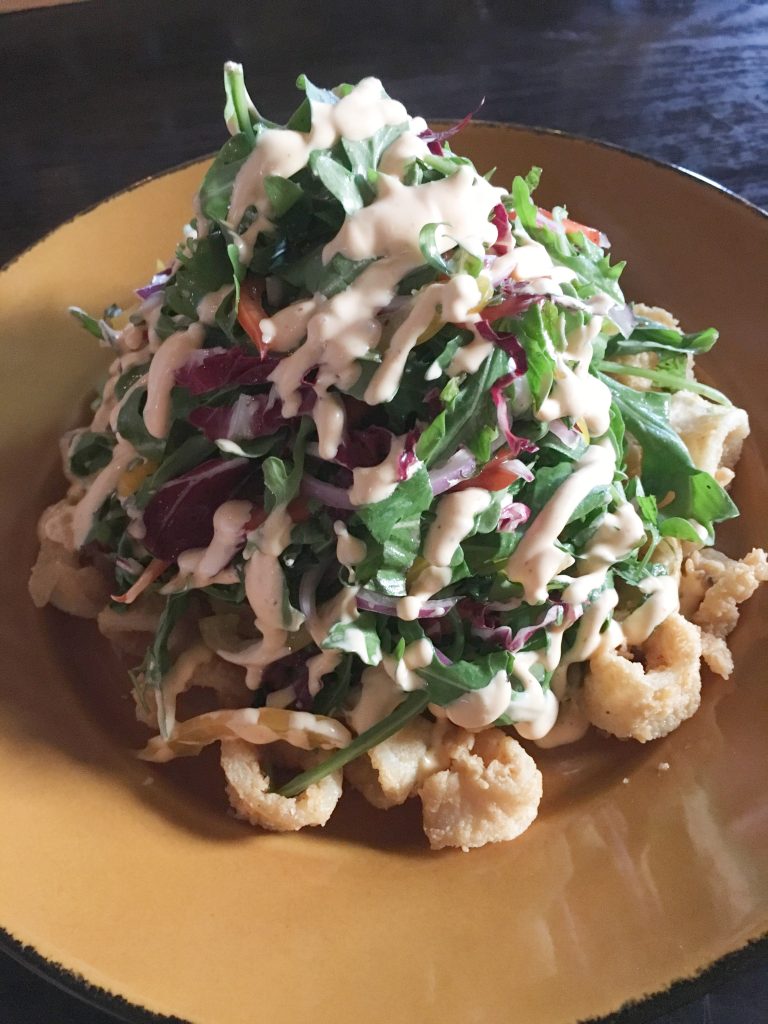 The restaurant has an extensive menu, filled with so many delicious options.  My husband and I debated making a meal out of Appetizers and Bar Bites, because there were so many dishes that we wanted to try!  In the end we took our server's recommendation and shared the Fried Calamari Salad.  The portion was humongous and could have been a meal in itself!  I had never heard of a fried calamari salad before, but it was so good.  The calamari was so tender and the chili-lime vinaigrette and Srirarcha Ranch aioli complemented the arugula so well.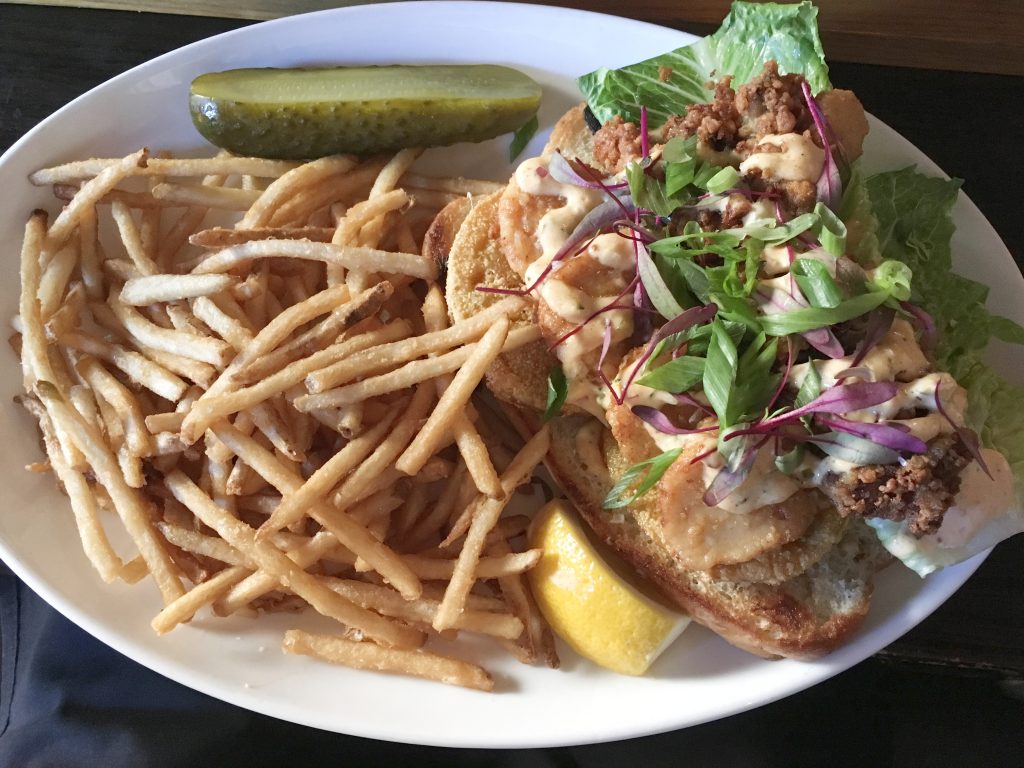 For our entrees we shared the Fig and "Pig" pizza and a Deep Fried Scallop and Oyster Po'Boy.  The sandwich was messy good!  Unfortunately, it was a daily special and not something that they serve every day.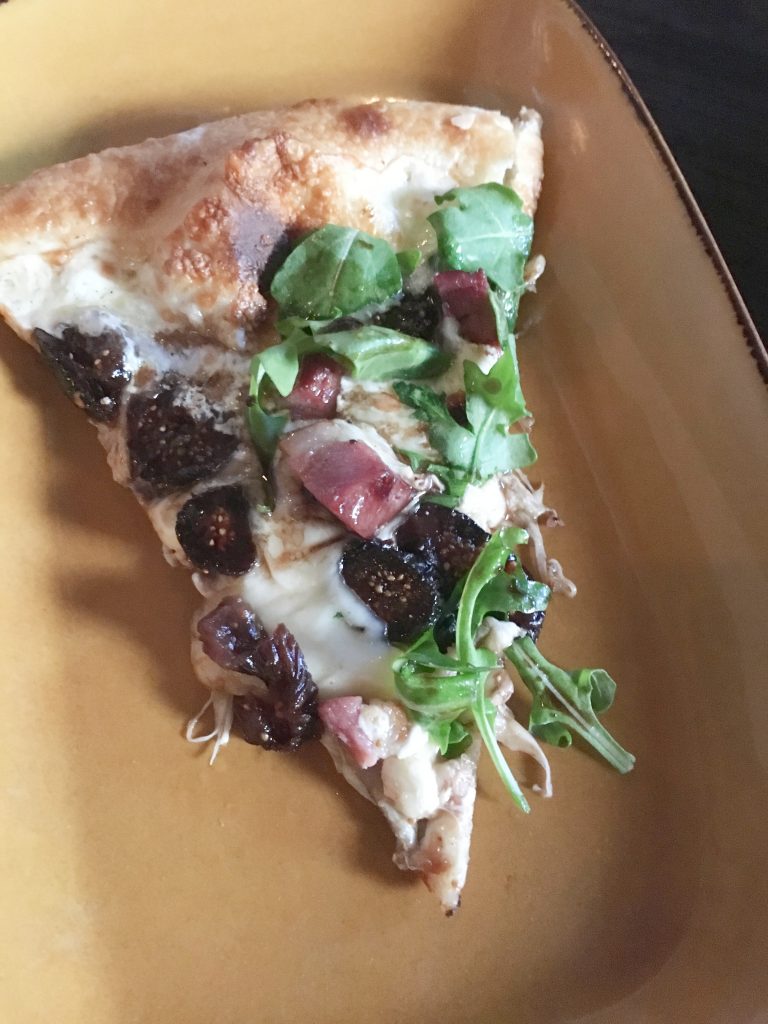 The pizza Fig and "Pig" is one of five pizzas that the restaurant serves.  This has smoked mozzarella, housemade duck bacon, black mission figs, arugula and aged balsamic.  We were getting full and took most of the pizza home with us!
Mill House Brewing also has several burgers on their menu, including the 50/50 burger being the winner of the Hudson Valley Burger Bash, three years in a row.  They also make several different sausages and offer a variety of pasta, seafood and steak dishes.  There is something for everyone at this Mill House and I can almost guarantee you that it will be delicious.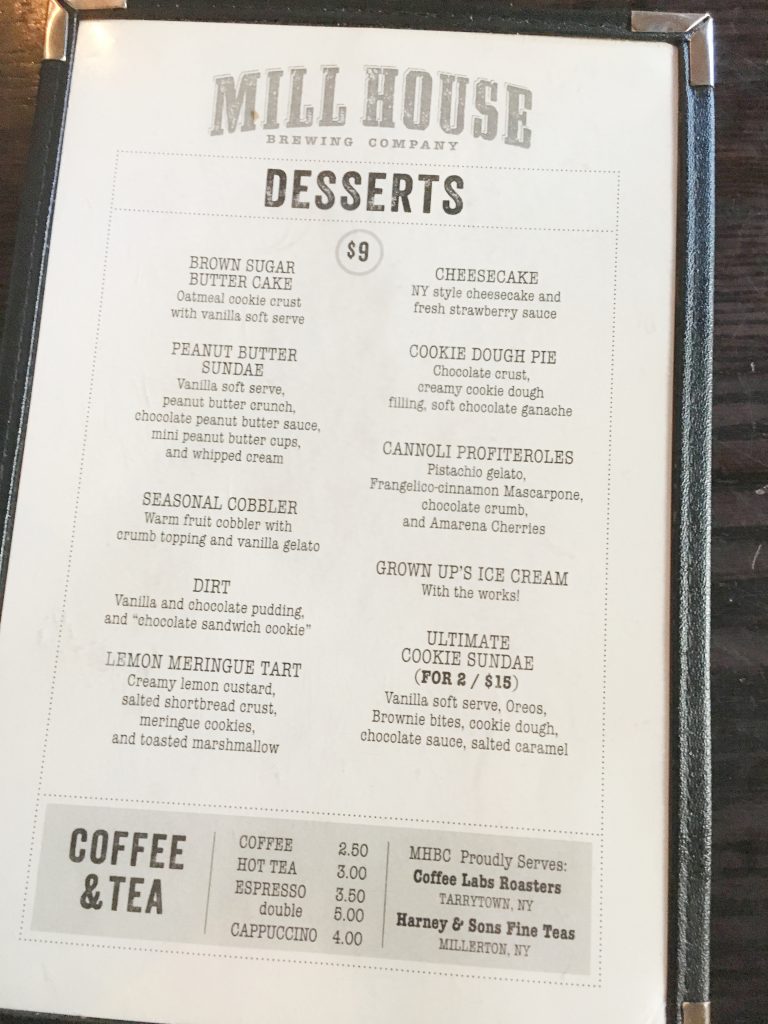 We were seriously too stuffed for dessert, as much as we wanted to try some of them (I'm talking about you, Peanut Butter Sundae and Cannoli Profiteroles!).  Just another reason for us to go back!
"….our A-Team here, who make "holy s#*t" moments happen at Mill House day in and day out."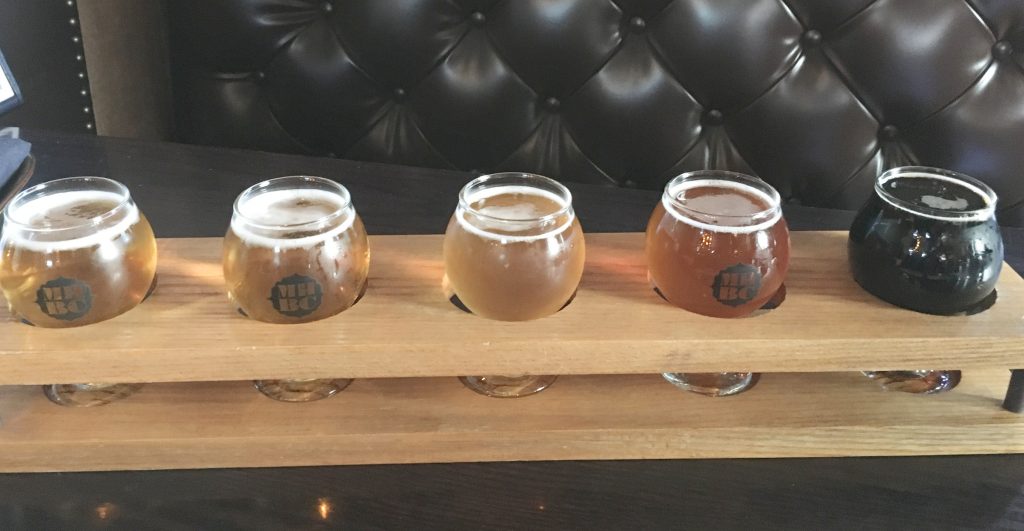 But of course, besides serving amazing food, we can't forget that Mill House is also a brewery!  They have 16 taps and are always changing the beers that they serve.  My husband enjoyed a flight, where you can choose 5 beers for $15.  His flight included Kold One, which is their most popular beer, Cross Reference Blackberry, Cucumber Blessings, Velvet Panda and Northwest Territory. Although he enjoyed them all, his favorite was Cucumber Blessings. This award-winning cream ale is crisp and dry with notes of cucumber.  Basically, a perfect summer beer!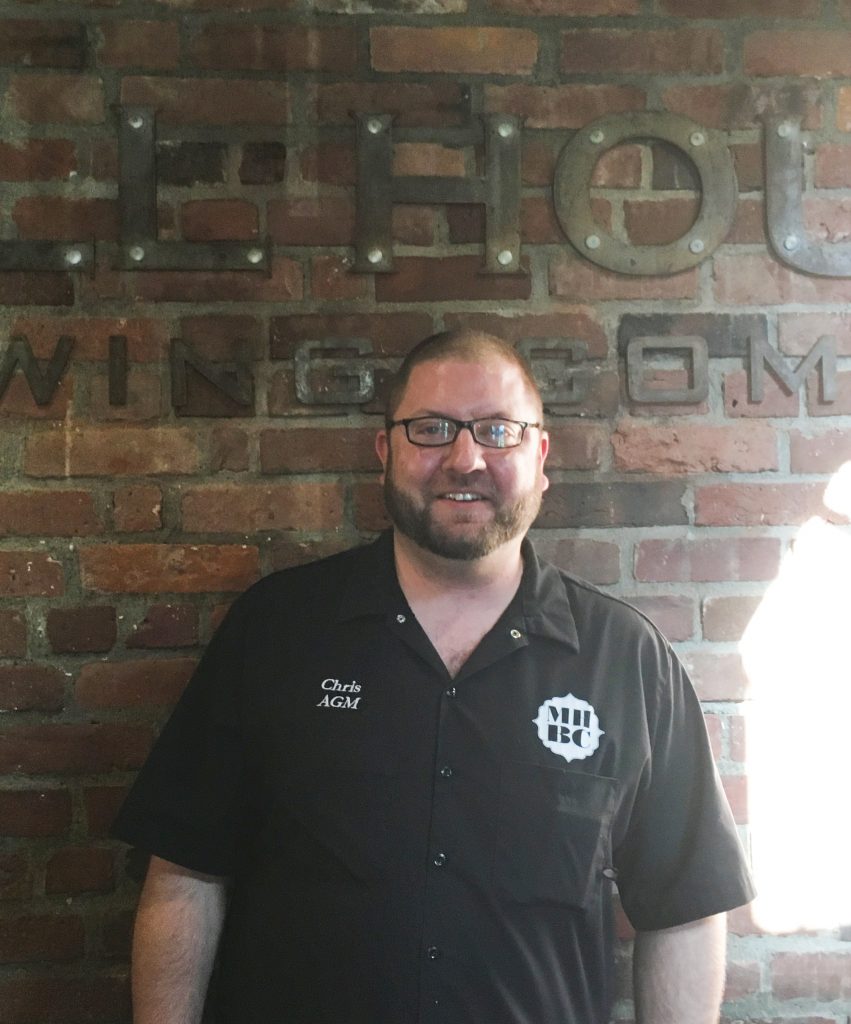 Assistant General Manger, Chris, told to us that the brewmasters Jamie Bishop and Larry Stock have become more experimental with their beers since they acquired the additional space down the street that houses 20 additional barrels.  According to Chris, asking him to name his favorite beer is like asking a parent to name their favorite child.  However, at the time of our visit, his current favorite brew was Zoe.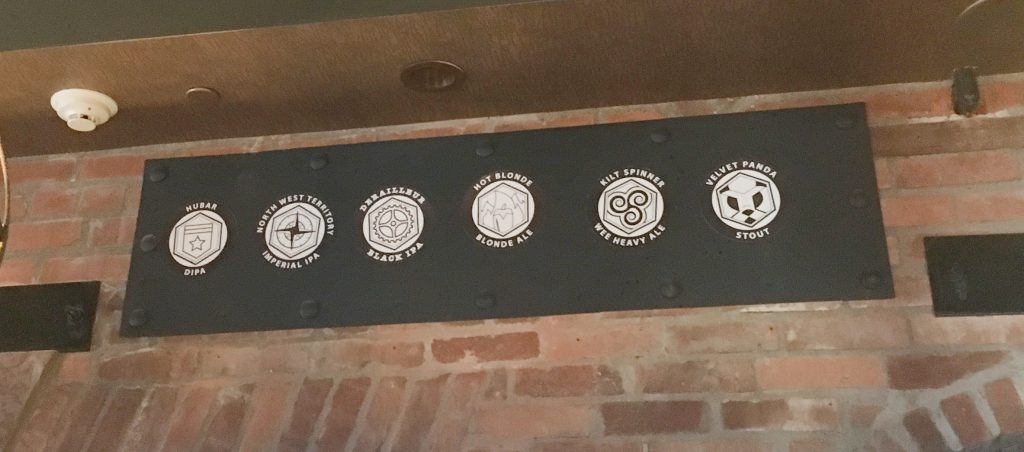 Brewmaster Jamie works with a local artist to create unique badges for each new beer.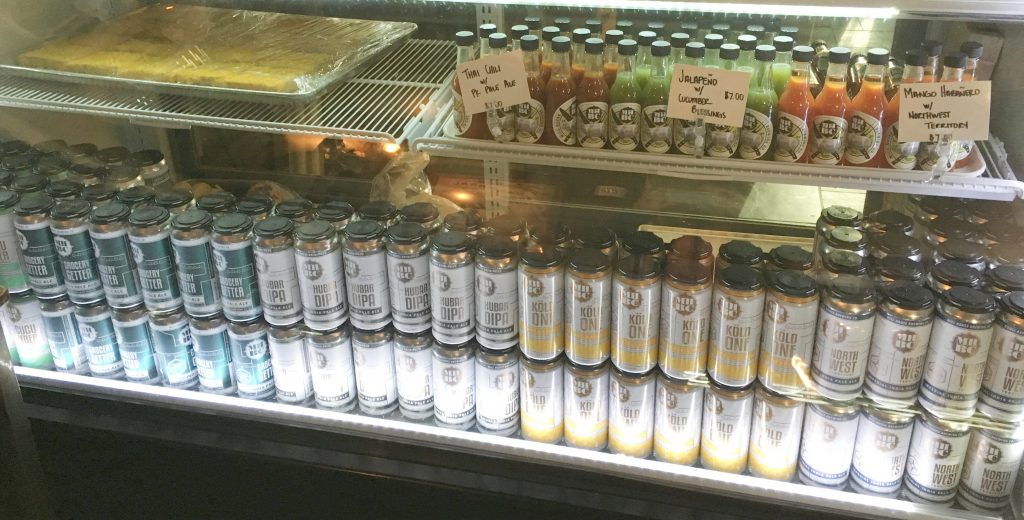 If you really enjoy your beer, hopefully it is one of five that are sold in cans.  Kold One, Cucumber Blessings, Hubar I DIPA, Grocery Getter and Northwest Territory Imperial are their five beers that you can find in stores like Whole Foods, some local beer distributors and even Grand Central Station.  Otherwise, you can purchase some on your way out of the restaurant to take home with you (along with some of their home homemade sauces made with their beer).
Stop by The Mill House Brewing Company for a delicious meal and a cold brew (or flight)!
The Details:
Mill House Brewing Company
289 Mill Street
Poughkeepsie, NY 12601
(845) 485-2739
Website: www.millhousebrewing.com
Hours: Monday – Thursday 11:30 AM – 9 PM, Friday 11:30 AM – 10:30 PM, Saturday 11 AM – 10:30 PM, Sunday Brunch 11 AM – 3 PM, Sunday Dinner 3 PM – 9 PM