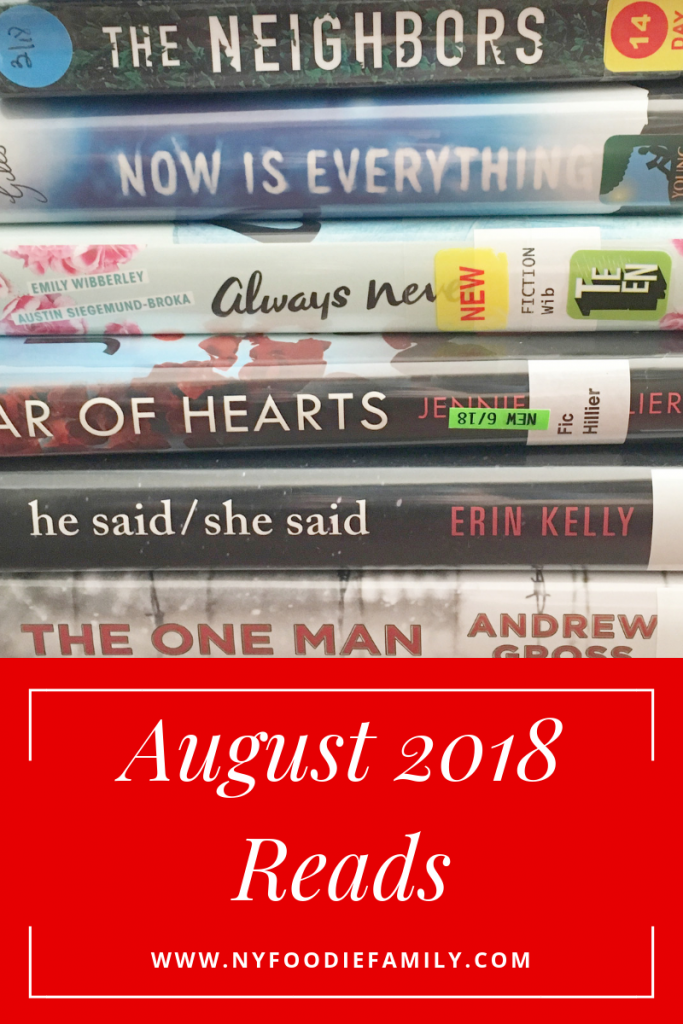 (This post contains affiliate links.  Please read our Disclosure Policy for additional information.)
It's hard to believe that summer is over.  And it with it, the lazy weekends and extra time to read. Although my schedule doesn't change come the fall, the kids' schedules get filled up with their activities, and my reading time seems to decrease drastically!  I feel like I read a good amount over the summer but know I won't be able to keep up reading 6-8 books a month.  See that library haul of books in that photo above?  Sadly, half of them will be returned unread.  Last month was great in both quantity and quality of reads.  Here are my August reads from least to most liked that I'm sharing with Steph and Jana's monthly Show Us Your Books linkup.
3 Stars
The Favorite Sister by Jessica Knoll – I read Knoll's other novel, Luckiest Girl Alive and only gave it three stars as well.  That should have been a warning, but I decided to give this book a go.  For some reason, it's categorized as a mystery/thriller, but I do not think it should be.  This book follows several different women in a reality television show called "Goal Diggers."  There is of course drama and each woman is harboring secrets.  I love a good reality television show.  I think because I went into it expecting something else I was a bit disappointed.
Promises by Belva Plain – When I was growing up my mom used to read a lot of Belva Plain's books.  By default, since they were around, I also read her books and found them enjoyable.  Somehow, a couple of Plain's books have been sitting on my bookshelf for YEARS.  In an effort to clear off my bookshelves I decided to read Promises. It appears my reading tastes have changed drastically from those college years.  Even though most of the story takes place in the 90's, it felt so antiquated.  What wife says, "Oh darling" when referring to her husband?!! And nowadays, I don't believe a woman would put her career on hold for her husband's advancement (or I hope she wouldn't).  This book probably rates close to 2.5 than 3 stars for me, but Goodreads doesn't allow me to give half star ratings.
4 Stars
The Countdown Conspiracy by Katie Slivensky – Miranda Regent is one of 6 kids chosen around the world to prep for a mission to Mars.  The only American chosen, she soon starts receiving threatening messages.  Is she in danger? This is a middle grade fiction book that I picked up at the library for my son to read.  He wasn't that into it and didn't finish it.  However, if it's not manga or a graphic novel, I've been having difficulty getting him to read it.  I read it and thought it was a pretty good read.  You have to go in with the expectation that it is geared toward children and fiction.  Like, super smart teenagers going into space fiction.  But there was a lot of action and adventure.  So, if you know of kids who like this type of book I'd have them give this one a try.
Jar of Hearts by Jennifer Hiller – Georgina "Geo", Angela and Kai were high school best friends. One night Angela disappears and is never seen again.  Fourteen years later her remains are discovered and Kai, now a police detective discovers that she was a victim of serial killer Calvin James.  Calvin just happened to be Geo's girlfriend at the time of Angela's disappearance.  This book had lots of secrets and hidden surprises.  This is the type of book that I think of when I think of a mystery/thriller.
The Neighbors by Hannah Mary McKinnon – In 1992, Abby and Liam were dating and in love.  But when her brother dies in a car accident, Abby feels responsible and pushes Liam away.  Fast forward to present day and Abby is married to Nate, the man who came upon the accident and actually saved Abby's life. They have a teenage daughter and are happily married.  But then, Liam and his family end up moving in next door.  Will their past be discovered?  Again, I didn't really find this book to much of a mystery/thriller.  But about half-way through it became a page-turner.
Reading People by Anne Bogel – This a collection of different personality tests/frameworks that Bogel explains in hopes of helping the reader learn more about herself and others.  Personality frameworks have always interested me and I found this book to be enjoyable and insightful.  This was my non-fiction read of the month.