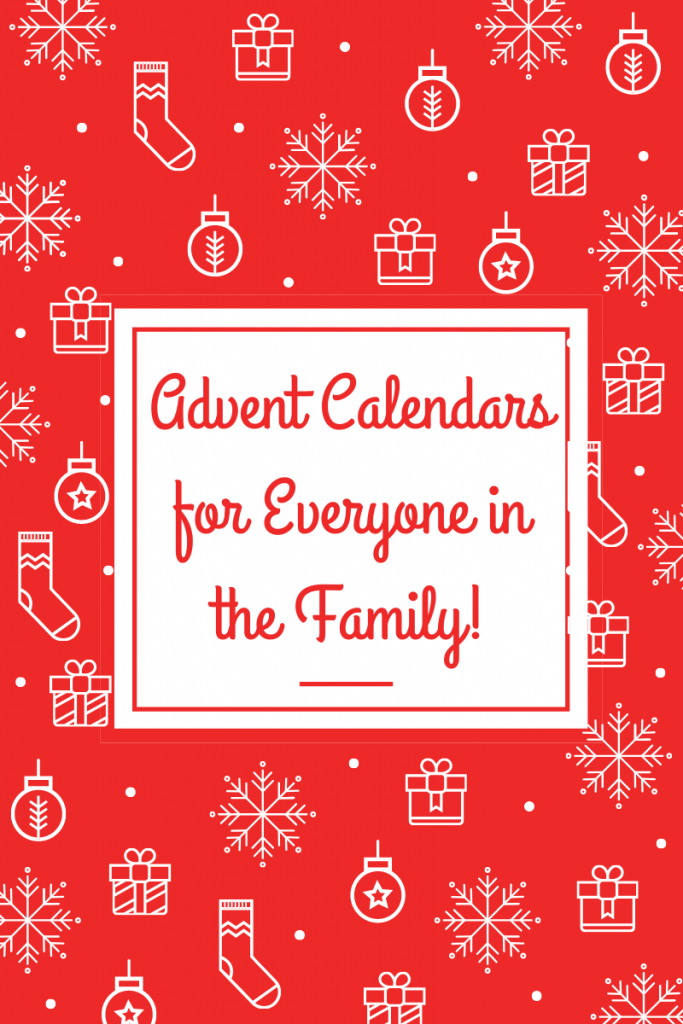 The day after Halloween seems to unofficially begin the start of the holiday season. While that may be a little early for us, there is something special about the December holidays. Advent calendars are a fun way to count the days until Christmas. Although you don't start opening Advent calendars until December 1st, now is a great time to start shopping for them. We have rounded up Advent calendars for everyone in your family to help you enjoy counting down the days until Christmas!
Toy Advent Calendars for Kids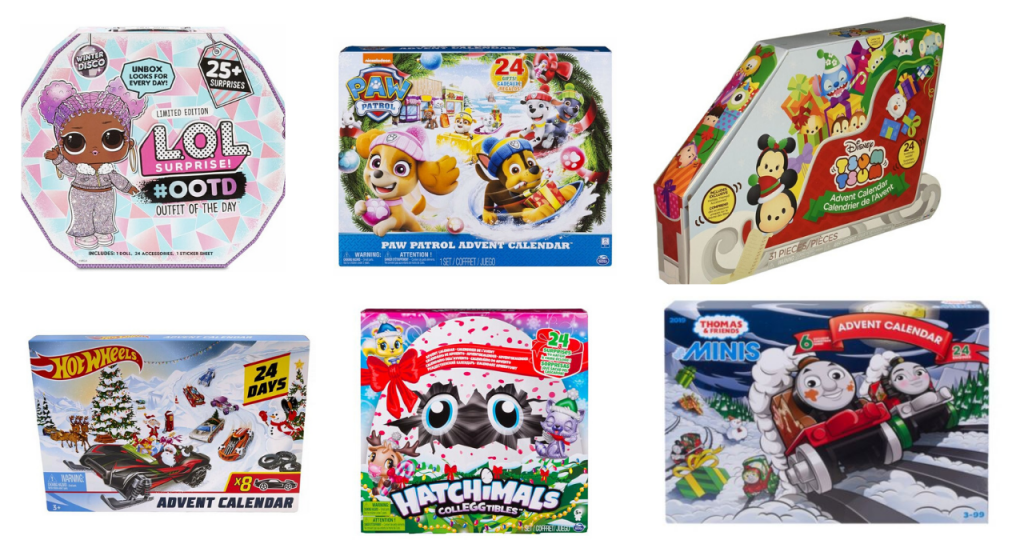 L.O.L Surprise OOTD Winter Disco – This set contains one L.O.L. doll with 24 fashion pieces including outfits, shoes and accessories. There's also a regular L.O.L. Surprise OOTD set.
Paw Patrol Advent Calendar – This calendar contains 24 presents including collectible figures, a sleigh, snowman and more.
Disney Tsum Tsum Advent Calendar – Tsum Tsum fans will love this Disney advent calendar. It includes 18 tsum tsum figures, 6 large, 6 medium and 6 small. It also comes with 6 holiday themed accessories.
Hot Wheels Advent Calendar – The Hot Wheels advent calendar includes eight decorated Hot Wheels vehicles and sixteen accessories.
Hatchimals ColleGGtible Calendar – This advent calendar comes with 50 + surprises including paper craft decorations, small presents and stickers. The calendar box also doubles as a winter backdrop.
Thomas & Friends Fisher Price Minis – This calendar comes with 24 MINIS engines, including 6 special edition Christmas-themed designed MINIS.
Advent Calendars for Pop Culture Fans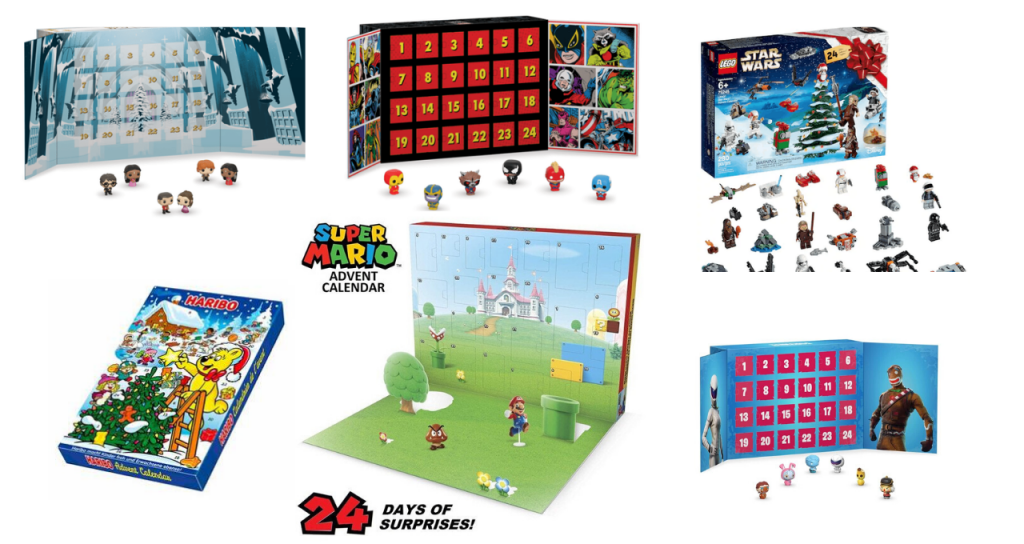 Funko Pop Harry Potter – This calendar contains 24 mini Harry Potter figures. The box then folds out as a playset for the figures.

Funko Pop Marvel – This calendar contains 24 mini Marvel figures including both villains and heroes.
Lego Star Wars – The Lego Star Wars calendar comes with 24 figures or Lego also has a a Lego City and Lego Harry Potter advent calendar for 2019 as well.
Haribo – Maybe stretching this in the Pop Culture category, but Haribo gummies are super popular. This calendar comes with 24 individually wrapped gummy candies in a mixture of fruit and cola flavors, marshmallow, licorice and gums.
Super Mario Brothers – This calendar has 24 days of surprises. Each numbered door has either a figure or accessory behind it.
Funko Pop Fortnite – This calendar has 24, 1.5 inch Fortnite figures.

Advent Calendars for Foodies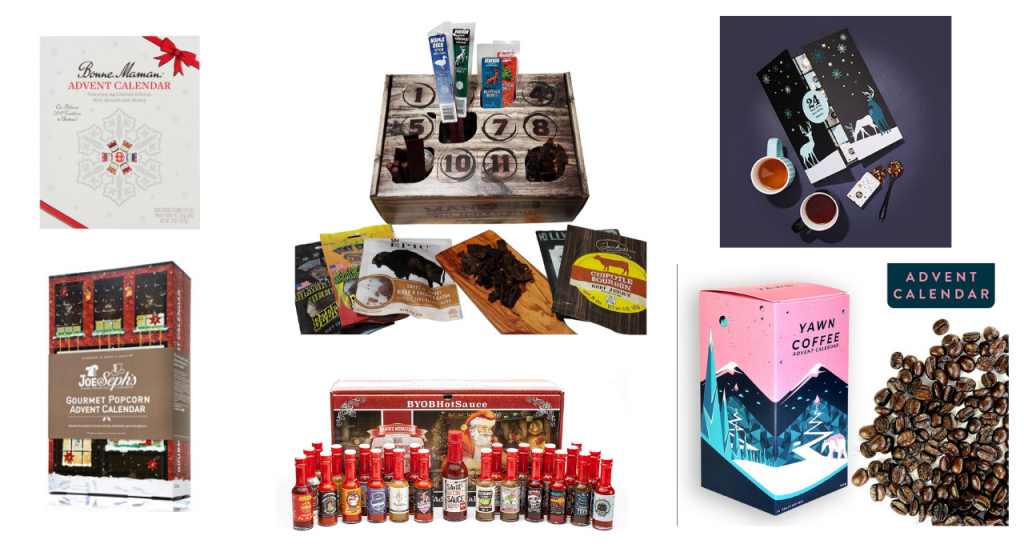 Bonne Maman – We love Bonne Maman! This calendar has 24 1 oz. jars of fruit spreads and honey. This set includes holiday exclusive flavors like rhubarb & strawberry, purple fig with cinnamon and more. This set is sold out on their site, but is currently available at World Market.
Jerky Advent Calendar – This calendar includes 12 days of jerky. There are a variety of different brands and types of jerky, which totals to almost 2 pounds worth.
David's Tea – This David's Tea calendar has 2 servings of tea per day and includes 24 loose leaf teas like Candy Cane Crush, Gingerbread, Let It Snow and more. There are many other tea advent calendars available
Joe & Sephs Popcorn – This popcorn calendar has 24 days of snack size popcorn. There are 12 unique flavors, including Strawberries and Cream, Chocolate Orange and Banoffee Pie, so there must be two of each flavor. However, the popcorn ships from England.
BYOB Hot Sauce – This set contains 25, 2 oz. Christmas-themed hot sauces. Each has a different Christmas label and are made from peppers including Scorpion, Ghost Pepper, Banana, Habanero and more. Perfect for the hot sauce lovers in your life!
YAWN Coffee – This YAWN coffee advent calendar has 24 sachets of specialty coffee and comes in either ground or whole bean. This is the only 24 day coffee advent calendar. Unfortunately, the company is based out of and ships from England. However, there are many 12 Days of Christmas coffee sets including this Christmas Sampler, this K-cup Christmas sampler and more.
Makeup and Beauty Advent Calendars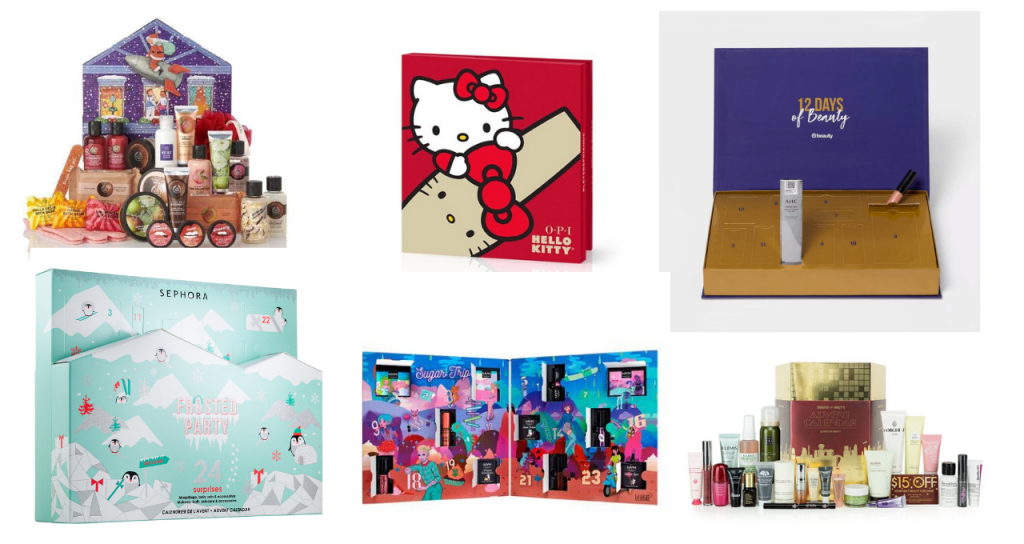 Body Shop Dream Big This Christmas Beauty Advent Calendar – This calendar includes 24 bath and beauty products from the Body Shop. Priced at $70, it has a $120 value. They also have a Deluxe ($110) and Ultimate ($170) set as well.
OPI Hello Kitty – This set contains 25, 3.75 ml mini nail polishes in colors like All About the Bows, Hello Pretty and more.

Target 12 Days of Beauty Box – This box contains 12 sample sized beauty and personal care items.

Sephora Frosted Party Advent Calendar – This set contains a combination of 24 beauty, skincare, body and accessories products, 11 of which are limited-edition.

NYX Sugar Trip – This Advent calendar comes with *** NYX also has a Love Lust Disco Greatest Hits Lip Advent Calendar as well.
Macy's 25 Days of Beauty – This calendar has 25 beauty products including masks, makeup, creams and more from brands like Clinique, Origins and Sunday Riley.
Alcohol Themed Calendars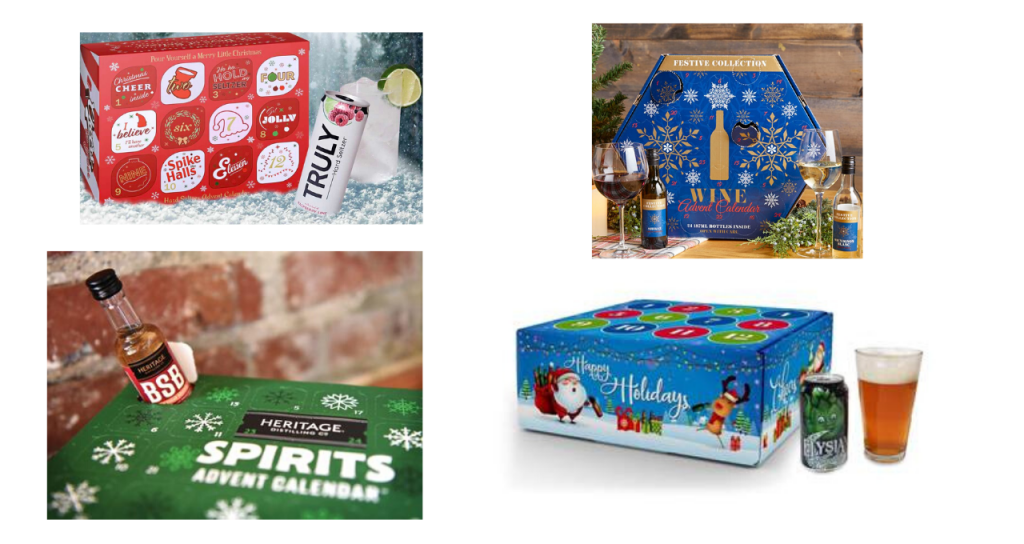 Hard Seltzer Advent Calendar – This calendar contains 12 curated hard seltzers from brands like Truly, White Claw, Henry's and small-batch hard seltzer brands.
Aldi Wine Calendar – This calendar contains 24, 187 mL bottles of wine. The wines come from all over the world (Italy, France, South Africa, USA, Chile, Argentia and more) and include a variety of red and white wines. They are only being sold in store though and customers are limited to 2.
Heritage Distilling Spirits Calendar – This calendar has 24, 50 mL bottles of spirits. It includes vodka, bourbon, gin, rye and whiskey. Due to shipping restrictions, this calendar can only be shipped to a few select states.
Beer Advent Calendar – This calendar contains 12 top rated craft beers.
Other Fun Advent Calendars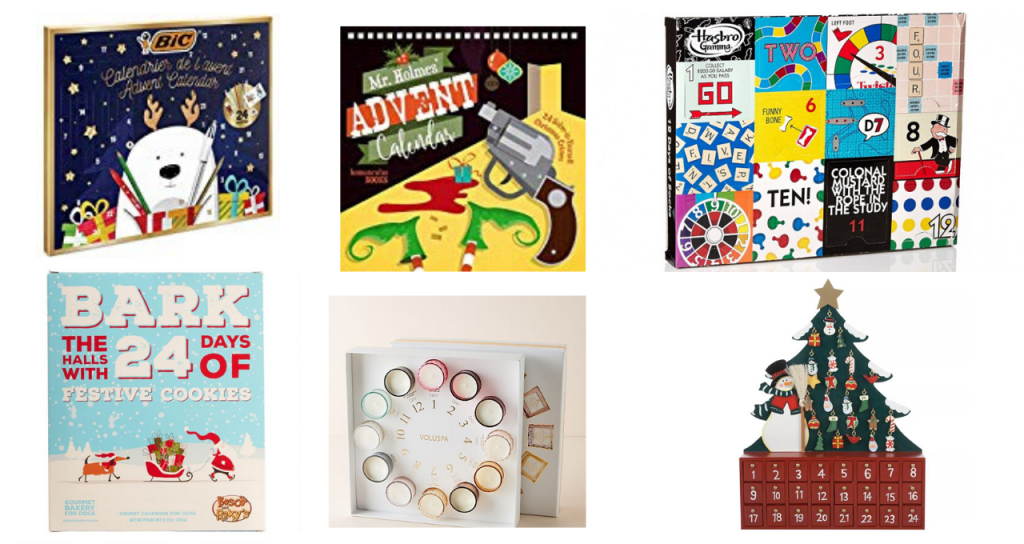 Bic Advent Calendar – For the stationary lovers, the Bic Advent Calendar comes with 24 writing products, including pens, pencils and more.
Mr. Holmes' Advent Calendar: 24 Solve-it-Yourself Christmas Crimes –

Hasbro Classic Games Twelve Days of Socks – Fans of Nickelodeon will love getting socks with SpongeBob, CatDog, Rugrats and more. If Nickelodeon isn't their thing, there are many other Twelve Day of Socks sets including Marvel, The Office and more.
Bark the Halls with 24 Days of Cookies – Don't forget about your pets! This calendar comes with 24 cookies for your dog. Trader Joe's also has a dog and cat treat calendar this year.
Voluspa 12 Days of Gifting Candle Set – This 12 scented votive candles set includes scents like Prosecco Rose and Violet & Honey. The candles are made from coconut wax and come in pretty glass votives. Each candle has a 15 hour burn time.
Kurt Adler Wooden Snowman Advent Calendar – This is a reusable wooden advent calendar from Kurt Adler. Each day open a drawer and take out a mini ornament and hang it on the tree.