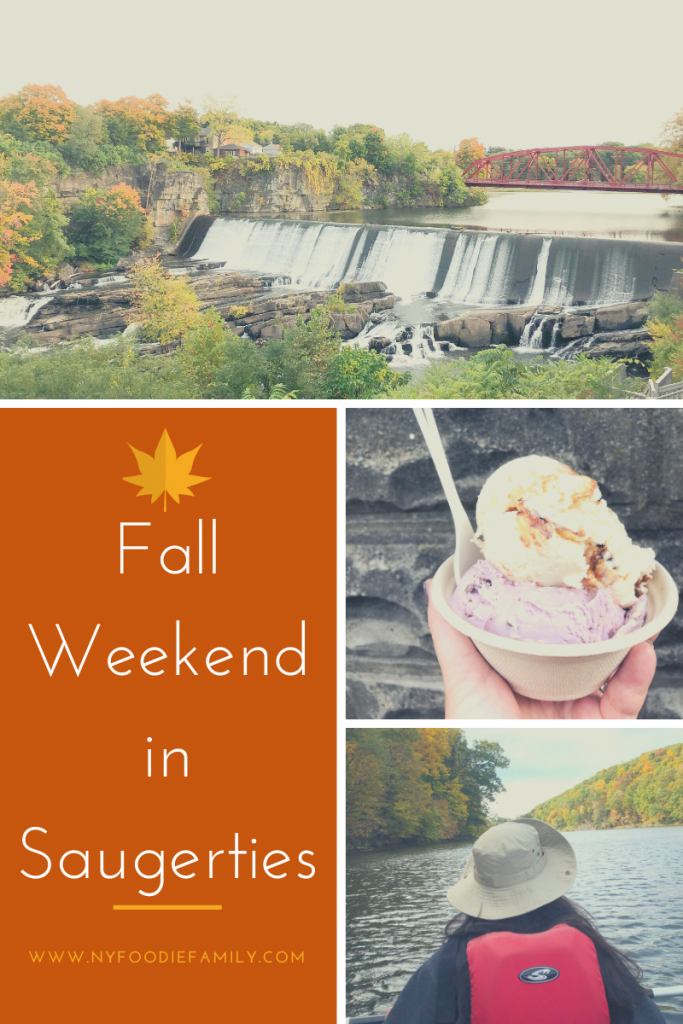 Saugerties is a small town in Ulster County. It has been on my "to visit" list for ages and our family finally got the chance to see this Hudson Valley town. Saugerties is a weekend touristy town. Visitors beware: many of the town's restaurants and shops are closed during the week, so plan accordingly! There's enough to see and do for a weekend stay. However, it's also close enough to Westchester County that you can visit for just the day.
Where to Stay: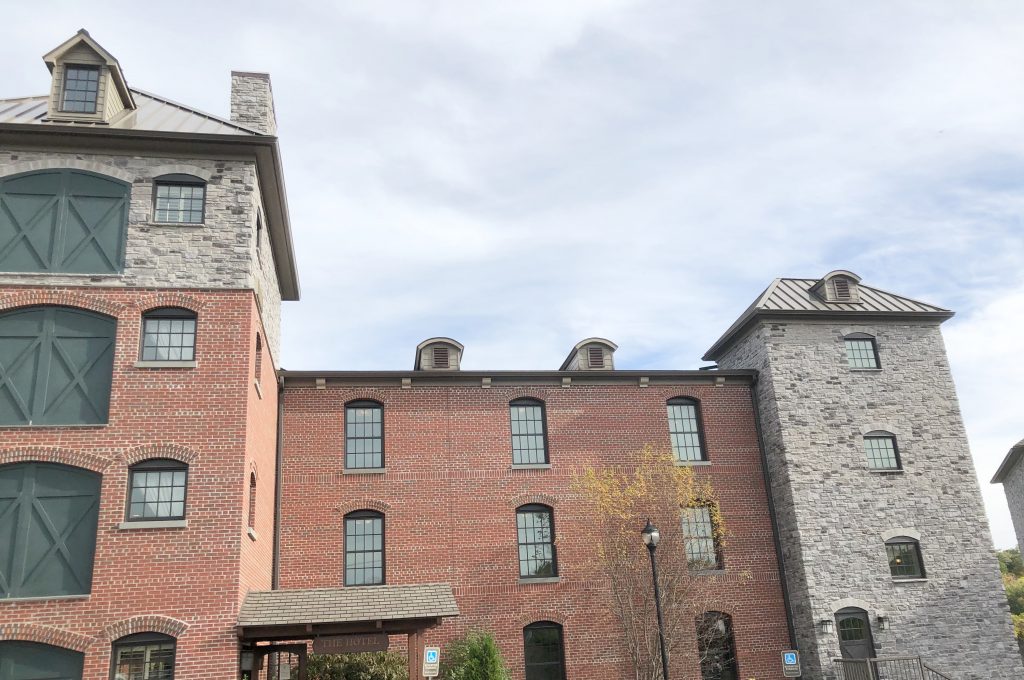 The Diamond Mills Hotel (25 S. Partition St.) – We stayed at the Diamond Mills Hotel for one night. This is a 30 room luxury boutique hotel located conveniently within walking distance to many shops and restaurants.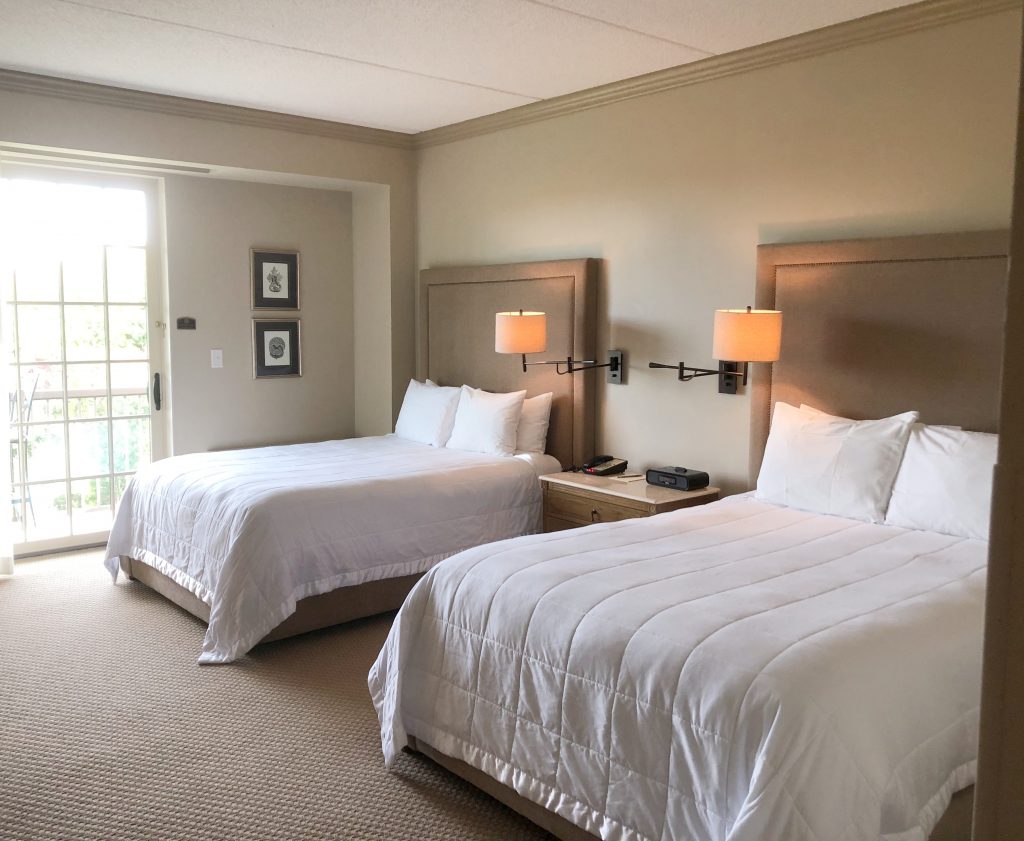 We stayed in a room with two Queen beds. We all commented on how soft the beds were. The room was light and bright and the hotel provided bathrobes for you to wear, if you wish. I didn't realize that I absolutely need a bathroom with heated floors until I got to experience it firsthand in our hotel bathroom!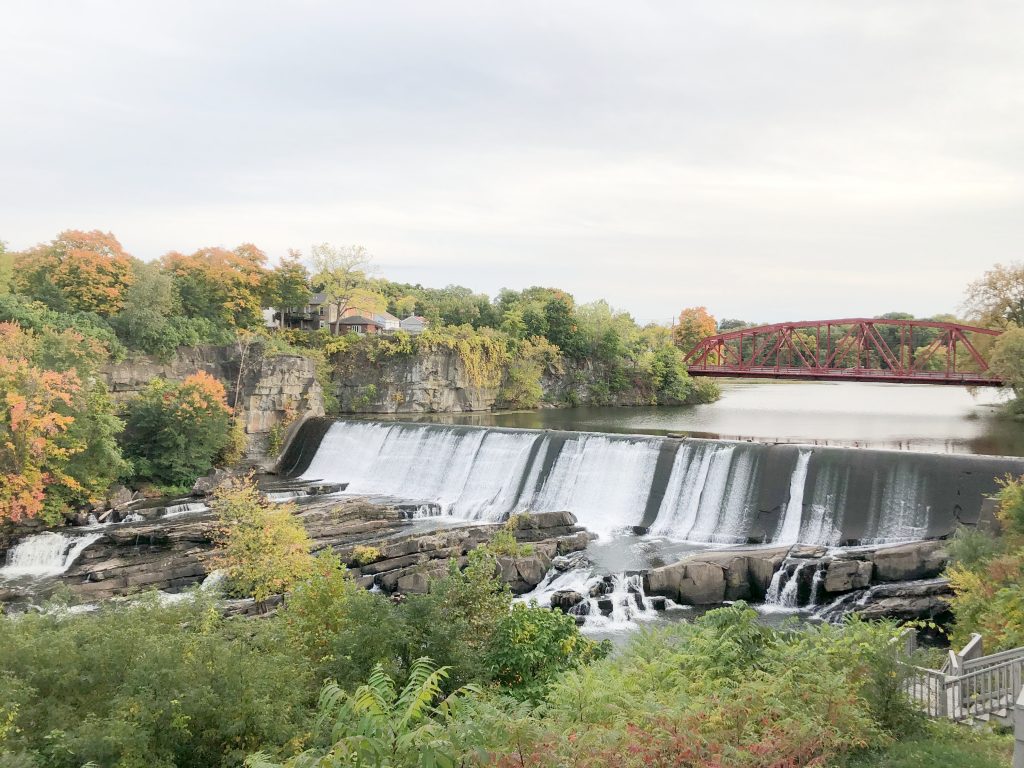 The highlight of this hotel is being able to walk out on your balcony to this view! The in-room Keurig was appreciated, since I got to enjoy an early morning cup of coffee out on the balcony, while everyone else was still sleeping.

What to Do: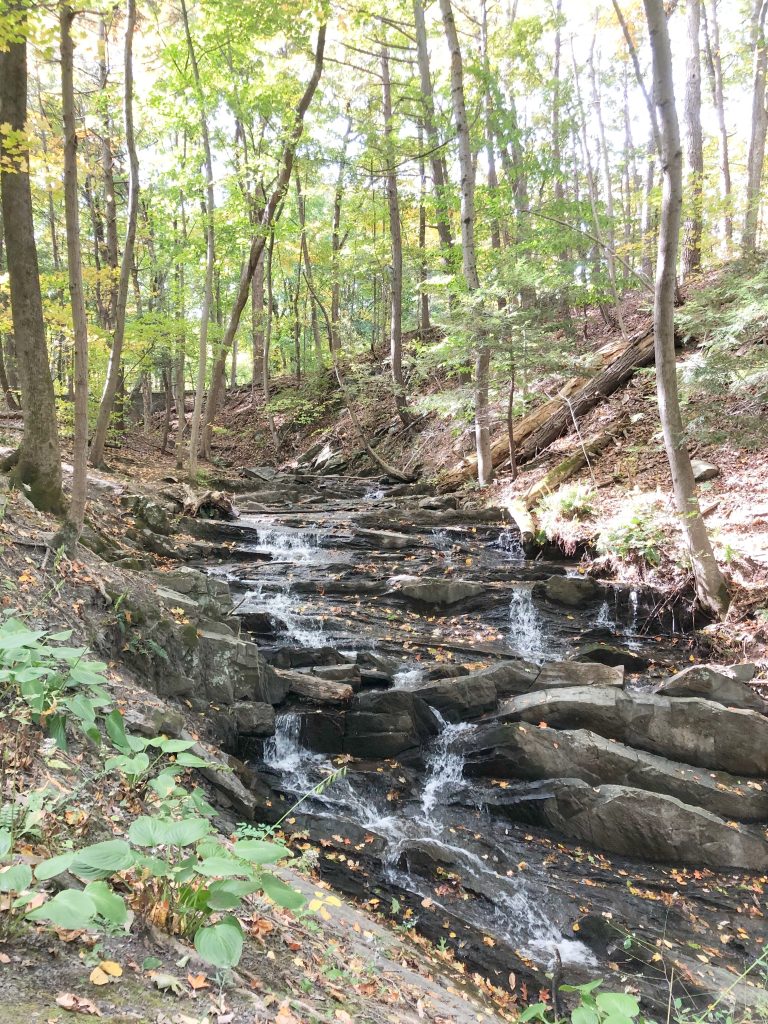 Falling Water Preserve (996 Dominican Lane, Glasco, NY) – This is a Scenic Hudson Valley park that has two small waterfalls. There are three different trails, all of which are super easy and very scenic. There are plenty of benches along the trails for hikers to sit and enjoy the views.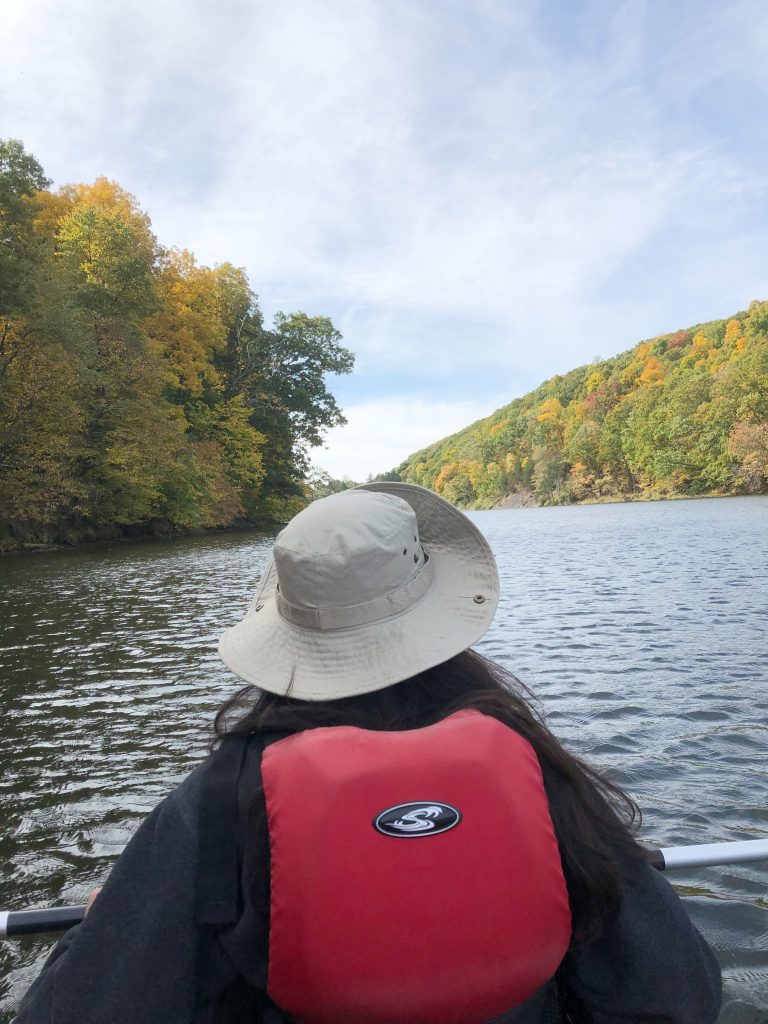 Kayaking – We booked a last minute kayak rental with Gail from I Paddle NY. She rents out kayaks, tandem kayaks, and Stand Up Paddleboards as well as offers a variety of kayak tours. Rentals and tours are available spring through fall.
Opus 40 (50 Fite Road) – I'd be remiss not to mention Opus 40, as this is THE attraction that I think Saugerties is most well-known for. I had waited until the last minute to purchase tickets, since the weather during our visit was looking iffy. By the time I went to purchase tickets, they were no longer available for Sunday. I hope to visit Opus 40, possibly in the spring, with just my husband, as my children have already expressed their lack of interest.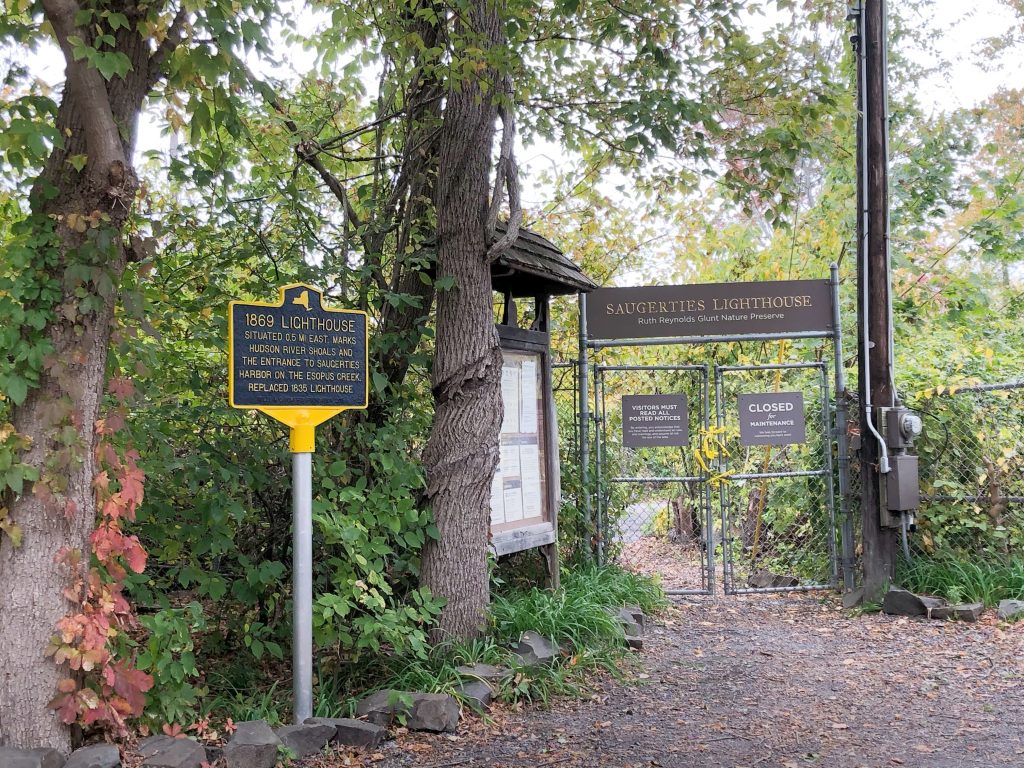 Saugerties Lighthouse (168 Lighthouse Drive) – During our visit, the Saugerties Lighthouse and the adjacent areas were unfortunately closed to visitors. We drove by hoping to at least take some pictures, but had no luck. During non-Covid times, there are two guest bedrooms in the lighthouse that can be rented out! Visitors can hike to the lighthouse, accessible by a half-mile nature trail. Tours are scheduled on Sundays, by appointment only (during non-Covid times).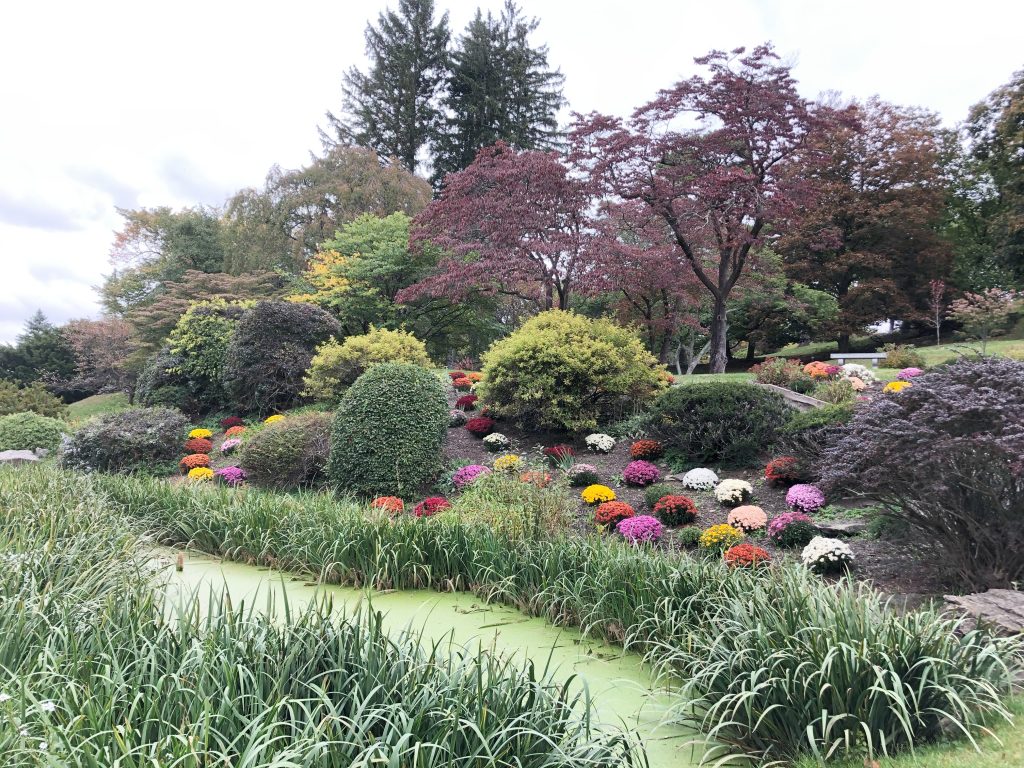 Seamon Park (5 Malden Avenue) – Owned by the Village of Saugerties, this park is free and open to the public. Fall is a great time to visit Seamon Park, when the mums are in bloom. In non-COVID times, there is a mum festival on the first Sunday in October. (Open daily 9 AM – dusk)
Shop – Partition Street is filled with lots of shops. From bookstores, to home decor, antiques, and clothing, there are plenty of stores for you to shop 'til you drop.
Where to Eat: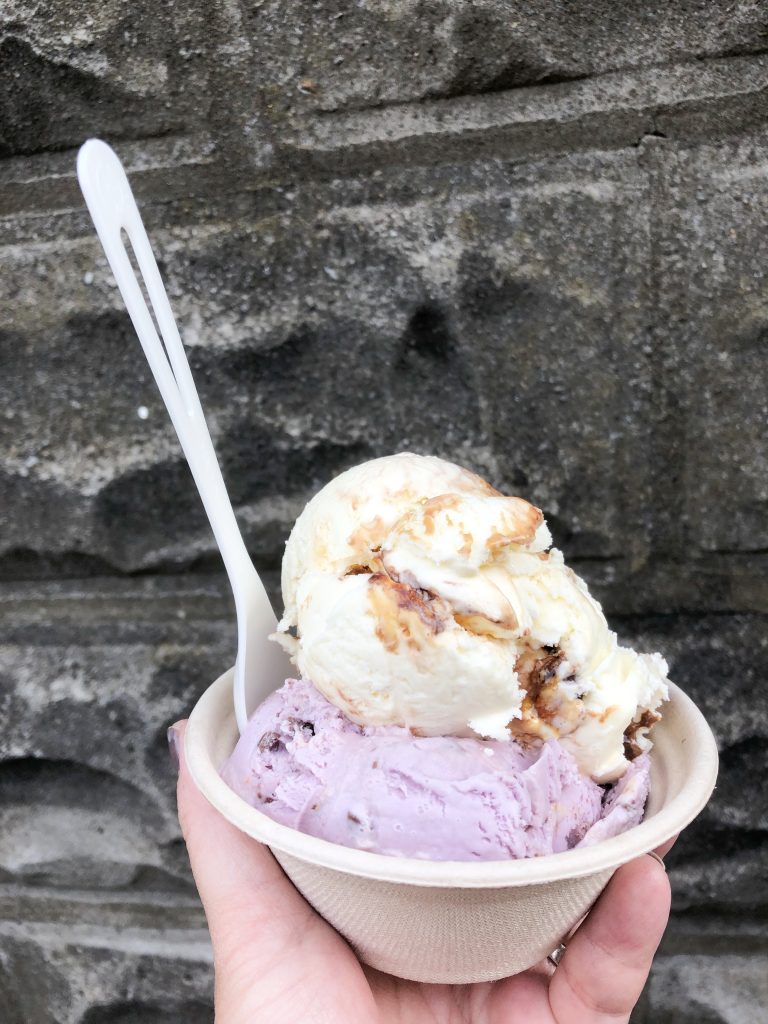 Alleyway Ice Cream (135 Partition Street) – Alleyway Ice Cream is literally located down an alleyway off Partition Street. I had been drooling over Alleyway Ice Cream's Instagram pics for ages and was so happy to finally get to try their ice cream. I was disappointed that they were out of "Thai Tea Cookies & Cream" flavor during our visit. I was really looking forward to it. But I enjoyed both the "Honeycomb Chocolate Swirl" and "Ube Heath Bar". (Open Wednesday – Sunday)
Diamond Mills Tavern (25 South Partition Street) – The Diamond Mills Tavern sits adjacent to the Diamond Mills Hotel. The restaurant just debuted its new fall menu and has both indoor and outdoor seating. They have a varied menu that offers some vegetarian options. The Sticky Tofu appetizer, pictured above, was a favorite and the appetizer portion was huge!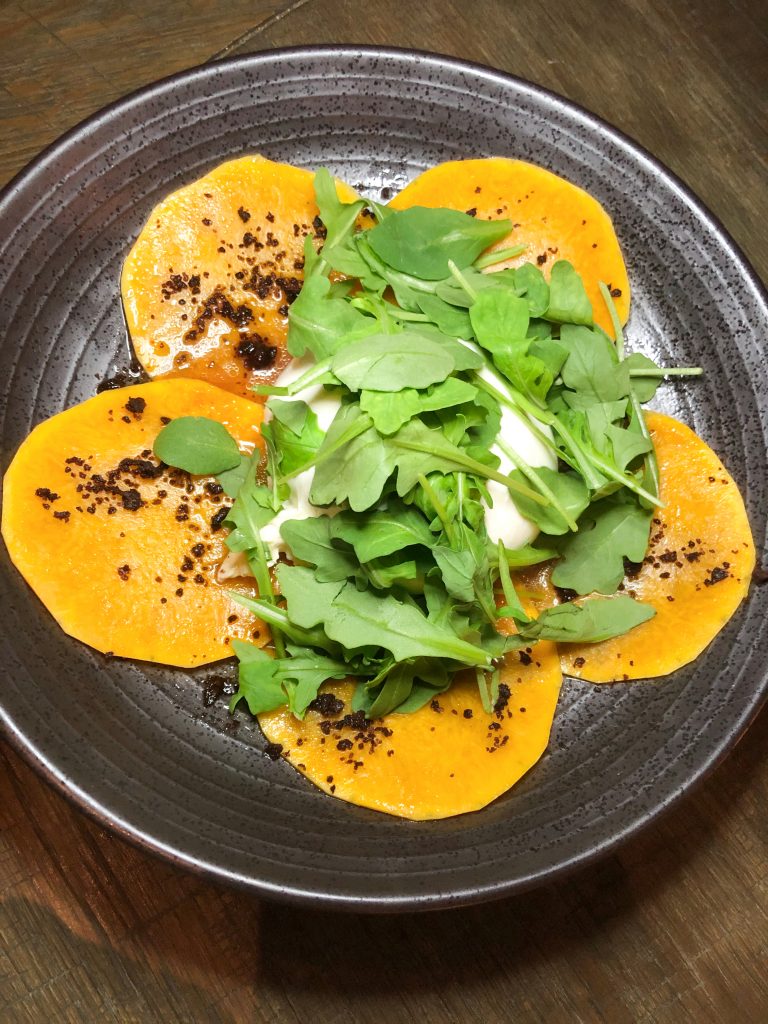 I enjoyed the tofu with the Butternut Squash Carpaccio Salad.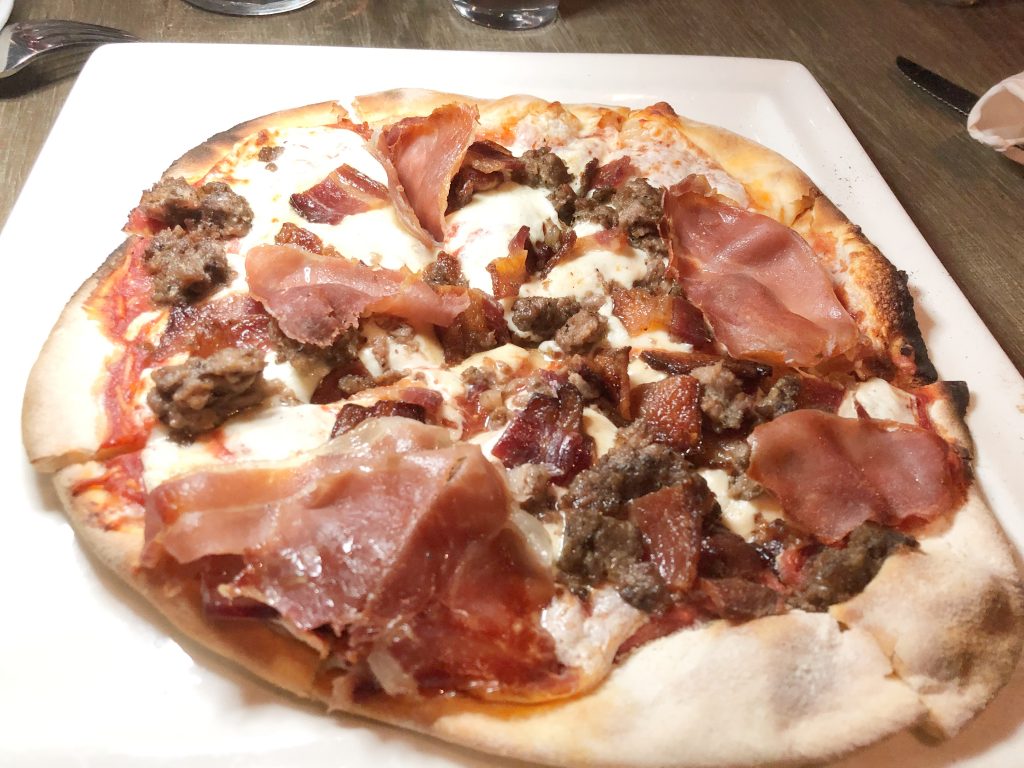 My meat-eating son enjoyed the Carnivore pizza that has prosciutto, bacon, salami, pepperoni AND sausage! My husband had the Beet (yes, beet) Wellington and my daughter enjoyed the Impossible Burger. I'm just disappointed that we were too full to try some of their new fall desserts! (Open Wednesday – Sunday for lunch and dinner and brunch on weekends)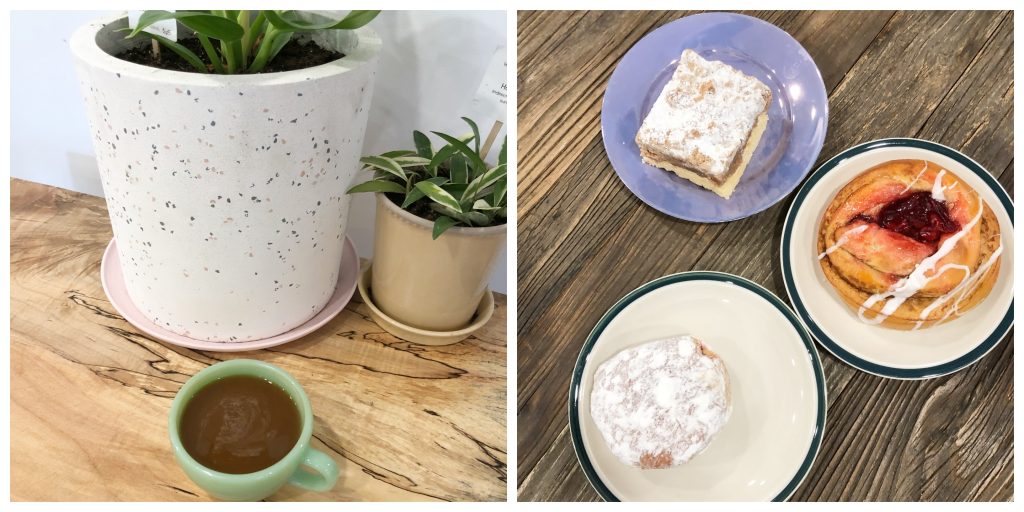 Josie's Coffee Shoppe (174 Partition Street) – Stop by Josie's for your morning caffeine fix. There are also a variety of pastries to get your sugar fix as well!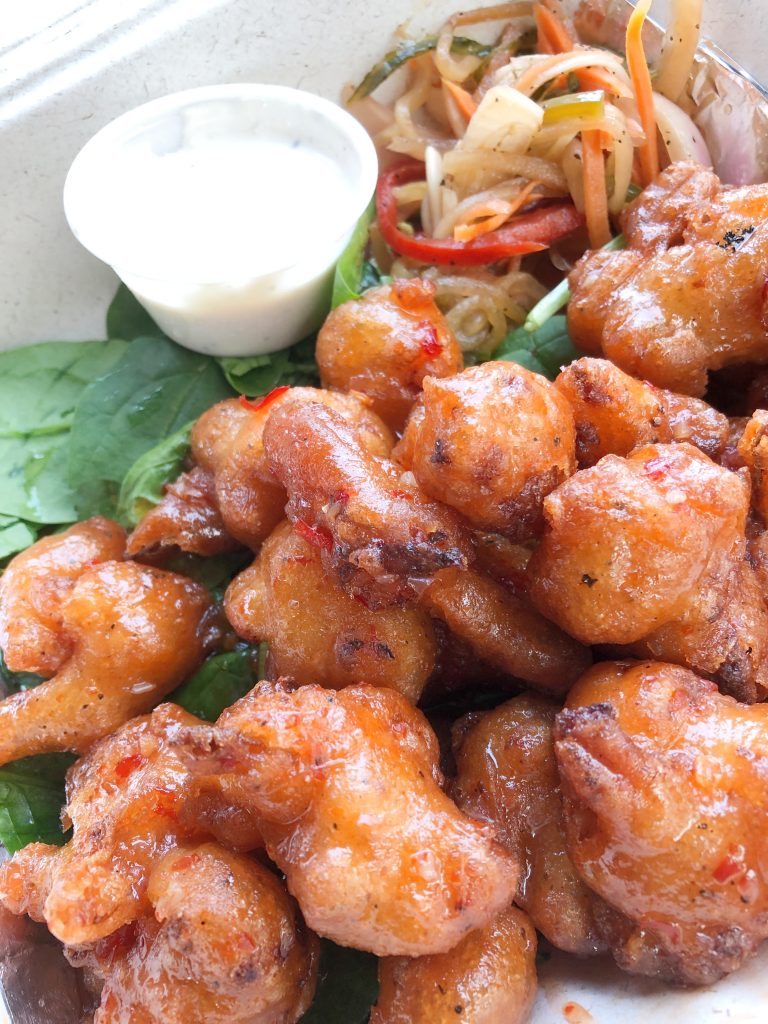 Love Bites Cafe (69 Partition Street) – This cafe's menu features locally sourced ingredients and offers vegan, vegetarian and gluten-free options. My son devoured the Chicken and Waffles. The Bohemian Club was tasty, but a bit messy, as is often the case with foods featuring portobello mushrooms. But our favorite were these Sweet Chili Cauliflower Wings! (Open Friday – Sunday)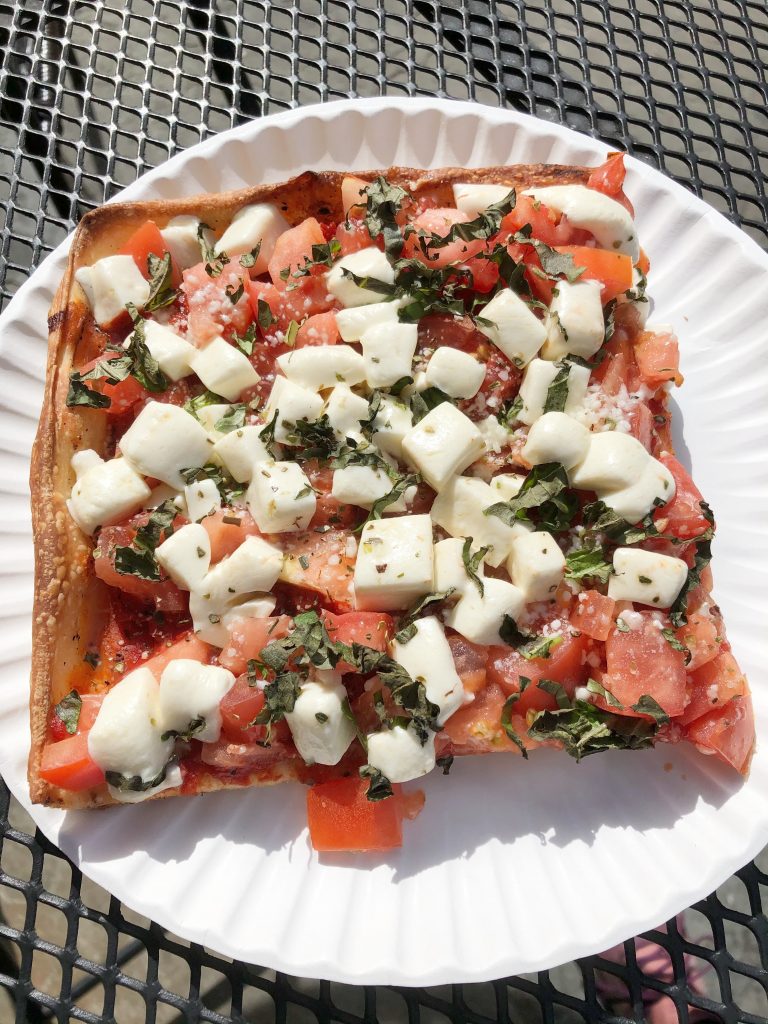 Slices of Saugerties (71 Partition Street) – No joke, their Grandma style Tomato, Basil, Mozzarella slice was so good, we had to go back for another slice on our second day! There's a reason this is a "Best of Hudson Valley" winner! (Open 7 days a week)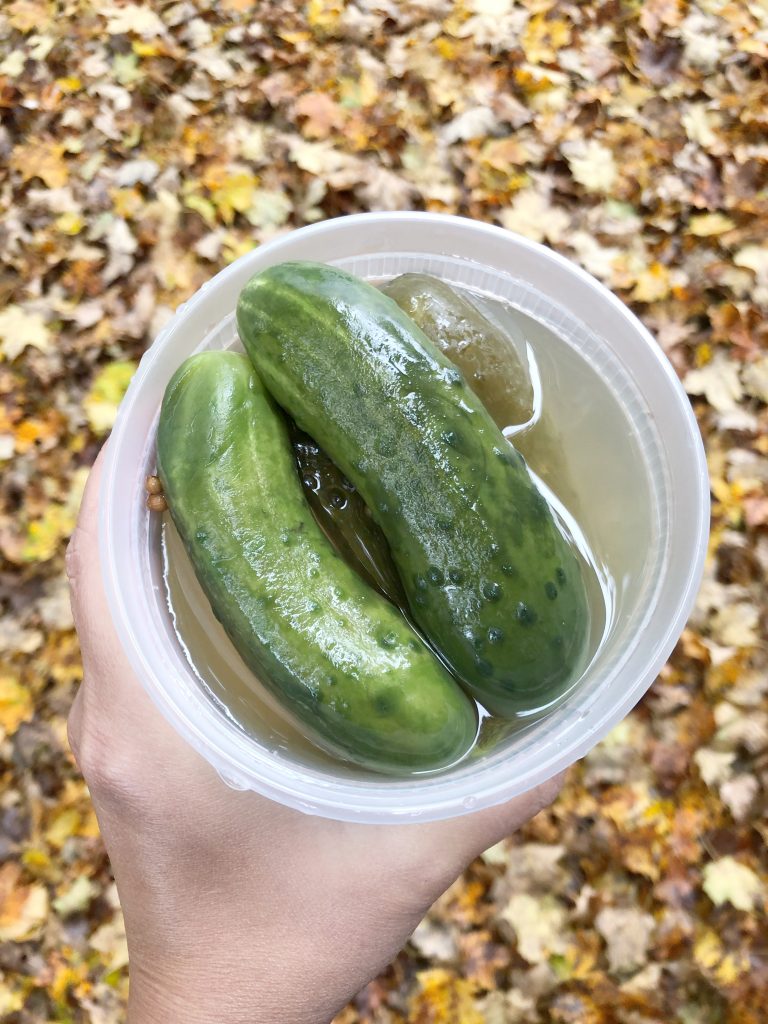 Brine Barrel (237 Partition Street) – We stopped at Brine Barrel before we headed back home to get some pickles to go. We got a combo of half-sour, dill, and sour dill pickles to bring home. They did not last long in our house before we devoured them!
As you can see, there is lots for visitors to enjoy during a weekend in Saugerties! It is close enough to home that we can't wait to go back and visit the restaurants and attractions that we didn't have time to enjoy on this trip!
You may also enjoy reading: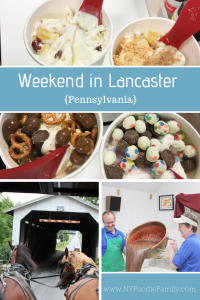 A Weekend in Lancaster, Pennsylvania.