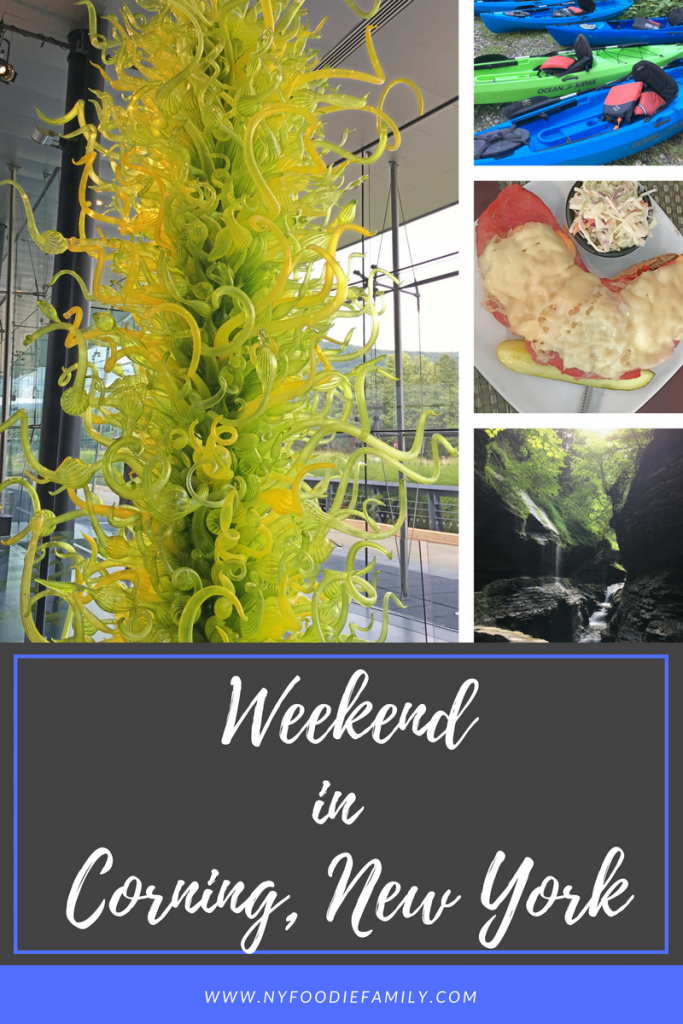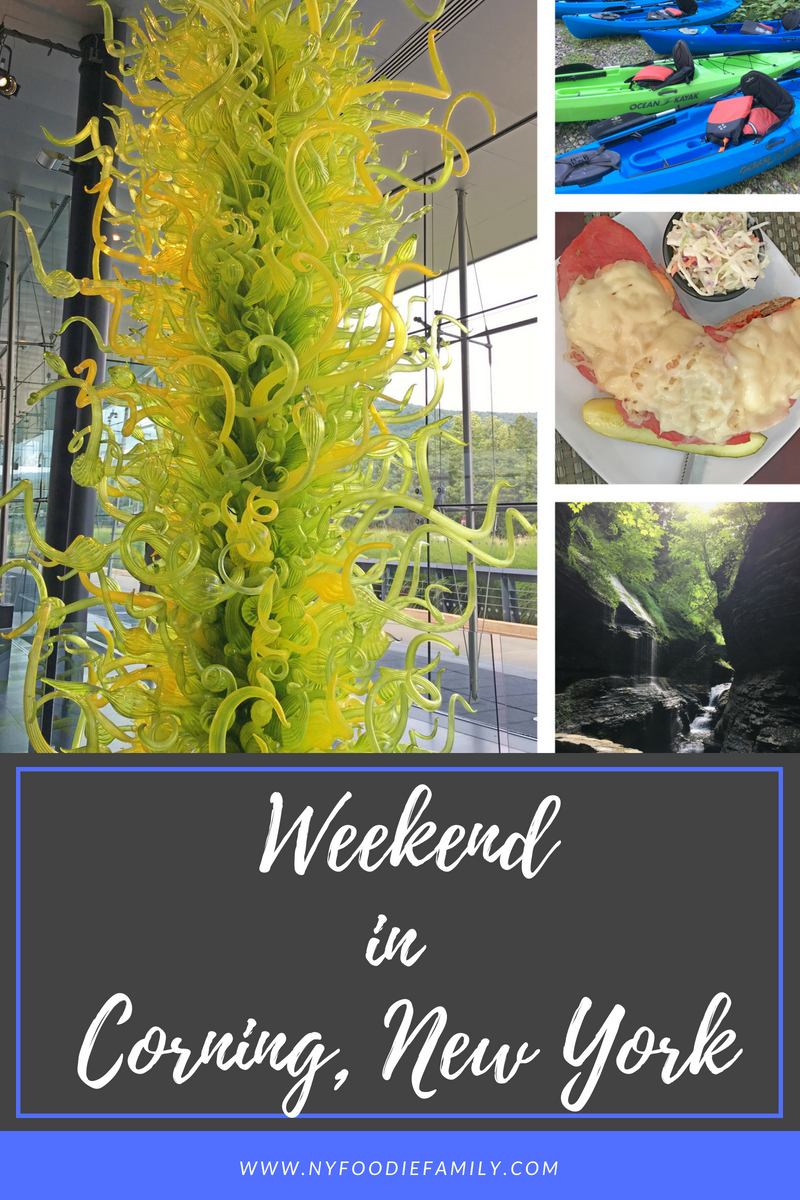 Nicknamed "Crystal City," Corning, NY is perfect for a fun family weekend getaway.  Situated in the southern Finger Lakes region, there is something here for everyone. Last summer I visited Corning with my two children and we had a great time. However, the town will appeal to art lovers, wine connoisseurs, or couples looking for a romantic getaway as well.  The trip to Corning is a little less than 4 hours by car.
Where to Stay: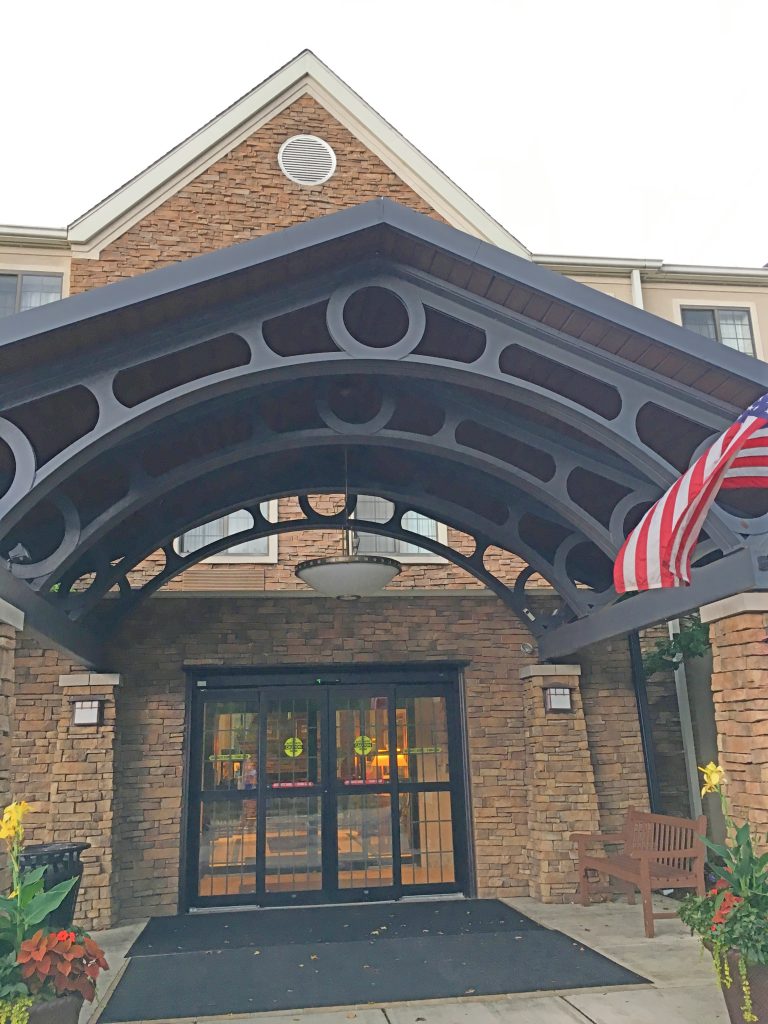 Staybridge Suites Corning
Staybridge Suites Corning is located a short distance from the Corning Museum of Glass.  This hotel is perfect for families.  Our suite had a small kitchenette with a table and chairs and a living room with a television.  The kids shared one bedroom and each got a bed all to themselves, while I slept in the other bedroom.  Getting ready in the morning was made easier with a bathroom in each bedroom.  My kids loved swimming in the indoor pool.  Breakfast is included with your stay, which is always nice when traveling, to save on expenses.  The buffet had a decent selection of hot and cold choices including oatmeal, scrambled eggs, waffles, pastries, fruit and more.  Monday, Tuesday and Wednesday evenings the hotel hosts an evening reception with complimentary food and beverages.
What to do: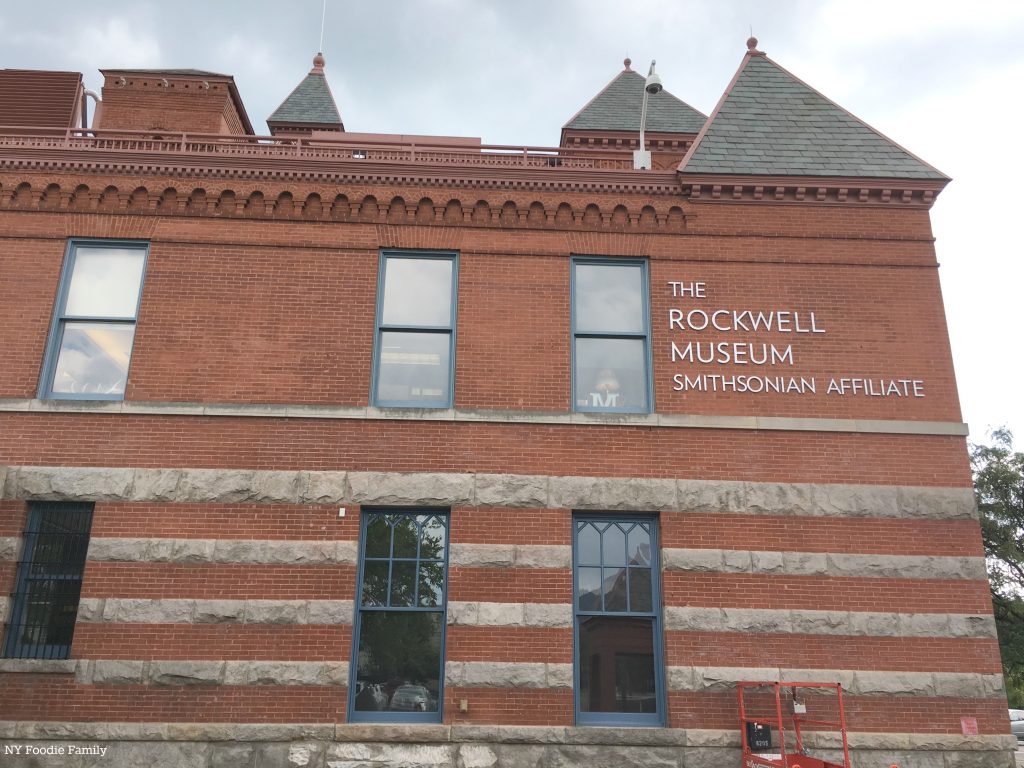 Rockwell Museum
The Rockwell Museum is located in the heart of Corning, on the corner of Cedar Street. The museum houses a diverse collection of art that tells the story of the American experience through the works of American artists.  Open at 9 AM, this is a great place to start your visit in Corning.   You can easily spend a couple of hours viewing the paintings, sculptures, photographs and other works of art.  You can buy a combo ticket to the Corning Museum of Glass and take advantage of the free shuttle.  Read all about why this museum is great for families!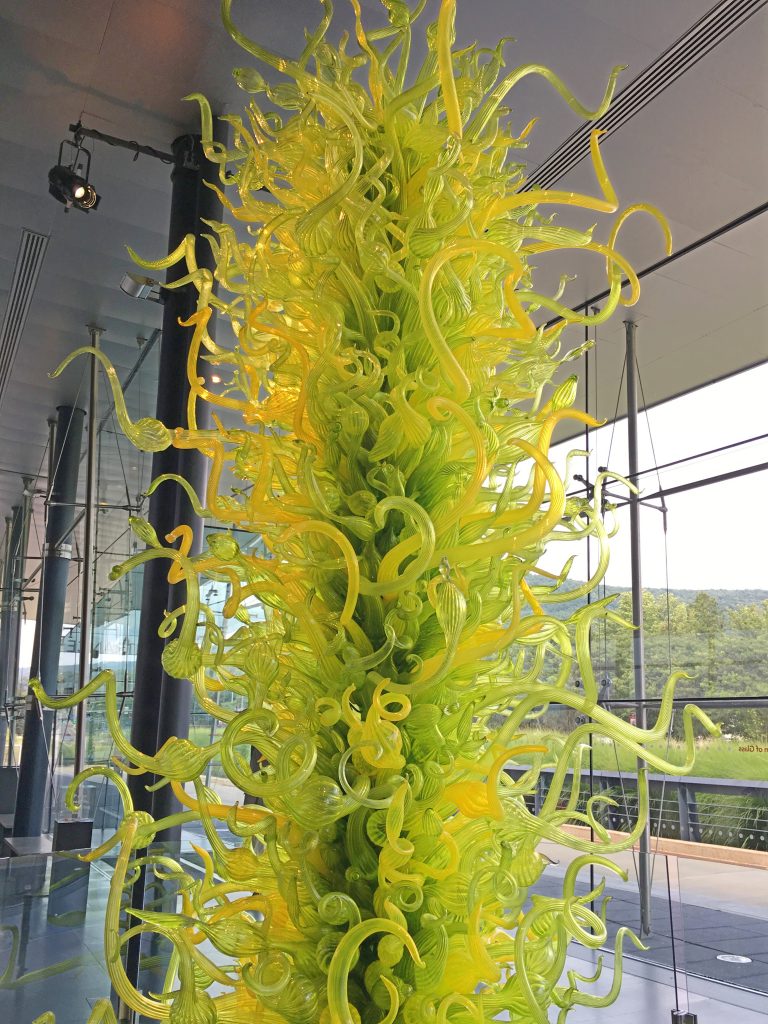 Corning Museum of Glass
Most people associate Corning with the Corning Museum of Glass and of course it is a mandatory stop on your trip. The Corning Museum of Glass houses the world's largest collection of glass art, with over 3,500 years of glass history exhibited throughout its galleries.  During your visit you will also be able to watch live glass making demonstrations that are held continuously throughout the day.
Prior to your visit, be sure to make a reservation at the Studio if you want to participate in a Make Your Own Glass experience.  For an additional fee, you can enjoy a memorable glass blowing experience and take home a souvenir of your trip.  Because the glass needs to undergo a slow cooling process, it must remain at the studio overnight and can be picked up the next day or shipped to your house, for a fee.  Read all about our visit to the CMOG.
Other Museums and Historic Sites
Located in or around Corning you will also find other museums including the Arnot Art Museum,  Glenn H. Curtiss Museum, the Finger Lakes Boating Museum and the Erie Depot.  History fans will also enjoy Mark Twain's Elmira.

Watkins Glen International Speedway
Located approximately 30 minutes away is the Watkins Glen International Speedway.  If you are into car racing, you may want to plan a weekend when a race is taking place.  On specific dates, you can purchase a pass to drive your car around the raceway!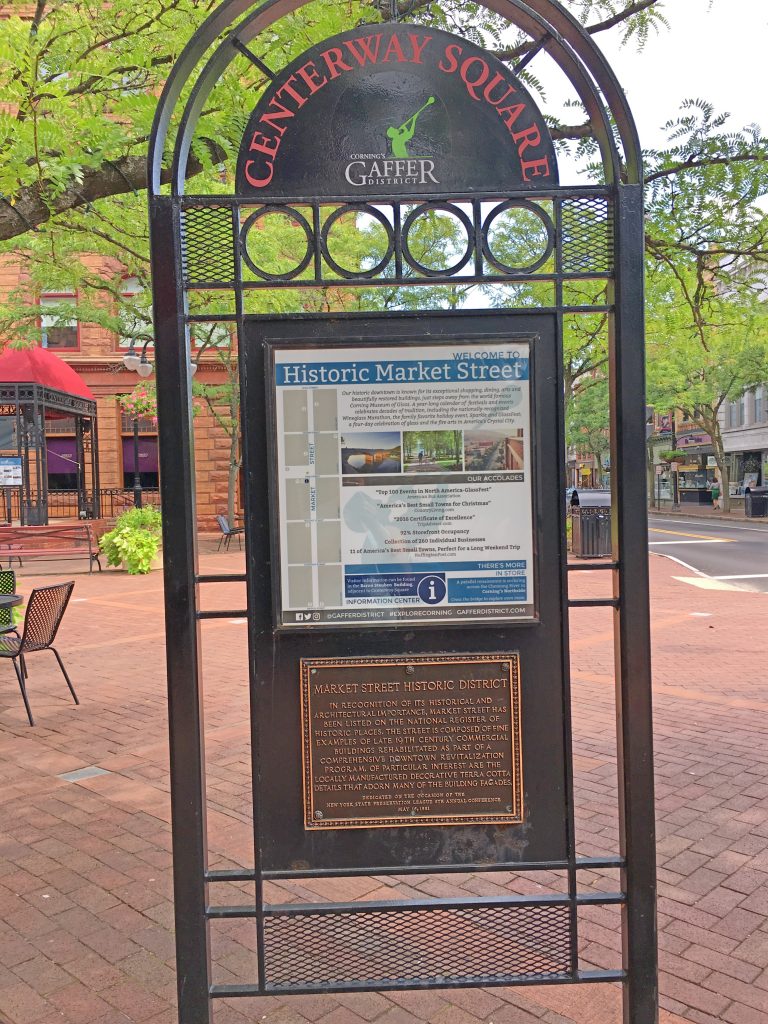 Shopping
The Gaffer District is home to over 50 shops. From clothing, jewelry, glass, wine, cigars, art and more, you will find something for everyone among the different shops.
Wineries & Breweries
The Finger Lakes is well-known for its wine trails.  But did you know that the region is also home to many breweries and distilleries?  While not something that I could partake in with the kids in tow, I can't wait to return with my husband to enjoy the craft beverage trail.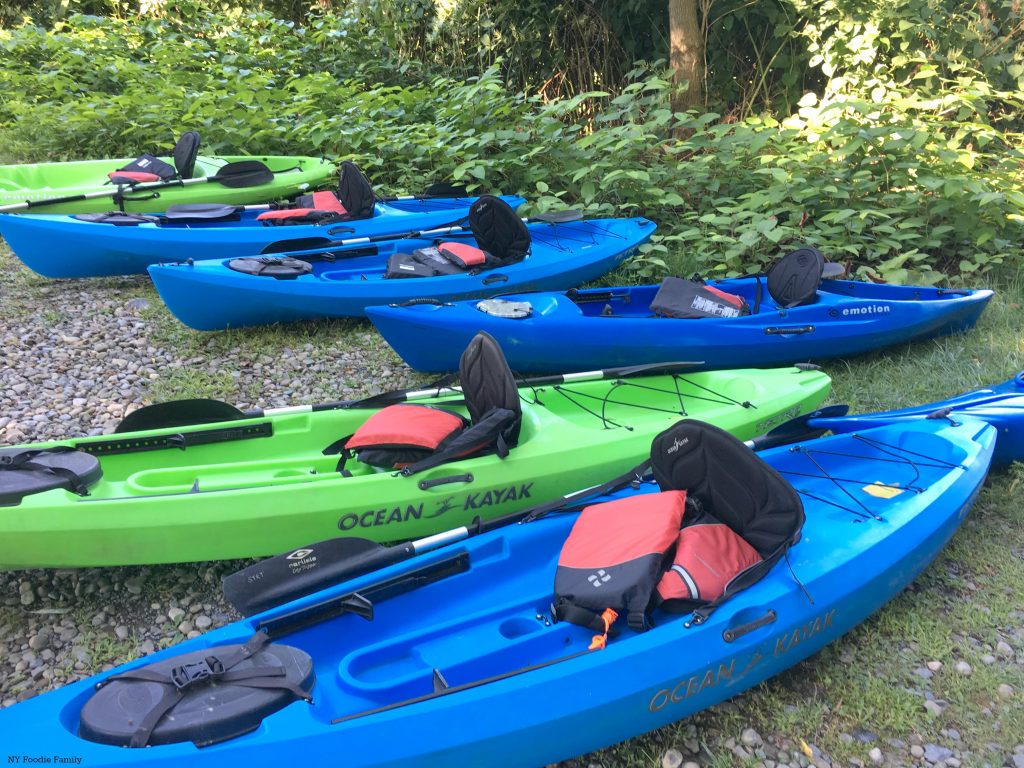 Outdoor Fun
There are many different outdoor activities to enjoy in Corning.  Depending on when you visit you can kayak, hike, bike, fish, boat and even horseback ride.  No matter what season you visit, you should make time for a stop at Watkins Glen State Park.  A short drive from Corning, this New York State park is home to 19 waterfalls, a couple of which you can actually walk behind!  During our visit we kayaked, went horseback riding, and also visited Watkins Glen State Park.
Where to Eat: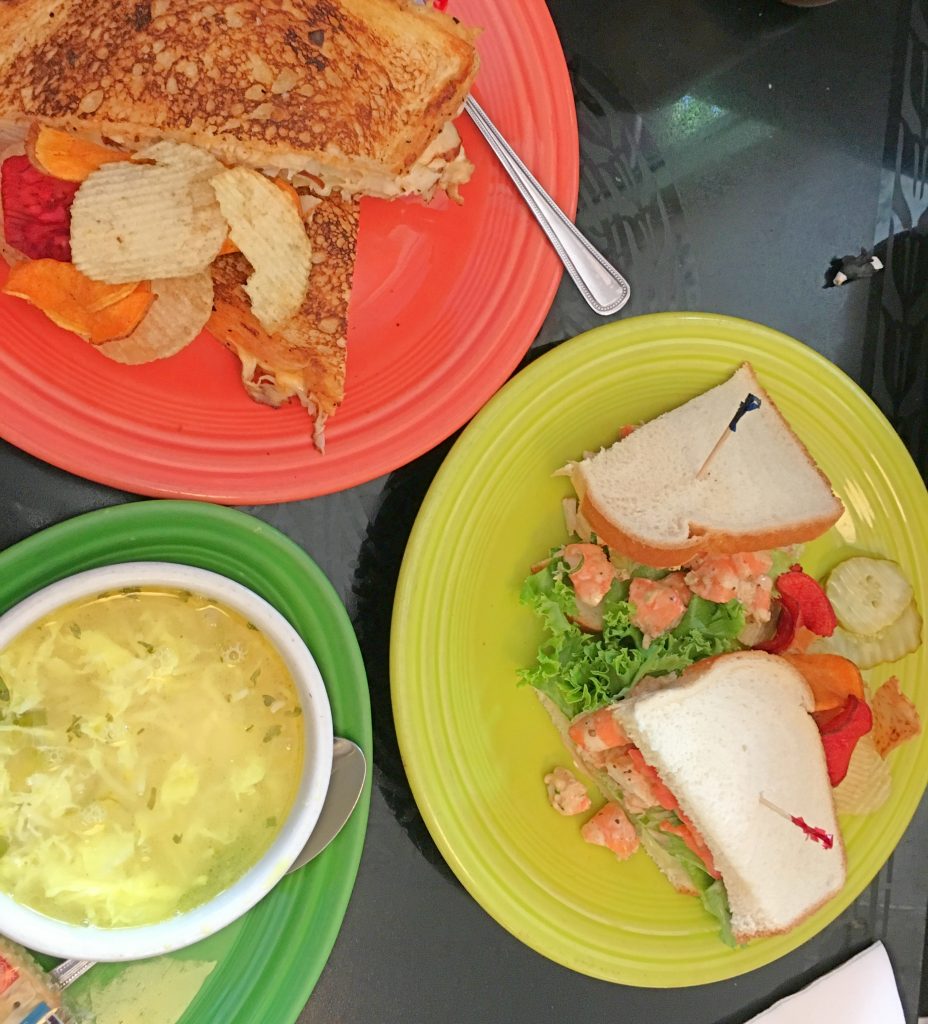 Old World Café
Within walking distance of the Rockwell Museum is the Old World Cafe.  It sits in the heart of the Gaffer District, and is a perfect place to grab lunch.  You can enjoy the homemade soups, sandwiches and salads, but leave room for some Purity ice cream, served in the parlor.
Hand + Foot
Back in the Gaffer District enjoy dinner at Hand + Foot.  The have a drink menu featuring an extensive list of draft beers.  Their menu features sandwiches and dishes made with seasonal ingredients.  The restaurant focuses on community and has one long table for seating, conducive for meeting the locals and making new friends.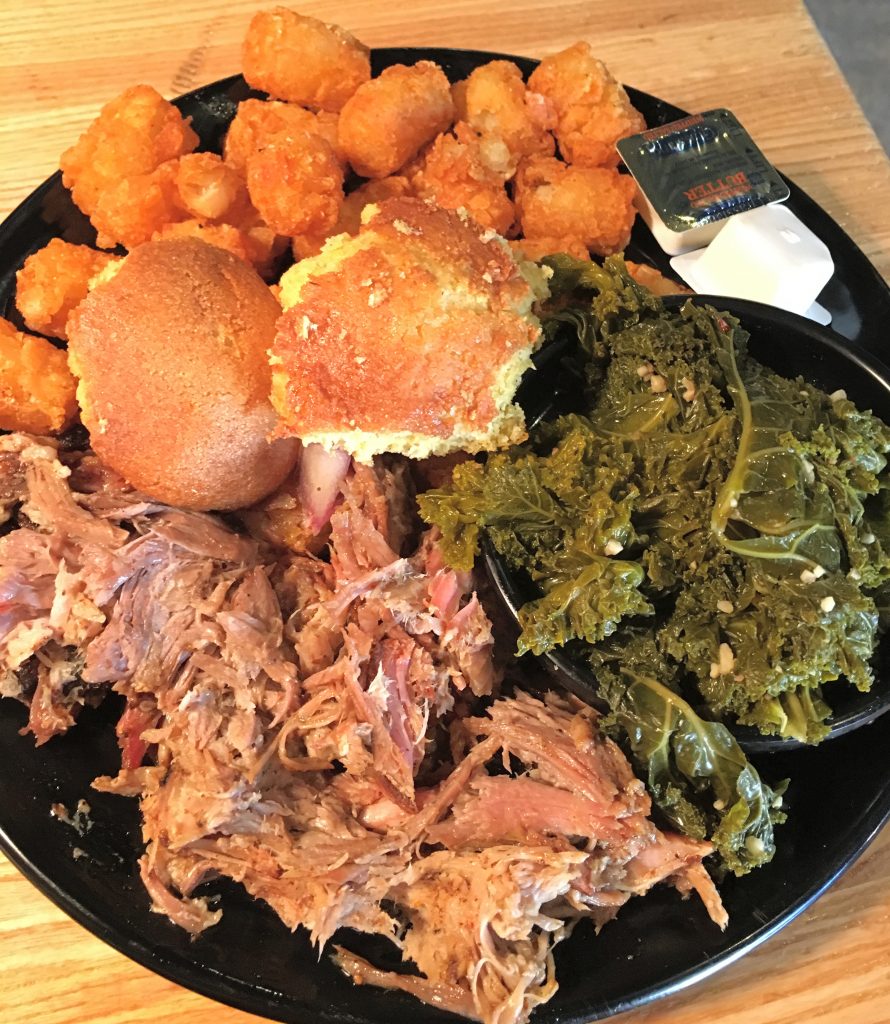 Nickel's Pit BBQ
After a hike at Watkins Glen State Park, visit Nickel's Pit BBQ located on North Franklin Street. The restaurant is located in the historic Watkins Glen fire department building.   It serves all kinds of delicious BBQ in a casual, but fun atmosphere.
Village Tavern Restaurant
Located approximately 40 minutes away in Hammondsport, near Lake Keuka, is Village Tavern Restaurant.  This European style bar and restaurant serves award-winning wines and over 100 different beers.  While the restaurant specializes in fresh fish and seafood, the lunch menu includes a variety of salads and sandwiches.  This restaurant is seasonal and is open May through the beginning of December.
Note:  Thank you Corning and the Southern Finger Lakes for hosting our visit.  As always,  all opinions are our own.