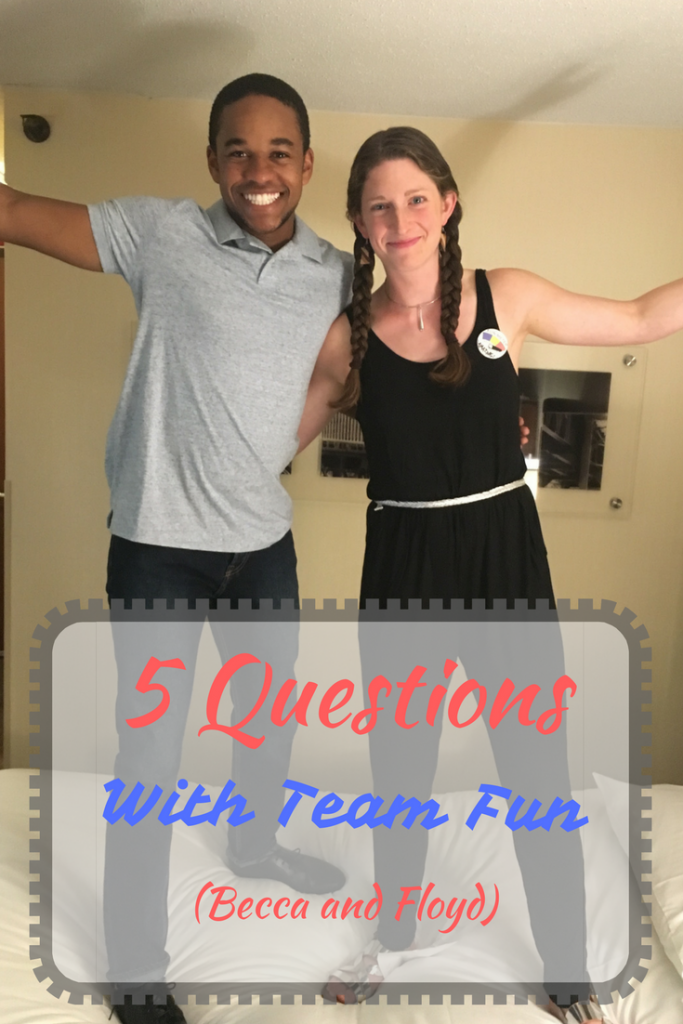 (Photo provided by Becca Droz)
It's time for another "5 Questions with…."  a feature where I interview notable figures in the food and travel industry. I've been a fan of the television show The Amazing Race since it first aired on CBS back in 2001.  I even had hopes of one day being a contestant on the show.  That is until my husband so kindly pointed out that I don't deal well with stress…..and racing around the world on a televised game show isn't stressful or anything!  I recently introduced our kids, ages 9 and 11 to the show for the first time this season.  Every week we watched the Amazing Race 29 and cheered on our favorite team, Team Fun!  Becca and Floyd were so enjoyable to watch.  They were always so positive, had so much energy and were, well…..fun!  I jokingly asked my husband, "imagine if I interviewed Team Fun for my 5 questions series?!"  So I was super excited when they responded that they would love to participate.  (My son's jaw literally dropped when I told him!)  So, as a family we collaborated on coming up with the 5 Questions below to ask Team Fun!
5 Questions with Team Fun:  
1.How much travel experience did you have prior to filming the Amazing Race?
Becca Droz:  Internationally, I did not have a lot of travel experience. I went on a 10 day trip to Barcelona with my family in 10th grade and I lived in Israel for 5 months during a gap year in 2010-2011. I did travel within the states a fair amount, mostly for outdoor adventures. I also lived out of a van with a friend for 5 months when I graduated college in 2014, when we traveled to popular climbing destinations around the country.
Floyd Pierce:  Pretty much none! I've been around the country as well as Hawaii. My family once went on a Caribbean cruise, but I don't really count that since we didn't get off the boat that much.
2. Viewers rarely see contestants eating regular meals during the show.  Did you guys eat the local cuisine in the countries you visited?  Can you tell us some of your favorite and least favorite foods that you ate? 
BD: Unfortunately we did not get to eat a ton of authentic local cuisine. The majority of our meals were ham and cheese sandwiches made by local production companies and sodium-heavy airplane meals. With that said, my favorite meal was in Greece. We had 13 or so hours to kill before our flight so we asked our taxi driver about a good local spot. He took us to a local "tavern" where we met with Team LoLo (London and Logan) and Team Drama (Brooke and Scott) for a beer and some delicious, fresh gyros. They brought us some complimentary shaved meat which tasted like bacon and a little cup of a yogurty dessert. It was one of the few cultural food experiences I had on the Race.  Also, I tried to go local in Vietnam and ordered goat stew and a duck dish. The goat wasn't terrible, but the smell of the duck dish alone made me feel nauseous, as did the taste.
FP:  We ate a little local cuisine at this food court kind of place in Panama.  And then we had these awesome Gyros and this skewer of meat in Greece with Brooke and Scott and London and Logan.  The chef liked us so much that they gave us free dessert! They also had really good beer.  Then there was the raw fish we ate in Norway at the lighthouse, and I ate some pasta and eggplant as a part of the roadblock in Italy.  Besides that, we didn't eat too much local cuisine, as we didn't want to risk getting sick or mess up our digestion, haha.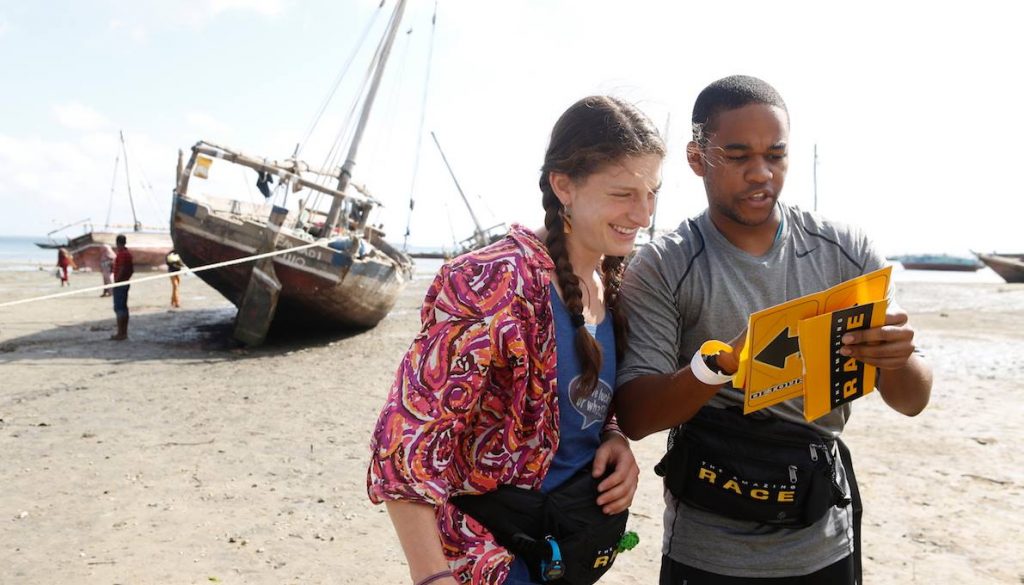 (photo provided by Becca Droz)
3. Everyone on your season of the show has such different personalities.  It's incredible that you two started out as strangers but ended up as teammates with similar dispositions.  How were you both able to keep your positive attitudes in such stressful situations?

BD: By watching past seasons of The Amazing Race it is clear that it is not worth it to let the stress of the Race create tension in the relationship. We both went into the race knowing that staying positive, believing in ourselves and believing in each other were our greatest assets as individuals and as a team. We also wanted to enjoy our experience of traveling the world as much as we could. Needless to say, we both got very lucky.
FP:  Because we knew that's what it took to win!  I came on the show knowing that it was designed to push you to your limits, it's designed to trip you up. Staying positive was our way to "outsmart" the race. Plus, it was way more fun to race that way!
4. What was your favorite leg of the race?  And what location(s) would you like to go back and visit when you have the chance?
BD: Each leg was so unique, not only because of the location and the challenges, but because of the phase of the Race, Team Fun's growing relationship and our ebb and flow of confidence. That being said, our first leg in Vietnam was phenomenal. We did everything right (besides wear shorts). Playing Frogger through the chaotic streets of Hanoi with a 20 foot ladder was wild and memorable! We went from worst to first that leg and were as confident as we've ever been, (perhaps a factor that lead to our downfall). I'm looking forward to returning to the area around Lake Como, Italy and Norway to explore the rock climbing and more remote beauty in those areas.
FP: That's like asking me who's my favorite child.  Each leg and culture was so different than the others, and I appreciated each one in different ways, even the scary/dramatic ones. If I had to choose a favorite I'd say Brazil, Norway, or the first leg of Vietnam, as the challenges in each of those legs (drumming with a samba band, skydiving, running with a ladder through crowded streets) were so much fun. I'd definitely go back to Norway. It was so beautiful, as if it was directly out of a fairy tale.
5. How have your lives changed since being on the show?  What are you doing now that the show is over?
BD: By achieving my goal of being on The Amazing Race, I set a high standard for myself regarding what I can accomplish in life. Now that the show is over, I am moving forward in a few areas of passion. I am earning certifications in the world of rock climbing so that I can be a more competent climbing instructor and I am taking my personal climbing pursuits to a new level. I am still teaching rock climbing in the gym at Movement Climbing and Fitness in Boulder and outdoor days with the Women's Wilderness Institute. Floyd and I are developing our YouTube channel to continue spreading the fun and positive vibes. I am currently phasing out of my full time job as a barista and into an entrepreneurial lifestyle where I will arrange speaking gigs and workshops to become more comfortable with uncertainty and to inspire people to see failure as a stepping stone to success. It all starts slowly. At this point I spend a lot of my free time making Fun O Meter buttons in my home button factory and shipping them to fun loving folks around the world! There is more information at www.funstoppables.com. While I am trying to accomplish a long list of goals, I am also taking the time to build relationships with people who I admire and remain introspective as I continue to grow.
FP: I've definitely been recognized a lot more, and it's the first thing people want to talk about! Since the show I've had quite a few speaking engagements lined up, but other than that things are mostly the same! Moving forward, I'll continue to live my life and appreciate the surprise that each day brings me. Becca and I will also continue being Team Fun, and we have a YouTube channel that we will continue posting on!
Thank you so much Becca and Floyd for answering my 5 Questions!  Follow Becca on Instagram and Twitter and check out her website Funstoppables!  Follow Floyd on Twitter and Instagram!   Check out their YouTube channel where you can watch them recap the episodes of their season of the Amazing Race, getting behind the scenes info!  You can also see their audition videos!  Their first episode is below.