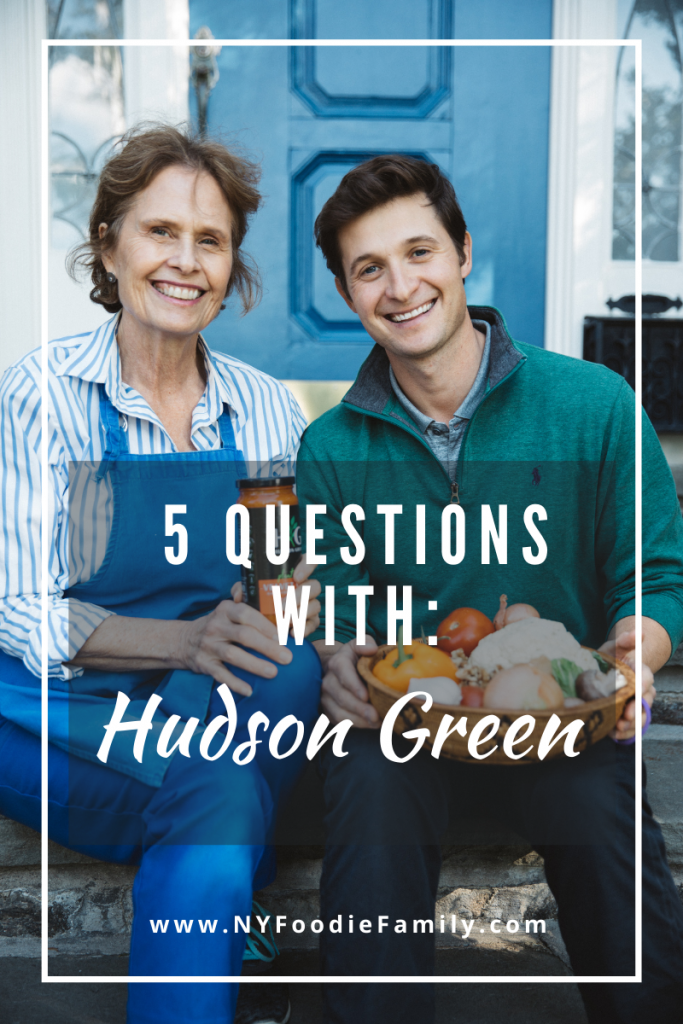 We are bringing back our "5 Questions With….." series, but focusing on spotlighting local Hudson Valley businesses and people. Kicking off our local series is 5 Questions with Hudson Green. Hudson Green is a local Westchester County family owned and operated business. This plant-based food company is run by Maria Rama and her son Will Reiter. Launched in 2018, Hudson Green currently sells two plant-based sauces, Meatless Bolognese and Velvet Vodka.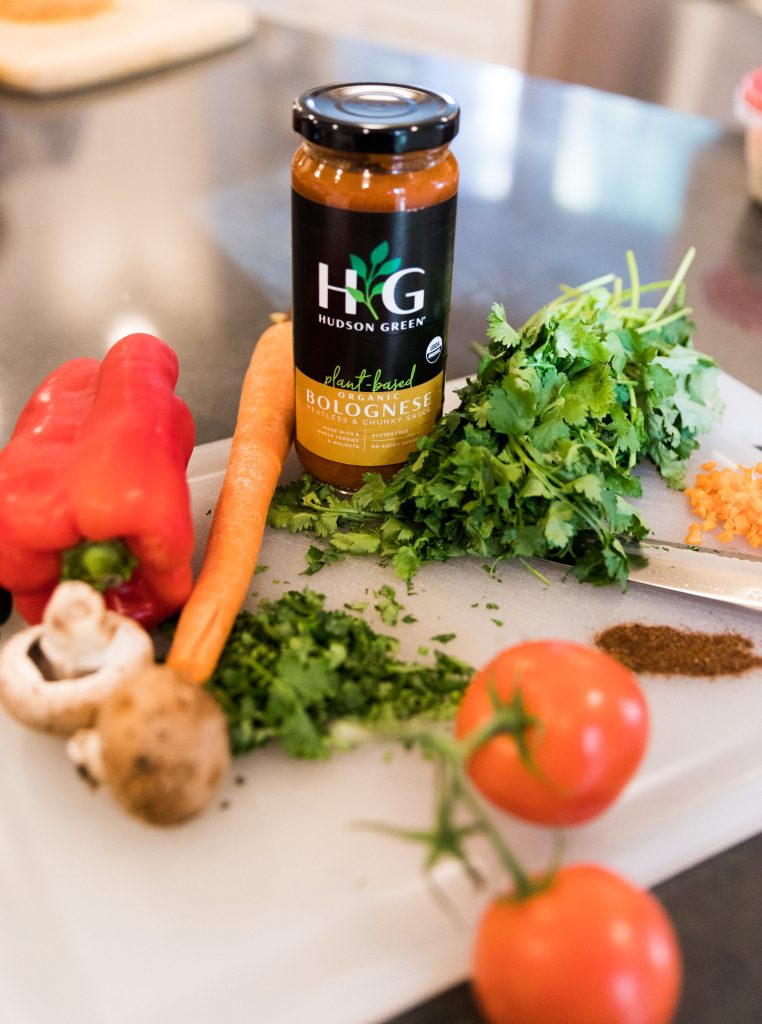 Maria grew up in the restaurant business and has extensive experience in the food industry. Not only does she and her son make and sell their sauces, but she creates recipes, found on the Hudson Green website, that incorporate the sauces.
1. I know starting a business is not a quick and easy endeavor.What was the inspiration behind Hudson Green and how long did it take for you to go from the concept to creating your first sauce, the Bolognese?

I've worked in the food business as a cookbook author, account executive for Sunkist Growers, Tabasco Pepper Sauce, Korbel Champaign, and served as a consumer advocate and food spokesperson for nearly my entire professional life. After my dear husband Mark nearly suffered a heart attack, he made the life-saving decision to become a vegan. As the head chef in our household, and even though I was proficient in the kitchen, I had to learn how to make satisfying and delicious plant-based dishes, that were also fat free or at least had very little fat, including vegetable oils. This undertaking was tricky, even with my cooking skills. Prior to his illness, I'd just released my sixth cookbook, Bacon Nation, which gives you an idea of my cooking experience and my prejudices for using flavorful, umami rich fats in all of my cooking. Like so many others, we thought we were eating well and healthfully, but we weren't. To save Mark's life, I had to completely relearn how to cook.

One of the most delicious and useful dishes I created was a recipe for a Meatless 6-Vegetable Bolognese. It was a basket of vegetables in a pot, caramelized in very little oil, seasoned with spices like fennel, nutmeg, nutritional yeast and sun-dried tomatoes, and I added walnuts for a little protein and to give it a meat-like "bite." It was so thick and delicious, and I used it to stuff peppers, make vegetable chilis, even lentil burgers. I had kind of a "eureka" moment in my kitchen. I thought, "This sauce is so good and so unique, maybe others looking for healthy and delicious plant-based sauces might want to buy it." That began my journey to create a recipe that could be scaled up, manufactured and safely jarred. I had no experience as a product developer and it took me the better part of a year to complete this part of my journey. I was helped by Cornell Food Venture Center, the New York State institute that approves all shelf-stable jarred goods before they can be sold in the U.S.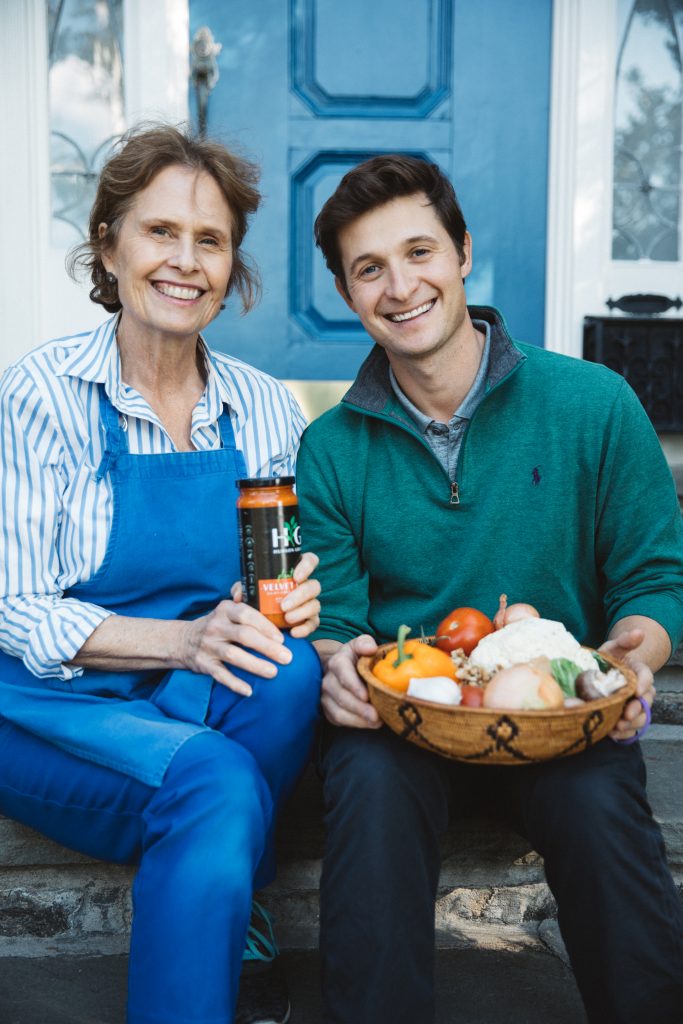 2. Hudson Green is a family business. What is it like working with your son?

This is an interesting question. I love working with my son, Will, and believe we've gotten to know each other much better through this business. It's good that we bring different skill sets that can tackle and solve different problems. I focus on recipe and product development and manufacturing. I'm also a people person and love connecting with our customers. But my computer skills are limited, and so Will manages all the back office work, including our online Amazon sales. Also, he's a lawyer, and he reads and amends all our contracts with the people and companies we work with, such as our broker, our co-packer, our vendors, our distributors. I very much admire how he's trained to think more cautiously than I am. I'll say let's do this, and he'll give me the smart and practical reasons that temper my enthusiasm. I think we make a good team.

3. You are a best selling cookbook author, have trained as a pastry chef, worked as a food stylist and as an account executive for major food brands. Who/what influenced you to enter the food industry and how has your diverse background in the industry helped you in creating your sauces?

I grew up in a large, boisterous Italian family, dominated by women who lived to cook. They owned a successful grocery and meat market in Bedford Hills, Briccetti's Bedford Market, for more than 50 years, and cooked for this store many of the most amazing and unique dishes I've ever tasted in my life, still to this day. I worked often in the store and in their home kitchen, absorbing all their secrets and also all the joys of creating food that was pure, delicious, nutritious, and that brought us all to an extended family table at Grandma's house every Sunday. After graduating from college, I went right back into making food. My first real job was working in Boston as a pastry chef and then I was hired by a major New York Food Public Relations Firm to create recipes and products for different food companies. It's a classic tale of how what you do as a child, if you love doing it, is very often what you seek to do professionally as an adult.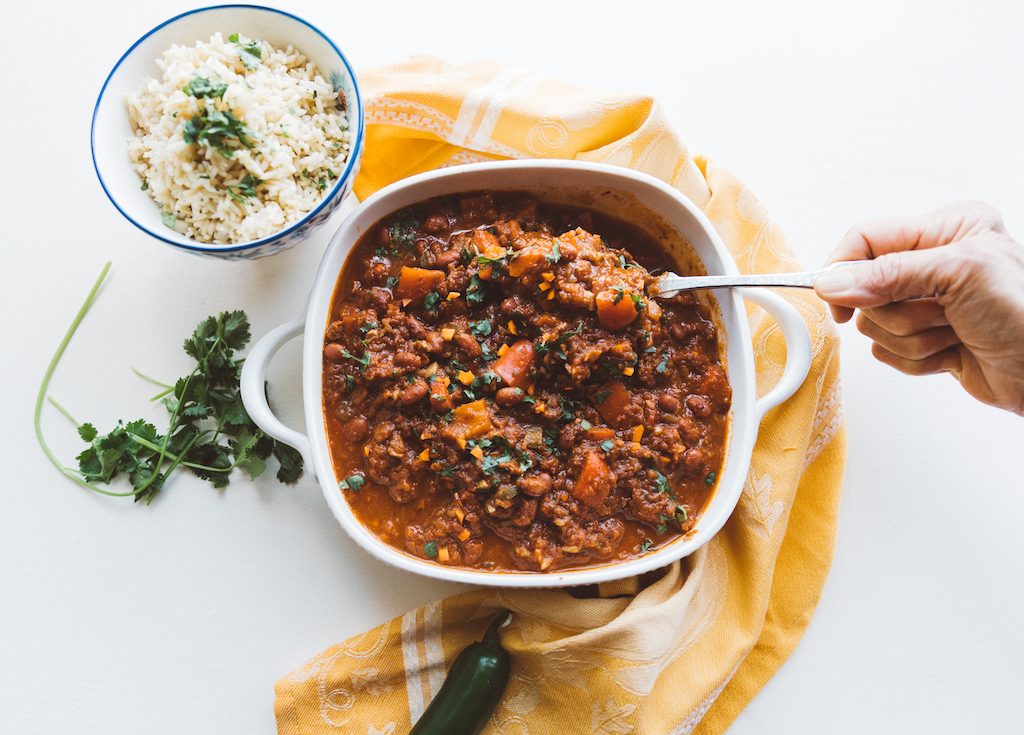 4. My family followed a vegan diet for 6 months and now 3 out of the 4 of us are vegetarians.  Your two sauces are both plant-based and meat and dairy-free.  We love pasta and sauce, but I love that you have created recipes like risotto, stuffed peppers and a shepherd(less) pie, that  incorporate your sauces. They really showcase how versatile the Bolognese and Velvet Vodka sauces are.  Do you have any tips or advice for readers who are looking to adopt a more plant-based diet? 

Cooking delicious plant-based foods is not as difficult as many people think. Meat, poultry, eggs, fish and dairy products all have different kinds of fat, and fat is filled with flavor. So, the trick is to impart flavor to your plant-based dishes without using any of these fat-rich foods. You can do it with either a technique or an ingredient. Here's a few tricks I practice:

1.) Roast your vegetables! Use a little oil or substitute vegetable broth for oil in your roasting pan to roast veggies like red peppers, carrots, onions, garlic, cauliflower, sweet potatoes, eggplant, hard-shelled squash, etc. Roasting caramelizes the vegetables, to bring out their natural sweetness, and aside from the chopping, there's little work to roasting!

2.) These are a few of the seasoning ingredients that I am never without in my vegan kitchen. They bring bland vegetable dishes to life.
Fresh Ginger Root — It's slightly spicy, intense, slightly nutty, slightly sweet. Add it generously to your soups, vegetable stir-fries, stuffings, and pasta dishes.
Garlic — Like onions, it's a must kitchen helper, but don't ever burn garlic when you sauté it. Tease out it's flavor by adding garlic to the pan after other vegetables have been fully sautéed and softened. Sauté garlic only about 30 seconds or until fragrant. Or wrap a whole head of garlic in tin foil and bake until very soft. Perfect for hummus dips!
Jalapeno Peppers — They not only add spice, but also lots of peppery flavor to vegetable sautés and soups.
Substitute cooked and pureed cauliflower for cream and other dairy to make creamy soups and vegetable purees.
Curry powders are instant flavor enhancers, even if you don't care much for curry! Yellow curries have a different profile than spicy Thai red curries. Try different ones to flavor soups, vegetable stews, stir-fries, dips, sauces. A little sprinkle or a large spoonful of curry powder perks up the flavor of just about any vegetable dish.
We all focus on eating fresh vegetables, but don't ignore frozen veggies. Stock them conveniently in your freezer for quick side dishes. We always buy and freeze a supply of shelled edamame, corn, and green peas, and add them to mixed greens for quick and nutritious salads.
Olives, capers, roasted and pickled peppers, pickles — With their intense saltiness, these make great seasoners. Add them to salads or serving as satisfying garnishes to all kinds of vegan dishes.
Good quality sea salt, kosher salt, truffle salt, etc. Salt can elevate the taste of a bland and forgettable vegan dish to something wonderful. Experiment with different salts to find a few you really like.
Good quality white and red balsamic vinegar. Drizzle over roasted veggies, onto your favorite salad, onto avocado toast, etc.
Fresh herbs, especially thyme, tarragon, parsley.
Good quality vegetable broth. If you need to reduce the amount of oil in your diet, use a good quality vegetable broth instead to sautéed and roast vegetables. Oil does work to impart flavor, but vegetable broth will also impart some flavor and more importantly it will keep your veggies from burning while sautéing or roasting.
3.) We're all eating more pasta dishes these days. To avoid putting on COVID pasta pounds, make the sauce the center of the dish, not the pasta. In other words, do as the Italians do, who eat pasta every day and never gain weight. Use less pasta and more sauce and fill your sauce with an assortment of vegetables. Your pasta sauce can become a vegetable delivery system. Indeed, this is the way we look at our Organic 6-Vegetable Meatless Bolognese. It brings to your pasta plate cauliflower, carrots, onions, mushrooms, carrots, garlic, tomatoes, sun-dried tomatoes and walnuts. Use 3 to 4 ounces of pasta per serving, not 6 to 8, with our sauce for a truly satisfying dinner that won't add unwanted pasta pounds.
4.) Think outside the pasta box! Use our plant-based Hudson Green sauces not only to make great pasta dishes but also to make soups, veggie stews, to stuff peppers, to make a veggie chili, a lentil burger, or a cream-free, dairy-free mac 'n cheese. Our sauces are not for pasta only! Check out our many Hudson Green recipes on our website.
5.  What are your future plans and goals for Hudson Green?
  
We'd like to extend our line of sauces, and we have several recipes ready to go. To that end, we'll need to find investors or a larger company that sees the potential in our brand and wants to help us develop our products. 

Bonus Questions:
1. What is your favorite food?
I don't have one. But I love any dish that is perfectly and exquisitely seasoned and cooked. 

2. What are some of your favorite places in Westchester County to eat, shop and play?
My husband and I are avid golfers and you will find us often on many of Westchester's public courses about 8 months out of the year, weather permitting. I love any restaurant where the cook makes something I can't make better in my own home kitchen. Often a great slice of pizza or an exquisitely prepared eggplant parmesan will send me to heaven, so to speak.  And I often find these dishes in small neighborhood restaurants where the chef or owner has been making them for many years or even for his entire life.

Hudson Green's Meatless Bolognese and Velvet Vodka sauces can be purchased online via the Hudson Green website, Amazon or at local specialty grocery stores including Wegmans.

To learn more about Hudson Green, visit their website!
You may also enjoy reading: