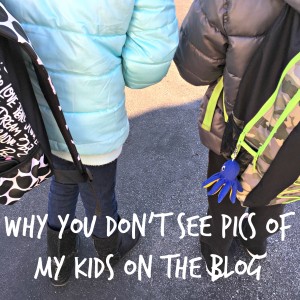 I've been writing this blog for a little over a year now.  If you're new here or even a regular reader, you've probably noticed that I don't post pictures of my kids on the blog or on my social media accounts.  Sometimes this can be difficult, as I consider NY Foodie Family to be a family lifestyle blog.  I write about all the fun stuff we do as a family, including our travels, weekend fun and what we're eating and reading.  I try to include pictures in my posts and social media that capture the essence of our fun, without showing the kids' faces.  Prior to me starting this blog, it was a mutual decision made by my husband and I to protect the privacy of our children.
This little blog here is MY hobby.  It's something I do for fun.  While I write about the events going on in their lives (because they also relate to me – the one paying for their activities, driving them, and cheering them on!) they don't need their faces plastered on the internet.  I scrapbook photos of these events for the kids to have and cherish as an adult.  This blog was never meant to be an online scrapbook.  It's a fun outlet for me to write and practice my very amateur photography skills!  It's a public site and I have no control over who visits it.   My kids are old enough (ages 7 1/2 and almost 10) to have opinions about what is posted.  They know I have the blog, but they don't read it.  I don't want them to ever feel embarrassed about what I post, but I also don't want to request their permission every time I want to post a picture of them.
Every blogger's decision regarding pictures of their children and family is a personal one. I hope you know have a better understanding of why you don't see pictures of my kids.