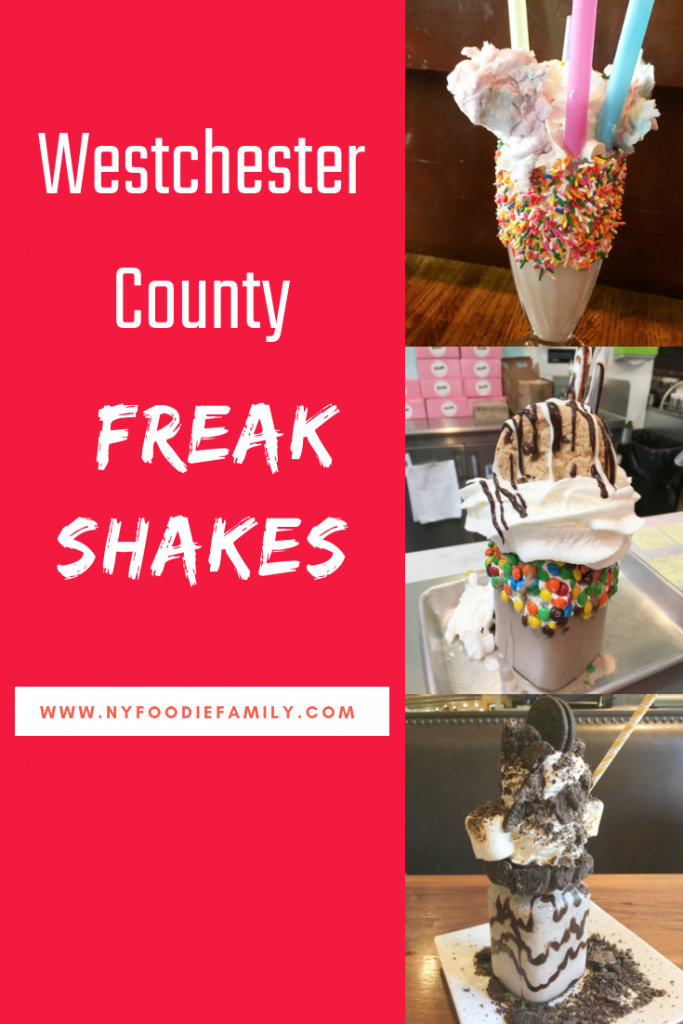 Freak shakes have been around for a couple of years now.  These epic shakes are topped with everything from cookies, candy and even whole slices of cake!!  NY Foodie Family recently took a foodie tour of Westchester to try four of these monstrous dessert mash-ups.
Our first stop was Lazy Boy Saloon in White Plains.  They serve four different milkshakes including Cotton Candy, Chocolate Chip Cookie, Oreo and Fruity Pebbles.  We decided to go with the Cotton Candy, since it seemed the most interesting of the four.  This strawberry shake is topped with cotton candy and  a lollipop. The rim of the glass is covered in vanilla frosting and sprinkles. Each shake is $12.
Verdict:  Of the four shakes we tried, this one was the smallest.  We found the milkshake to be very liquidy and the sprinkles are pretty much for show only, as they were pretty well glued on with hard frosting.  The cotton candy was a tasty and fun touch.  I think this shake lacked the amount of "stuff" to really be considered a freak shake, but was priced like one.  According to the menu description, it seems a lollipop should have come with our shake, but did not.  This was our least favorite of the shakes we tried. We will visit Lazy Boy Saloon to try their wings and other tasty-sounding apps and take advantage of their extensive beer selection.  We'll just go elsewhere for our shakes.
Our second stop was Sugar-Hi in Armonk.  Sugar-Hi identifies itself as a "destination boutique sweet shop."  The shop offers hand crafted chocolates, custom cakes, baked goods with a twist and more.  Of course, we had to stop by to try one of their freak shakes.
They offer four different shakes, priced at $14 each.  We went with "The Boozle" – a chocolate shake with a vanilla frosted rim covered in m&ms, topped with a Hershey's chocolate bar, chocolate covered pretzel rod, an entire Chipwich ice cream sandwich, whipped cream and chocolate sauce.  We got to choose between chocolate soft serve or their "Death by Chocolate" scooped ice cream.  No contest. We, of course, went with the "Death by Chocolate."  Go big or go home, right?!  When we visited Sugar-Hi on a Sunday afternoon, it was crowded with families stopping by for an ice cream treat after soccer games.  The small dining area for guests to enjoy their treats inside was packed so we opted to enjoy our shake outside.  It was a blazing hot day so we had to enjoy our treat quickly before it melted.
Verdict:  This shake was voted unanimously by our family as (spoiler alert!) the favorite of the day, which included our trip to Lazy Boy Saloon and the next entry below.  Crafted at a boutique sweet shop, it seems fitting that they'd have the best sweet treat. We will be making a return visit soon to check out their other shakes and baked goods!
Our last stop of the day was the Mt. Kisco Diner.  I was surprised to discover that a diner was serving Insta-famous shakes.  The Mt. Kisco Diner dubs themselves, "the Diner not a Diner."  Don't expect your typical menu here.  For someone who isn't a fan of diners, I will be returning here with an appetite and my camera.  The Mt. Kisco Diner prides themselves on creating Instagrammable dishes (their Instagram account has a mere 34.8 thousand followers) in a, "stylish setting."  However, despite the creative selection of dishes, you will still pay diner prices.  They have five Mega Milkshakes on their menu including the Oreo S'mores, Rainbow Cookie, Love Shake, Chocolate Chip Cookie and Cake Poppin.  We went with the Oreo S'Mores shake which is an Oreo shake, a chocolate frosted rim covered in crushed Oreos, topped with whipped cream, Toasted Marshmallows and an Oreo cookie.  The Mt. Kisco Diner's mega shakes are competitively priced at $10.99 each.
Verdict: Too bad that the Mt. Kisco Diner was the last stop of our foodie tour.  By the third shake, even with four of us sharing, we were just about in a sugar coma.  We ordered some salty, cheesy appetizers to even things out. As an Oreo fan, this was a tasty shake.  The whipped cream layer was a bit too much, so we took the layer off and enjoyed the shake and the "stuff."
Before I could publish this post, we had to make one more stop.  I only recently discovered that The Hudson Creamery in Peekskill started making freak shakes, known as "Out of This World Shakes" there.  They offer five different milkshakes including the Peanut Butter & Chocolate,  Cookie Monster, S'mores, Candy Candy and Salted Caramel Pretzel.  We opted to try the Peanut Butter Chocolate milkshake.  This is a chocolate and peanut butter shake with chocolate & peanut butter fudge ice cream, Reeses PB Cups, Reeses Pieces, PB Sauce, Chocolate Syrup, Funny Bones and Nutter Butters.  These shakes are priced at $13.50 each.
Verdict:  Delicious!  I am so happy that we made a stop here.  Out of all the shakes we tried, this was our favorite.  In terms of quality and value for the money, this shake also wins.  This had a generous and delicious shake filling the glass, topped with a waffle cone overloaded with indulgent chocolate ice cream.  Then it was completed with all of the fun extras.  While we were told this could feed two people, it was plenty for the four of us to share.  We will be back to try some of their other "Out of This World Shakes" as well as their seasonal sundaes!