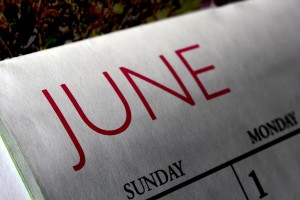 Due to posting our summer bucket list, our weekly menu plan from last week is a few days late.  We recently received our June Universal Yums! snack box.  This month's country is Mexico.  We eat Mexican food all the time.  So last week I took the Mexican theme of the box and cooked Mexican-inspired dishes.  Here's what was cooking in our kitchen last week.
Sunday:  We celebrated my dad's birthday with pizza – from the pizzeria!
Monday:  I made these Chicken Fajita Burgers from blog Buns In My Oven.  These were a take on the classic chicken fajitas in burger form.  While we make lots of turkey burgers we don't often use ground chicken.  These were really moist burgers. Without the added toppings these burgers would be kind of plain.  But with the onions, peppers, cheese and guacamole these were really tasty.
Tuesday:  We had pierogies and kielbasa with my dad and brother.
Wednesday:  I made these Chorizo and Egg Breakfast Nachos from blog Closet Cooking.  My kids love all things breakfast and combine it with nachos, even better.
Thursday:  I loosely followed this recipe for Enchiladas from The Pioneer Woman.  While I'm not a big fan of enchiladas the Weekend Chef loves them.  It's usually his menu item of choice when we go out to eat Mexican.  While I've made different variations of enchiladas before (Turkey cranberry and Chicken avocado come to mind) I'm not sure that I've ever made traditional enchiladas.  These were okay, but traditional enchiladas are not my fave.  I made Mexican Rice and Beans adapted from this recipe from blog For the Love of Cooking.
Friday:  We had my daughter's end-of-year Girl Scout potluck picnic.  I made an Antipasti Pasta salad that I threw together.
Saturday:  The Weekend Chef made these (20 Minute) Skinny Baked Bang Bang Shrimp Tacos from blog The Housewife in Training Files.  I know copycat Bang Bang Shrimp recipes are all over the internet.  However, I have to admit that we have never eaten this famous appetizer from Bonefish Grill.  These tacos took him a bit more than 20 minutes to make, but were really tasty. He made Avocado Lime Rice adapted from this recipe from blog Closet Cooking.  We really liked this rice and I think it would be more flavorful with the cilantro, if we had it!