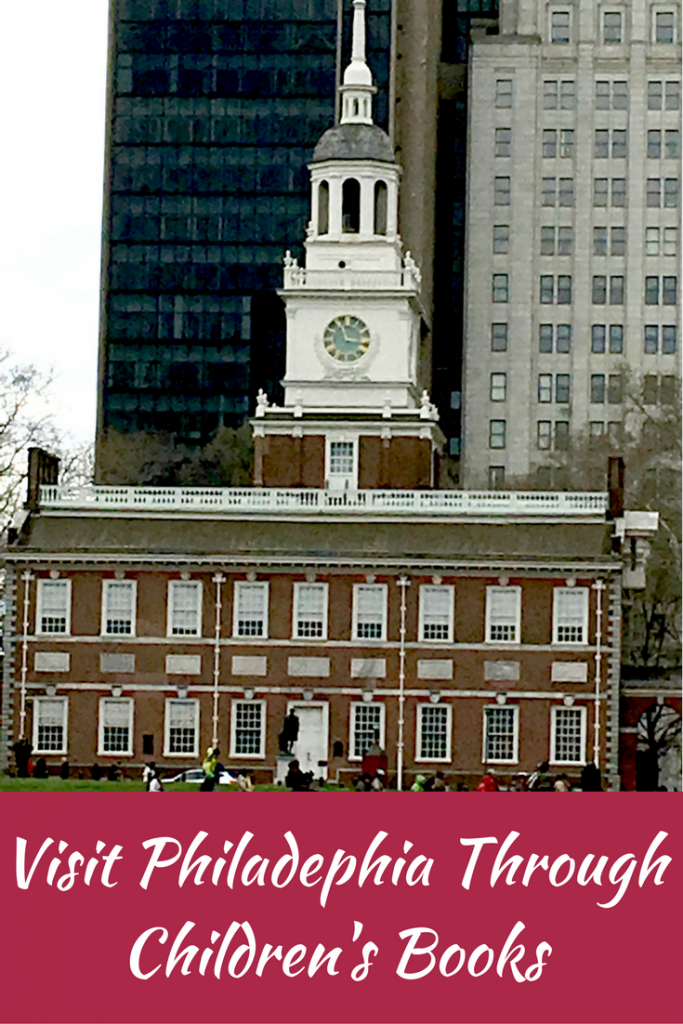 Philadelphia, nicknamed the "City of Brotherly Love" is the largest city in Pennsylvania.  This city should be on every family's must-visit list!  Filled with historical sites as well as many museums and lots of great food, there is something for everyone in Philadelphia!  Whether you read some of these books before a trip or just armchair travel, visit Philadelphia through children's books!
 Picture Books:
Journey Around Philadelphia from A to Z by Martha Day Zschock
Published:  2006, Commonwealth Editions
Rating:  4 out of 5 stars
Source:  borrowed from the library
Learn all about the city of Philadelphia in this A to Z book.  This book is targeted towards older elementary students and is chock full of information and facts.  Each letter page includes a short, alliterative sentence and three different illustrations. This was our first time reading one of Zschock's Journey books.  However, she has several other books in the Journey series including New York, Cape Cod and Washington D.C.
Larry Gets Lots in Philadelphia by Michael Mullin and John Skewes
Illustrated by:  John Skewes
Published:  2013, Sasquatch Books
Price:  $16.99
Rating: 3 out of 5 stars
Source:  borrowed from the library
Pete and his family take a trip to Philadelphia and bring along their dog, Larry.  Larry gets separated from Pete and the book follows the two as they go searching for each other.  On their search they visit many of Philadelphia's famous landmarks, including the Liberty Bell, Independence Square, the Besty Ross House, Pat and the Philadelphia Museum of Art.  The book is told in rhyme, but provides a small informational description for each landmark.  This book is a nice introduction to Philadelphia for young readers.
Mrs. Millie Goes to Philly! by Judy Cox
Published:  2008 by Two Lions
Price:  $9.99 (paperback)
Rating:  3 out of 5 stars
Source:  borrowed from the library
Mrs. Millie is a very silly teacher!  She takes her kindergarten class to Philadelphia and uses animal words in place of other words, which her students have to decipher.  They wear name badgers (badges), ride the platypus (bus) and see the Liberty Bull (bell).  Each page is accompanied by a humorous illustration illustrating the silly sentence.  Readers will have fun trying to figure out Mrs. Millie's "mistakes" and they will also learn about some of the sights of Philadelphia including the Liberty Bell, Independence Hall and the Betsy Ross House.
Chapter Books:
Philadelphia! (Recipe for Adventure #8) by Giada De Laurentiis
Published: 2016 by Grosset & Dunlap (imprint of Penguin Random House)
Price: $16.99 (hardcover)
Pages:  160
Rating:  4 out of 5 stars
Source: borrowed from the library
This is the eighth book in the Recipe for Adventure series.  The series is targeted towards readers ages 7-9 (2nd-4th grade).  In the series, siblings Emilia and Alfie are transported to different cities around the world.  They get to taste all kinds of new foods as they help someone in the city solve a problem.  In Philadelphia! the whole Bertolizzi family is transported to the city.  They sample all kinds of Philadelphia food staples like cheesesteaks, pretzels, Italian hoagies and more and visit historic sites like the Betsy Ross House, the Liberty Bell, the Italian Market, the Philadelphia Museum of Art and more.  They also work together to try to help their tour guide Emma and her family save their hotel.  Two recipe cards are included in each book of this series.  This book's recipes are for Zia's Steak Sandwiches and Emma's Italian Pizzelles.  While we didn't make these recipes, knowing that they are from Giada, I'm sure they are delicious!
The Philly Fake (Ballpark Mysteries #9) by David A. Kelly
Published:  2014 by Random House Books for Young Readers
Price:  $4.99 (paperback)
Pages:  112
Rating:   3 out of 5 stars
Source:  borrowed from the library
This is the ninth book in the Ballpark mysteries series, a baseball-themed mystery series targeted towards readers on a 2.6 reading level (approximately 1st through 4th grade, depending on reading ability).  In this book Mike and Kate are spending the Fourth of July in Philadelphia.  Kate's mom is a sportswriter and her friend had gotten them tickets to the three game Phillies v. Mets series.  During the first game the players' bats keep breaking and the team loses.  The team mascot the Phillie Phanatic is blamed and could possibly lose his job.  Mike and Kate try to help find out who's really at fault and save the Phanatic's job. The end of the book includes some fun and interesting notes about the Phillie's ballpark.   This book was interesting and gave the reader information about some of the other famous sites in Philadelphia, not just the stadium.  This was the first book in the Ballpark Mysteries series that we read but won't be the last. We are interested in reading #2, The Pinstripe Ghost since we are familiar with and have been to Yankee Stadium!
Books set in Philadelphia that don't really tell much about the city:
Chapter Books:
Independence Hall (I, Q #1) by Roland Smith
Published: 2008 by Sleeping Bear
Price: $8.95
Pages: 312
Rating:  3 out 5 stars
Source: borrowed from the library
This is the first book in the I,Q series.  Quest, (Q for short) and his new stepsister Angela are traveling around the country in a luxury motor coach, while their newly married musician parents go on tour.  The book is told over a series of 6 days as the family travels to Philadelphia for the first stop.  While there, they discover that they are in a real-life spy adventure.  This spy/adventure series is aimed toward middle grade readers.
When Freedom Comes (Hope's Revolutionary War Diary #3) by Kristiana Gregory
Published:  2004 by Scholastic
Price: $12.95
Pages: 112
Rating: 4 out of 5 stars
Source:  borrowed from the library
This is book number 3 in the Revolutionary War Diary series.  Told in diary format, the book details Hope's experience with the Revolutionary War in full swing.  British soldiers are living in her house, she is cut off from her best friend, whose family are Loyalists and her family learns that her father is weak and sick in Valley Forge, fighting in the war.  Hope's family lives in Philadelphia, however not much reference is made to the actual city.