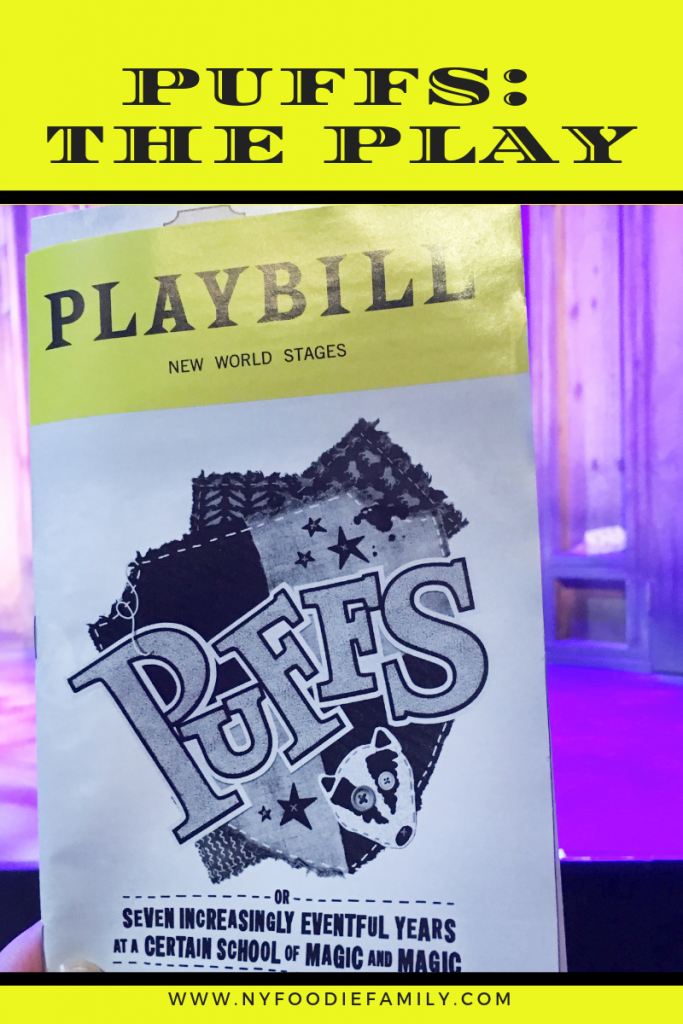 (Thank you to Puffs: The Play for hosting NY Foodie Family. As always, all opinions are our own.)
Harry Potter fans of all ages will enjoy Puffs or Seven Increasingly Eventful Years at a Certain School of Magic and Magic. Puffs tells the story of Wayne, a boy who grows up in New Mexico and discovers that he is a wizard.  When he gets to Hogwarts he is sorted into the Puffs house.  In this play, the Puffs are the "losers" where "Third or Nothing" is their motto.  In 90 minutes the play covers Wayne's seven years as a Puff.  He forms an unlikely trio with nerdy math whiz, Oliver, and goth girl Megan, whose mother is a prisoner in Azkaban, and refuses to believe that she's a Puff.  He and his fellow Puffs have to prove that they are not losers in order to help defeat, "he who shall not be named."
Written by Matt Cox, Puffs debuted off-Broadway in 2016.  It is one of several shows playing in the New Worlds Theatre on West 50th St.  Although there is no intermission, the ninety minutes fly by. Guests will laugh throughout the show, as humor abounds.  While you don't need to be a Harry Potter fan, it helps to be familiar with books and story line to fully appreciate this play.  I applaud the actors and actresses, many of who take on the roles of multiple characters, during the show. The Saturday afternoon 2 PM show is supposed to be appropriate for kids ages 8+.  There was some jokes and humor that was mildly sexually suggestive, but my 10 year-old son luckily, didn't seem to pick up on it.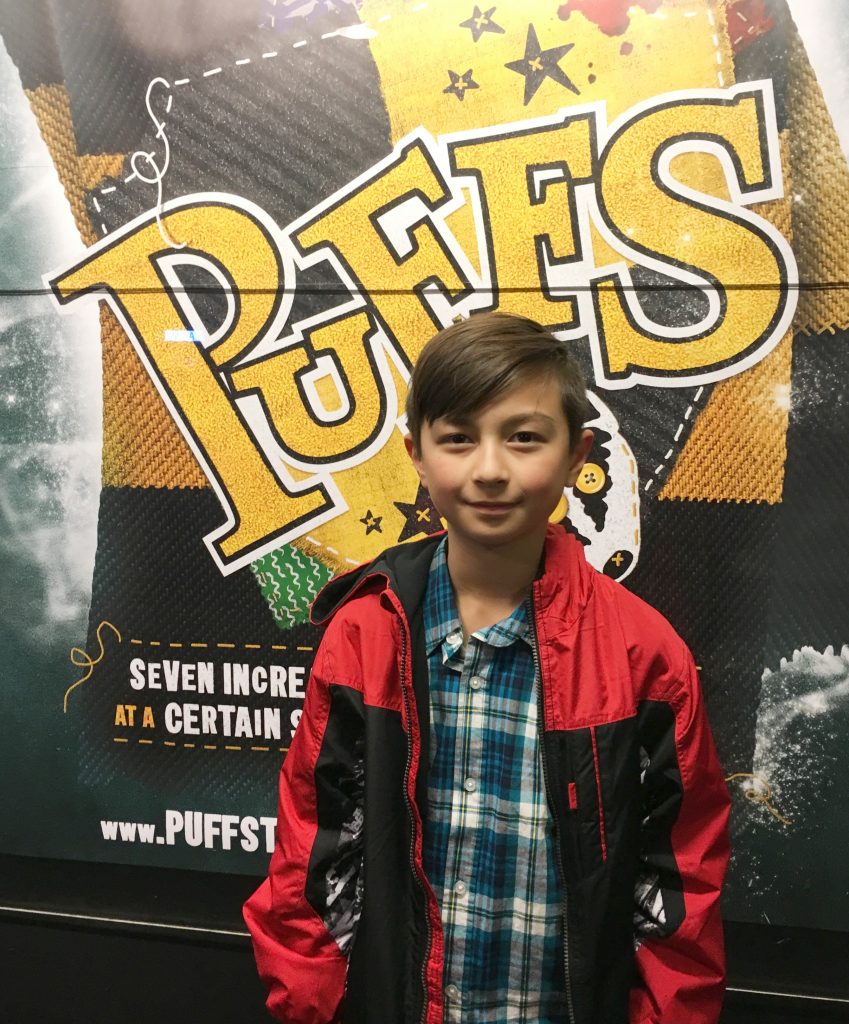 My son and I read all of the Harry Potter books together and watched the movies.  As huge fans, my son and I both enjoyed Puffs a lot, even as a Slytherin and Ravenclaw.  The theatre is small and no seat is a bad seat.  If you like Harry Potter, you will likely enjoy seeing this show from the perspective of the Puffs!
The Details:
Puffs or Seven Increasingly Eventful Years at a Certain School of Magic and Magic
New Worlds Theatre
West 50th Street (between 8th & 9th Avenue)
Tickets:  Start at $52 and can be purchased online.
Performances:  Monday, Wednesday, Thursday & Friday at 8 PM,  Saturday 2 & 8 PM, Sunday 3 and 7:30 PM
Tips:
*Snacks and drinks are available for purchase before and during the show.
*Cast members use the outside aisles.  Some front row seats enjoy a couple of small interactions.
*The theatre is a very short walking distance to the A,C, E subway.