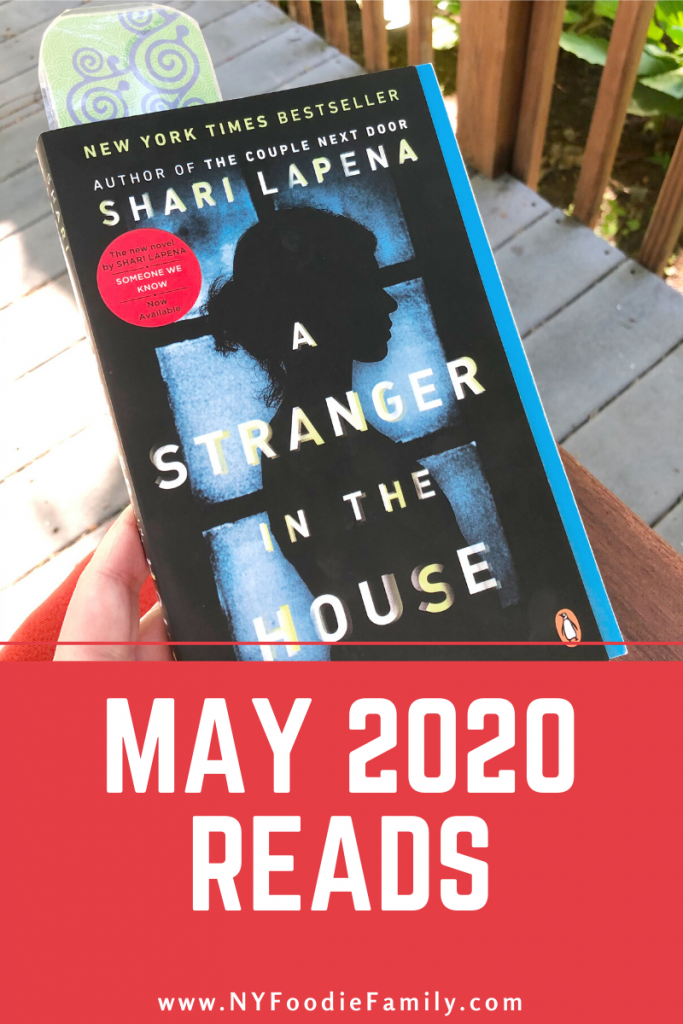 The weather has been beautiful and there's nothing I've been enjoying more than reading outside on the deck. I'm sharing my May reads with Steph and Jana's monthly Show Us Your Books linkup.
3 Stars

Anna K. by Jenny Lee – A YA retelling of Anna Karenina featuring super wealthy teens in NYC. According to goodreads, I read Anna Karenina in 2013. I didn't like it, but I was curious to see how a modern YA adaptation would read. From what I remember (and it's not a lot!) it seemed to follow the classic pretty well. Most teens will likely find it to be a contemporary romance, as I'm sure not many of them have read Anna Karenina!
The Boy From the Woods by Harlan Coben – Wilde grew up in the woods without a family. Now, an adult, he is helping to find a missing teen girl. This is the briefest of brief summaries of a book where there is a lot going on! As with all of Coben's books, this was a quick, suspenseful read.

The Friend Zone by Abby Jimenez – Kristin Petersen is enjoying life, selling dog supplies and staircases for small dogs, and having a long-distance relationship with her boyfriend Tyler. Josh Copeland, best friend of Brandon, her best friend's (Sloan's) fiance, moves to town. Of course the two end up attracted to each other but there are just some major issues affecting their relationship. I really enjoyed Kristin and Josh's characters. However, I wasn't a fan of the ending. I did enjoy this romance/chick-lit book enough to read the sequel, which is currently sitting on my kindle waiting for me to read.


The Silent Patient by Alex Michaelides – Alice, a famous painter, shoots and kills her husband Gabriel and doesn't speak again. She's now in a psychiatric facility where psychotherapist, Theo Farber, believes he can get her to speak. As the story unfolds we discover what led up the shooting event. This was 2019 Goodreads choice book winner and I had heard good things about it from a coworker. However, I was pretty underwhelmed. I thought it was a pretty slow read until the end.


A Stranger In the House by Shari Lapena – Tom arrives home to find his wife, Karen, missing. She ends up in a car accident that leaves her with memory loss. There just so happens to be a murder right near where she has the accident. Overall, this was just an okay, suspense/thriller read. I wasn't a huge fan of this book. I've read The Couple Next Door and Someone We Know and enjoyed them a lot more than this book.

4 Stars

The Flastshare by Beth O'Leary – Tiffy ends up sharing a flat with Leon. Since he works nights, the two never see each other and communicate via Post-It notes. She ends up finding a way to help him with a family situation and the two become closer. Although this book is a cute romance, it also deals with the effects of an emotionally abusive relationship.
What Alice Forgot by Liane Moriarty – Alice Love is at a spin class when she falls of a bike and hits her head. When she wakes up, she believes it is ten years earlier, where she is pregnant with her first child. In reality, she's about to turn 40, in the midst of getting divorced and has three children. She must learn to navigate this new life that she has no memory of. This is one of Moriarty's older books and I can't believe it's taken me so long to read it. As much as I haven't been a fan of her newer stuff, I enjoyed this book as much as I did her other older books that I've read.
5 Stars

Untamed by Glennon Doyle – Doyle's memoir where she reveals how she stopped meeting the expectations of others and truly started living and loving the life that she was meant to have. It's honest, raw and so relatable. There are lessons for us all in this book. This was my first book by Doyle that I've read, but I now want to read her other ones.