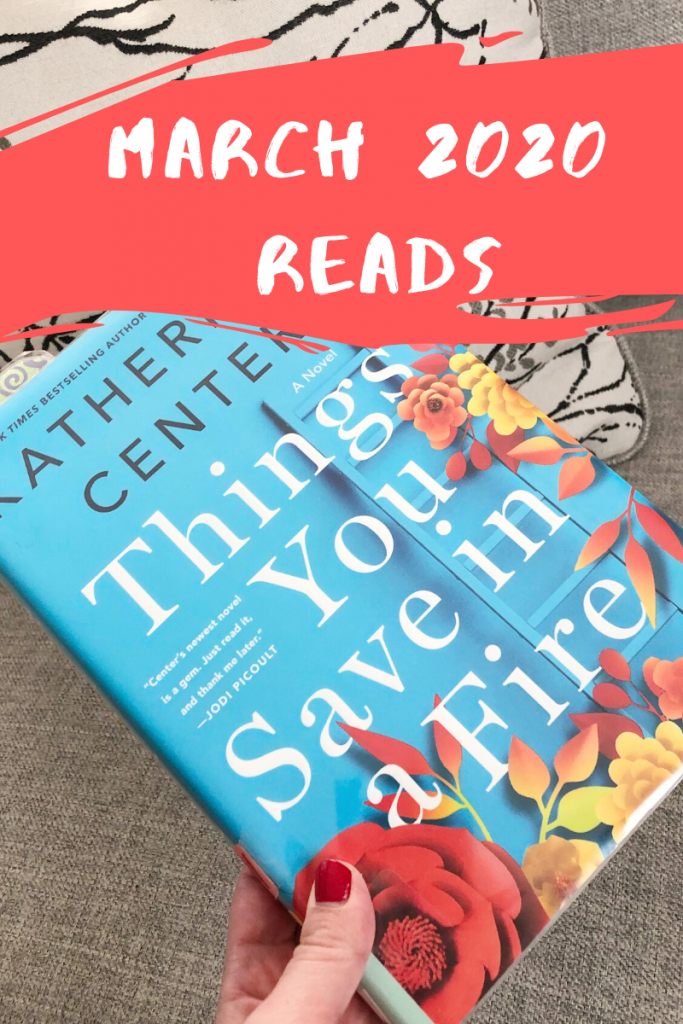 I hope everyone is staying healthy and safe during this global health pandemic. These are some crazy scary times that we are currently facing. My reading has definitely increased with all of this time at home. I've been reading books off of my own shelf and even reading on my kindle, which I rarely do. When you're desperate for books, you go to drastic measures! As usual, I'm sharing this post with Steph and Jana's Show Us Your Books link up. Here are my March reads:
3 stars

Brave Girl, Quiet Girl by Catherine Ryan Hyde (ARC c/o Netgalley) – Brooke is driving her car when it gets hijacked with her two year-old daughter, Etta still in it. Etta is found by Molly, a teenager who has been living for months on the streets of L.A. Molly protects Etta and helps to reunite her with Brooke, which helps create a unique relationship between the three of them. This was my first Hyde book and I didn't realize that she was such a prolific writer. This was just an okay read for me but I'm open to giving some of her other books a try.
Her Daughter's Mother by Daniela Petrova – Lana wants to have a baby and after many failed attempts and miscarriages, resorts to an egg donor with her partner, Tyler. He tries to help fulfill Lana's request to have a donor of Bulgarian descent. Katya is a college student who Lana meets by chance, and the two end up becoming friends. When Katya unexpectedly disappears, Lana ends up digging into Katya's past and discovers the secrets she's been keeping. This was my book club read for the month (even though we didn't end up having book club). I've been trying to avoid reading too many suspense/thriller books because they've all been pretty disappointing recently. I was not a fan of this book. All of the characters were so unlikable and I didn't find the story line very interesting.


Lying Next to Me by Gregg Olsen – Adam and Sophie Warner are vacationing with their three year-old daughter when Adam sees his wife being abducted. Kristen and Connor are staying in a cabin next door to the Adam and Sophie. As Detective Lee Husemann investigates the case, she finds that the couples have a history and that secrets are being kept from her. This was just another okay suspense read for me.
Never Have I Ever by Joshilyn Jackson – Amy Whey is married with an infant son and a stepdaughter. She helps run the neighborhood book club with her best friend Charlotte. But one, night, a new neighbor shows up. "Roux" gets the women liquored up and starts a game of Never Have I Ever, getting them to reveal their secrets. While Amy doesn't reveal anything, it appears that Roux knows secrets from her past and blackmails her. Amy can't afford to lose the life she loves, so she has to beat Roux at her own game. While this book did have lots of plot twists and surprises, it was just unbelievable on so many levels. Of course this didn't keep me from finishing it, because I had to see how it would end.
4 stars

Mrs. Everything by Jennifer Weiner – This book follows Jo and Bethie Kaufman, from children in the 1950's to present day adults. It shows how their past experiences have shaped them into who they are, tackling complex themes in a very readable way. I've only read a couple of Weiner's books and they were read years ago, so I wasn't sure that I wanted to read this one. But after seeing a lot of positive reviews, I gave it a try and I'm glad that I did. I enjoyed this book a lot more than I thought I would.
Super Attractor by Gabrielle Bernstein – This book is a guide to manifesting and becoming a super attractor (living in alignment with the universe). It will definitely be a little "woo-woo" for some people, but I found it pretty interesting.


Things You Save in a Fire by Katherine Center – Cassie Hanwell is one of the only female fire fighters in the Texas firehouse that she has been working at all of her career. Cassie's estranged mom invites her to Boston for one year, to assist her after a medical procedure. She ends up finding a job at a traditional all male firehouse. Not only does Cassie have to adjust to her new job, but she also needs to work on her relationship with a mother that she doesn't really know. I've only read a couple of Center's books, but I've enjoyed them all, including this one.


Tweet Cute by Emma Lord – Pepper is a high school student, captain of the swim team and runs the twitter account for Big League Burger, the fast-food chain that her family owns. Jack is her classmate and the class clown, who works at his family's deli. The two become involved in a Twitter war when Big League Burger steals a recipe from his family's deli. This is a YA book that reads like a YA book. It's a contemporary, light, fun read.
What You Wish For by Katherine Center (ARC c/o Netgalley) – Samantha Casey is a librarian at an elementary school in Texas. The principal of the school unexpectedly passes away and his replacement is Duncan Carpenter. Samantha used to teach with the goofy, fun teacher before moving to Texas, and might have had an unrequited crush on him. But now, he's a very serious person and making changes to the school that Samantha and her colleagues are not on board with. She becomes the one to stand up to him in hopes of saving the school that everyone loves. This book is expected to be published in July. Two Katherine Center books read in one month! Like Things You Save in a Fire, I enjoyed this book a lot!