My daughter has been loving all the reading time that summer has allotted her and she has been taking full advantage of it!  Her love of reading makes this mom proud!  Below are short reviews of my ten year old's July reads, written by her. Hopefully, they will help provide reading recommendations and inspiration to other tween children!
Agnes Parker…..Happy Camper? by Kathleen O'Dell – This book is about a girl named Agnes Parker whose best friend Prejean Duval is going to camp with her. The problem is, Prejean is not in the same cabin as Agnes! Agnes is stuck with the snobby Nyssa Vanderhoven, who likes Agnes and Prejean as much as they like her [which isn't much!], as a bunkmate. Prejean is lucky because she gets friendly, fun girls in her cabin who all like each other. Read this book to find out if Agnes is stuck in a cabin where she knows no one and has a horrible time, or if she has the time of her life pranking and making friends.  I gave this book 3 ½ stars because it shows true friendship.
*This book was borrowed from the library.
Cassidy's Guide to Everyday Etiquette (and Obfuscation) by Sue Stauffacher – CGTEEAO [short for the title!] is about a girl named Cassidy whose Grandmother forces Cassidy to go to etiquette school in her will. So Cassidy has to be away from all her friends, family, and fun for 5. WHOLE. WEEKS. I mean, she goes home every day after classes which are on Wednesdays and Fridays every week for 5 weeks. On top of all that, Cassidy's best friend Jack has a crush on their new neighbors, the Bensons. If you read this book I promise that you'll never look at etiquette, mischief, and friendship the same again. I gave this book 3 ½ stars because this was a very long book. I recommend this book for tweens and older.
*This book was borrowed from the library.
Dive In! (Pool Girls #1) by Cassie Waters –  Dive In! is about a girl named Grace Davis who is ready for summer and RSC swim club. She has to earn ALL of the money for the swim club herself, but Grace thinks it's worth it. When her best friend Christina ditches her for a few popular girls in her grade that like Grace as much as she likes them, [not very much!] Grace reaches out to her new BFF Jacie for encouragement. Grace finally crushes on one of the most popular boy on the swim team and in her school! I gave this book 3 ½ stars out of 5 stars because this was an interesting book and makes me want to dive in that pool!
*This book was borrowed from the library.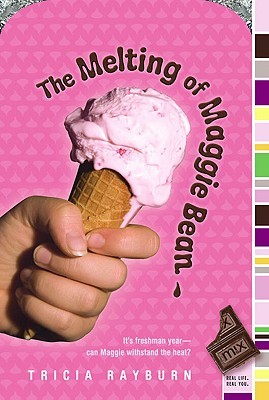 The Melting of Maggie Bean by Tricia Rayburn – The Melting Of Maggie Bean is about a 12-year-old girl named Maggie who is overweight with big bones.  She doesn't like the diet that her doctor puts her on but she wants to be skinnier.  She is a chocolate addict and has a hidden stash in her room.  Her best friend Aimee encourages Maggie to try out with her for Water Wings, the school synchronized swim team.  To prepare, Maggie gives up her chocolate and turns a new leaf.  She ends up impressing everyone at tryouts, despite her size and gains more confidence.   I gave this book 4 ½ stars because it shows new beginnings.
*This book was borrowed from the library.
Mission Hurricane (The 39 Clues:  Doublecross #3) by Jenny Goebel – Mission Hurricane has the same characters as the The 39 Clues series except Grace's husband Nathaniel Hartford is now an Outcast. Doublecross is a new series in which the Cahill KIDS have to save the world before people die. In this book, the Outcast is about to drop a nuclear bomb on the people of Amsterdam, Holland on King's Day. Will the Cahill kids be able to save the day, or is everyone in Holland in mortal peril? I gave this book 4 ½ stars because of the serious adventure involved.
*This book was borrowed from the library.
Out of My Mind by Sharon M. Draper – Out Of My Mind is about a girl named Melody who can't talk, walk, or move. She is miserable that she can't communicate and tell everyone that she is NOT a baby anymore and that she is VERY smart, but how can she? She can't talk! That is until her parents get her the Medi-Talker that has big buttons the perfect size for Melody thumbs. She can enter thousands of words and the Medi-talker will speak the words she wants aloud. The awesome part is Meoldy can print things out of her Medi-talker too! Everything goes fine for Melody until her little sister Penny comes along. Now, her parents need lots more help with Penny, a baby, and Melody, a stubborn, disabled 11 year old. On top of all that, Melody misses the plane for her flight to D.C. for the Whiz Kids team and gets sad. I give this book 4 ½ stars because I think it is absolutely amazing. I recommend this book because it shows an example that we should treat disabled kids better.  They are JUST like us in most ways, except better.
*This book was borrowed from the library.
Pippa Morgan's Diary by Annie Kelsey – This book is about a girl named Pippa who tries becoming friends with Catie Brown by telling her that she auditioned for the show the Voice. But that's so not true. Pippa lied because she wanted to have a new friend that would actually want to be her friend. Unfortunately, Catie is popular so word gets around fast that Pippa "auditioned" for The Voice and everyone wants her to sing.  That would be great but Pippa CAN'T SING. She is so terrible at it that once while she was singing, the neighbor almost called the police because he thought that Pippa was being mauled by cats. Then, Catie signs up Pippa for the talent show, but, remember, Pippa can't sing. Read the story to see how things go from bad to worse, and then to good. I give this book 3 ½ stars.  I recommend this book to kids my age.
The Second Life of Abigail Walker by Frances O'Roark Dowell – The Second Life Of Abigail Walker is about a girl named Abigail Walker who is considered "fat" in her school by some very nasty girls. Abigail follows a dog that looked like it wanted her to follow her and meets a boy, Anders, around her age on the other side of the creek. When she goes over to Ander's side, she learns that his family runs and owns a horse training business. His father is a war veteran and survived a bomb attack.   He is obsessed with a Lewis and Clark Expedition project, which Abigail and Anders help him with. There is also a magical fox in the book that leaps into stories and helps Abigail.   I gave this book 4 ½ stars because of the fact that this book was very entertaining while I saw Abigail turn into a new Abigail Walker.
*This book was borrowed from the library.
Turning Up the Heat (Dish #2) by Diane Muldrow – Turning Up The Heat is about 4 girls named Peichi, Shawn, Amanda, and Molly. They are in a cooking class with Natasha, a girl who everyone thought was annoying and mean. That was until, she volunteered to help with Amanda and Molly's Mom's surprise party. Natasha was a great helper so they invite her to be their friend and to be a part of their new cooking club. I gave this book 3 ½ stars because it was a great book with tons of adventures for cooks and kids. I highly recommend this book for rising or current 5th graders. In fact, this book is on my 5th grade Recommended Reading list.  It is actually the second book in the series so I will have to go back and read the first one.
*This book was borrowed from the library.