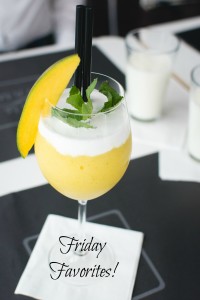 I hope everyone had a great week.  The weather was beautiful, work wasn't too stressful this week….can't complain!    I played the last tennis match of my spring league on Monday and ended with a win!  Our daughter came in second place in the school spelling bee finals!  Both my mom and brother celebrated birthdays this week. Since this was such a busy week we didn't get to celebrate, but are planning a joint birthday/Mother's Day celebration on Sunday.  Speaking of Mother's Day, I hope all my fellow moms out there get a nice, relaxing day on Sunday!  I am turning this week's Friday Favorites over to the Weekend Chef.  It's nice to hear from the guys every now and then, right?!
1.  UrbanSpace – The Garment District in Manhattan is again hosting an outdoor food market from May 4 to June 14. Go to Broadway between 38th and 41st street and marvel in the variety. Vendors this year include purveyors of Korean tacos, lobster rolls, doughnuts, Lebanese, BBQ, Sicilian rice balls and so much more! Too many choices for lunch and the weather is too perfect! Help!
2.  Microsoft Solitaire Collection  – Yes, I've overplayed some recent trendy games on my phone like Trivia Crack. All cracked out now, thanks. I always end up going back to the classics and Microsoft Solitaire is the ultimate classic. It just happens to look way better than 20 years ago, too.
3.  AM and PM daylight commute  – The sun lights up my trip to the office when I leave the house at 6:40 in the morning and is still there to welcome me back at 7 at night. When the trip is dark in one or both directions, it's depressing. And then you get snowed on.
4.  Yuengling Black and Tan  – Yuengling proudly touts their history as America's oldest brewery. Yes, history and longevity is cool. Even better, every Yuengling variety available around here (their brewery is in PA) is delicious. Even better than that, it's always one of the most cost-effective buys (cheap, cheap) and is readily in stock in most supermarkets. My particular preference is for the Black and Tan. It's not too dark and bitter and is still refreshing as a summer drink.
5.  Double Edge Razors  – I gave up electric razors years ago and started using double edge safety razors and a shave brush. Pretty old fashioned but coming back into style as blade companies try selling everyone 5 and 6 blade razors at high prices.. After an initial outlay of $25 to $50 for the nearly bulletproof razor itself, blades are about $3 and up for 10 blades. Good for about a week of shaves per $.30 blade and plenty sharp. My razor of choice is the German-forged Merkur Classic, but you can find a wide variety out there of new an old styles.
Hope you have a great weekend!
We are linking up with Tif @ Bright on a Budget, Andrea @ Momfessionals, Amanda from Meet @ The Barre and Jennie @ The Diary of a Real Housewife.