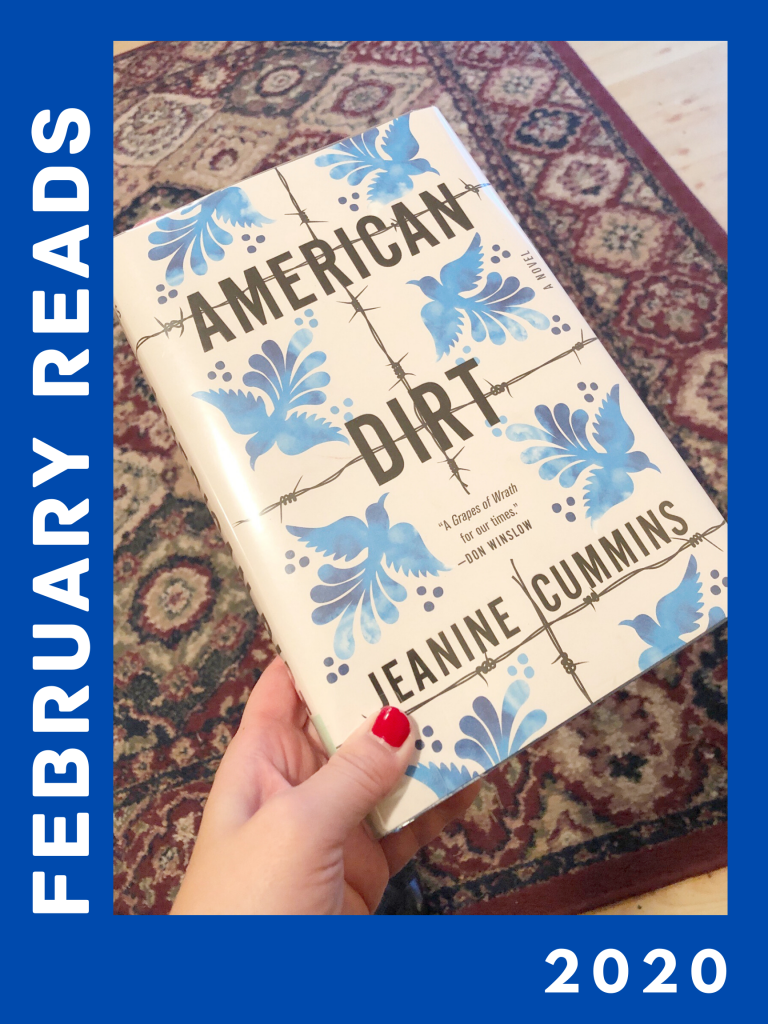 February flew by and even though it's a shorter month, I still managed to read 7 books. I even had my first 5 star read of the year! I'm sharing my February reads with Steph and Jana's Show Us Your Books linkup.
3 Stars

Recipe for a Perfect Wife by Karma Brown – Alice and her husband move from the city into an old house in the suburbs. In the basement she discovers an old, 1950's cookbook from the previous owner. Alice ends up cooking her way through the book and learns that she and Nellie Murdoch have a lot in common, despite the several decades separating their lives. Overall, I found this to be just an okay.


The Soul Searcher's Handbook by Emma Mildon – For those looking to learn and connect more with their spiritual side, this book gives a light overview of all the different areas of everything New Age (crystals, feng-shui, numerology, astrology, etc.). I found this book to be a good, basic intro of a variety of topics.

4 Stars


American Dirt by Jeanine Cummins – After a tragic incident, Lydia and her son Lucas are forced to leave Mexico. They travel as migrants through dangerous conditions, hoping to make it to the United States. Only after I was halfway through reading this book did I discover all of the controversy surrounding it. Mainly, that this story wasn't the Caucasian author's story to tell. Regardless, I thought it was an enjoyable story and has me interested in reading more about Mexican migration into the United States.


Before We Were Yours by Lisa Wingate – This story takes alternates between 1939 Memphis and present day Aiken, South Carolina. In 1939 Memphis, when Rill and her four siblings are alone on their family's houseboat, they are taken into custody of the Tennessee Children's Home Society Orphanage. Present day, Avery Stafford, is a daughter of wealth and privilege, being groomed to take after her father's political footsteps. On a publicity visit with her father to a nursing home, she meets a woman who leads her on a journey that uncovers secrets from the past. This was a goodreads choice 2017 winner. It was also my book club's February book pick, so I did a reread and liked it as much this time as I did the first read.

The Escape Room by Megan Golden – Four coworkers at Stanhope, a major investment/financial firm are invited to an Escape Room activity. However, they didn't realize this "game" would involve them locked together in an elevator where all of their secrets are revealed. I've debated between a 3 and 4 star rating for this book (3.5?) . This was such an unrealistic thriller and all of the characters were unlikable. However, it was a fast-paced read that had me interested in how it would end.


The Last Summer of the Garrett Girls by Jessica Spotswood – Kat, Bea, Vi and Des are four sisters who live in a small town with their grandmother. The story takes place over a summer, as each girl goes through her own drama. This book was a read off of our own bookshelf (actually, my daughter's!). It is told in alternating POVs of each of the sisters and was an enjoyable contemporary YA read with feminist and LGBT characters.

5 Stars


Regretting You by Colleen Hoover – At 17 Morgan gets pregnant and marries her boyfriend, now husband, Chris. Present day and Morgan now has a sixteen year-old daughter, Clara, who is interested in a boy that Chris tells her is no good. When Chris is involved in a tragic car accident, both Morgan and Clara's world is forever changed when they learn the secrets that Chris was keeping. Colleen Hoover is on my favorite authors list, and this book did not disappoint. When a book gets me in tears, it usually rates a 5 star read!