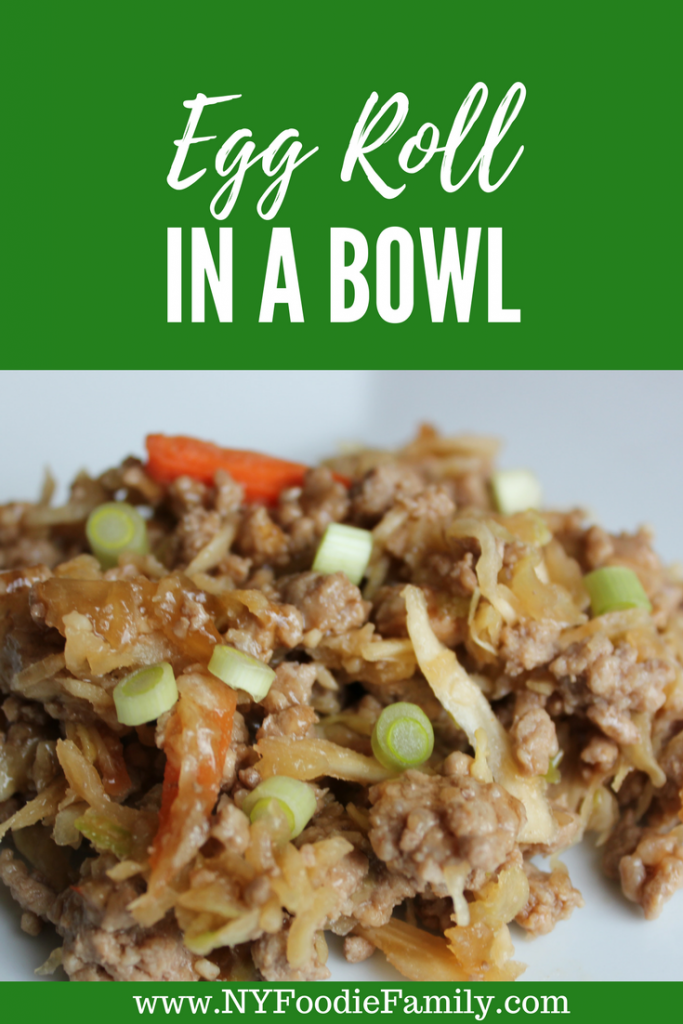 Even though they are fried and very bad for me, egg rolls are a mandatory part of any Chinese take-out order.  I love the crunchy shell with the pork and cabbage filling.  In honor of Chinese New Year we had posted the Awesome Egg Rolls that we had made for our celebration dinner.  That was our first time making egg rolls.  As much as we enjoyed them, they were deep fried in oil….which is fine, as long as we don't make them too often!  This dish is so much healthier since it's not fried, but still has most of the flavors of the appetizer that I enjoy so much.  We served this over rice.  Both kids loved this dish and have been asking for it again!
Egg Roll in a Bowl
Inspired by this recipe from Mostly Homemade Mom
Ingredients:
1 pound ground pork
1/4 cup soy sauce
1/4 cup teriyaki sauce
1 tablespoon sesame oil
1/2 teaspoon sugar
2 teaspoons Thai style chili sauce
4 cloves garlic, minced
14 ounce bag coleslaw mix
scallions, for garnish (optional)
Directions:
1. Heat a large skillet over medium heat. Add ground pork and brown 7-10 minutes until pork is no longer pink.  Drain any fat.
2. Meanwhile, in a small bowl combine soy sauce through Thai style chili sauce, whisking together to combine. Set aside.
3. Add minced garlic and coleslaw mix to the ground pork in skillet.  Cook 2-3 minutes, stirring occasionally, until cabbage wilts.
4. Add in the sauce, mixing to combine with all ingredients. Cook about 5 more minutes.  Sprinkle with scallions if desired and serve.