Today I'm joining Anne and Kellie for the monthly Currently linkup.  This month I'm currently: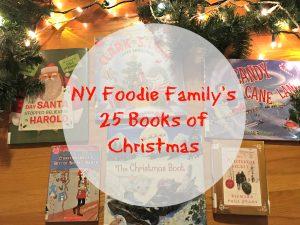 Doing: a 25 Books of Christmas feature on my blog!  From December 1 through December 25 I am posting a review of a Christmas book.  So we are reading lots of Christmas books and I've been busy writing review posts for them.  It's been a lot more work than I had anticipated, but I love the holiday season and love reading.  What better way to combine the two?!
Enjoying: I can't believe I'm saying this, but I joined a gym back in September for my birthday and I am enjoying going!  I've always thought I was anti-gym.  However, I've been going to classes including barre, zumba, yoga and occasionally spinning, several times a week.
Cooking:  This weekend I will be making homemade pizza and cookies for our Supper Club's annual cookie exchange.  Instead of going out to eat, which we usually do, we're having all the kids come to this month's get together and also doing our annual homemade pizza theme.  I still have to figure out what kind of pizza and cookies I'll be making!  Last year I made Melt-In-Your-Mouth Eggnog Cookie and my husband made Bourbon Balls.  Stay tuned to see what this year's cookies will be!
Wrapping:  So, I've currently wrapped not a single thing.  However, I've finally started to do some online shopping and the packages have just started arriving.  I will hopefully have done more shopping and can start wrapping presents this weekend!
Playing: I've been playing lots of podcasts while I clean and do laundry, run errands, etc.  I'm planning an upcoming post on what I've been listening to lately!