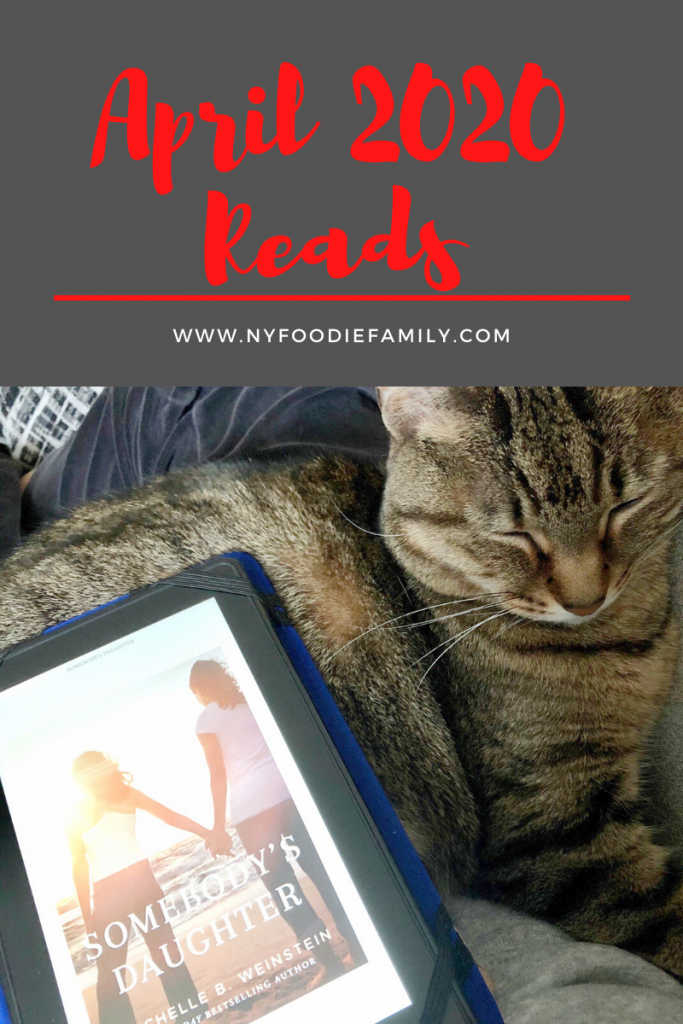 Another month, another book link up. Once again, I'm sharing my April reads with Steph and Jana. This month's reading was filled with books off my own shelf and kindle books. It was a pretty good reading month and while May has been off to a slow start, I hope to keep up the reading momentum. Here are my April reads:

3 stars:

Collision by Jeff Abbott – Ben Forsberg, a private corporate consultant, and "Pilgrim," a former CIA agent end up working together to find out who has set the two of them up and tried to kill them both. While I enjoy fast-paced, action, thrillers, I realized that I would have enjoyed watching this as a movie, versus reading it.
Somebody's Daughter by Rochelle Weinstein – Emma and Bobby Ross live with their twin daughters, in "The Ross," the hotel that they own. The book opens on the night of their daughters' 15th birthday party. On this night, they learn that a private moment between Zoe and a classmate was videotaped and has gone viral. This event has a tremendous impact on each of the family members as they try to recover and seek justice. I thought this book was relevant in portraying the dangers of social media and was an okay read.


The Other Family by Loretta Nyhan – (c/o Netgalley) Ally Anderson is adopted. Her daughter, Kylie, suffers from severe allergies that may be genetic. In order to help her daughter, Ally takes a DNA test and discovers that she has an aunt that lives nearby. Ally and Kylie end up befriending Micki and her family, while Ally gets to learn more about her past and seek treatment for Kylie. I felt like there was too much going on in this book, with Kylie's autoimmune disorder, Ally connecting with her biological family, oh and did I mention the divorce she is currently in the process of getting?!

Three Cups of Tea by Greg Mortenson & David Oliver Relin – This nonfiction book follows Greg Mortenson from his failed attempt in the early 90's to climb K2 to building over 50 schools, health centers and women's centers. This book had been on my to read list for a long time. We have a mini free library at work and a coworker saw this book on the shelf and recommended I read it, which was the catalyst of me finally giving it a try.
I did enjoy learning more about Afghanistan and Pakistan and I do believe Mortenson has good intentions. However, this book was way too slow for me and then I read about the inaccuracies and controversies of the book.
4 stars:


Before the Fall by Noah Howley – A private jet on its way from Martha's Vineyard to New York crashes into the ocean. The only two survivors are Scott Burroughs, a painter, and 4 year-old J.J. who are both thrown into the spotlight as authorities try to figure out what happened. The story switches back and forth pre and post crash as well follow the different characters who were on board the plane. It was an engaging read that my husband, teen daughter and I have all now read.


The Best of Friends by Lucinda Berry – (c/of Netgalley) Lindsey, Dani and Kendra have been best friends since they were children. Now, they all have boys the same age. Except after a sleepover gone bad, one boy is dead, one boy is brain dead in a coma, and the only boy who knows what happened that night has become mute and is in the midst of an emotional breakdown. As the story unfolds, lots of secrets are revealed as the parents and police try to figure out what happened that night. There was almost too much going on and I felt the ending was unfinished. However, I found it to be an riveting read. I read an ARC copy of this book from Netgalley, which comes out in August. This was my first Berry book and I didn't realize that she has written so many others. I will definitely be checking out some of her other books.

Long Bright River by Liz Moore – Kacey and Mickey grew up being raised by their grandmother, after their mother dies of a drug overdose. Kacey is a drug addict and lives on the streets. Mickey is now a cop, working the streets of Philadelphia while also trying to keep tabs on her sister. There's a series of murders that Mickey is working on and when she realizes that she hasn't seen Kacey in awhile, she becomes obsessed with finding her. As the story unfolds, there are so many layers revealed. It's a dark and heavy, bu really good read!


Lucky Girl by Mei-Ling Hopgood – This is the autobiography of Mei-Ling Hopgood. She was adopted from China at 8 months by Rollie and Chris Hopgood. Her parents also adopted two boys from South Korea and they all grew up happily in Michigan. As a young adult, during a visit with Sister Maureen, the nun who helped facilitate Mei-Ling's adoption, it is brought up that she can likely find her birth parents. Eventually Mei-Ling takes Sister Maureen up on her offer and is contact with her birth parents and family. What follows are trips abroad as she gets to know her biological family. I don't know if this book was so compelling to me because, I myself am adopted from South Korea. However, I enjoyed seeing how Mei-Ling was able to balance both worlds and families.
On Dublin Street by Samantha Young – Joss Butler made a home in Scotland, after her parents and baby sister died and she was old enough to leave the United States. Ellie is looking for a roommate to share her beautiful apartment with and she and Joss become fast friends. Unfortunately, Ellie's brother Braden happens to be very good looking and used to getting what he wants. Joss falls for his charm and the two end up in a friends with benefits arrangement. But will it become serious? I got this book way back when Fifty Shades of Grey was big and it's been sitting on my shelf since then. I finally decided to read it and found it was an addicting, steamy, contemporary romance.