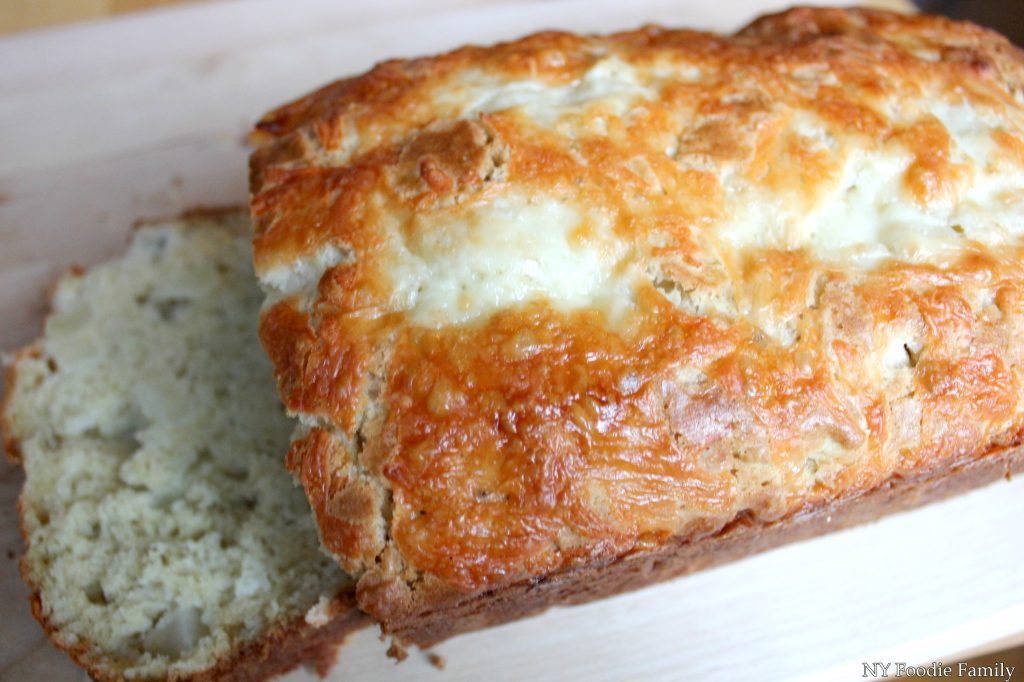 While I do not make yeast breads (I leave that for my husband!), I am all about baking quick breads and muffins.  The kids love all kinds of homemade baked goods and I knew this bread would be a hit.  The apple and cheddar make this a savory bread with just a hint of sweet.  Perfect for fall, this is a great way to use some of the apples from apple picking. This apple cheddar bread was delicious warm, right out of the oven.  Leftovers were great slightly toasted as well.
Apple Cheddar Quick Bread
Recipe very slightly adapted from Simply Stacie
Ingredients:
2 cups flour
1 tsp. baking powder
1/2 tsp. baking soda
1/4 tsp. salt
1 1/2 cups shredded Aged white cheddar cheese
1/3 cup butter, softened
2/3 cups sugar
2 eggs
1 medium Granny Smith apple, peeled and diced
1 medium Granny Smith apple, peeled and grated
Directions:
1. Preheat oven to 350 degrees F. Grease 8 x 4 inch loaf pan.
2. In a large bowl combine the flour, baking powder, baking soda, and salt. Stir in 1 cup of the shredded cheddar.
3. In another bowl beat the butter until creamy. Add in sugar and eggs, one at a time, beating until combined. Stir in the diced and grated apple.
4. Spread batter into the greased loaf pan and sprinkle with the remaining cheddar cheese. Bake for approximately 50 minutes or until a toothpick inserted into the center comes out clean. Let cool in the pan for 10 minutes and then place on wire rack to cool completely.