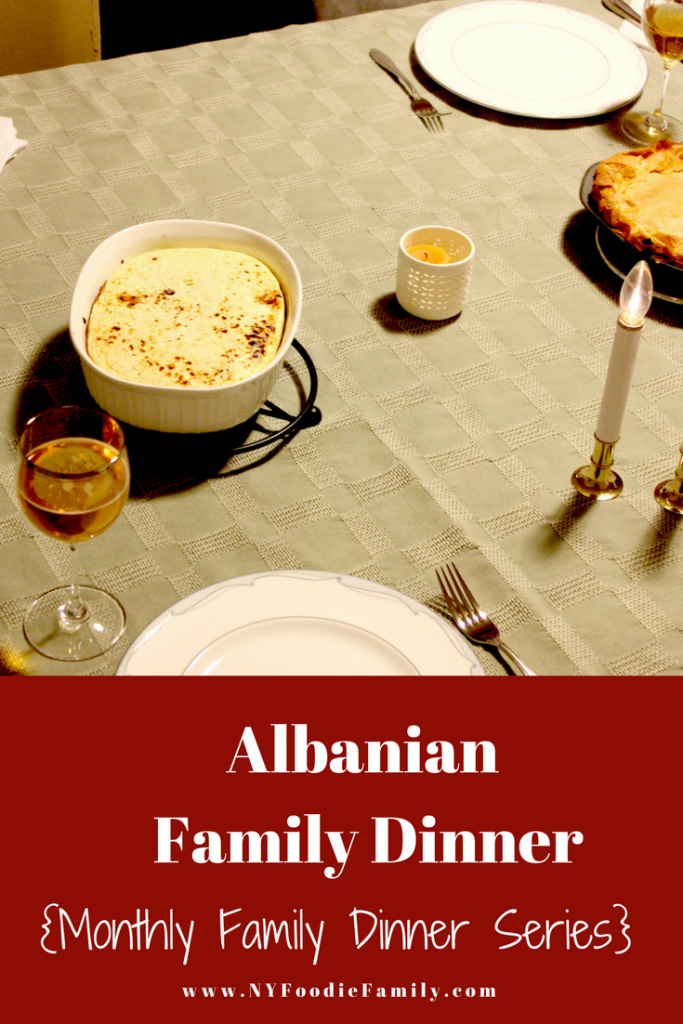 Are you looking for a fun way to spend time as a family?  Try having a monthly family dinner!  I'm not talking about a dinner that you cook and you all sit down and eat together.  I mean a dinner that the entire family cooks and eats together.   I know that sit-down family dinners are important.  However, during the week I am the one cooking dinner and most nights it's just the kids and I eating together.  One of my goals for 2018 was to have monthly family dinners where we cook an entire meal together.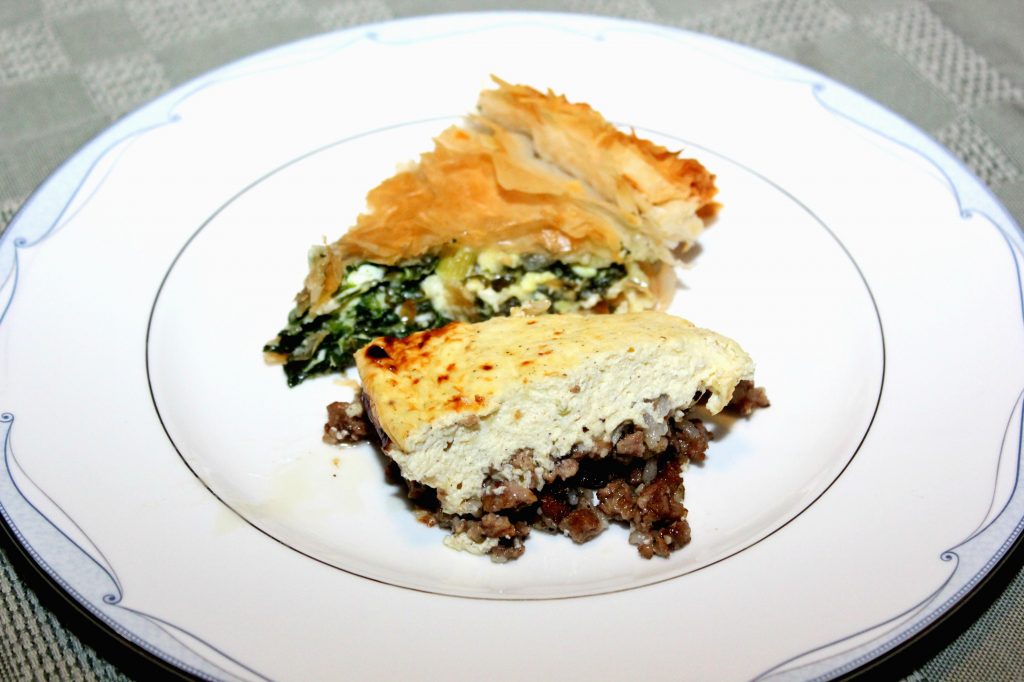 Last month we had our first monthly dinner.  We decided to start with an alphabetical country-themed dinner.  For our "A" dinner we chose Albanian.  For our Albanian family dinner we made Tave Kosi, Byrek with Spinach and Baklava for dessert.  As seen from our menu, Albanian cuisine has Mediterranean influences.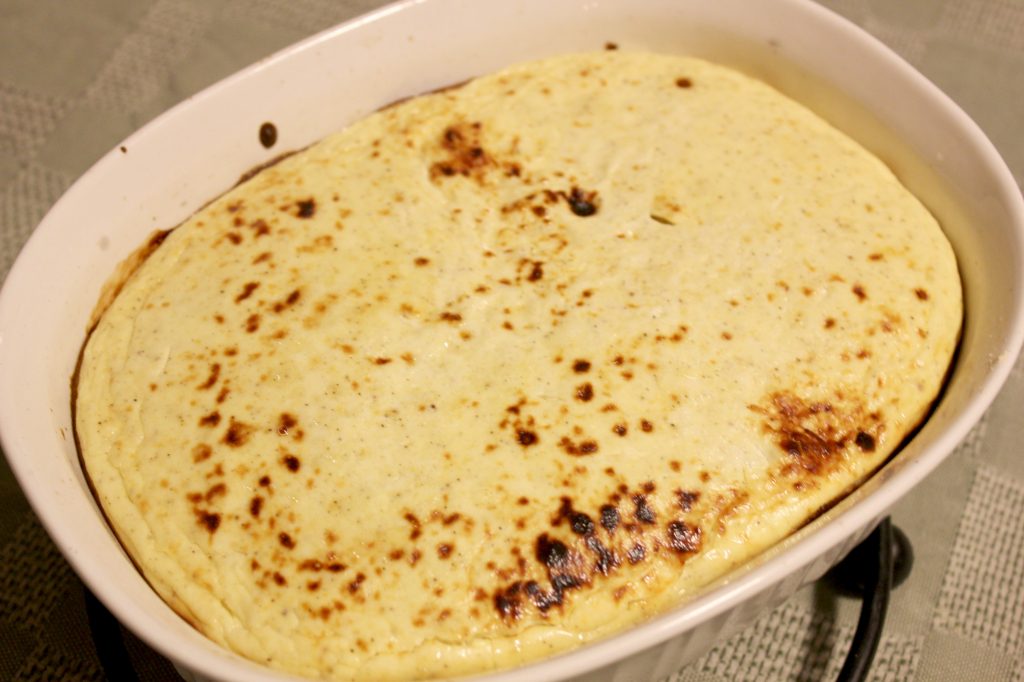 Tave Kosi is the national dish of Albania, which seemed appropriate to make.  It consists of lamb and rice baked with a yogurt and egg mixture.  My husband and son adapted this Tave Kosi recipe.  They halved the recipe and instead of lamb shoulder used ground lamb.  They also used plain Greek yogurt instead of regular plain yogurt.  This was a tasty comfort dish.  The yogurt mixture made a sort of souffle on top of the ground lamb. The yogurt gave the dish a slight tang.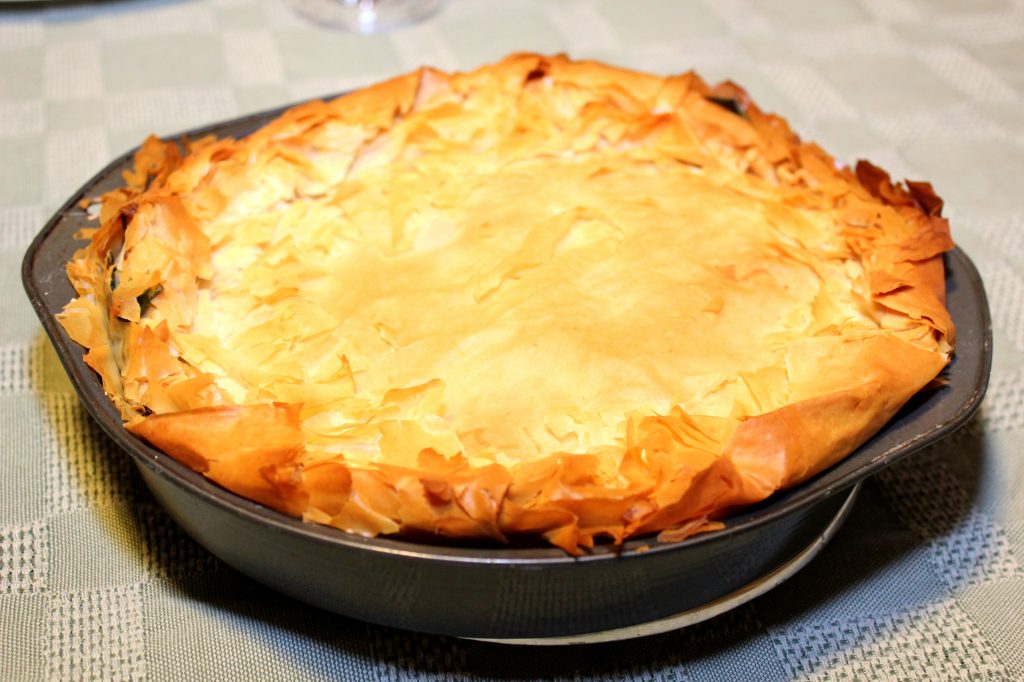 My daughter and I made the Byrek with Spinach (Byrek me Spinaq).  This is a simple dish with few ingredients and is fairly easy to make.  Phyllo dough can be a bit tricky to work with but we managed the best we could.  This was a tasty dish and we all loved the crispy, flaky top.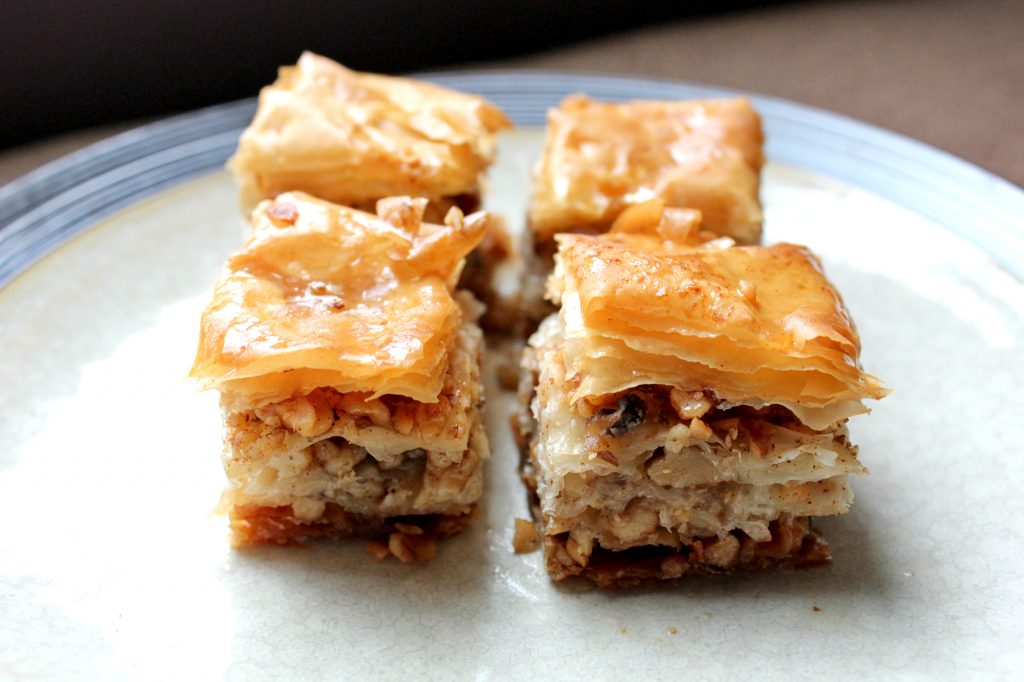 For dessert, we enjoyed baklava.  I forgot how much I love baklava.  It's a fairly easy dessert to make, minus that phyllo dough again.  It's very sweet, but addicting!  We cut it into small squares and the whole plan was gone within a couple of days.
Tips for planning your family dinner:
The meal doesn't have to be fancy….. – We all enjoyed this Albanian family dinner and are excited for next month's dinner.  You do not need to do an international-themed dinner.  Pick your family's favorite meal and maybe add a special dessert to the menu.  The point of a family dinner isn't to see how fancy of a meal you can make.  It's getting everyone into the kitchen and working together to cook a meal that you will all sit-down and enjoy.
…..But make the dining part of the meal special – Eat in the dining room, if you have one.  We normally never eat in our dining room unless it's a holiday or we have company over.  Use the special plates and glassware!  We ate on our wedding china and drank sparkling cider from our  fancy wine glasses.
Choose dishes everyone will like – There's nothing that will ruin a dinner more than making something you know your kids will not eat.  If you have picky eaters, choose recipes that they are familiar with and enjoy.  If you have more adventurous eaters, maybe pick new recipes with ingredients that they are familiar with and like.
Plan the date of the meal in advance – A weekend obviously works best for a family dinner and planning in advance ensures that there's no other conflicting activities.
Start cooking early – I recommend starting earlier than later.  Remember, you are cooking with kids.  What may take you a half hour to cook on your own will likely take double the amount of time when children are involved.  Plus, you don't want to feel rushed or stressed.  We started cooking at 4 PM and were eating by 5:30 PM.