Every year dozens of Christmas-themed pictured books are published.  Fortunately, this year, we have been able to read several of these books.  Here is a summary of the most recently published Christmas books that we have read.  There is almost two weeks until Christmas, which leaves plenty of reading time!  You can find most of these books at Barnes & Noble, your local bookstore or the library!
All books are linked to Goodreads.
The Adventures of Bella & Harry: Christmas in New York City! by Lisa Manzione – Bella and Harry are Chihuahuas who are visiting New York City with their human family.  The two wander the streets of New York City taking in all the sights at Christmas time.  Since we live close to New York City we are very familiar with all of the places mentioned in the book.  The book aims to be educational, but it seemed very forced to us.  I didn't realize that there's a whole series of Bella and Harry books that describe their different travels around the world.  I'm not so sure that we're interested in checking out these other books.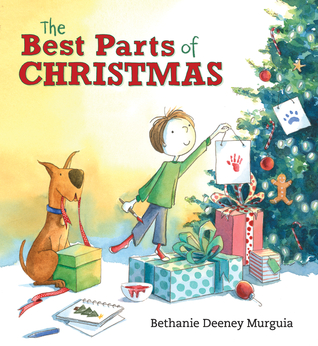 The Best Parts of Christmas by Bethanie Denney Murguia – For Fritz, the best part of Christmas is the tree.  From picking out the perfect tree, decorating it and opening presents by it, Fritz loves his tree.  So he is sad when Christmas is over and he needs to say goodbye to his tree.  But, he comes up with a solution that makes him happy.   This is a short, simple story.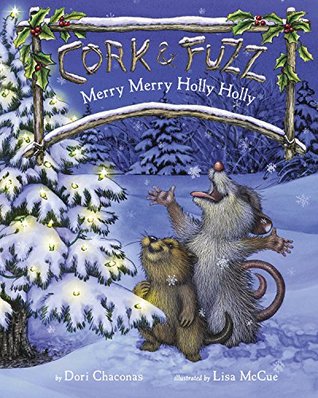 Cork & Fuzz: Merry Merry Holly Holly by Dori Chaconas – This was our first Cork & Fuzz book, but it appears that there is a series of books by Chaconas that feature the duo.  Cork, the muskrat and Fuzz, the possum search for a good thinking tree.  Cork knows that today is special but can't remember why.  If only he could find a "piece of quiet."  With Fuzz's help, the two eventually find the perfect tree.   This book doesn't really place a big emphasis on Christmas, besides the "Merry Merry Holly Holly" and focuses more on friendship.
Dear Santa, Love, Rachel Rosenstein written by Amanda Peet and Andrea Troyer – This picture book is co-written by actress Amanda Peet.  In this story, Rachel Rosenstein loves everything about Christmas…..except that she's Jewish.  This year, she writes a letter to Santa, leaves him latkes with chocolate chips and decorates the house in hopes that he will come to her house.  Rachel eventually accepts that the fact that she is Jewish and that not everyone celebrates Christmas.
The Gingerbread Man Loose at Christmas by Laura Murray – This is the third and newest Gingerbread Man book by Murray. Told in rhyme, this book follows the Gingerbread Man and his classmates as they deliver acts of kindness to community members.  When the class heads back, Gingerbread Man has one last gift to deliver.  Very cute story that highlights free "gifts" that children can give at Christmas.
How to Catch Santa by Jean Reagan – Ever wonder how to catch Santa?  Well, this book give s a detailed description on how to do just that.  Filled with colorful illustrations, this is a fun Christmas read.
The Knights Before Christmas by Joan Holub – This is a fun, medieval take on the classic story The Night Before Christmas.  The knights are protecting the castle from an intruder, Santa Claus.  He arrives on eight dragons trying to bring presents to the castle, but will he be successful?
Merry Christmas Mr. Mouse by Caralyn Buehner & Mark Buehner – The wife/husband author and illustrator team of this picture book are also the creators of the Snowmen at Night book.  In this story told in rhyme, Mr. Mouse moves his family into a new nook where he sees a family preparing for and celebrating Christmas.  When he tells Mrs. Mouse what he overhears about a holiday called Christmas, the two decide to celebrate with their family too.  This was a cute story that we enjoyed.
Miracle on 133rd Street by Sonia Manzano – Only after reading this book and the author bio did we discover that Manzano plays Maria on Sesame Street.  This story takes place on Christmas eve, where the roast Jose's mami is preparing doesn't fit in their oven.  Jose and his dad bring it down to the pizzeria to cook it in one of the ovens there.  On their way, they pass many neighbors, none who seem in the Christmas spirit.  On their way back, the wonderful smelling roast seems to uplift everyone's spirits.  This is a super colorful book that showcases how a diverse group of neighbors come together to celebrate the holiday.
The Night Before Christmas: A Brick Story by Clement C. Moore, illustrated by Amanda Brack – This is the classic telling of The Night Before Christmas, illustrated using LEGO bricks.   While we are LEGO fans, we thought the LEGO brick illustrations were just okay.
Samurai Santa: A Very Ninja Christmas by Rubin Pingk – It's Christmas eve and Yukio wants to have an epic snowball fight.  The other ninjas refuse, not wanting to be on Santa's naughty list.  So, Yukio schemes to get the snowball fight that he wants, but has he ruined Christmas for his friends?  This was definitely a different type of Christmas book.  It wasn't one of our favorites, but will appease any ninja lovers out there.
When Santa Was a Baby by Linda Bailey & Genevieve Godbout – This picture book describes what Santa was like as a baby and how his parents knew he was destined for great things.  The illustrations have a "classic" feel to them and beware, there are several pictures of baby Santa's behind, which of course cracked the kids up!