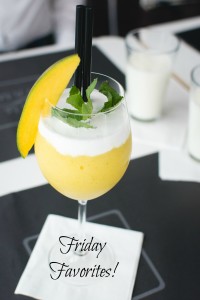 Welcome to another Friday Favorites!  This week seemed to fly by!  My sister and her family visited from Maryland over the Memorial Day Weekend and the kids got in some quality time with their cousins.  My two week recovery from my surgery ended Wednesday and I started back at work.  So, we are back in the swing of things!  It's been hard readjusting to regularly scheduled life!  This weekend is busy.  I am helping my daughter early Saturday morning do a road clean-up with Girl Scouts.  My son has a soccer game and then the Weekend Chef and I are going to our monthly Supper Club.  Sunday, my son has a birthday party and the rest of the day will hopefully be relaxing (you know errand running, grocery shopping, cleaning…..relaxing, right?!).  I really don't have any special favorites for this week.
So, I've decided to share some random things I've been reading on the web:
America's 20 Most Popular National Parks, Ranked – I would love to visit all of these some day.  America is so beautiful and it would be amazing to get the chance to see nature at its best.
If I was maybe in my 20's and didn't have two kids, I'd totally be up for this.
Summer is quickly approaching.  We will continue our weekly trips to the library and I am going to print up this Library Adventure Challenges.  This looks like a lot of fun and will help us discover new books and authors!
Summer hasn't even officially started yet and I've already started to get eaten alive by mosquitoes.  I have itchy bumps all over that I know I'm NOT supposed to scratch…..but it's so hard!  I should definitely look into finding some of these plants.
I can't believe that Monday is the first day of June!  I hope to follow this Simple Summer Challenge for keeping the house clean.
We are trying to plan a summer camping trip.  We may have to try out some of these recipes.
I know they've created a newer game, but is anyone still hooked on this game, like me?  I stopped playing awhile ago and don't know why I got back into it.  It's a total time waster and I'm stuck on level 140.  But it's so addicting and I've been playing every night!
I love hard apple cider like Angry Orchard.  However, I've been really wanting to try this hard pear cider?  I haven't found it yet…..have you tried it?!!
Hope everyone has a great weekend!
Linking up with Tif @ Bright on a Budget, Amanda from Meet @ The Barre, Andrea @ Momfessionals and Jennie @ The Diary of a Real Housewife!