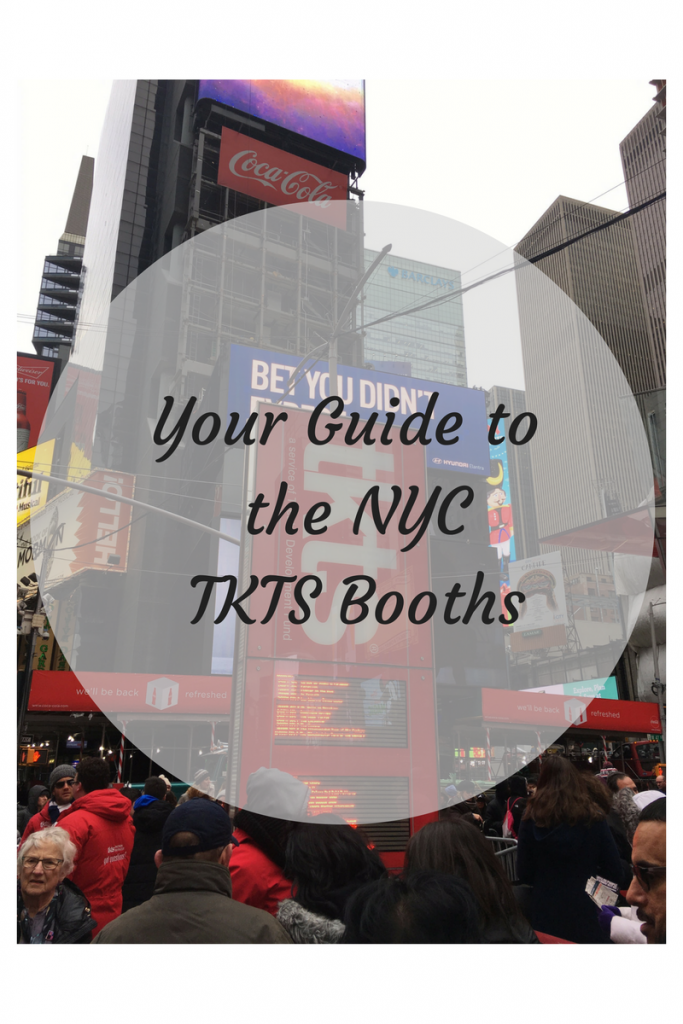 Do you love the theater and seeing Broadway shows?  If you are a fan, then seeing at least one show is a must when visiting New York City.  After all, Broadway is famous for showcasing the best of the best!  There are currently 45 Broadway shows selling tickets.  Some of these shows have previews beginning in March, but allow you to purchase your tickets now.  If you have your mind set on seeing Hamilton, I wish you lots of luck in getting tickets.  If you really want to take your kids to see Frozen or the Lion King, then you should definitely pre-purchase tickets based on your travel plans.  However, if you are more flexible in what Broadway show you see, then I highly recommend you visit one of New York City's TKTS booths.
There are four TKTS booths in New York City located at Times Square (pictured above), South Street Seaport and  Lincoln Center.  The Times Square ticket booth only sells same-day tickets.  The other three ticket booth locations sell same-day evening tickets or next-day matinee tickets.  They all sell tickets to a variety of Broadway shows and plays at up to 50% off!
Here are some tips for purchasing tickets from the TKTS booths.  First off, check the site for each locations hours, since they differ.  Matinees are usually performed only on Wednesdays, Thursdays, Saturdays and Sundays.
Second, plan on getting in line at your ticket booth location of choice approximately one hour before the booth opens.  Yes, you heard me, one hour in advance.  If the booth opens at 10 AM, I'd aim to get in line by 9 AM for best ticket choices.  Bring a book, your phone (with a portable charger!) or a friend to entertain you while you wait.  This ensures that you get the best selection of shows to choose from.
All of the shows with tickets available for purchase that day are listed on the monitor located near the TKTS booth.  You can also download the TKTS mobile app to see the current show listings.  Ticket availability changes daily.  Just because you saw tickets available for a show yesterday does not mean that they will be available at the booth today.  Keep in mind that you will not find tickets available at the TKTS booth for shows like Hamilton, Frozen, or Mean Girls among others.
It is recommended that you have at least 5 different show selections ready.  Depending on your place in line, you may sadly watch your first, second or even third choices disappear from the screen as they sell out.  If you have your heart set on seeing a specific show that is listed, be prepared to sit separately from your party.  Often times, the more popular shows that have tickets at the TKTS booth only have single seat availability.
Plan on spending at $75+ a ticket.  From what I've been told and my personal experiences, TKTS only sells Orchestra seats.  This means you are getting amazing seats at up to 50% off regular price.  Keep in mind that regular orchestra seats can run upwards of $350+ depending on the show!  If you have a large party, have more than one person wait in line, as they will only sell six tickets per person.
Please remember, depending on location, you are purchasing tickets to that day's matinee or evening performance (or the next day's matinee, depending on which location you purchased your ticket from).  These tickets are also non-refundable.  Before you leave the window, double check you have the correct number of tickets and that they are for the correct show, date and time.  While recently standing in line to purchase tickets I overheard a woman telling an employee that she wanted to exchange her tickets that she had purchased earlier in the week.  Unfortunately, she was out of luck!
While holiday vacations are popular times for visiting New York City, they are also busy times for Broadway as well.  I recommend not trying to get tickets from the TKTS booth during these times.  We learned the hard way, attempting to get tickets over the Christmas break.  The line was super long and by the time we made it up to the window, there were no family-friendly shows available that had four seats together for a matinee show.  We ended up getting back in line later the same day (an hour and half before the booth opened!) and were able to purchase tickets to an evening performance.
While standing in line, there are several TKTS Patron Service Reps walking around, ready to answer any questions you may have.
Finally, no matter how desperate you are for show tickets, it is highly recommended that you do not purchase tickets from scalpers (the guys and gals on the street trying to sell you tickets).  There is no way to tell if the tickets are legitimate or not.
The TKTS booth may not be for everyone.  As I mentioned, if you are visiting New York City and have a specific show that you want to see, I recommend purchasing tickets prior to your visit.  However, if you love musicals and are flexible in what you see, (and don't mind giving up time to stand in line) then I'd give the TKTS booth a try.  For theater fans, it's a great way to see Broadway shows at an affordable price.