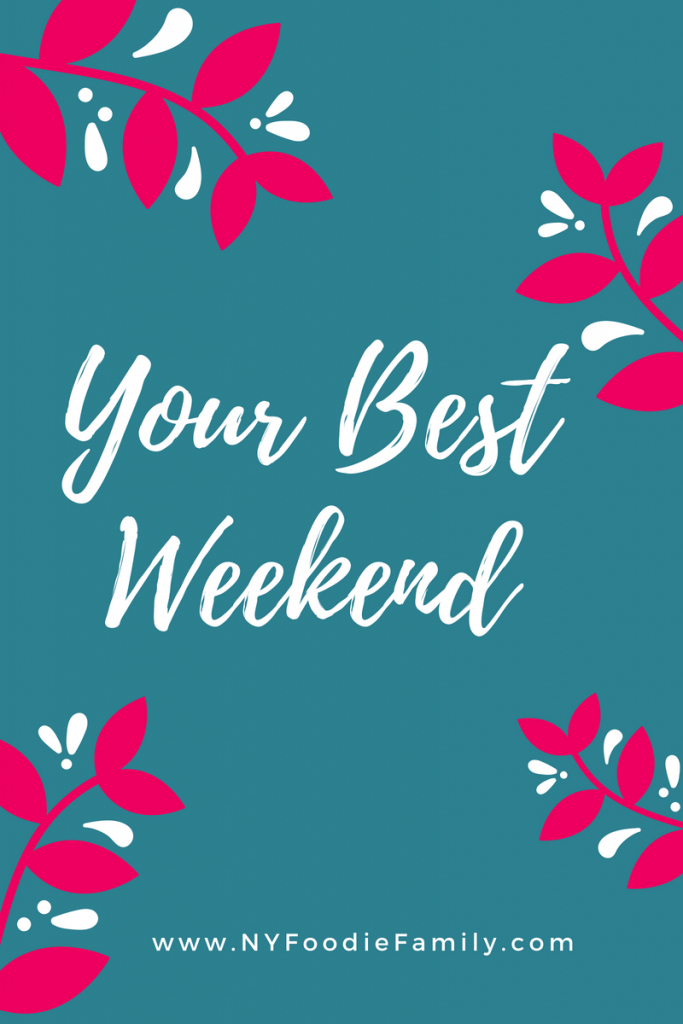 (This post contains affiliate links.  Please read our disclosure policy for additional information.)
Welcome to "Your Best Weekend".  Enjoy a weekly curated list of ideas for self-care, family fun, date nights and more to help you have "your best weekend."  We are all busy, but we need to make time to enjoy life!
"Better days are coming.  They are called Saturday and Sunday."  – Unknown
Celebrate:
National Bowling Day is Saturday, August 11.  Celebrate with a family fun day out at the lanes.  To make it a date night or girls night out, try moonlight bowling.
Also August 11 is National Garage Sale Day.  Map out a few garage sales in your area.  Give everyone a set amount of money and see who can find the cheapest, weirdest and/or coolest items.
Self-Care:
Journal Prompt/Reflection: A weekly prompt to help guide your writing or just get you thinking.
"What do I need more of in my life?"
Exercise: If you are looking for a yoga practice that you can do at home, I highly recommend Yoga with Adriene.  I have linked to the intro of her 30 Days of Yoga.  She also has Yoga Camp, Tru and Revolution, all 30-31 day programs with a different routine every day.  Most videos are 20-30 minutes each that are easy to do in the comfort of your own home.
Shop: If you need a yoga mat, I recommend these Gaiam reversible yoga mats.  Not only are they functional, but they have the prettiest patterns!
Challenge : Start your week off in the right direction by going to bed a half hour earlier than you normally do on Sunday night.  There's nothing like starting a new week well-rested.
Family Fun with Tweens:
Watch on TV: The 2018 Teen Choice Awards this Sunday, August 12, 8 PM on Fox.  You may not know who many of the nominees are, but your kids will!
Dinner Conversation Starter:  A question to spark some conversation during family dinner time.
"If you could trade places with your parent for the day, what would you do differently?"
Back-to-School: While children in some states have started school already, here in New York and most of the northeast, kids don't start school until after Labor Day.  Help get your kids get ready by shopping now for all of their school supplies.  Kids love getting to pick out new backpacks and lunch bags.  Get everything on the school supply lists (and stock up up on extras, especially pencils!), while stores are having great deals.  Take your kids with you and give them some time to make their choices.
Weekly Recommendations:
Book Recommendation:  I just finished the book Reading People by Ann Bogel.  This is a non-fiction book where author Bogel explains different personality tests and what you can learn about yourself and others from each one.  She also offers insights and practical applications of each.
Recipe Recommendation:  I recently made these Skillet Balsamic Peach Pork Chops with Feta and Basil.  It makes use of the juicy peaches that have been on sale at the grocery store.  I am not a big pork chop eater, but these were delicious.  It has such a great combo of flavors! This recipe will be made again before summer ends.
Tween Book Recommendation: I read  The One and Only Ivan by Katherine Applegate with my son.  The book is narrated by Ivan, a gorilla, who lives in a shopping mall.  He's used to his life there with his friends Bob, the dog and Stella, the elephant. He even has a human friend, Julie, the daughter of the cleaner.  But when Ruby, a baby elephant arrives, Ivan decides that he can't have her end up living a life like his.  Although it is sad at times, it is also a heart-warming story that was loved by both my son and I. Have your older elementary kids read this book now, as it is being made into an animated movie!  While filming has started, a release date has not been announced.
Family Fun Recommendation: Visit an amusement park!  Our family tries to visit at least one amusement park every summer.  We visited Dorney Park earlier this summer and last summer we went to Six Flags Great Escape.  Summer is almost over, so plan your day at the amusement park now.