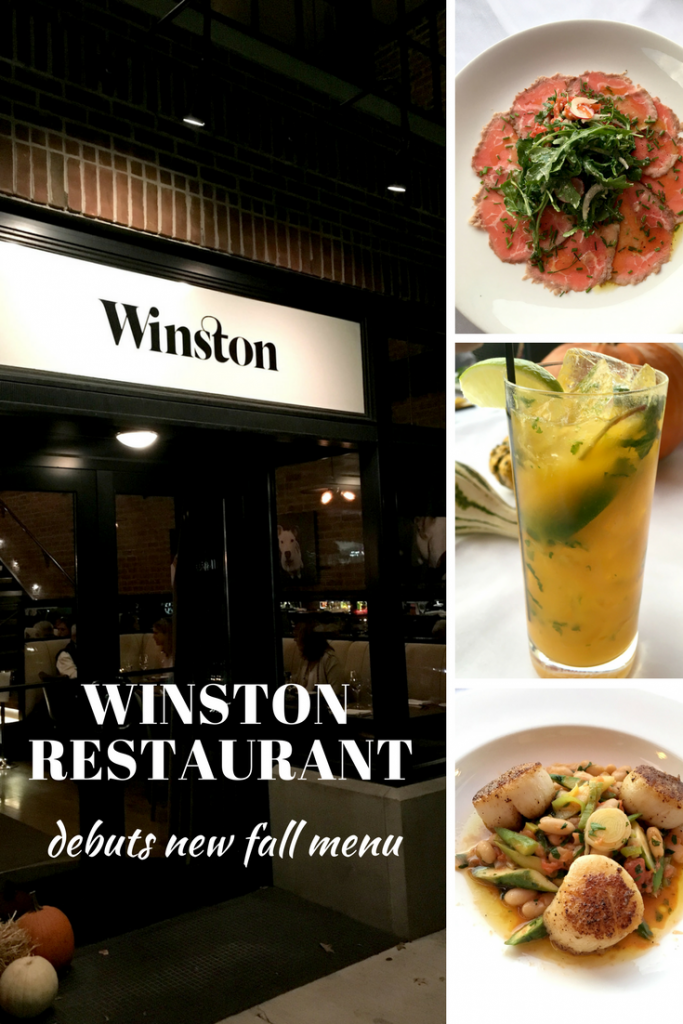 (I was invited to a tasting of the new fall menu at Winston Restaurant. As always, all opinions are my own.)
Winston Restaurant has been a welcome addition to Mount Kisco since 2014.  Named after the dog owned by Executive Chef Michael Williams, the restaurant serves New American cuisine using fresh, high-quality ingredients. I dined at Winston back in December of 2014, during the restaurant's inaugural year.  Even then, my husband and I were impressed with the quality and flavors of the food.  It appears that Winston has maintained that high standard of food and service to bring you a memorable dining experience.
Executive Chef Michael Williams recently debuted a new fall menu that I was fortunate enough to get a preview tasting of.  Believe me readers, you will not be disappointed!  The dishes featured below will be replacing some of the summer-type dishes off the restaurant's a la carte menu.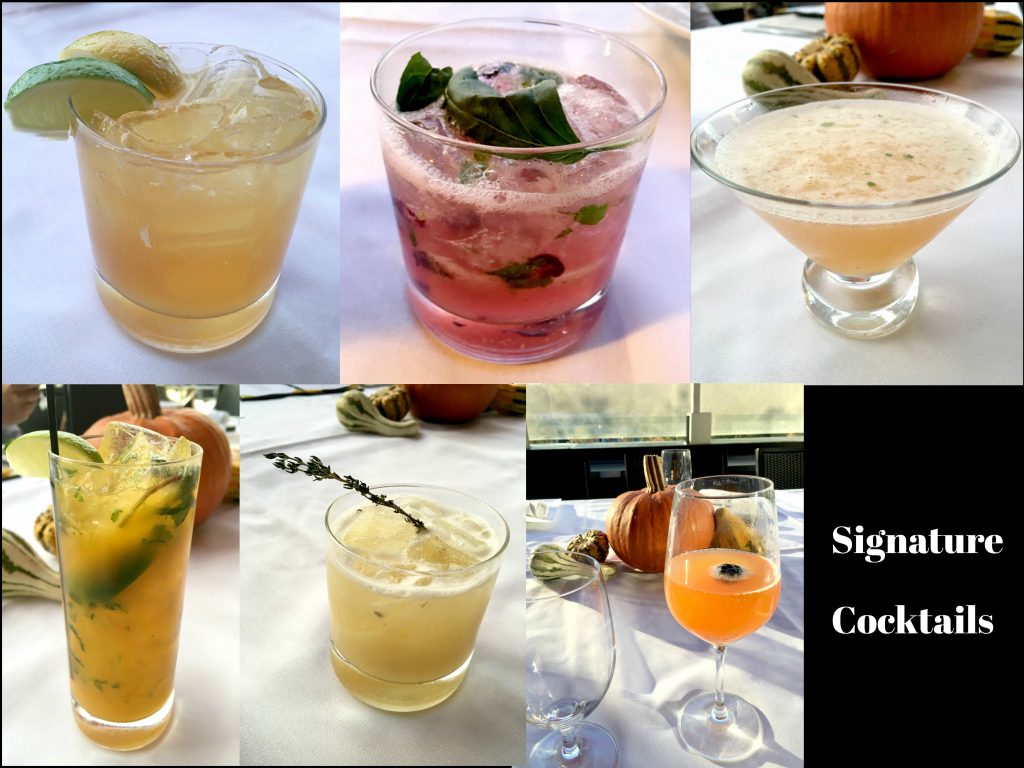 Your first decision will be which tasty cocktail to order.  And let me tell you, it won't be an easy one!  While Winston has a full service bar and extensive wine list, you will want to try one of their signature cocktails.  The fall menu includes (pictured clockwise from top left) a Spiced Apple Margarita, Blueberry Dash, Ginger Redemption, Passion Fruit Bellini, The Herbed Pear and a Pumpkin Mojito.  The only other drink, not pictured, is the Gentleman Fig.   I love sweet drinks and the Passion Fruit Bellini was right up my alley.  Since I had to drive home (and I might be a lightweight) I didn't try any of the other cocktails. They all have such interesting combinations of flavors and ingredients, and appeared to be well-liked by my fellow diners.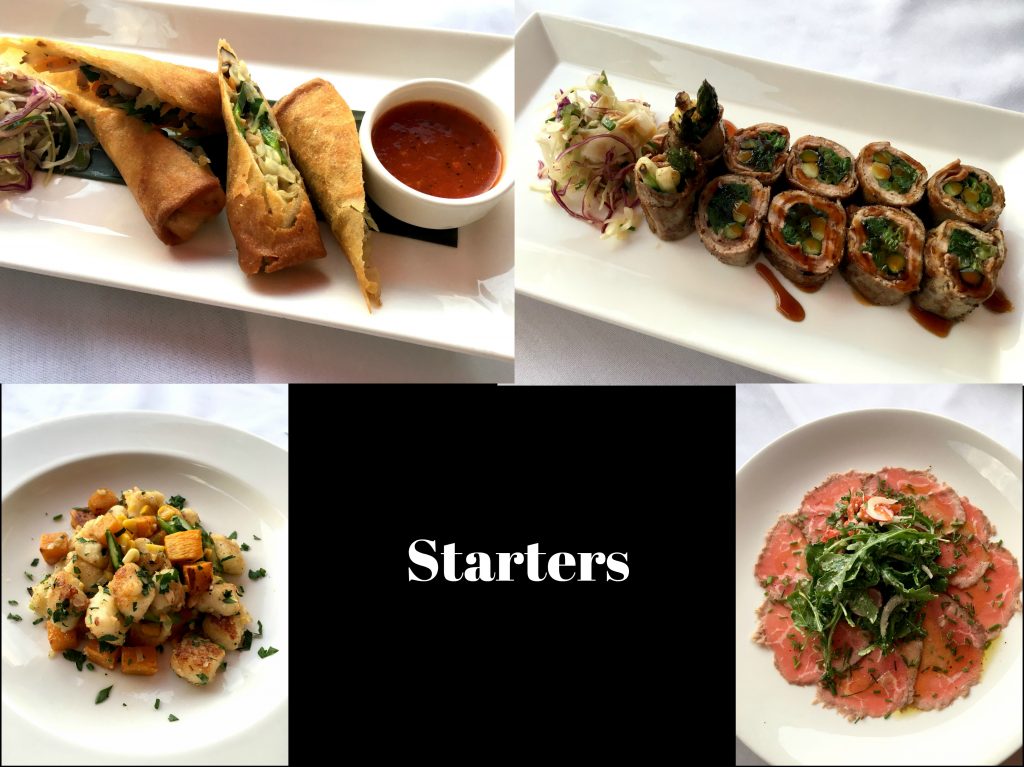 The fall menu includes four new starters (pictured above clockwise) Vegetable Spring Rolls, Beef Negimaki, Beef Carpaccio and Gruyere Potato Dumplings.  They were all delicious but I highly recommend the potato dumplings and the carpaccio.  The beef carpaccio is topped with an arugula salad and is a nice light dish to start your meal.  The potato dumplings are small, fluffy pillows of deliciousness.  Accompanied by butternut squash, corn and asparagus, this dish embodies the goodness of fall. The portions are large enough for sharing so why not get both?!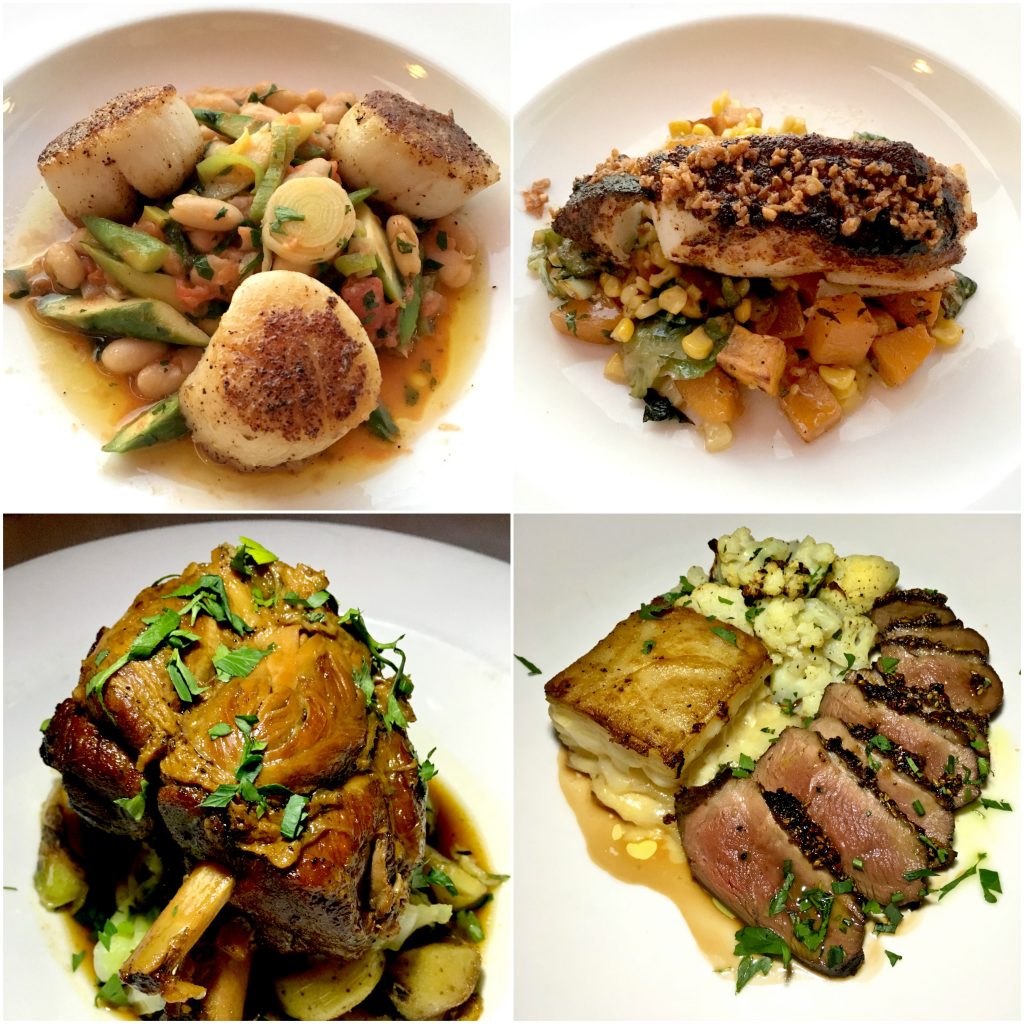 Chef Williams knocked it out of the ballpark with the new entrees on the fall menu!  The four entrees (pictured above clockwise) include Pan-Seared Diver Scallops with Cannelini Beans, Chipotle Encrusted Cod atop a Butternut Squash, Corn and Brussels Sprout Leaves medley, Hudson Valley Magret Duck Breast with a Moroccan Honey Glaze served with a potato gratin and roasted cauliflower and Asian Braised Pork Shank atop a combo of Fingerling Potatoes and Savoy Cabbage.  Honestly, they are all delicious and I can't pick a favorite.  I think it really depends on what you're in the mood for.  The cod has a bit of a kick from the chipotle crust, but isn't overly spicy.  The braised pork is so tender it falls off the bone.  I love duck and the Moroccan Glaze is on point.  And look at the perfect sear on those scallops!  Again, I recommend ordering different entrees than your dining companions and sharing.
Finally, we can't forget about dessert.  No matter how stuffed I am, I always take a peek at the dessert menu…..just in case there's something that I have to try. Apple Tart served with vanilla ice cream is the new addition to the fall dessert menu.  The nine piece assorted Cookie Plate and The Dirty Winston, a chocolate hazelnut layer cake served with raspberry sorbet are mainstays on Winston's dessert menu.  My advice: skip the cookie plate.  If you're going to splurge on dessert, really splurge!  Depending on your sweet preferences both the apple tart and Dirty Winston are really good.  However, if you love creme brulee, like I do, you must order the creme brulee trio. While I didn't sample this dessert during my most recent visit, speaking from my prior dining experience, they are really good! The flavors change seasonally.
Are you salivating yet?! Winston will still be serving their new fall menu from now until the spring.  Sunday through Thursday they also have a Prix Fixe Menu.  I had never thought of Winston as a "family" restaurant.  However, they have a kids menu featuring favorites like a cheeseburger, chicken fingers and pasta.  The whole family can enjoy a great dinner out!
The Details:
Winston Restaurant
130 East Main Street
Mt. Kisco, NY 10549
(914) 244-9780
Hours: 
Closed Mondays
Tuesday – Thursday:  5 PM – 9 PM
Friday & Saturday:  5 PM – 10 PM
Sunday:  5 PM – 9 PM
Parking:  Street parking available in front of the restaurant.  Village Center Parking Lot is located behind the restaurant.  Meters enforced 8 AM – 6 PM Monday through Saturday.  Free parking Sundays and holidays.
Price:  $$ (small plate/starters average $15, most entrees priced between $25 – $35, most desserts are $10 and under)
Reservations can be made via phone or through OpenTable.