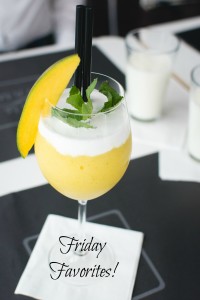 Happy Friday!  We are a week into April and I have to ask, where is spring?!!  The week started out with snow and is going to possibly end with snow, with possible snow showers tomorrow.  I am so over the cold!   My daughter's girl scout camping trip this weekend ended up getting postponed due to the unusually cold temps.   Despite the cold temps, we had a great week.  Here are some of our favorites of the week:
1. Last Saturday, we hosted our monthly Supper Club.  This month's theme was food by Chef Gordon Ramsay.  I made a Roasted Chicken with Chickpea Stuffing and my husband made Ramsay's signature Beef Wellington.  This was our first time eating and making Beef Wellington.  This dish is tricky to make because the beef is wrapped in puff pastry.  You have to be careful of cooking time, since you can't stick a meat thermometer into the dish or you ruin the look of it.  Well, as seen in the picture above, he nailed it!   It came out perfectly and was delicious.
2. Sunday evening my husband and daughter went to the Girl Scout Father/Daughter Dance.  This is the fifth year that they have gone and it still doesn't lose its specialness.  The two of them dressed up, having dinner and dancing with all the other father/daughters in our girl scout community = priceless!  She ended up winning the door prize – a $25 movie gift card and a $25 Applebee's gift card which made it even more fun for her!
3. My son and I have started reading the Harry Potter series together.  Because the chapters are long and the print small, we only get to read a couple of pages a night.  I borrowed the audio book from the library and we listen while he follows along in the book when we are driving in the car.  This has sped up the reading of the book for us.  Once finished we will watch the movie (again!) and continue through the series.  My daughter, who has read most of the series already enjoys listening to the audiobook as well.  Jim Dale does an amazing job of narrating the Harry Potter series and I highly recommend listening to the books on audio if you haven't!
4. While my husband and daughter were at the Father/Daughter dance, my son and I went on a movie and dinner "date."  He has been wanting to see the movie Zootopia since it came out, but we've been so busy.  I ended up taking him Sunday afternoon and then we went out to dinner.  I love being able to spend one-on-one time with the kids.
5. And finally, Monday, the 4th, my husband and I celebrated our 12th wedding anniversary!  I was going to meet him down at his office for a lunch date, but the kids had a two hour delay.  We are planning a nice dinner out, hopefully sooner than later!  I can't believe how quickly twelve years has gone by.
ICYMI, this week on the blog:
Monday I shared our weekly meal plan.
Tuesday I shared our 2-Day Philadelphia Itinerary with kids.
Wednesday I joined the Currently linkup.
Have a great weekend!  Linking up with Tif, Amanda and Andrea!