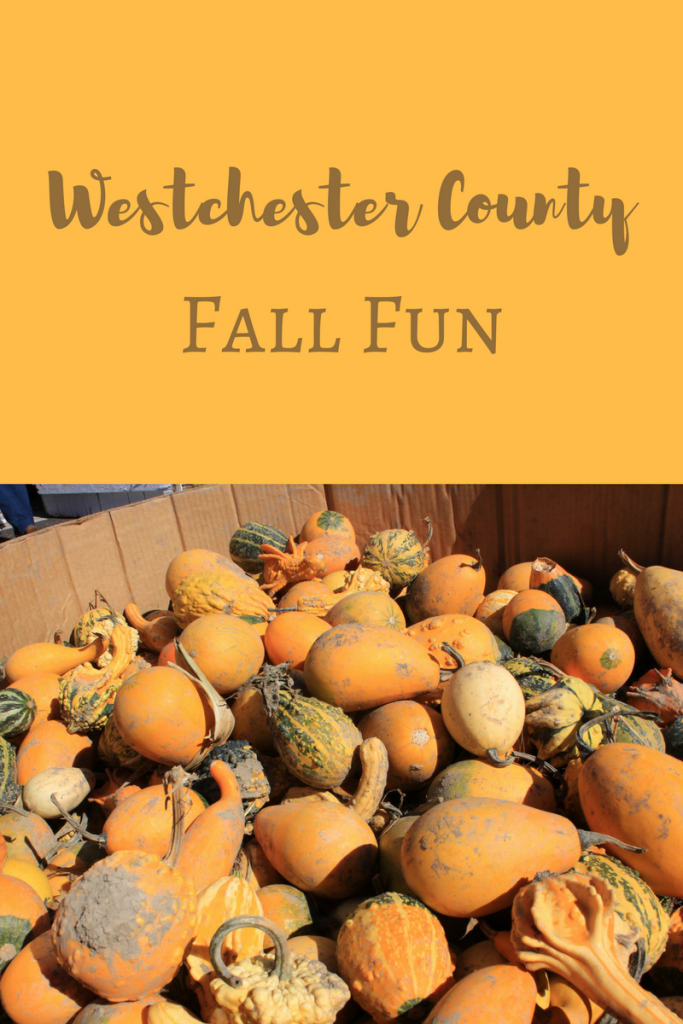 Tomorrow marks the official first day of fall. With the leaves changing color and Halloween quickly approaching, there is so much to see and do.  Here is a round-up of some of the Westchester County fall fun to be had!
Please note, not all of these events are family-friendly!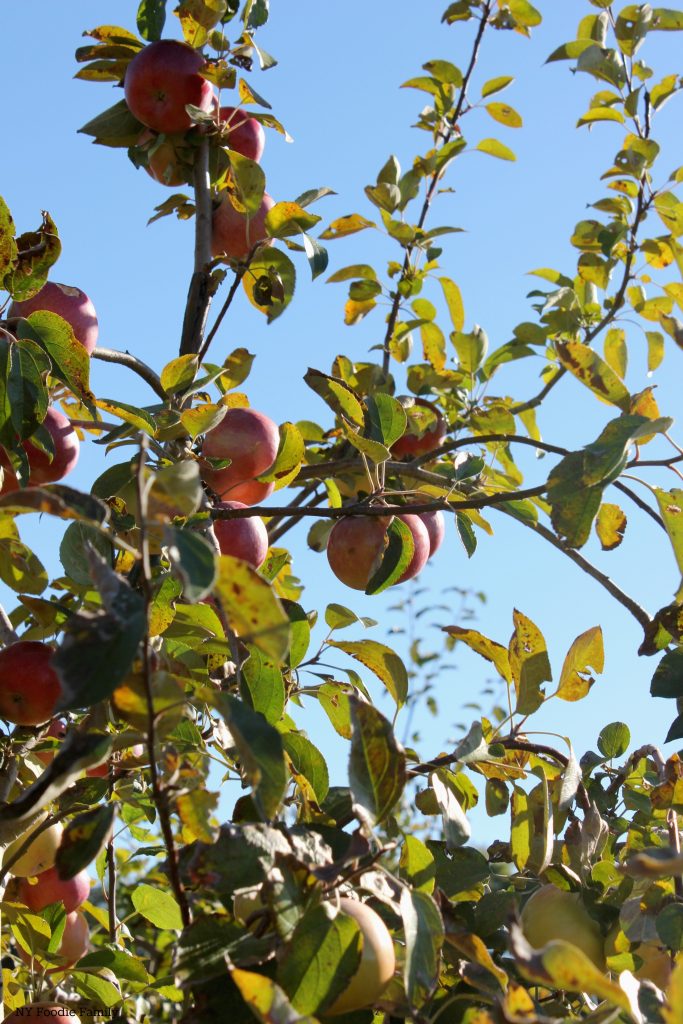 Apple Picking:

While there are many apple orchards throughout the Hudson Valley, you don't have to travel far to go apple picking.  Westchester County is home to four apple orchards.  In addition to apple picking, many offer family-friendly activities, as well as (Please check each website for specific dates, times and cost.)
Harvest Moon Farm & Orchard (North Salem)
Outhouse Orchards (Croton Falls)
Stuarts Farms (Granite Springs)
Wilkens Fruit & Fir Farm (Yorktown Heights)
Fall Festivals:
There are tons of fall festivals taking place in September and October throughout Westchester County.  While there are too many to list, we've listed some of the more popular events.
Hudson Valley Irish Fest
September 30, 2017 – 11 AM – 7 PM
Peekskill Riverfront Green
Peekskill, NY 10566
Enjoy a fun day celebrating all things Irish.  There will be live music, food, vendors and family fun.
Once Upon a Time Fall Fest & Train Show
Weekends beginning September 30 – 11:00 AM – 4:00 PM
Lasdon Park
2610 Amawalk Road, Rt. 35
Katonah, NY 10536
Tickets: $10/adult, $5/child (12 and under)
**Free admission on October 29 for children in costume!! 
Enjoy seeing trains, a hay maze, storytelling, a dinosaur plant garden and more. This year's theme is Once Upon a Time, centering around children's books.  There will be wine and craft beer tastings on select dates.
Farm Fest at Fable Farm
October 1, 2017 – 10 AM – 4 PM
1311 Kitchawan Rd.
Ossining, NY 10562
Enjoy a day at the farm.  Feed the chickens, tour the hydroponic greenhouse, shop local vendors, enjoy cooking demos and more.
Harvest Fest
October 7, 2017 – 10:00 AM – 3:00 PM
Stone Barns Center
630 Bedford Road
Pocantico Hills, NY 10591
*General Admission tickets sold out!!
Celebration Tickets and packages available starting at $150
Enjoy a day on the farm with hayrides, educational tours, cooking activities, live music, local food and beverage vendors and more!
Fall Fest
October 7-10, 2017, 10:00 AM – 4:00 PM
Hilltop Hanover Farm
1271 Hanover Street
Yorktown Heights, NY 10598
Free to attend, but activities will have fees
Enjoy an entire weekend of fall fun! Farm produce will be on sale and there will be pumpkin picking and other family fun activities.
Chappaqua Children's Book Festival
October 14, 2017 – 10 AM – 4 PM
Robert E. Bell Middle School
50 Senter Street
Chappaqua, NY 10514
More than 90 children's authors are expected to attend the book festival and will be signing books and reading excerpts.  Enjoy a day of books, fun, food and entertainment.
21st Annual Sleepy Hollow Street Fair
October 14, 2017 – 10:00 AM – 5:00 PM
Beekman Avenue
Sleepy Hollow, NY 10591
Enjoy vendors, a kid's carnival, food from local restaurants and more.
HarvestFest on the Hill
October 21, 2017 12 PM – 3 PM
Ridge Hill
1 Ridge Hill Blvd.
Yonkers, NY 10710
Enjoy an afternoon of family fun and entertainment.  Children can wear costumes and trick-or-treat from 12 PM – 1 PM.  There will be square dance lessons, pumpkin painting, live music, food and drink and more.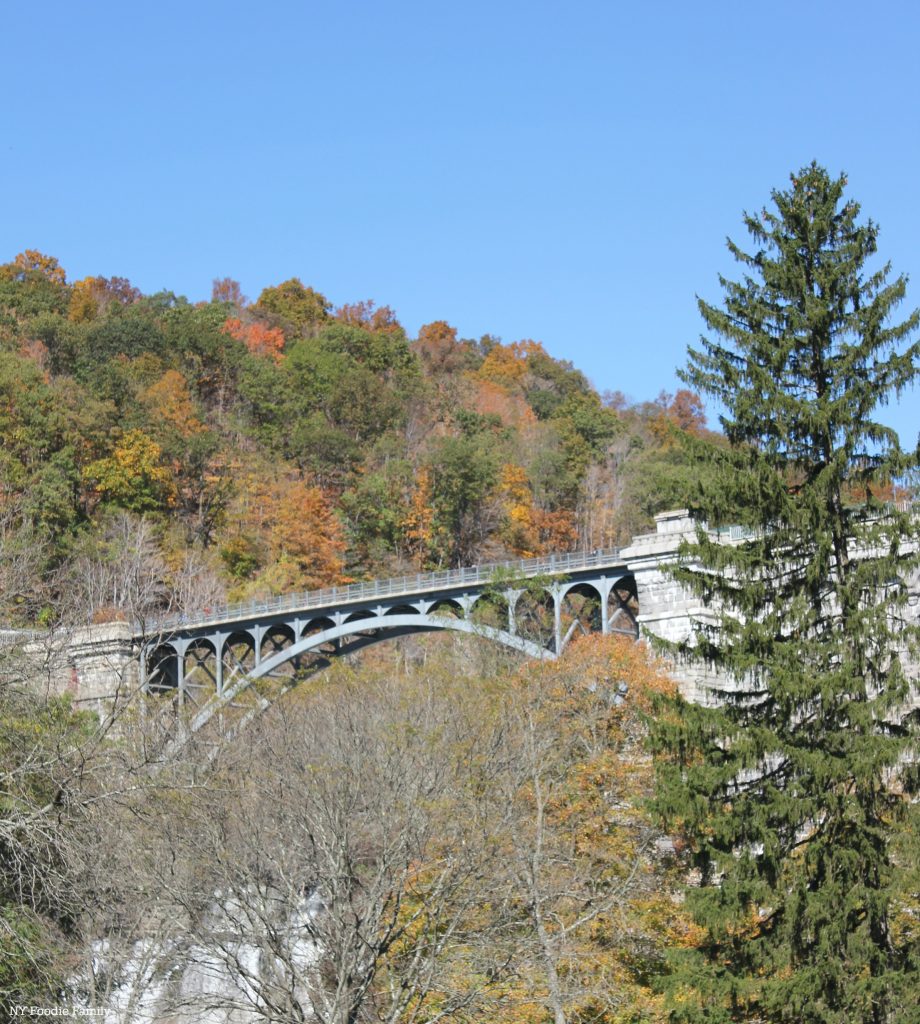 Croton Gorge Park
Fall Foliage:
Westchester County has some great places to do some leaf peeping!  Here are a couple of recommendations.  Please leave me some of your favorite places in the comments!
Croton Gorge Park
35 Yorktown Rd.
Cortlandt, NY 10520
Enjoy an easy wooded hike up to the Croton Gorge Dam and then take in the beautiful waterfall and scenic views!
Fall Foliage Afternoon Cruise on the Hudson River with Trinity Cruise Company
Riverfront Green Park
Peekskill, NY
3 PM, select Thursdays, Saturdays and Sundays in September and October
$22/adults, $20/seniors, $14/children 16 and under
Enjoy a 1 1/2 hour cruise on the Hudson River as you take in highlights including Iona Island, Bear Mountain, Anthony's Nose and more.  Food and beverage are not included but snacks and beverages are available to purchase on board.
Rockefeller State Park
125 Phelps Way
Pleasantville, NY 10570
7 AM – Sunset
$6 parking fee
Read our Rockfeller State Park blog post for more info!
Halloween Fun: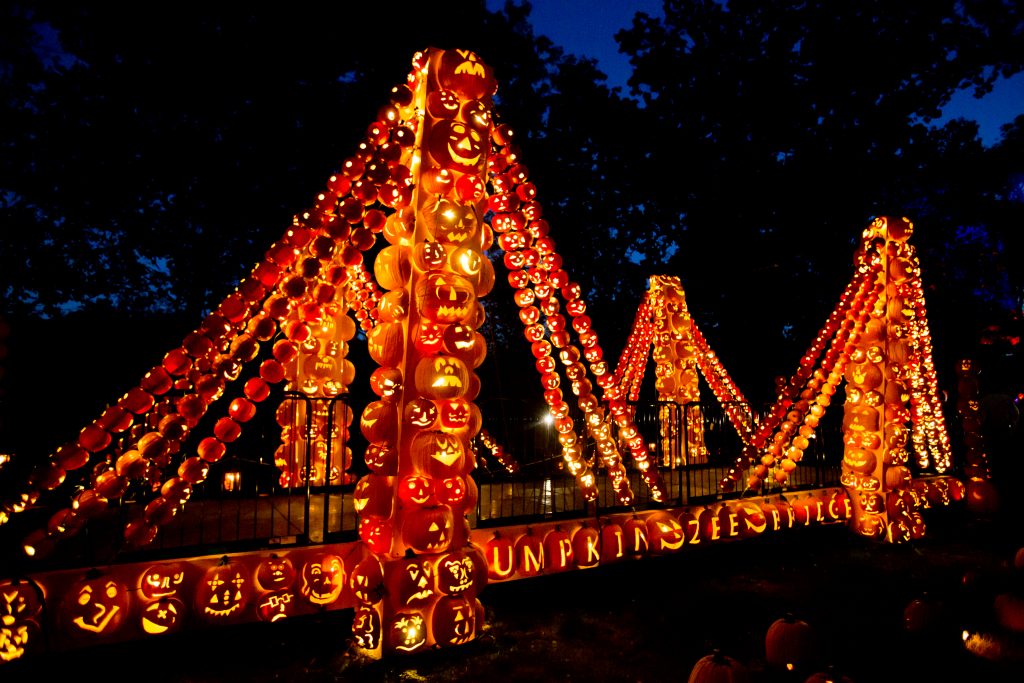 (photo by Angie Gaul – courtesy of Historic Hudson Valley)
The Great Jack O'Lantern Blaze
Van Cortlandt Manor
525 S. Riverside Avenue
Croton-on-Hudson, NY 10520
Dates:  Check website for specific dates
Tickets: $20/adults ($25 – Fri./Sat.), $16/children (3-17) ($20 – Fri./Sat.) (Free for members and children under 3)
There's a reason that thousands of visitors visit the Great Jack O'Lantern Blaze each fall.  Sound effects, lighting and an original soundtrack accompany thousands of carved pumpkins artfully arranged on the grounds of Van Cortland Manor.  Get your tickets soon as this event always sells out!
Jay Ghoul's House of Curiosities – Halloween Without a Clue
Lyndhurst
635 South Broadway
Tarrytown, NY 10591
Oct. 19 – 22 and Oct. 25-31, 6-9 PM (check website for specific dates and times)
Tickets:  $25/adults, $20/children (12 and under)   advance reservations are necessary
Enjoy a nighttime, fun and spooky theater performance that lasts approximately 30 minutes.  It is a family-friendly event, though young children may be scared by the costumes and low lighting.
Spooky Tales
October 30, 2017 – 3:30 PM
Caramoor
149 Girdle Ridge Road
Katonah, NY 10536
Tickets:  $15/adults, $10/child
Children ages 3-8 are invited to listen to Master Storyteller Jonathan Kruk tell spooky, but not-too-scary, stories to celebrate Halloween.  Come in costume and enjoy some refreshments in the Summer Dining Room after the performance.
Haunted Houses:

There are not many haunted houses in Westchester County but get your scare on with these three.  Parents, you  know your children.  Even though many of these attractions are recommended for ages 10+, don't take your children if you don't think that are up for it.  Weeks of nightmares are not worth one night of fun for you! 
The Haunt at Rocky Ledge
1402 Old Orchard Street
White Plains, NY 10603
Friday, Saturday and Sunday evenings in October (check website for specific times)
The Haunt at Rocky Ledge includes two haunted houses, a walk through the woods and a haunted cornfield.  Expect to be scared!
Horseman's Hollow at Philipsburg Manor
100 Continental Street (Philipsburg Manor overflow parking lot)
Sleepy Hollow, NY 10591
Friday, Saturday and Sunday evenings in October (check website for specific times)
Tickets:  $25/Saturday tickets, $20 (online)/Friday and Sunday, $22 (phone order)/Friday & Sunday Fast track tickets are an additional $15 per person (members receive a $5 discount)
Philipsburg Manor in Sleepy Hollow is transformed into a town driven mad by the Headless Horseman. Get your tickets in advance as many nights sell out.  Recommended for ages 10+
Scared By the Sound
Playland Amusement Park
Playland Parkway
Rye, NY 10580
Friday, Saturday and Sunday evenings in October (check website for specific times)
Tickets:  $20
This walk-through attraction is recommended for children 10+
Performances:
Irving's "Legend" at the Old Dutch Church
Parking is at Philipsburg Manor:
381 North Broadway
Sleepy Hollow, NY 10591
Friday, Saturday and Sunday evenings in October (check website for specific times)
Tickets:  $25/adults, $20/children under 18 (members receive a $5 discount)
Enjoy master storyteller Jonathan Kruk's dramatic performance of Washington Irving's classic, The Legend of Sleepy Hollow.  Performances take place weekends throughout October and last approximately 45 minutes.  This event is recommended for children ages 10+.  The event takes place at the Old Dutch Church across the street from Philipsburg Manor.
Oktoberfest:
Bear Mountain Oktoberfest at Anthony Wayne
September 23 – October 29 – 12 PM – 6 PM
Anthony Wayne Recreation Area
Palisades Parkway, Exit 17
Bear Mountain, NY 10911

Although not in Westchester County, the Bear Mountain Oktoberfest is one of the largest in the area.  Enjoy live music, food and of course beer now through the end of October.
Farmers Markets:
Pick up locally grown produce and shop local vendors.  #SupportLocal
John Jay Homestead
Saturdays (through October 28) – 9 AM – 1:00 PM
400 Jay Street (Rt. 22)
Katonah, NY 10536
Muscoot Farm
Sundays (through November 26) – 9:30 AM – 2:30 PM
51 Route 100
Katonah, NY 10536
Check out the 20+ vendors and then go visit the animals or take a hike!
Also check out other local farmers markets in Croton-on-Hudson (Sundays), Harrison (Saturdays), Hastings (Saturdays), Larchmont (Saturdays), New Rochelle (Fridays), NY Presbyterian in Cortlandt Manor (1st and 3rd Tuesday of the month), Ossining (Saturdays),Peekskill (Saturdays), Pleasantville (Saturdays), Rye (Sundays) and White Plains (Wednesdays).
Food:
Hudson Valley Restaurant Week
From October 30 – November 12, 2017  almost 200 restaurants throughout the Hudson Valley will be offering special three-course lunches ($19.95) or dinners ($32.95).  Now's a great time to check out some new restaurants in Westchester County and beyond.
Dance:
Costume Bash Dance Party (for adults)
October 13, 2017
Katonah Museum of Art
134 Jay Street (Rt. 22)
Katonah, NY 10536
7 – 8 PM, VIP experience
8 PM – 12 AM, costume bash
Tickets: $80/each, VIP experience: $125/each
Adults, put on your costumes and get ready for a fun evening of music and dance.  Enjoy cocktails and raffles with a prize for most creative costume.
Movies:
Fall Flicks Outdoor Movies
Cross County Shopping Center
8000 Mall Walk
Yonkers, NY 10704
Schedule:
Friday September 22 – Beauty & the Beast (2017)  Arrive at 5 PM to get selfies with the characters before the movie.
Friday September 29 – The Lego Batman Movie (2017)
Friday October 6 – Monster House (2006)
Bring a blanket or chairs to the Green for a movie, free popcorn and family entertainment.
If you know of a Westchester County fall fun event that should be added, please let me know in the comments below or e-mail me at NYFoodieFamily@gmail.com.