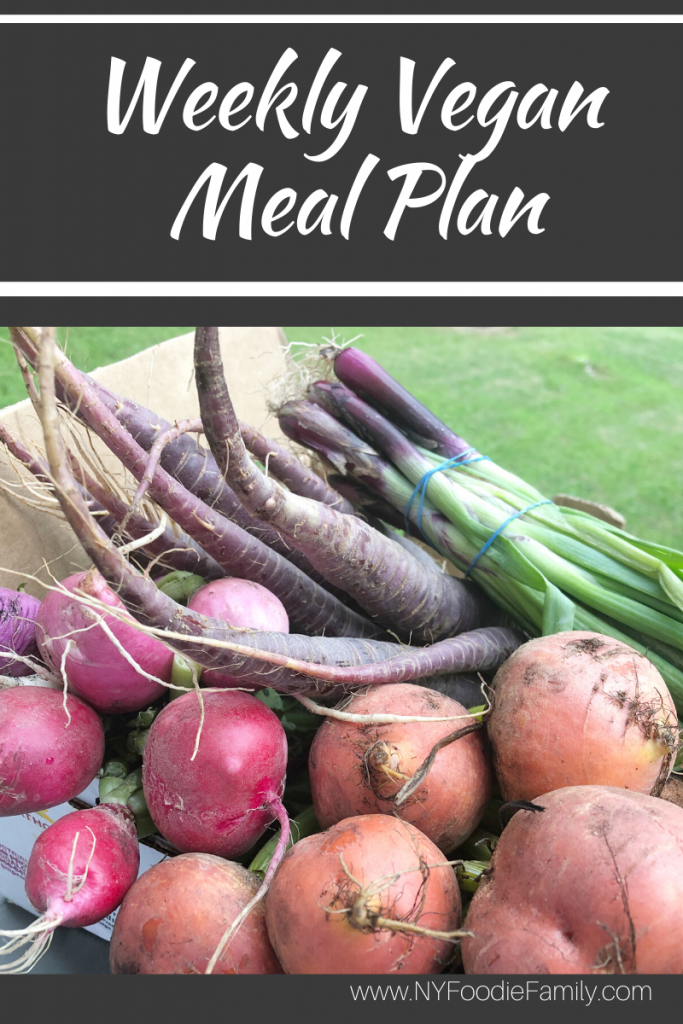 Check out this week's vegan meal plan. With pictures, recipe links and reviews, hopefully you will find something tasty to make! This week's menu includes risotto, tacos, tofu bowls and more!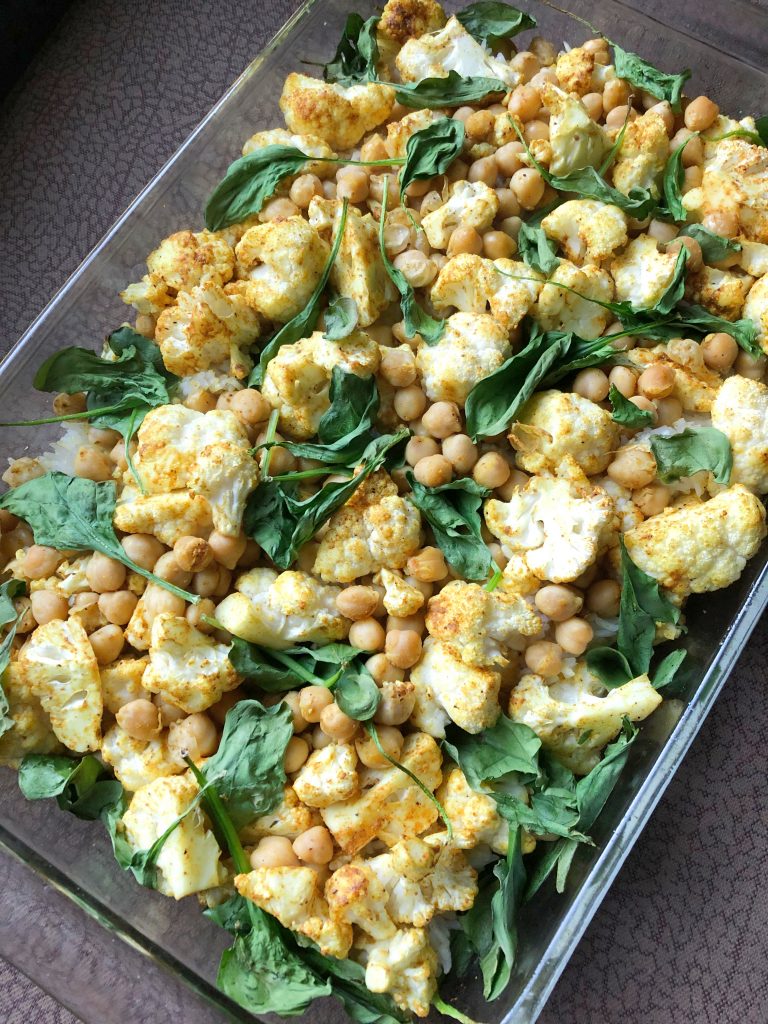 Sunday: Curried Chickpea Cauliflower Bake – This casserole is quick to prep, but then it has to bake for 25-30 minutes. I don't think that I tucked the spinach in enough, as you can see in the picture that it got dried out. Unfortunately, despite all of the curry powder, I felt like this recipe lacked flavor. We had leftovers for lunch the next day that I added some soy sauce too.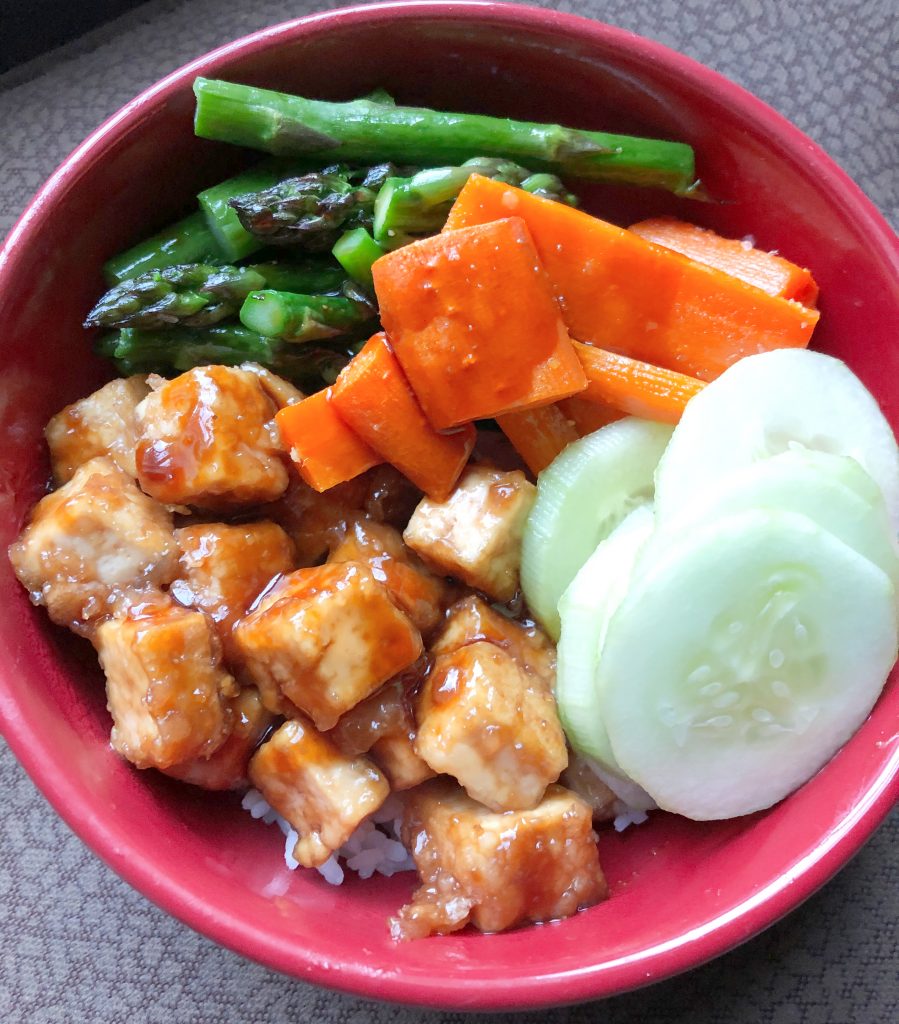 Monday: Restaurant-Style Teriyaki Tofu Bowls – This dinner was easy to make and so tasty! I didn't have broccoli, so I roasted some asparagus instead. I also roasted the carrots, instead of serving them raw. And I marinated the cucumbers in rice vinegar with some sugar before adding them to the bowls, instead of serving them raw as well. I think the small changes that I made elevated the flavors of these bowls. The homemade teriyaki was so good. This meal was devoured by everyone!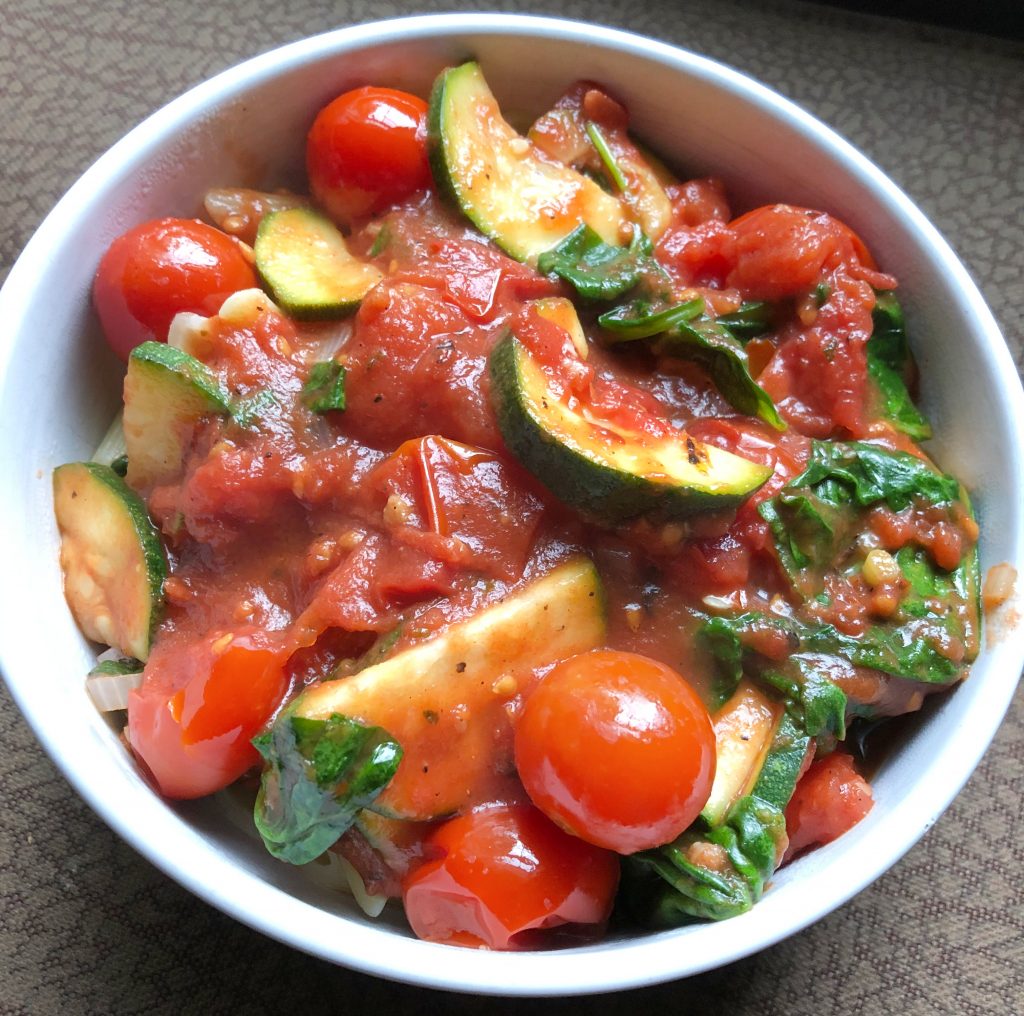 Tuesday: Creamy Pasta Pomodoro – This was my son's recipe of the week but I helped him make it. I was really craving pasta so I had high hopes for this dinner. It was pretty tasty, I just found the sauce to be a bit bitter. I had never even noticed that you can buy canned cherry tomatoes until I went shopping for this recipe. Two cans was a bit much though. We also opted to skip the "creamy" part of this recipe.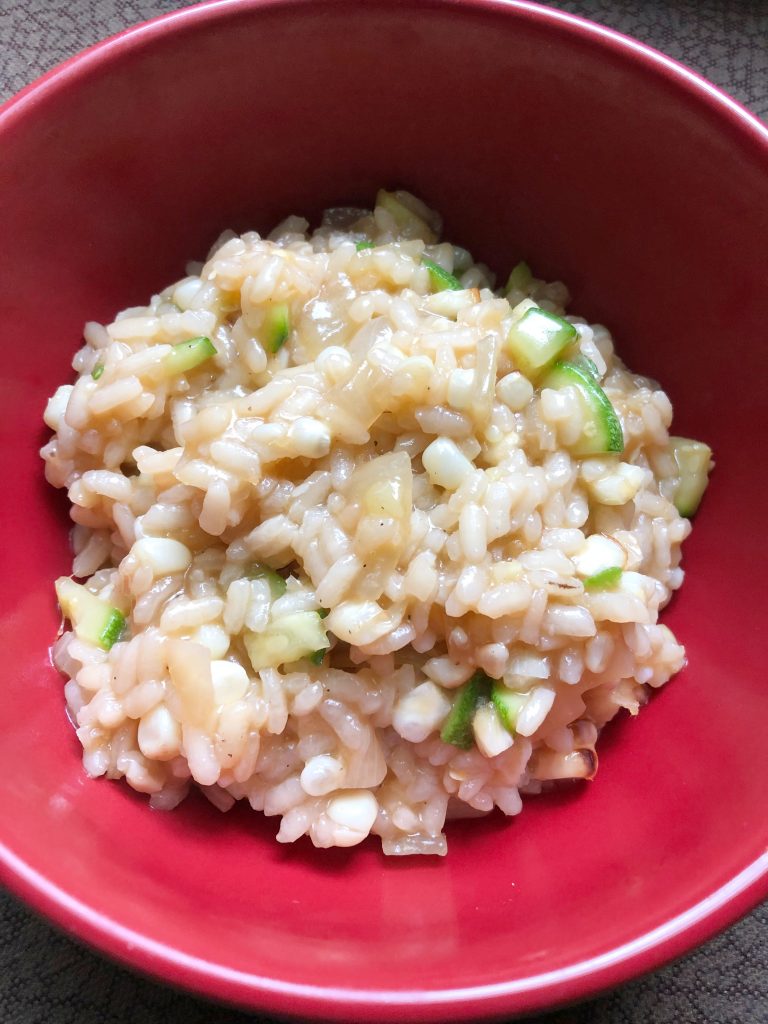 Wednesday: Corn Risotto with Zucchini – This was Dana's recipe of the week. This was easy to make and was very tasty! The recipe states it only makes 3 servings. We were able to get four servings out of the one recipe. Next time we will double it so we have enough for seconds and leftovers.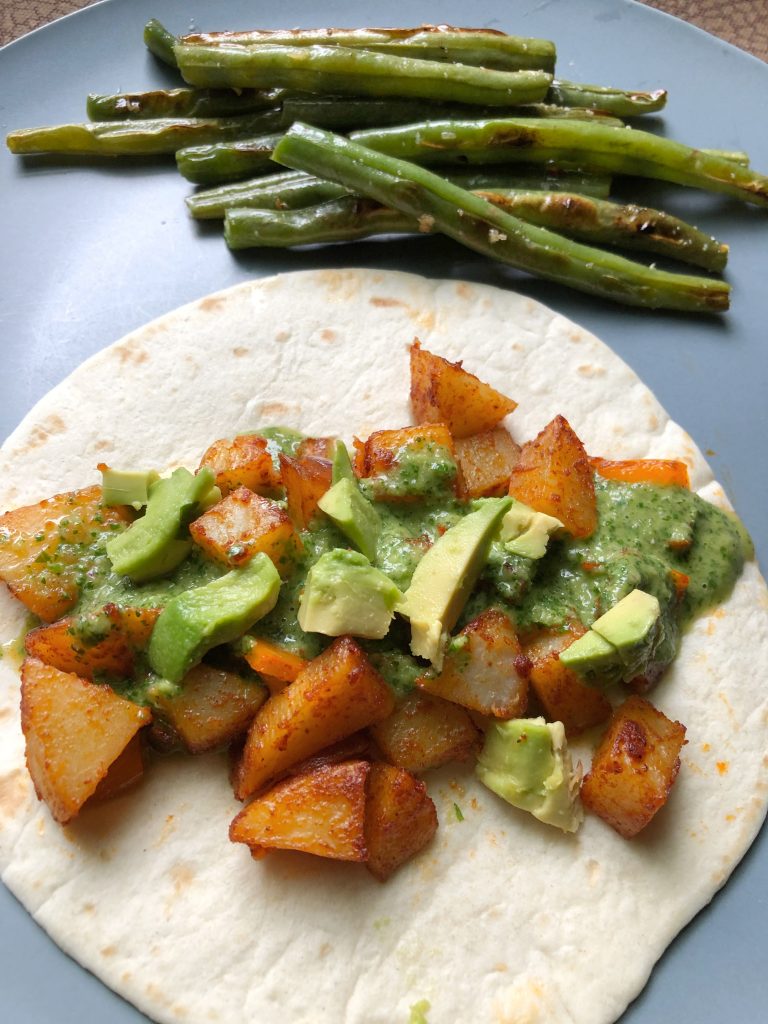 Thursday: Roasted Potato Tacos with Chimichurri – This is not the first time that I have made these tacos. And after making these for the second time, I have wondered why I don't make these more often. The potato mixture is tasty and I love the addition of the chimichurri sauce. I remade the potato mixture over the weekend for breakfast and topped it with the leftover chimichurri sauce, which I served with a tofu scramble.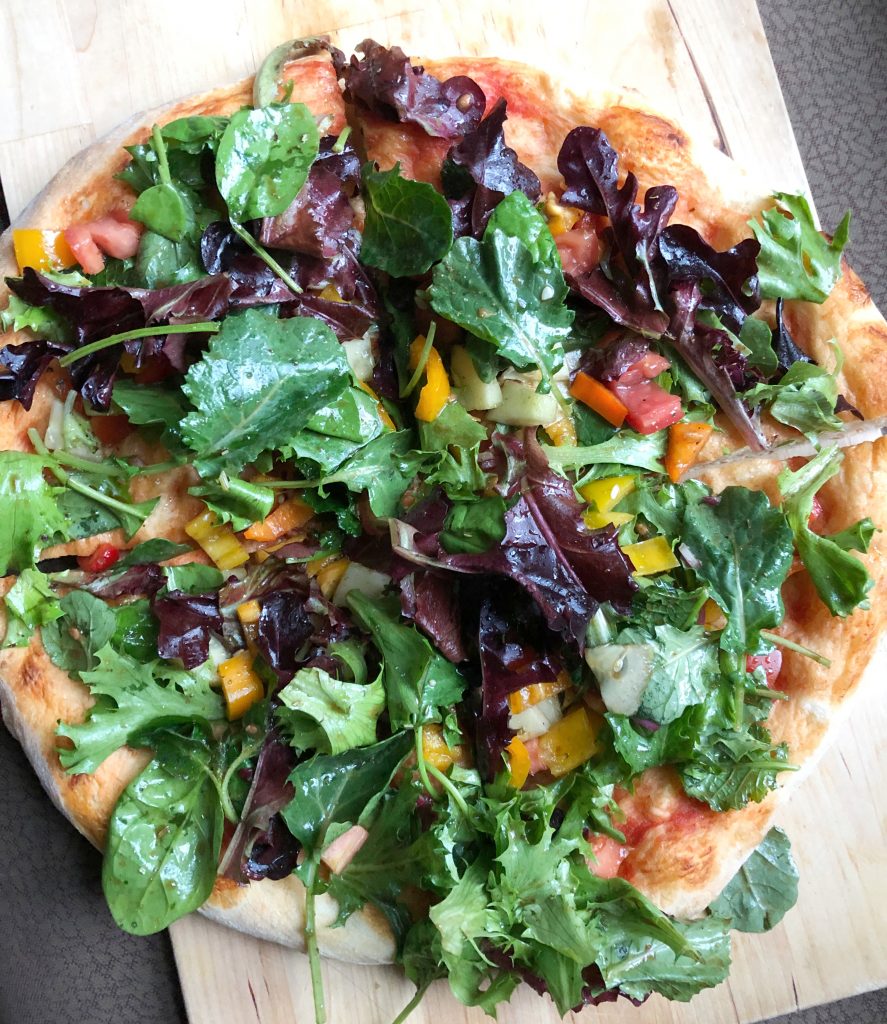 Friday: Salad Pizza – There's no recipe for our salad pizza. Dana cooks store-bought pizza dough with tomato sauce. We buy spring salad mix and he makes a homemade vinaigrette. Then we add whatever veggies we have to the salad mix (this week was cucumber, tomato, peppers and red onion) and put it on the cooled pizza crust. Although we try out different vegan pizza recipes, this is one of our easiest and go-to pizzas.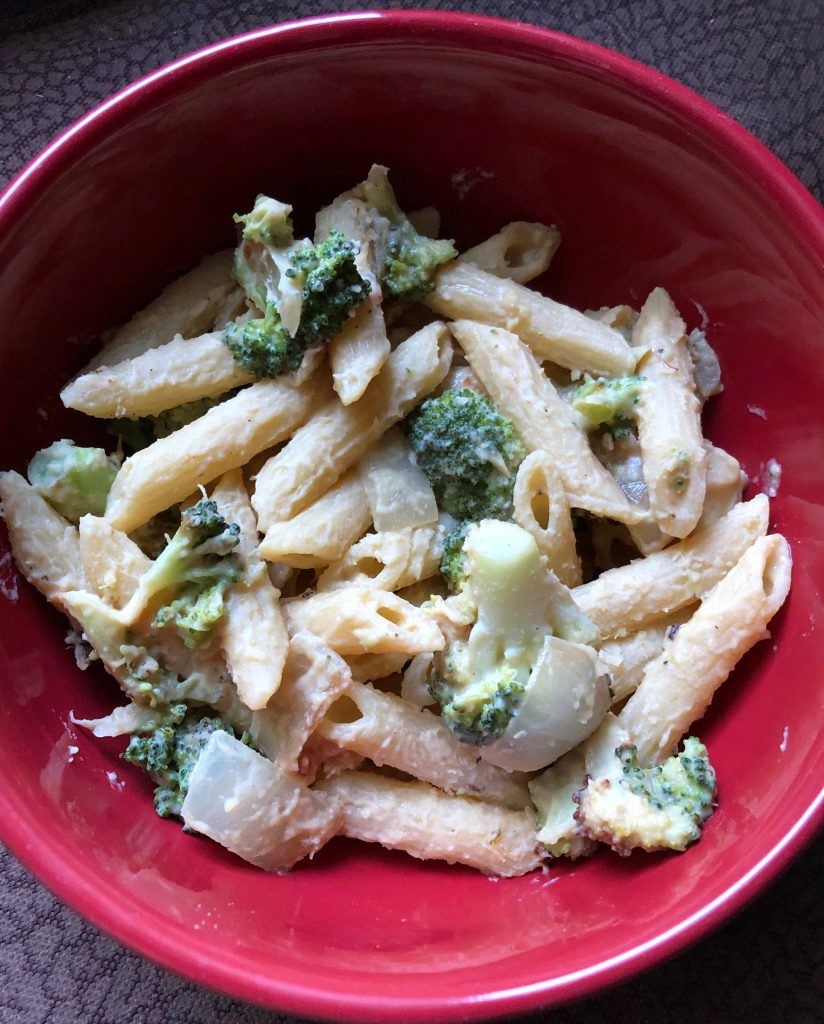 Saturday: Creamy Vegan Pasta – This was my daughter's recipe of the week but I helped her cook it. We chose to roast the broccoli and it to the pasta and sauce at the end. I liked how this recipe used a can of white beans to make the "cream" sauce. Her sauce ended up a little thicker than she would have liked. Next time, we'll add extra vegetable broth and/or pasta water to thin it out. This was tasty and I feel like a variety of veggies can be used in place of the broccoli (asparagus, zucchini, etc.).
Recommended recipes of the week: Teriyaki Tofu Bowls, Corn Risotto with Zucchini, Roasted Potato Tacos with Chimichurri Sauce.