Hello Monday!  I am exhausted!  We had a very busy but fun weekend celebrating Father's Day.  While I'm never happy for Monday to arrive, this week is the last week of school for the kids!  This also means summer vacation begins for me too!  I no longer have to awaken to a 6 AM alarm clock, pre-plan breakfasts and lunches or chauffeur the kids to and from their various activities.  This will also be the last week of our weekly meal plans for awhile. Since we will be traveling so much this summer, I won't be creating very many meal plans.  If you follow me on Instagram, I'll hopefully be posting more of my dinner food pics there.  Now, here's a look at what was on our menu this past week: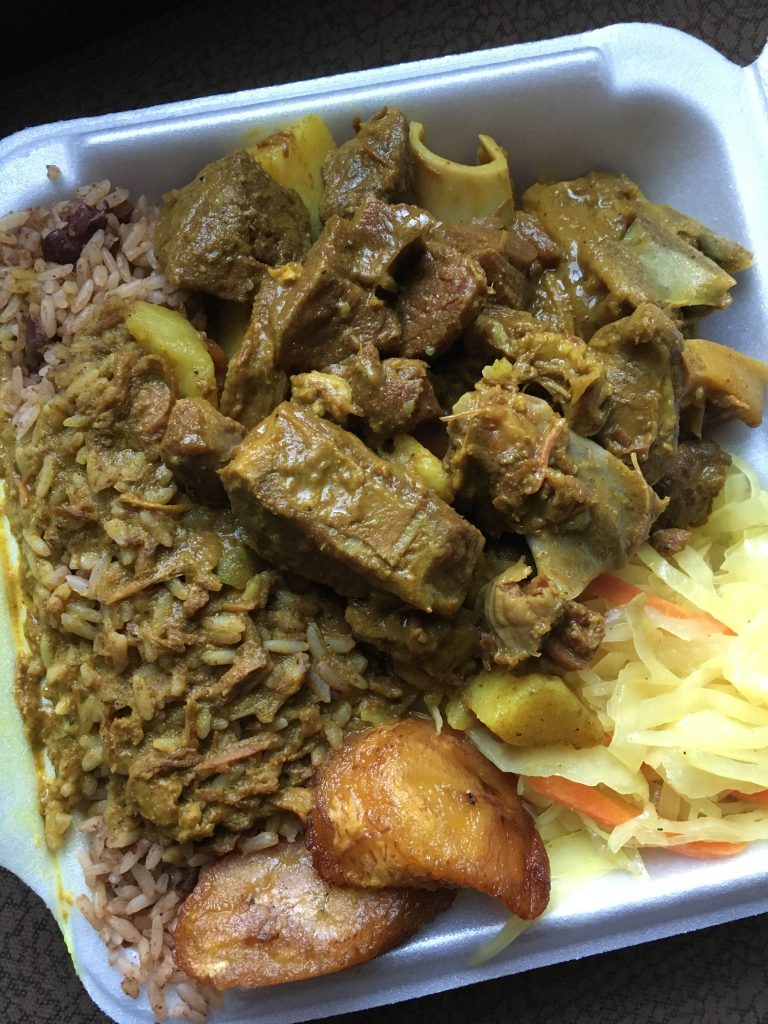 Saturday – Last Saturday we were out geocaching  On the way home we picked up some takeout from a local Caribbean restaurant.  We shared a Curry Goat and Jerk Chicken dinner.  It was really good and we will definitely be back!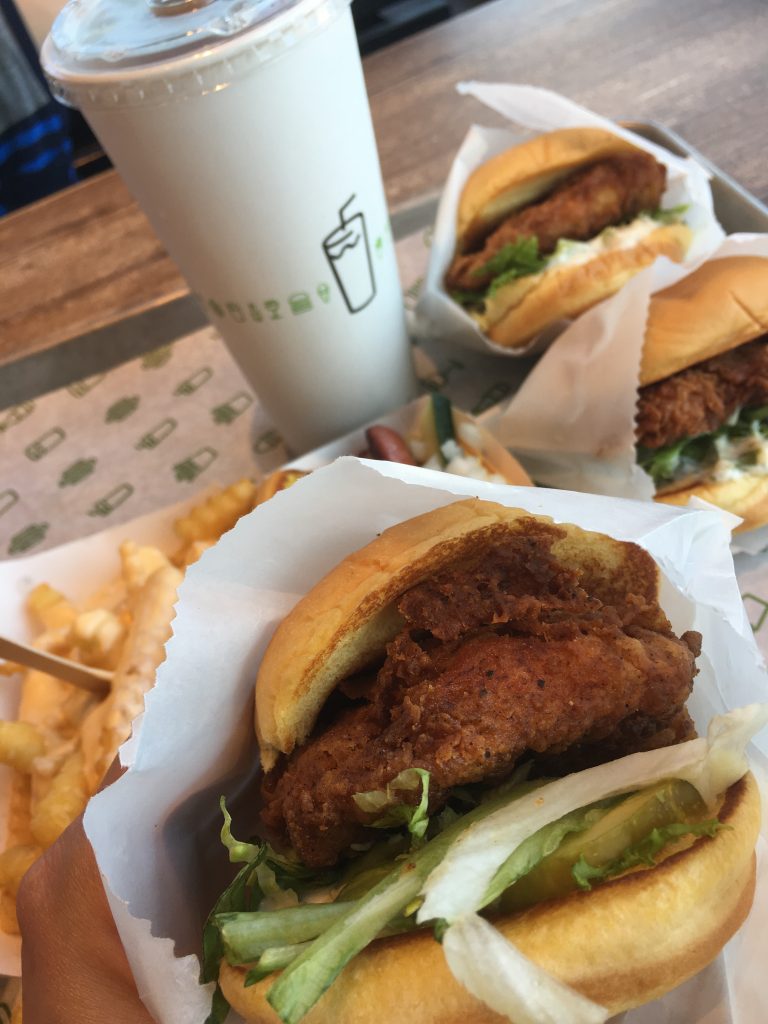 Sunday – We were out geocaching again and then made a quick stop at Woodbury Common Outlets since it was on the way home.  While there we stopped for some Shake Shack for dinner.  We love the Chicken Shack!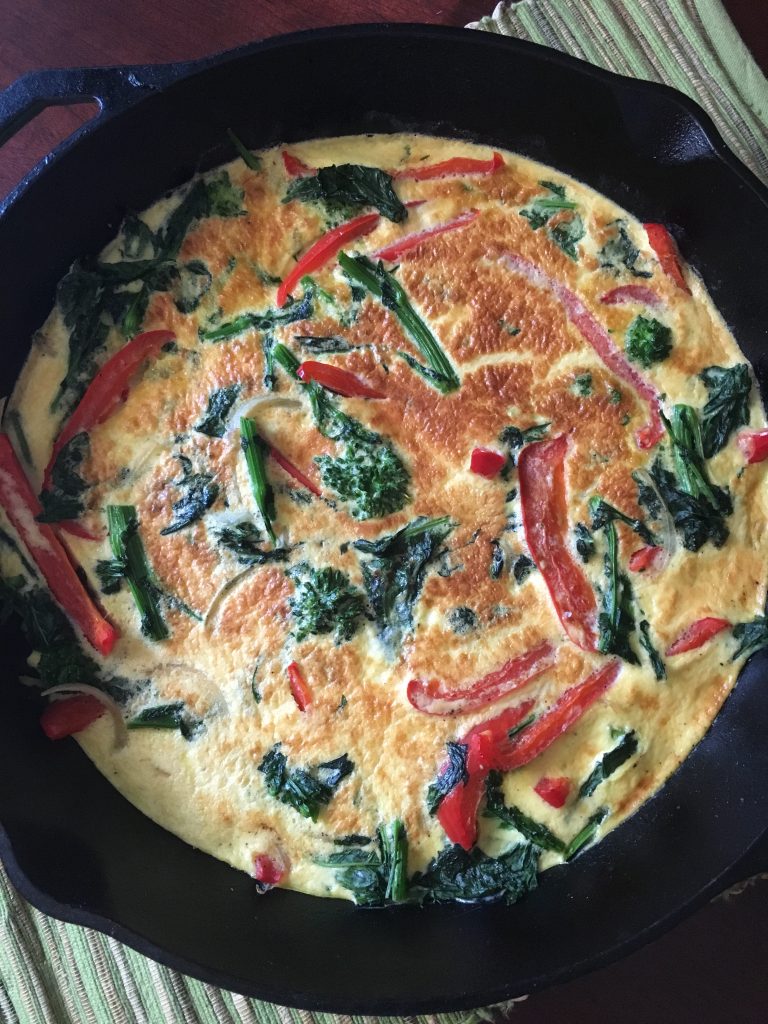 Monday – I made a Broccoli Rabe, Red Pepper and Roasted Garlic Frittata from the May 2017 issue of Cooking Light.  The original recipe called for broccolini but my local grocery store didn't have any.  I substituted broccoli rabe.  The garlic prep takes 25-30 minutes of cooking, so I did that earlier in the afternoon and just left the garlic infused oil and roasted garlic on the counter until I needed to cook with them.  This was  a tasty frittata.  I served it with a salad for a nice, light dinner.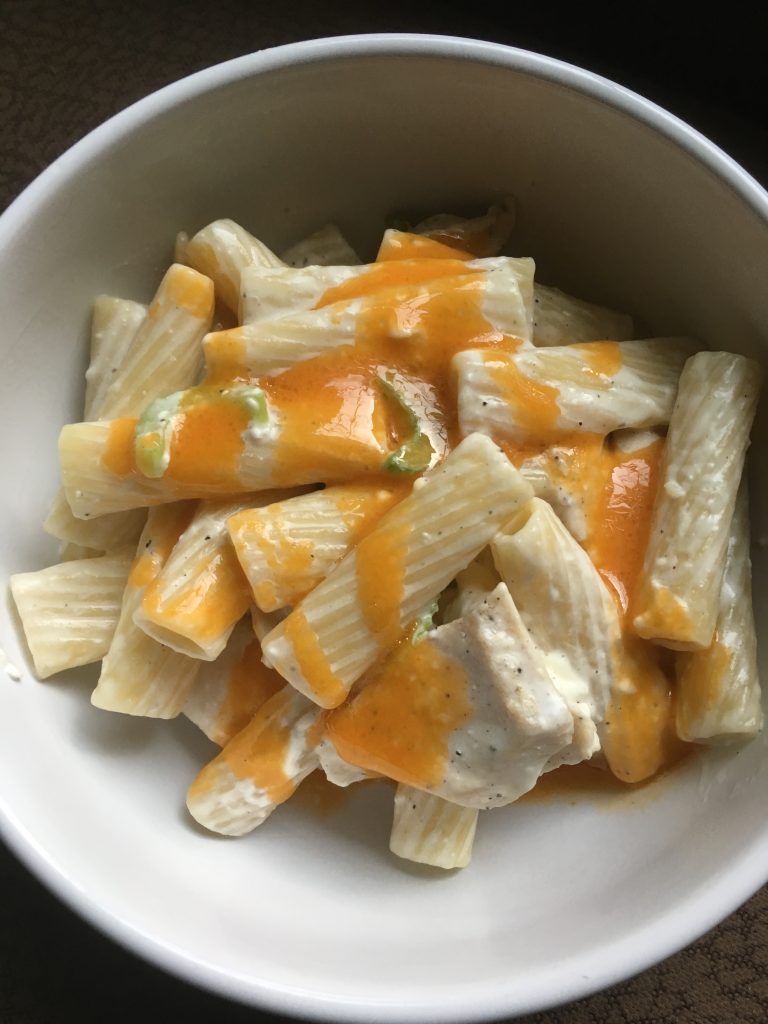 Tuesday – I made Buffalo Chicken Ziti from the February 2015 issue of Rachael Ray Every Day.  While I love almo st everything "buffalo" flavored, this pasta dish wasn't a fave.  The buffalo sauce gets drizzled on the top at the end which worked out well.  My son complained that buffalo chicken is too spicy, so he had his pasta without the sauce.  Overall this dish was just okay.  I'd recommend either saving some blue cheese crumbles or having extra to sprinkle on the dish at the end.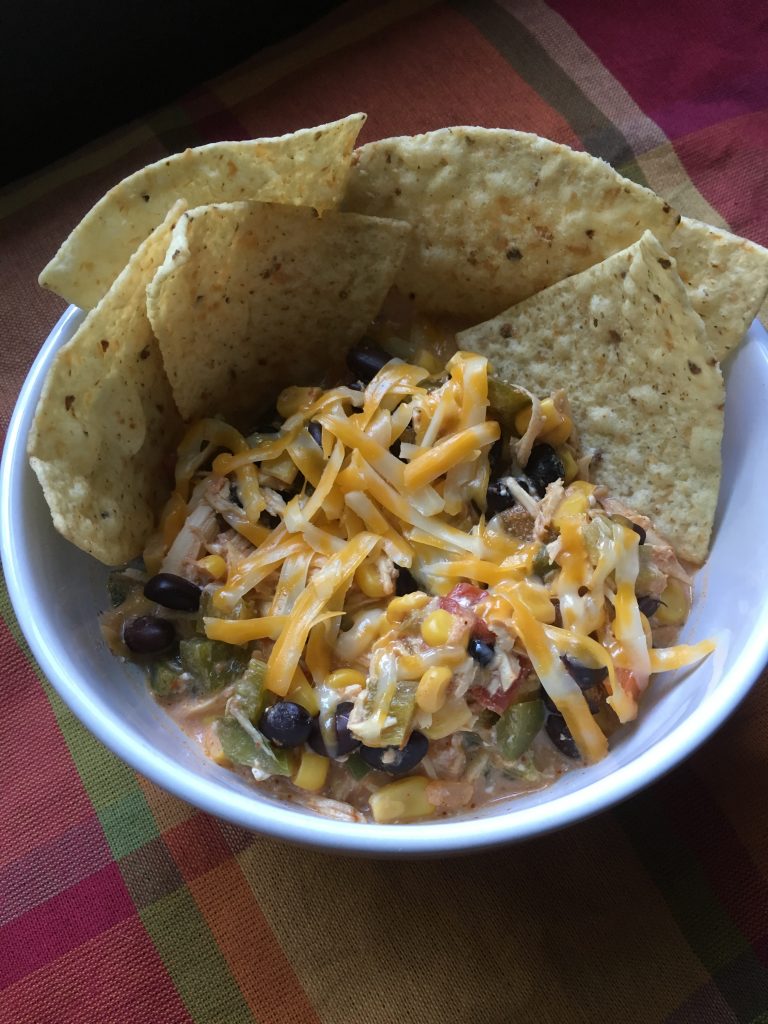 Wednesday – I made Queso Crockpot Chicken Chili with Roasted Corn and Jalapeno from Pinch of Yum.  I have made this recipe before, but we enjoyed it so much and I needed a slow cooker recipe, so I decided to make this again. I did not put the jalapeno in for fear my son would think the dish was too spicy and not eat it.  I love serving this with tortilla chips and using the chili as a dip.  I actually went out to dinner but had this ready for the rest of the family to eat.  I was able to enjoy leftovers for lunch the next day though!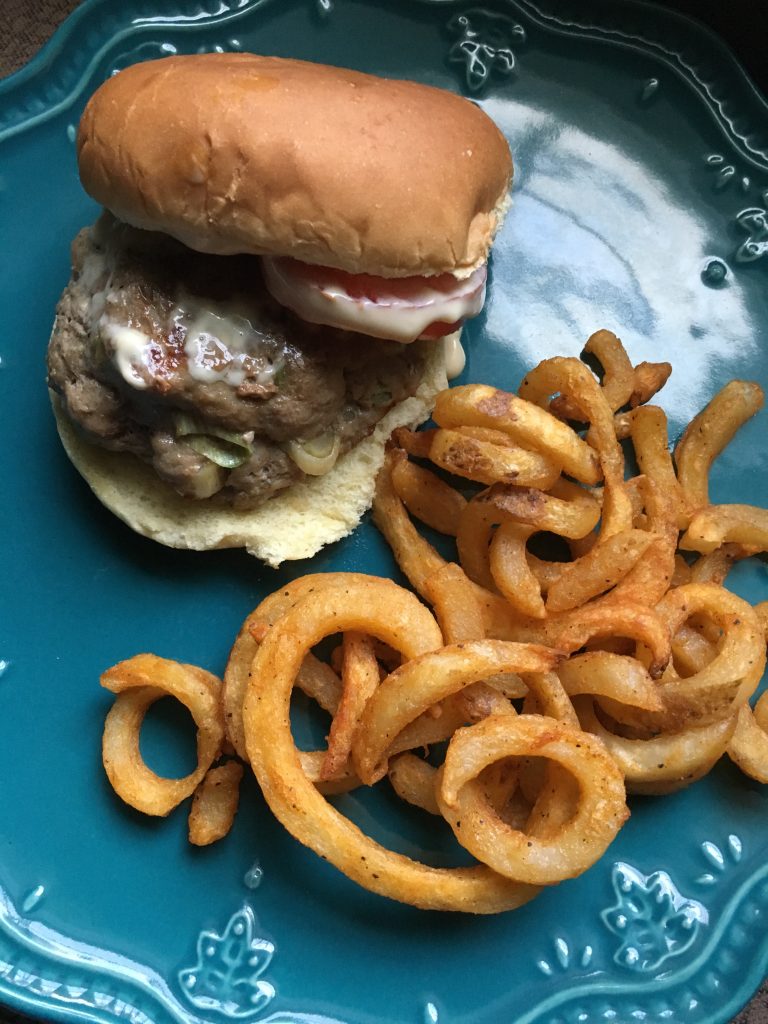 Thursday – I made Turkey Burgers with Special Sauce from the June 2006 issue of Cooking Light.  The special sauce is a mixture of mayo, Dijon mustard, scallions, orange juice, honey, soy sauce and ginger (which I left out since I don't like it!).  The burgers had many of the same ingredients in them.  The sauce was a bit on the sweet side and was a nice addition to the burgers, which didn't have much flavor, in my opinion.  There are so many better burger recipes out there that I won't be making these again.  I served the burgers with curly fries.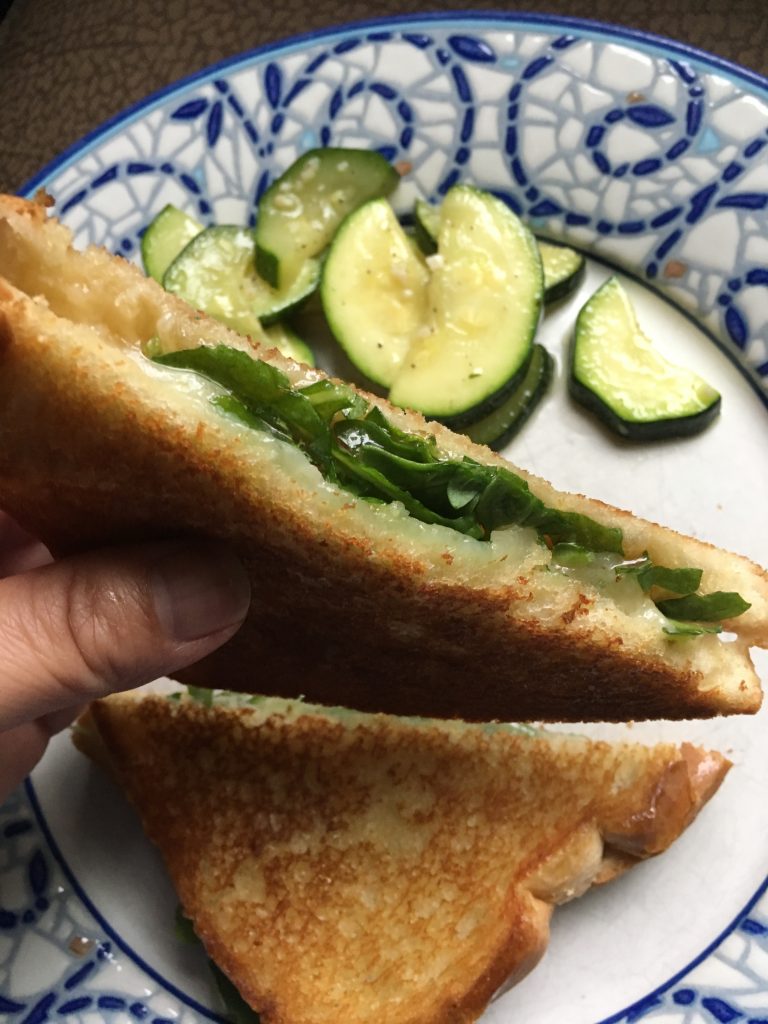 Friday – I made Grilled Cheese with Apricot Jam and Arugula from Love & Olive Oil.  This was my husband's request after he found the recipe online while helping me plan the menu.  This was quick and easy to make and was a winner with the family.  I haven't made grilled cheese in awhile and this was a great version.  There was no additional prep work and the ingredients were simple but tasty.  The sweetness of the jam paired well with the bitterness of the arugula.  I served this with some sauteed zucchini.