It's Monday again.  We survived a busy, but rainy and wet weekend.  I hope all you moms were spoiled yesterday and had a very happy Mother's Day.  I had a great day with my husband and kids that started with coffee in bed and ended with a dinner cooked by the three of them and brownie sundaes for dessert.  Monday  means that it's time for another weekly meal plan.  If you are looking for some dinner time inspiration, my weekly meal plan is the place for you.  Each week I showcase what was on my previous week's meal plan, with pictures, recipe links and my family's review of each dish.  There are so many food blogs, cookbooks and recipes out there and I am always on the lookout for new family-friendly recipes to try.  If you are new to meal planning, read more about how I make my weekly meal plan. Here is a look at what was on our menu this past week: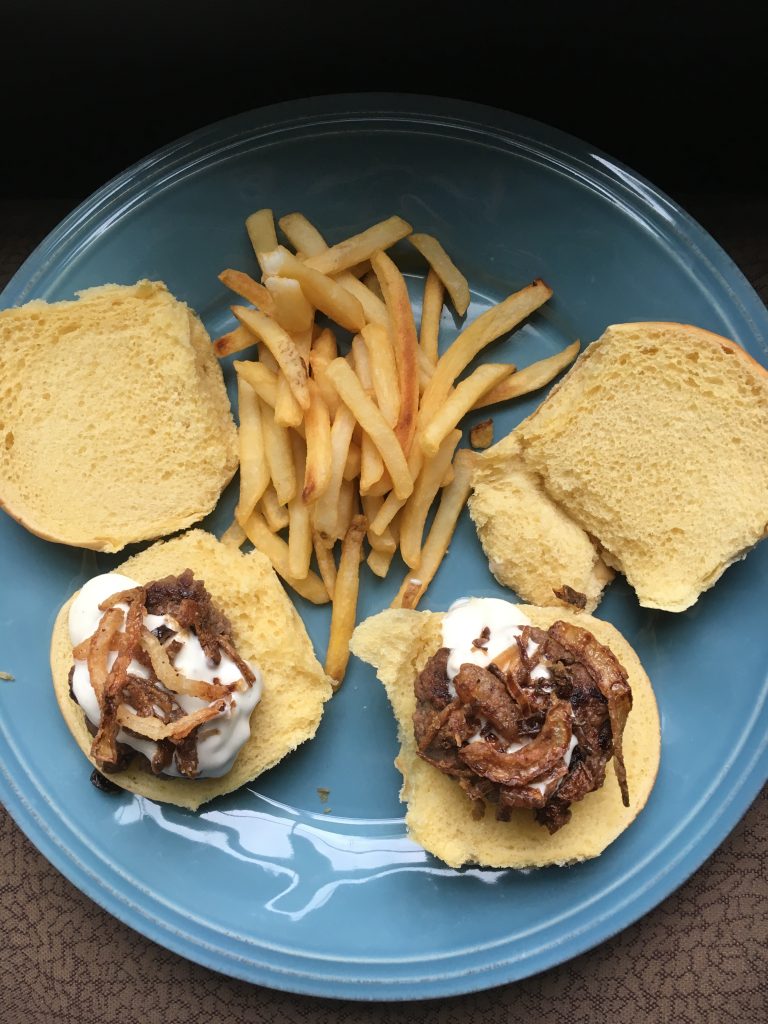 Saturday: My husband made sliders and fries.  He made homemade frizzled onions and added blue cheese dressing.
Sunday: We went out to dinner with my family to celebrate my brother and mother's birthdays.  We went to an Italian restaurant where I ordered this Chicken Casaletto.  The chicken was stuffed with broccoli rabe, sausage, cheese and roasted peppers and covered in a mushroom sauce.  It was so tasty!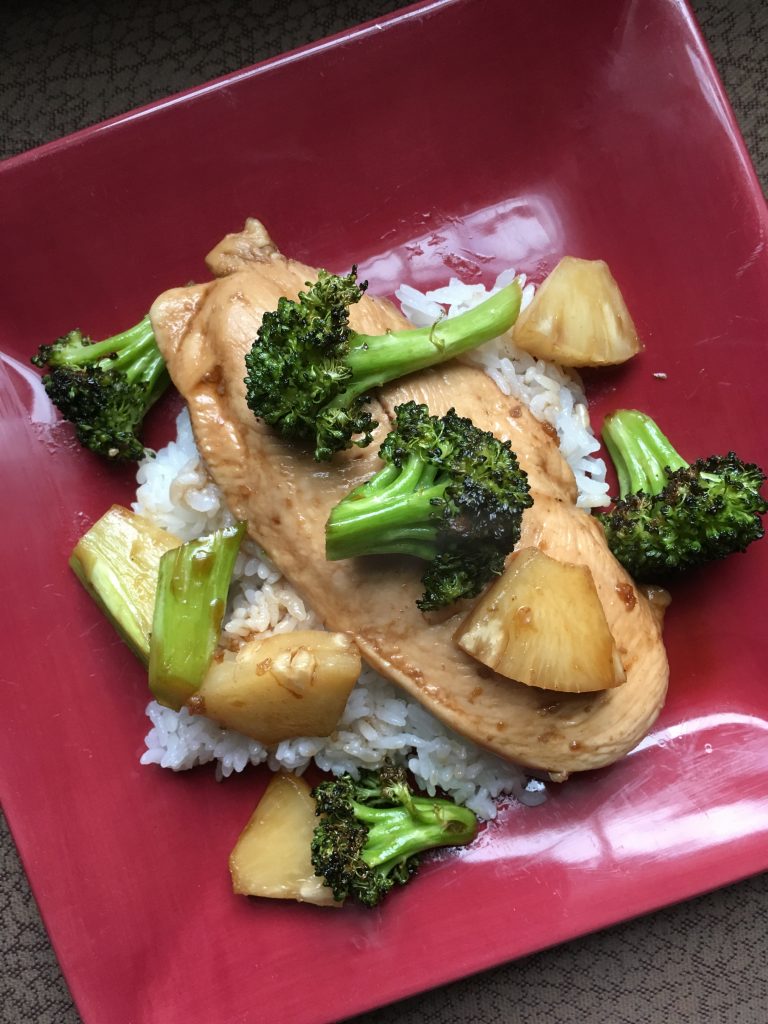 Monday:  I made 30 Minute Teriyaki Chicken with Sesame Ginger Broccoli from Half Baked Harvest.  I don't like ginger, so omitted that from the sauce and  I also used canned pineapple.  I roasted the broccoli, but since I bought thin sliced chicken breasts I didn't cook everything in the oven after.  I found my sauce didn't thicken very much, but we drizzled it over the rice I served with it, so it didn't go to waste.  This was a kid-approved, easy dinner.
Tuesday: I made Zesty Slow Cooker Chicken Barbecue from allrecipes which I served on rolls.  This was super easy to throw together in the slow cooker in the morning. Then, in the afternoon I shredded the chicken and let it sit in the slow cooker on warm until we were ready to eat.  I served this with fries and my parents, who came over for dinner, brought a salad.  Unfortunately, dinner was so rushed that I didn't take a picture!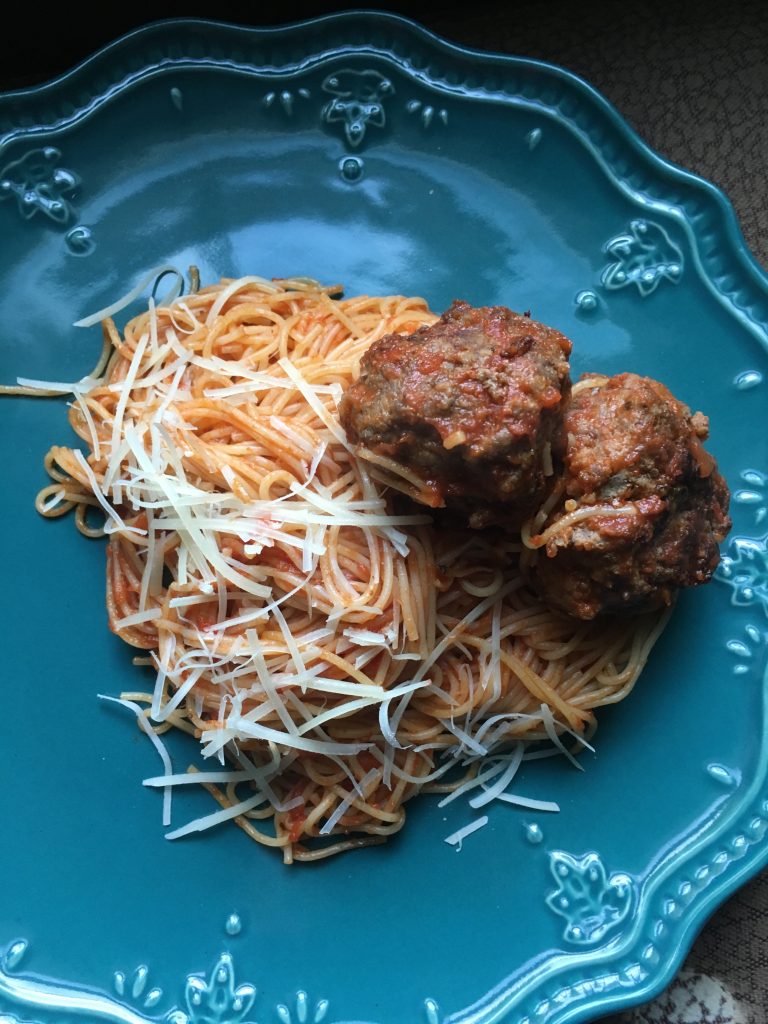 Wednesday: My husband was home from work early and made Spaghetti and Meatballs.  This is one of my daughter's favorite meals and she had been requesting it for awhile.  He didn't follow a recipe for making the meatballs, just kind of threw ingredients together, which is his cooking style.  I bought jarred pasta sauce since there wasn't enough time to make homemade.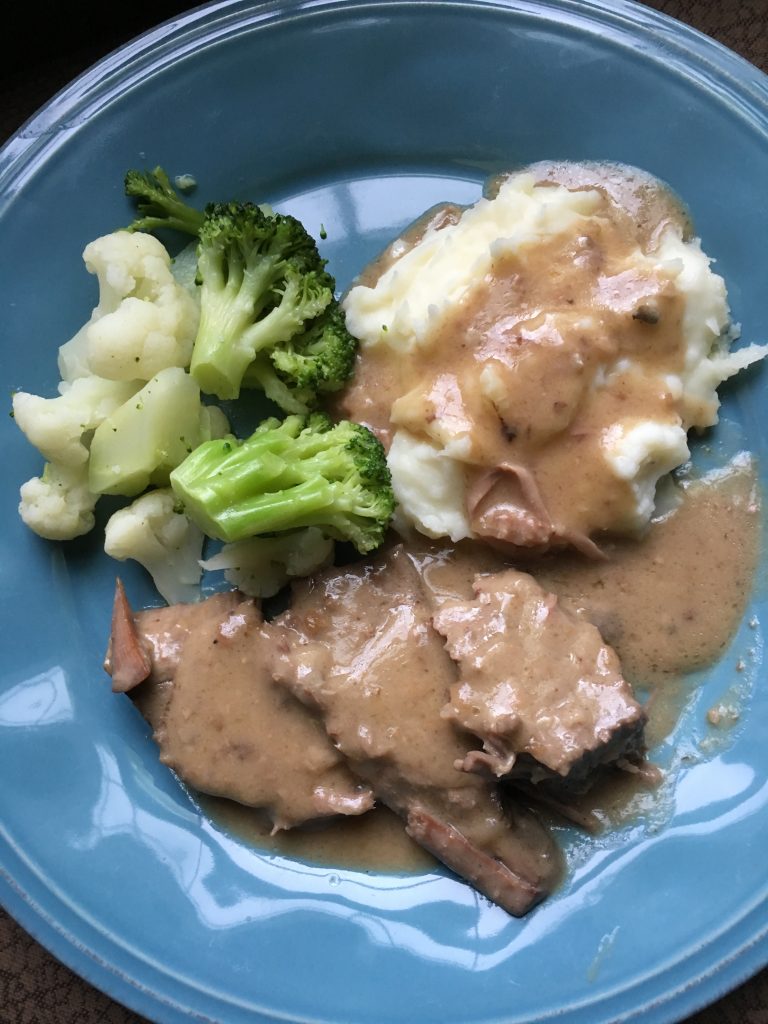 Thursday:  I made Awesome Slow Cooker Pot Roast also from allrecipes.  Honestly, I'm not even sure if the cut of beef that I picked up was a pot roast.  It was a small roast that noted on the package it was good for slow cooking.  The ingredients make a tasty gravy which we spooned on the meat and on the mashed potatoes (not homemade, I used Simply Potatoes brand).  I also heated up some frozen veggies to serve with.  This was another busy night where there was no time to cook and barely enough time to eat!  I would make this again but use reduced sodium cream of mushroom soup, since I found the gravy to be a tad on the salty side.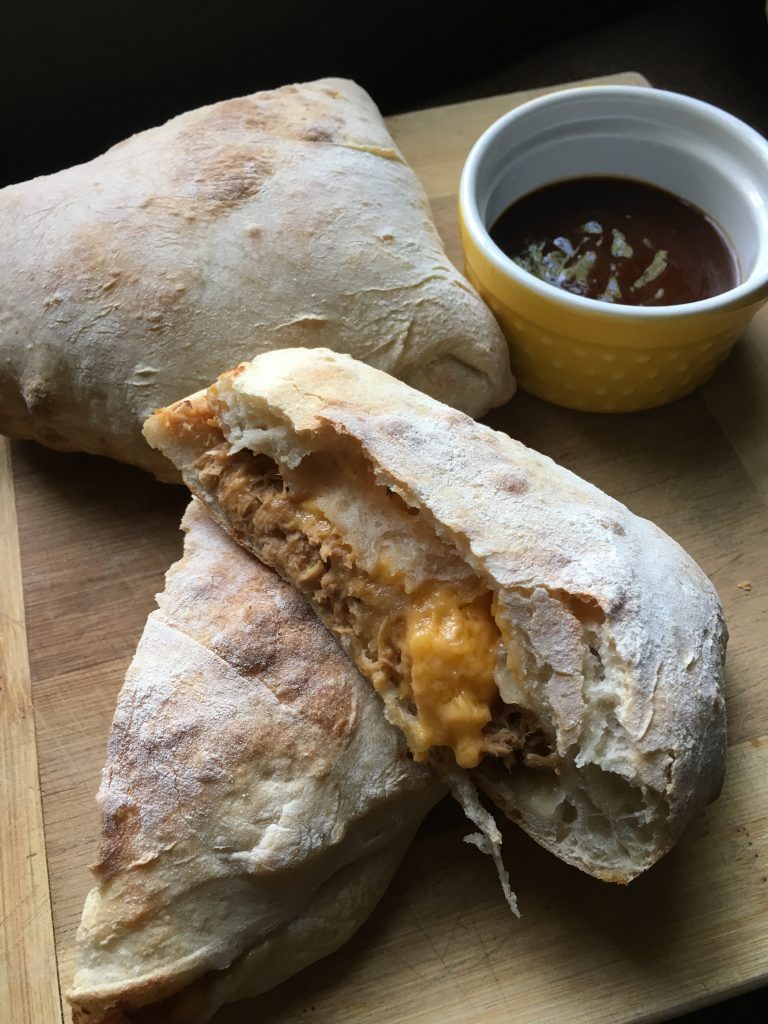 Friday:  I decided to do something different instead of our usual pizza!  We had  a lot of barbecue chicken leftover from earlier in the week, so I (actually my husband!) made calzones.  He heated up the leftover chicken and then put it in pizza dough with some shredded cheddar cheese and chopped red onion.  He then cooked them on a pizza stone and served them with leftover BBQ sauce for dipping.
What are you having for dinner this week?