Oh Monday, here you are again!  Luckily, this week is spring break and we have a nice, relaxing week planned. For everyone who celebrates, Happy Passover!  We are celebrating Passover tonight at a Seder with my husband's side of the family.  Monday means that it's time for another weekly meal plan.  If you are looking for some dinner time inspiration, my weekly meal plan is the place for you.  Each week I showcase what was on my previous week's meal plan, with pictures, recipe links and most importantly, my family's review of each dish.  There are so many food blogs, cookbooks and recipes out there and I am always on the lookout for new family-friendly recipes that are quick and easy!  If you are new to meal planning, read more about how I make my weekly meal plan.
Here's a look at what was on our menu this past week: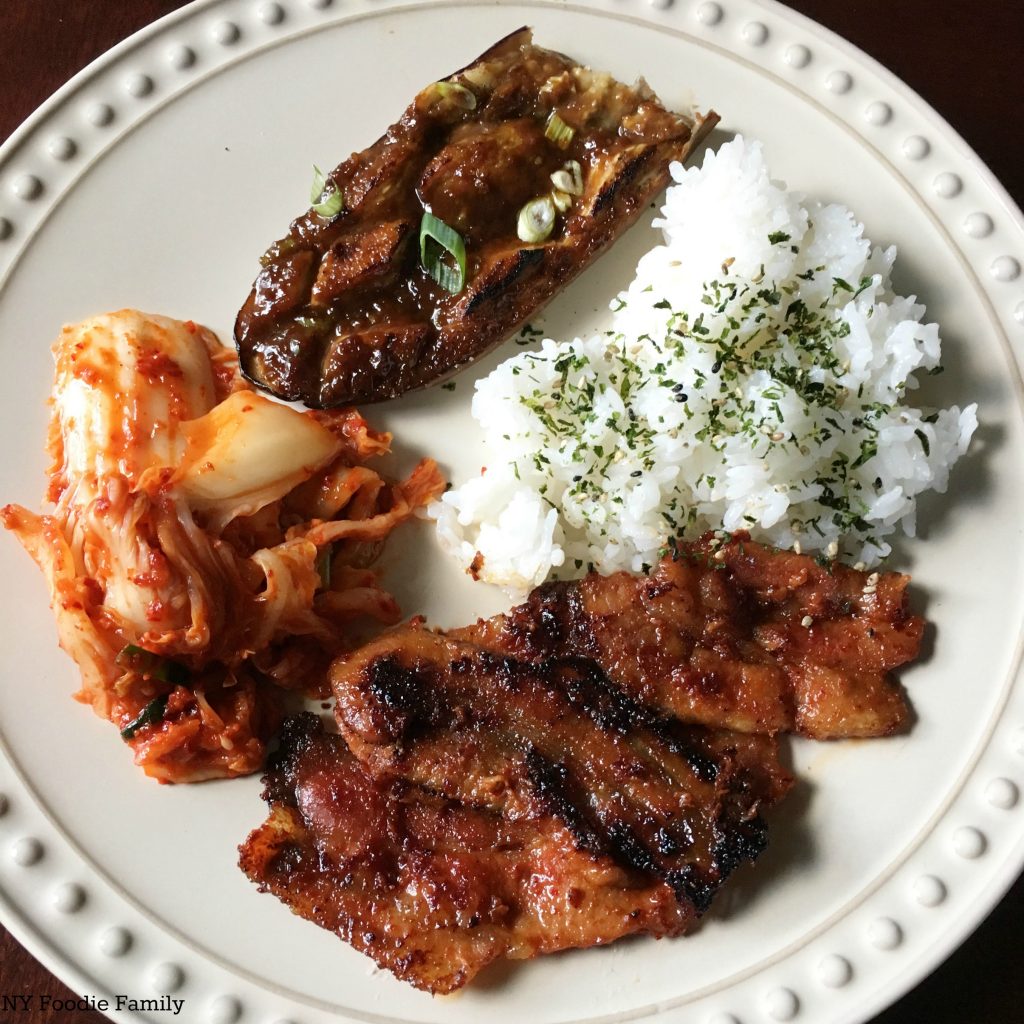 Saturday – Earlier in the week I had made a visit to HMart, a Korean grocery store.  I stocked up on sauces and other staples, but also couldn't leave without picking up some marinated pork belly.  My husband cooked it up while I made some Doenjang-Glazed Broiled Eggplant from the cookbook Korean Food Made Simple by Judy Joo.  We had it with some rice.  This was such a tasty dinner!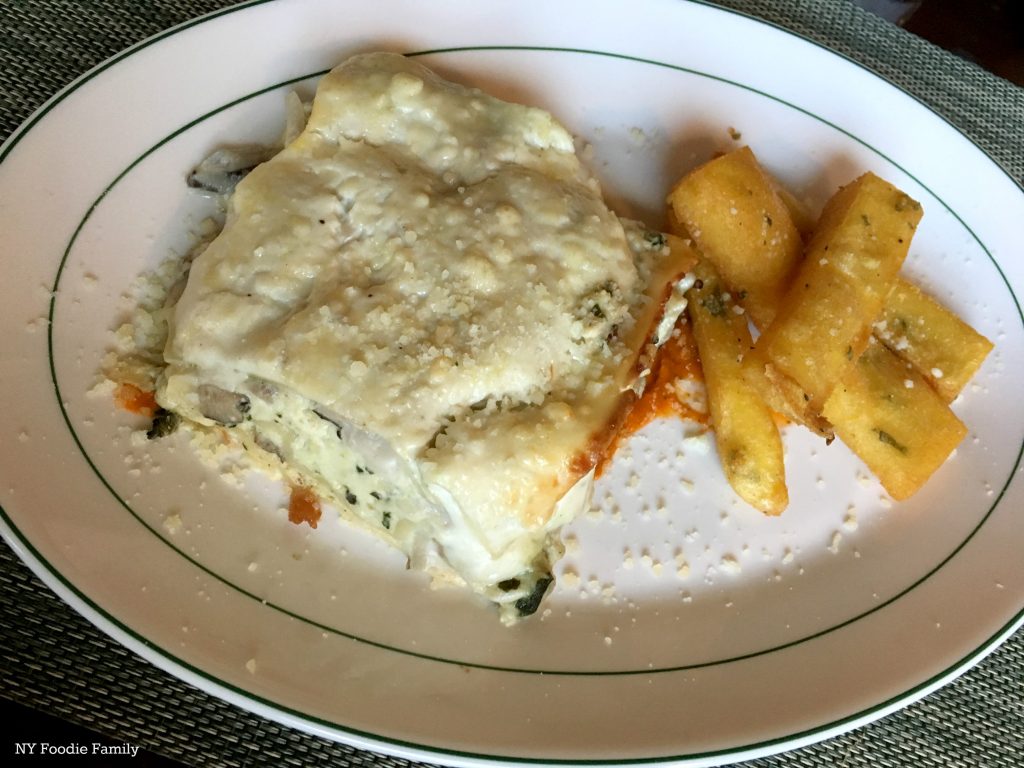 Sunday – My parents took our family out for an early anniversary celebration.  My husband and I celebrated our 13th wedding anniversary on Wednesday, the 4th.  We had a great dinner at Julianna's where I had this White Lasagna with Polenta Sticks.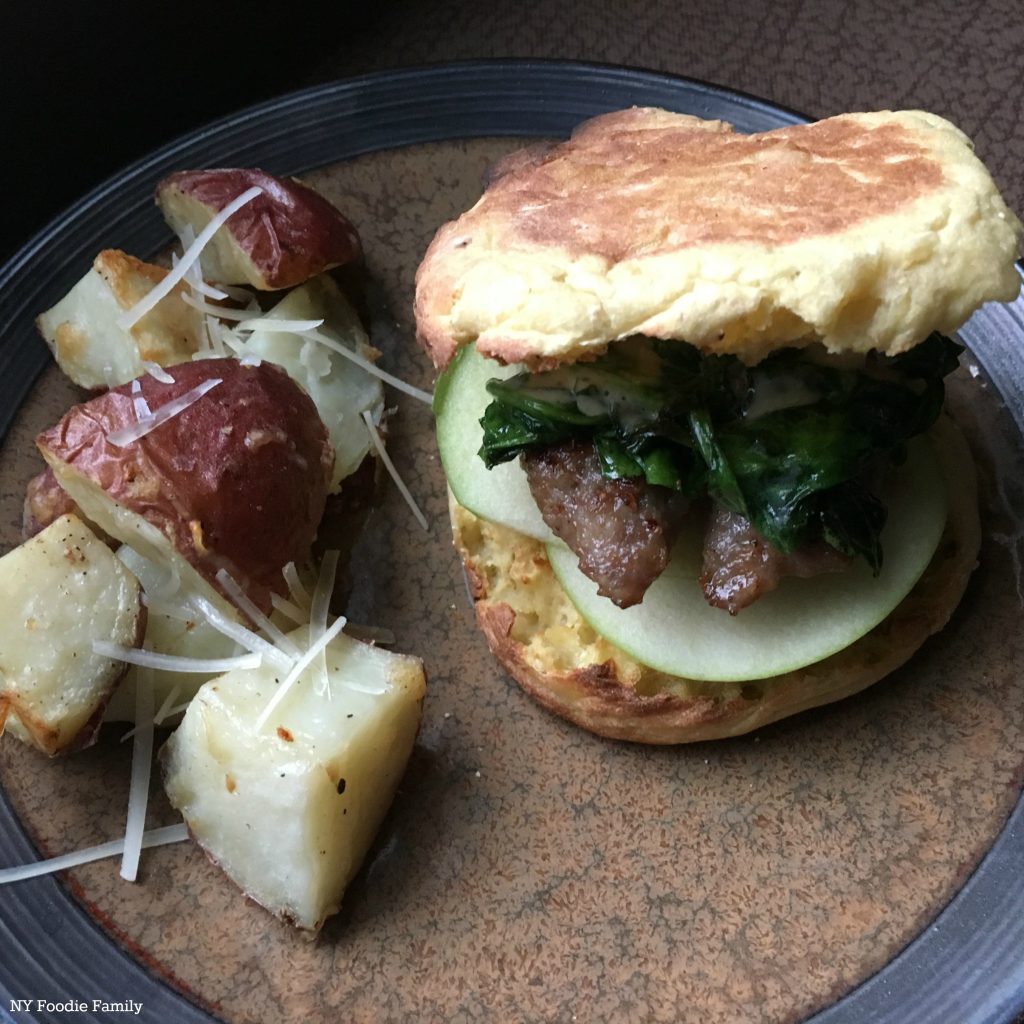 Monday – I made Sausage, Spinach and Apple Breakfast Sandwiches from Cooking Light, March 2017.  We love breakfast for dinner and this meal was a winner! I made a couple of adaptations to the recipe.  First, I used maple flavored breakfast sausage.  Second, I used Thomas' Corn English Muffins instead of the recommended whole-wheat in the recipe.  The maple sausage paired with the sweet corn muffin made a great flavor combination.  Everyone devoured these!  I served the breakfast sandwiches with Parmesan-and-Herb Roasted Potatoes from the same Cooking Light issue.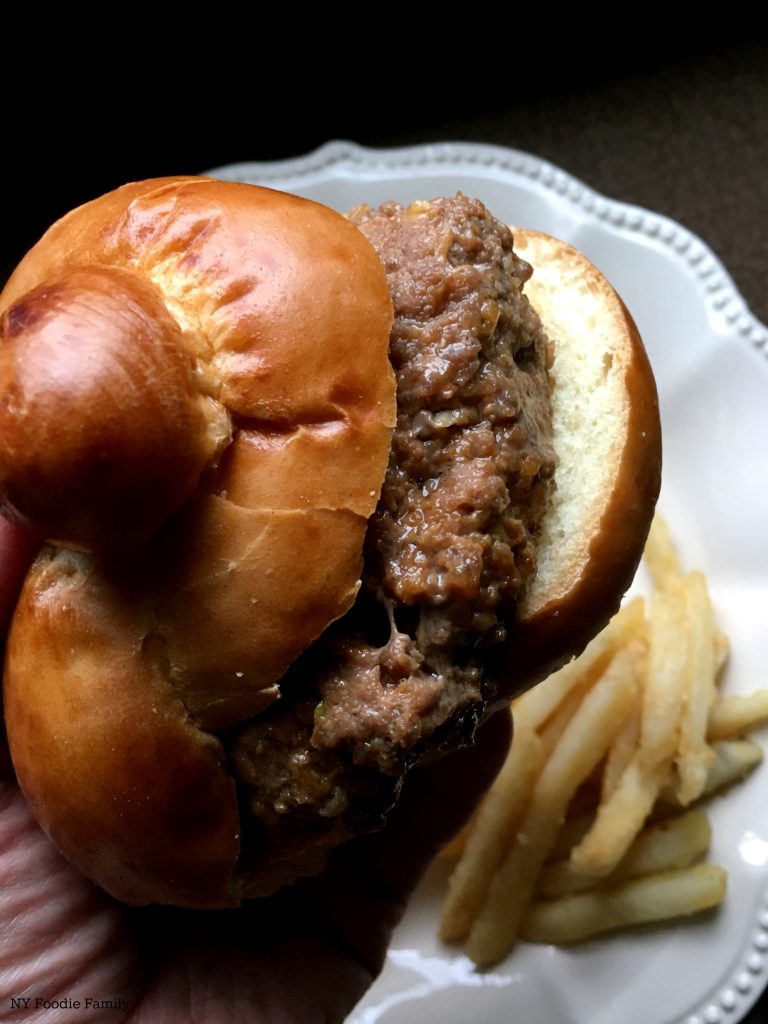 Tuesday – I made an adapted version of Krazy Korean Burgers from Judy Joo's Korean Food Made Simple cookbook.  These were a bit on the spicy side even though I decreased the amount of gochujang sauce and didn't add the chili pepper flakes!  I also didn't make the Doenjang Mayo or gochujang ketchup.  I wasn't a big fan of these and prefer the Asian style burgers that I make with hoisin sauce.  I served the burgers with fries.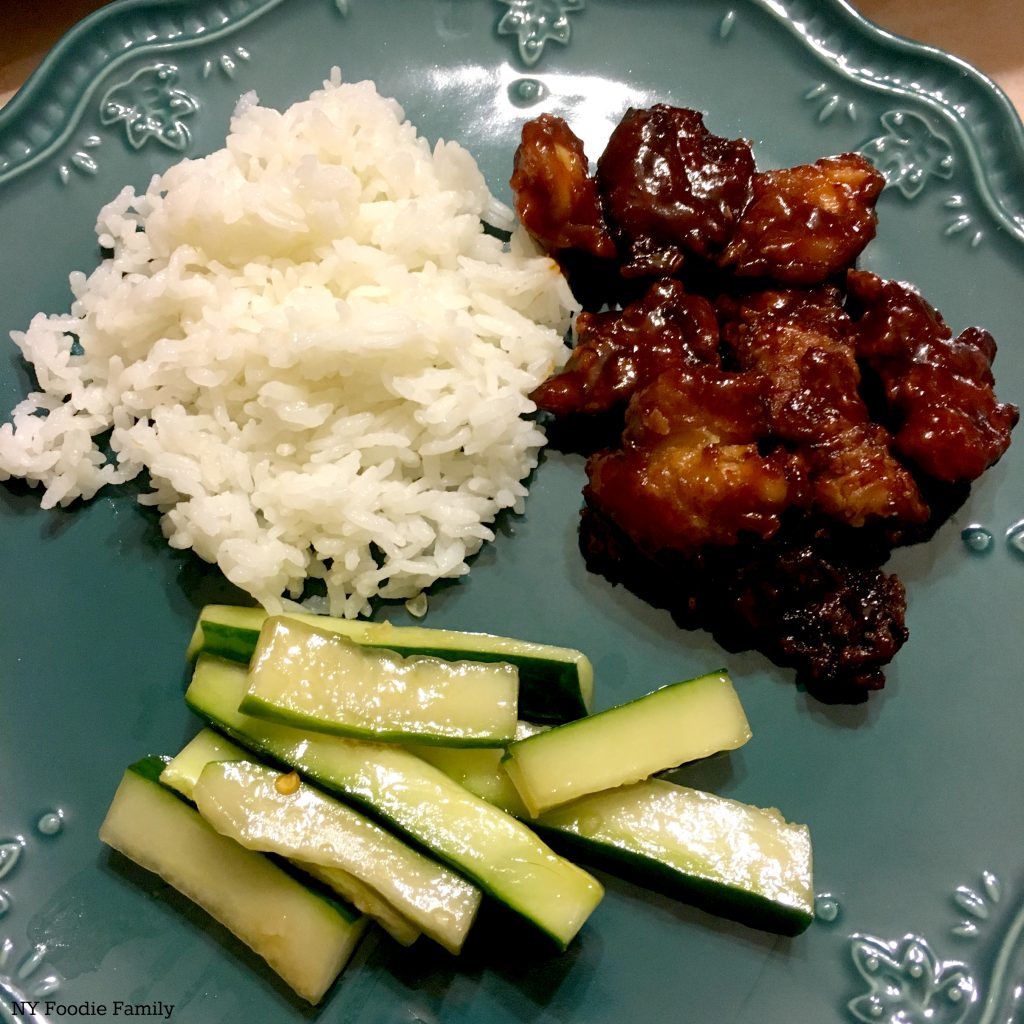 Wednesday – I made Spicy Fried Chicken Bites from Kimichi Mom.  These chicken bites are supposed to be a mash up of Korean and Japanese fried chicken.  This was one of those instances where I didn't read the recipe before starting dinner….and should have!  The chicken had to marinate for 20 minutes in the sauce.  Plus, it took me some time to cut the chicken thighs up.  Add in the flouring and the frying and it took me about an hour to get this chicken cooked.  I only sauced half the chicken, since the kids tried some with the sauce on  and found it a bit spicy.  This chicken was really good and definitely worth the time invested.  If I had known it would take so long, I would have either started earlier or made this on a weekend instead.  I served this with Cucumbers in Garlic Sauce from A Thought For Food and rice. This was a kid-approved meal!  My husband has already requested that we shorten the cooking time by working together to cook it so we can have this again soon!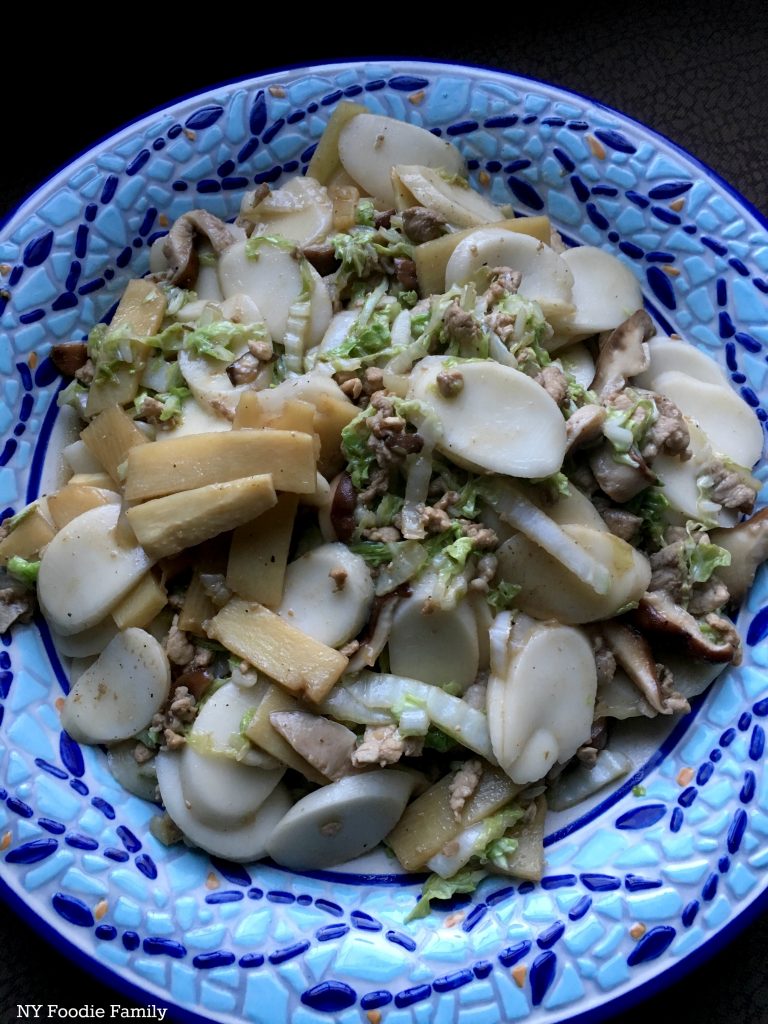 Thursday – I made Chinese Stir Fried Sticky Rice Cakes (Nian Gao) from Steamy Kitchen.  This was my first time cooking with rice cakes.  The rice cakes started out as hard little ovals but after soaking and cooking ended up with a soft, chewy texture.  My husband did all the prep work for this dish and when I got home with the kids from piano lessons I finished cooking it.  This was a tasty dish, though our ratio of rice cakes (too many) and pork (not enough) was off.  The kids ate this, but weren't big fans.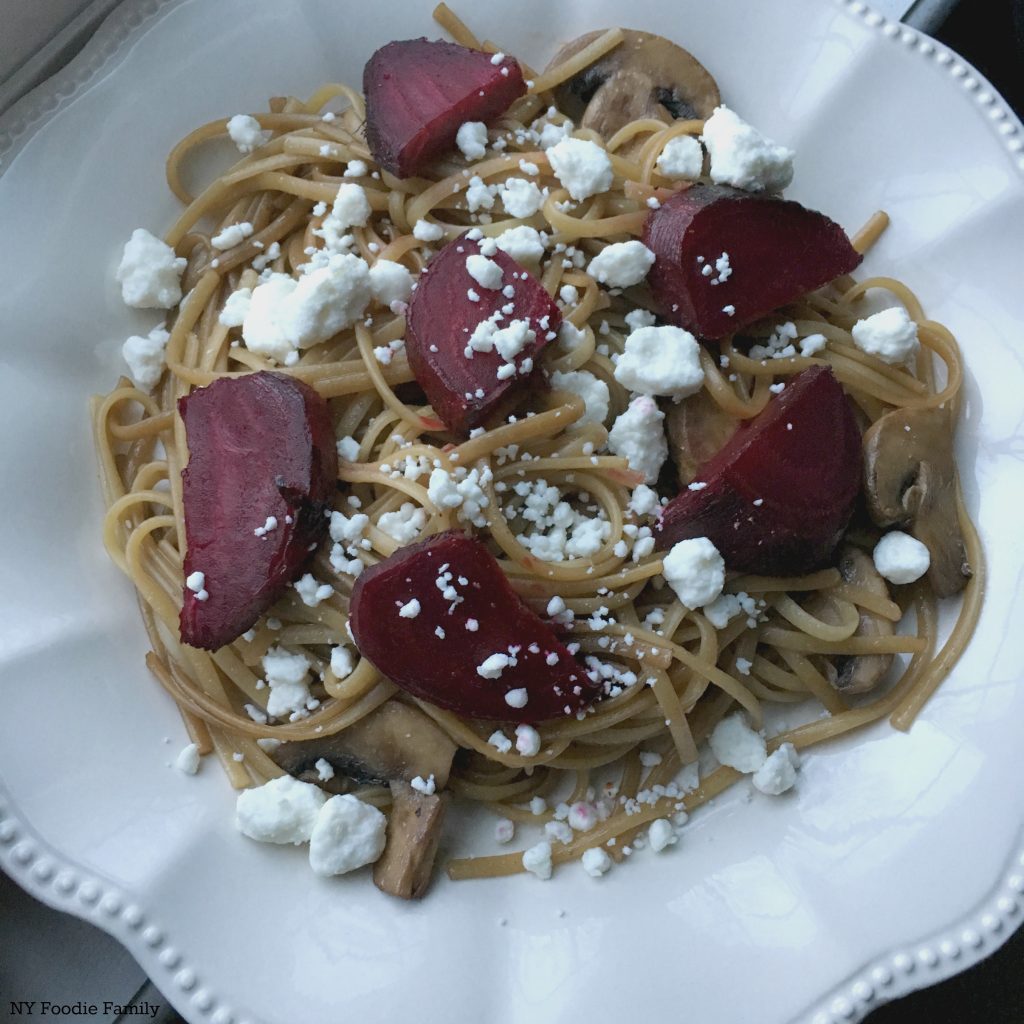 Friday – I made Caramelized Balsamic Goat Cheese Pasta from Half Baked Harvest.  I roasted the beets earlier in the afternoon and the rest of the cooking was quick and easy.   I think this dish was super tasty and a great addition to Meatless Mondays.  While my kids aren't the biggest fan of beets and mushrooms, they enjoyed the pasta and goat cheese!  I omitted the pomegranate arils, as it's no longer pomegranate season.
What is on your menu this week?