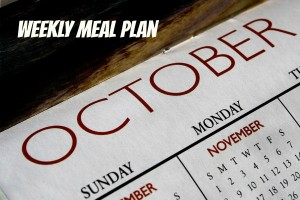 Happy last week of October!  We have another weekly meal plan for you today!  We used the crockpot twice this week because quick and easy is what we need these days.  You can take a peek at our meal planning process to see how we plan each week's menu.
Saturday – The Weekend Chef was with my son at a cub scout overnight camping trip.  My daughter and I had Panera for dinner.
Sunday – The Weekend Chef's family was over and we went out to "linner" at Applebee's.  We never used to be a fan of the restaurant chain, but they've revamped their menu and we've enjoyed some tasty meals there.
Monday – I made Chicken, Bacon, Avocado Salad with Roasted Asparagus from Pinch of Yum.  This recipe uses deli cold cut chicken so there was not a lot of cooking.  I roasted the asparagus and cooked the bacon at the same time in the oven.  My kids first were like, "just a salad for dinner?"  But this salad was tasty and filling and we all enjoyed it.
Tuesday – I made Cauliflower Chowder from Damn Delicious.  I'll be honest, this wasn't my favorite soup and I won't be repeating it.  I was  surprised that the kids ate it without complaint though!  I served this soup with Trader Joe French rolls.
Wednesday – I made Crockpot Thai Chicken from Iowa Girl Eats.  The slow cooker chicken part of the recipe has three ingredients so it ranks high up in the easy category.  I couldn't find the Spicy Peanut Vinaigrette that Kristin used in the recipe so I used a Peanut sauce that I found at HMart, an Asian grocery store.
Thursday – I made Slow Cooker Italian Breakfast Casserole from The Seasoned Mom.  I precooked the sausage Wednesday night, so Thursday morning all I had to do was dice the onion and pepper and prepare the casserole.  We haven't had too many egg type dishes in the slow cooker.  This wasn't bad and was nice that it was made in the slow cooker.  However, I prefer the taste of egg casseroles baked in the oven.
Friday – I made homemade cheese pizza. An easy, tasty dinner that the kids helped make.
What was cooking in your kitchen this week?