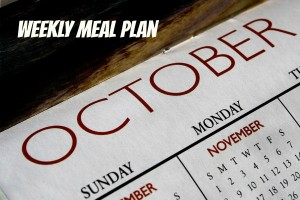 Happy Columbus Day!   We hope you had a great weekend!  My sister and her family were up visiting so we had lots of fun spending time with family this weekend.  We are all off today and are enjoying a relaxing day together.  Here is a look at what was on our menu last week.
Saturday: We had our monthly supper club.  This month's theme was cheese grab bag. At our last dinner we all wrote down the names of two different cheeses.  We each randomly picked a cheese from the bowl and had to make a dish featuring that particular cheese.  The Weekend Chef picked halloumi and he made a Butternut Squash, Halloumi & Chili Omelette from Good Food.  I first picked smoked gouda and traded it in for a new pick, which ended up being AGED Gouda.  There were a lot of goudas in that bowl!  I made Savory Bread Pudding with Aged Gouda & Cheddar Cheese from Adventures in Cooking.  Both of these dishes were really good!
Sunday:  Leftovers.
Monday: I made Broccoli Rabe Turkey Burgers from Skinnytaste.  I added slices of mozzarella to our burgers and I served these with fries.  These burgers were okay.  They were lacking a little in flavor and weren't my fave.
Tuesday: I made Pizza Casserole from The Grant Life.   Honestly, I'm not sure if you can call this a recipe.  It's basically a baked ziti with pepperoni, using jarred marinara sauce and shredded mozzarella cheese.  The kids really enjoyed this though and it was super easy to make.
Wednesday: I made BBQ Chicken,  Apple, Bacon and Cheddar Quesadillas from Closet Cooking.  The kids enjoyed these a lot.  I served these with rice and sautéed zucchini.
Thursday: I made Apple Pie Pancake Rolls from Crazy for Crust.  I served these with breakfast sausage and yogurt.  The kids love anything breakfast for dinner and these were no exception.
Friday:  My sister and her family are visiting and we ordered pizza.