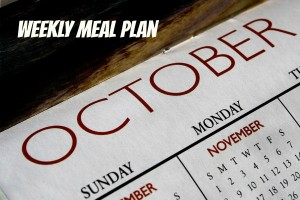 Happy Monday everyone!  Hope you all had a great weekend!  Our weekend was jam packed with birthday parties, supper club and shopping.  You still have time to enter the $25 Target gift card giveaway from my Saturday Spotlight feature at My So-Called Chaos.
Sorry for the not so great food photos below.  It's getting darker earlier and I'm losing my natural light to take pictures.  I've been resorting to using my camera phone with not great results, as seen in the last few pictures below!   Here is a look at this past week's menu:
Saturday:  We had homemade pizza.
Sunday:  The Weekend Chef made spaghetti and meatballs at the request of our daughter.
Monday: I made these Maple Bacon Beer Burgers from Iowa Girl Eats and served them with fries.  I didn't actually put the beer in the burgers – only because the recipe called for just 1/4 of a cup.  I'm not a big beer drinker and the beer would most likely be flat by the time the Weekend Chef got home.  I also substituted ground turkey for the ground beef.  The maple syrup added a nice sweetness to the burger and who doesn't love bacon?!!
Tuesday:  We had Skillet Pork Chops with Mushroom Sauce from Simply Gloria.  I served these with mashed potatoes.   I don't make pork chops very often and making this dish reconfirmed that I'm just not a big fan of pork chops.  The sauce was flavorful though with the mushrooms, spinach and onions.  (Sorry for the blurry picture above.  It didn't appear blurry when I was reviewing on the camera!)
Wednesday: I made Broccoli Cheese Soup from Gimme Some Oven and Zucchini Cheddar Corn Muffins from Two Peas & Their Pod.  With the arrival of fall and the recent cooler weather, I've been on soup and muffin cooking kick recently.  This meal was our meatless meal of the week.  The soup was tasty and easy to put together.  I had made the muffins earlier in the afternoon but they weren't too difficult to prepare.  I think that they accompanied the soup nicely.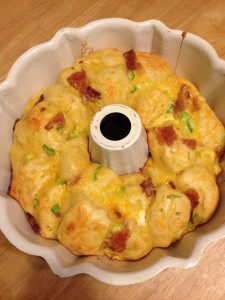 Thursday:  I made Breakfast Pull-Apart Bread from Very Culinary.  I was able to use up the rest of the package of bacon in this recipe(say what?!  Bacon twice this week?  Oh yes!).   We ended up eating late because I first cooked the bacon in the oven and then the bread needs to bake for 25 minutes.  My son first started eating and commented that "this is interesting!"  The kids love breakfast for dinner.  Plus, they get to eat with their hands?  Double win!  I served this with yogurt and fruit.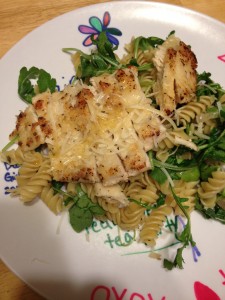 Friday:  The Weekend Chef got home from work early and made Garlicky Pasta with Tuscan Chicken from Pink Parsley dinner.  The Weekend Chef noted that this was easy to make.  This was extra tasty, probably because I didn't have to make it! The arugula and lemon gave the pasta nice flavor and the chicken was moist and flavorful.
What was one of your favorite meals this past week?