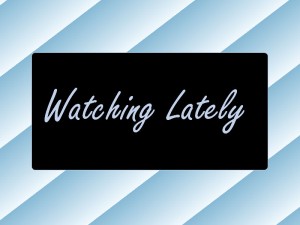 I will freely admit that my idea of a good night usually involves me in my pajamas, sitting on the couch and either a) reading a good book, b) eating popcorn while watching a movie or c) binge-watching a television show on Netflix.  I thought it would be nice to share what the family and I have been watching lately and offer some possible viewing recommendations.
If you'd like some Mother-Tween Daughter Bonding:
American Girl:  Grace Stirs Up Success – My daughter and I watched this movie earlier in the week on Netflix, when she was home sick.  If your daughter loves anything American Girl, like my almost 10 year old does, than she will probably enjoy this movie.  Grace Thomas was the 2015 Girl of the Year and Grace Stirs Up Success is the most recent American Girl movie.  Grace loves bike riding and baking, often helping her grandparents in their bakery.  She ends up unexpectedly spending most of her summer in France, assisting her uncle in his French pastry shop.  As is typical of these movies, conflicts occur and lessons are learned by various characters.
If you're in the mood for a comedy:

The Intern – I end up putting a lot of new DVD releases on hold at the library, not always knowing a lot about the movie.   This was the case with this movie, which was released on DVD in September of 2015.  Ben Whittaker (Robert De Niro) ends up participating in an intern program at e-commerce fashion start up About the Fit, which is run by founder Jules Ostin (Anne Hathaway).  Although he's the "intern," Ben ends up teaching everyone else a thing or two.  This was a funny, feel-good movie.
If you want to watch a documentary:
Twinsters – I recently watched this documentary of Netflix after hearing about it on the Spawned podcast.  This is the true-life story of identical twins born in South Korea, separated at birth, adopted by two different families.  A YouTube video ends up being the catalyst for these two girls to "meet" over the internet and realize that they might be sisters.  This was super interesting, maybe more so for me since I was adopted from South Korea as a baby.  This is one of those instances where if it wasn't for technology, this reunion probably wouldn't have happened.
If you want a family movie night:
Hotel Transylvania 2 –  This sequel to Hotel Transylvania was released on DVD in September 2015.  We just got it in from the library and watched it this week when my daughter was home sick and my son had an early dismissal from school due to inclement weather.  In this movie, Mavis and Johnny reveal to Drac that she is pregnant.  Soon their son Dennis is born, but no one is sure if Dennis will have vampire powers, which they will know by his fifth birthday.  The movie focuses mainly on the struggle of Mavis wanting to give Dennis a "normal" human life and her father preparing him to be a vampire.  The kids enjoyed this movie.
If you want to binge watch a show:
Homeland – This show airs on Showtime and has recently finished its fifth season.  Seeing that we don't get cable (or Showtime) and its not available on Netflix, I have been borrowing the DVDs from the library.  My husband and I have been binge watching this show, and have just finished watching season 2.  This series is a political thriller, starring Clare Danes as Carrie Mathison, a CIA officer, and Damian Lewis as Nicholas Brody, a U.S. Marine Sergeant, who was held as a prisoner of war in Iraq for eight years.  This is a fast paced, suspenseful show!
What have you been watching lately?