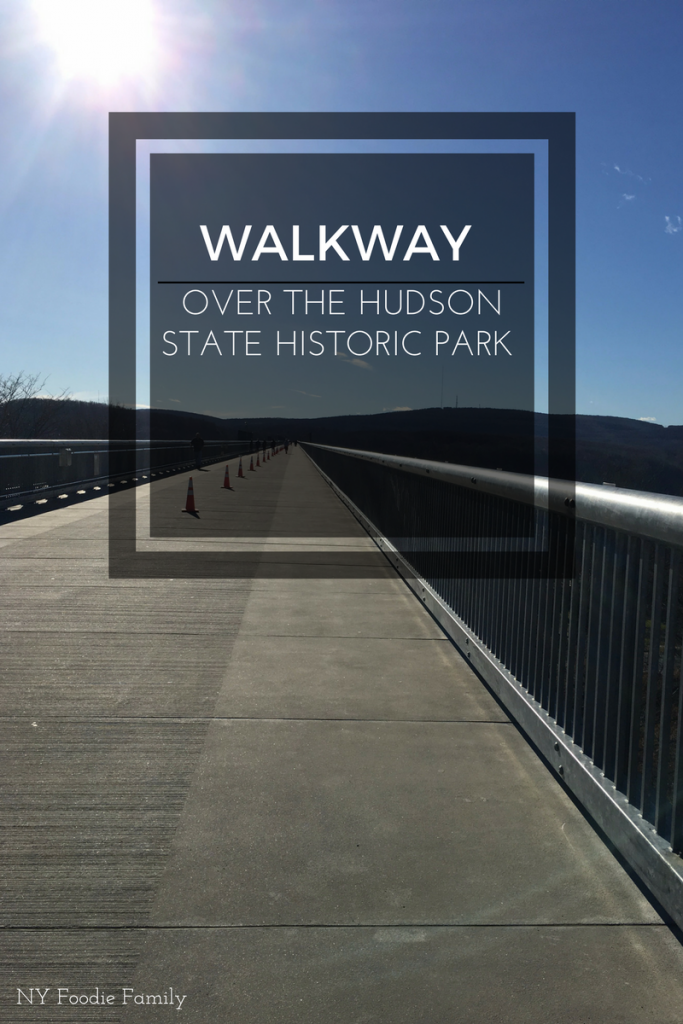 Beautiful, scenic river views, exercise, and outdoor family fun.  A visit to Poughkeepsie, New York, isn't complete without a trip to the Walkway Over the Hudson State Historic Park where you can experience it all!  Spanning 1.28 miles long, the Walkway is the longest elevated pedestrian bridge in the world.  Walkway Over the Hudson opened in October 2009 and is a New York State park.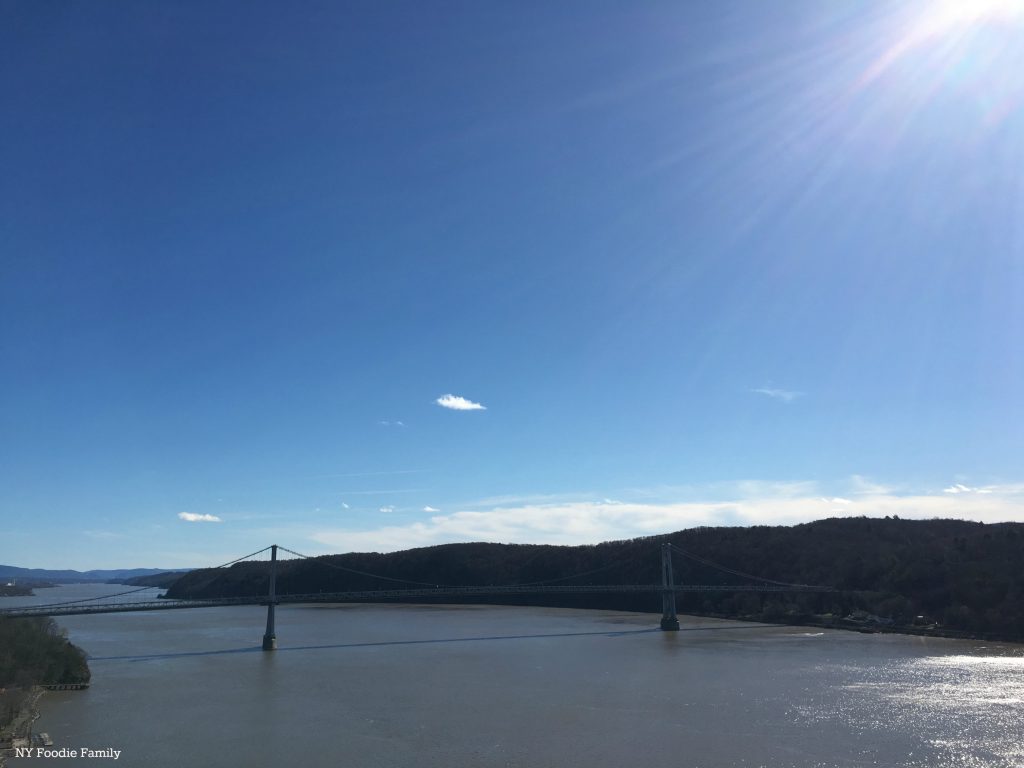 The bridge sits 212 feet above the Hudson River and offers spectacular scenic views.  Bike riding, roller blading and skateboarding are all permitted on the bridge. Dogs on a six foot lead are also welcome.  With the beautiful spring weather we've been experiencing, there's no better time to visit the Walkway!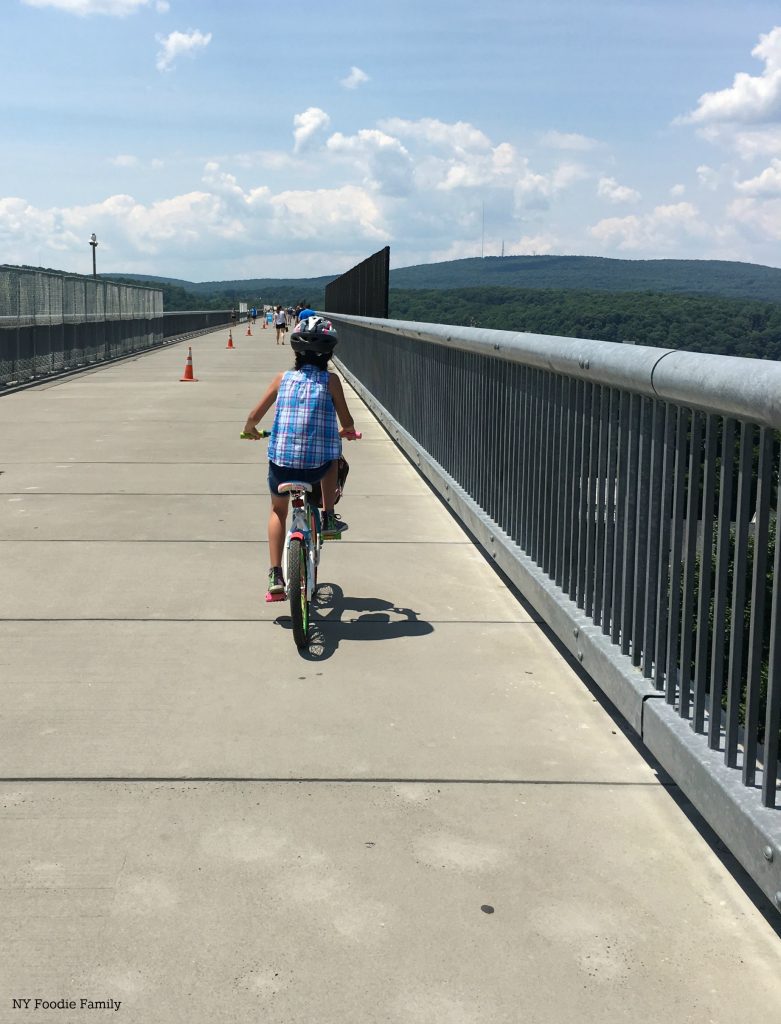 Our family has visited the Walkway twice now.  Our first visit was in the summer and it was hot!  So hot, that there was a warning posted that dogs should not walk on the bridge, as the temperature was over 100 degrees! That first visit our daughter rode her bike while we walked.  However, we didn't even make it across the entire bridge as we were so hot and hungry!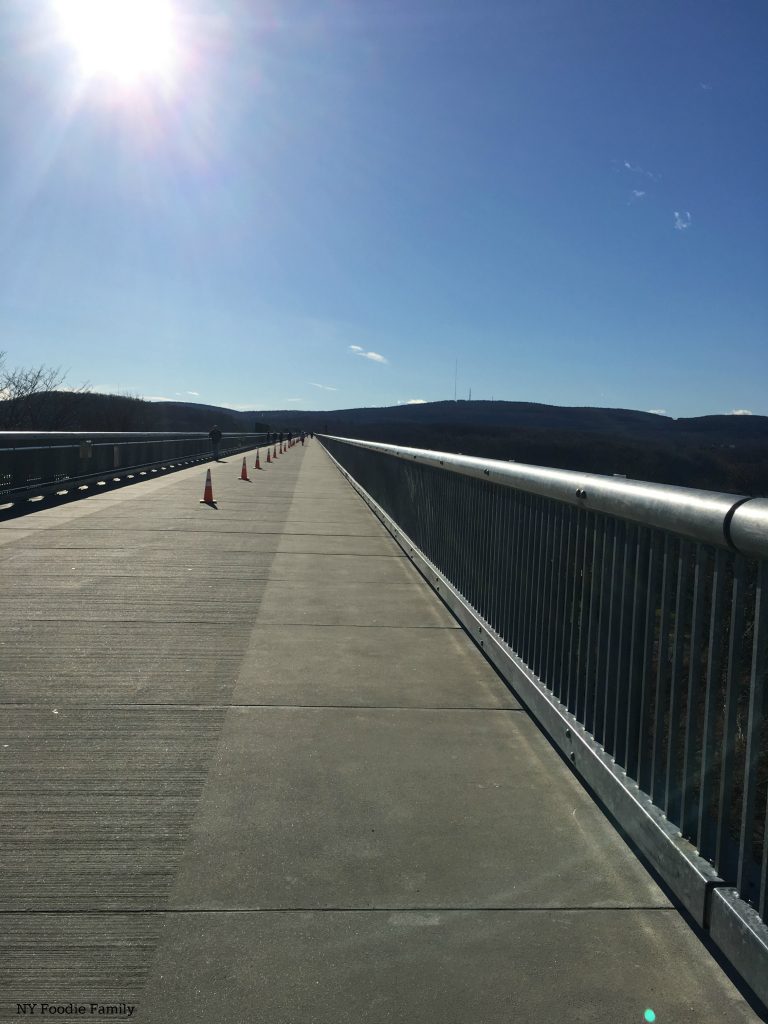 Our second visit was on a breezy, sunny, spring day.  It was a perfect day for walking across the bridge and taking in the views.  We walked the entire bridge and back, with a few photo stops in between.  For our family 2.56 miles was plenty of walking!  If you prefer a longer walk or run there's a 4.4 mile loop trail that crosses the Mid-Hudson Bridge.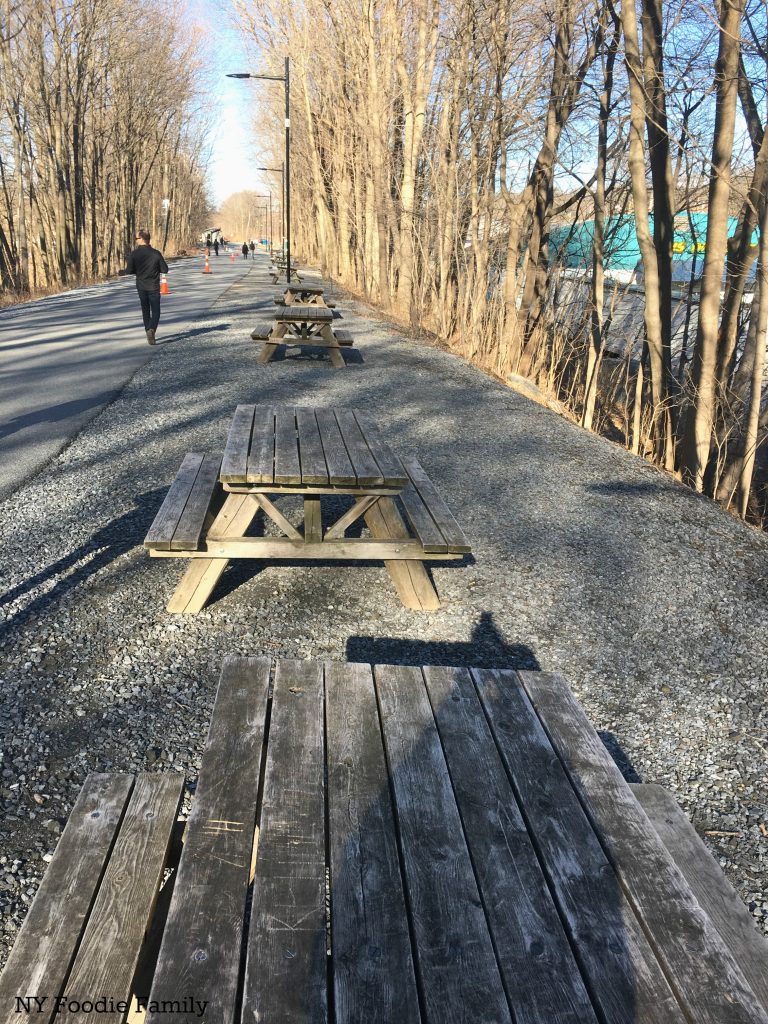 There are picnic tables at both entrances of the walkway if you want to bring lunch or snacks and make a longer day out of your visit.  During our summer visit there was a hot dog truck at the Poughkeepsie entrance.  On our spring visit, there was a snack stand open at the Highland entrance selling kettle corn, beverages and other snacks. There are beverage vending machines as well.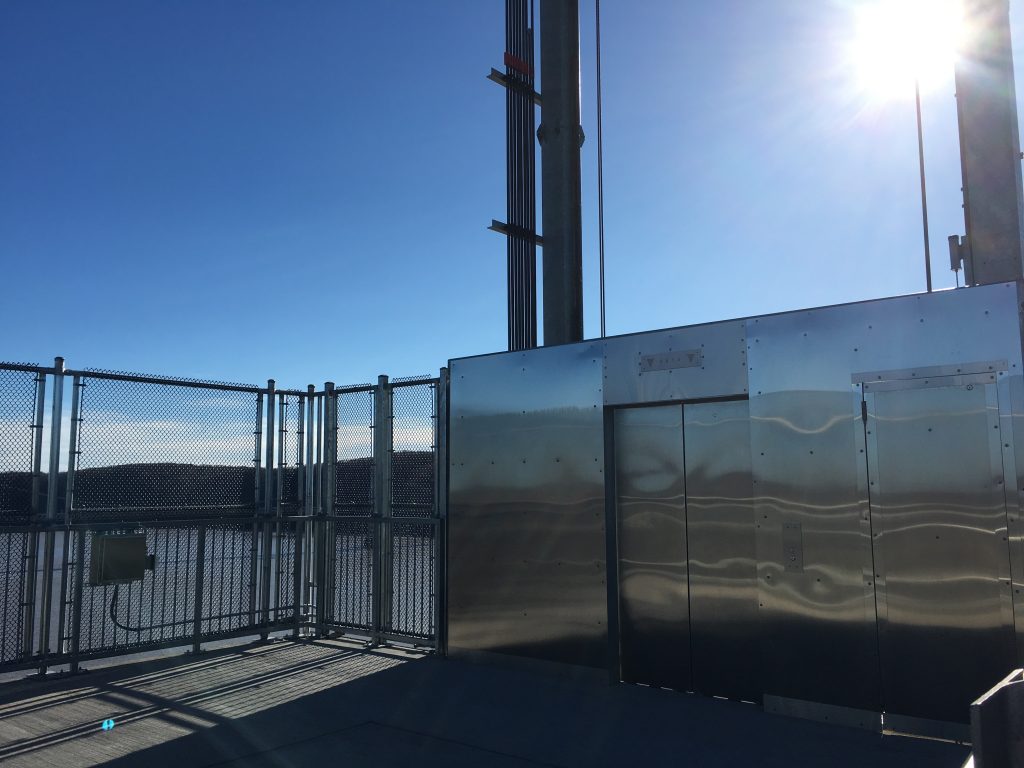 On the walkway closer to the Poughkeepsie entrance there's a glass-enclosed 21-story elevator operated by a NYS park employee which leads down to the waterfront.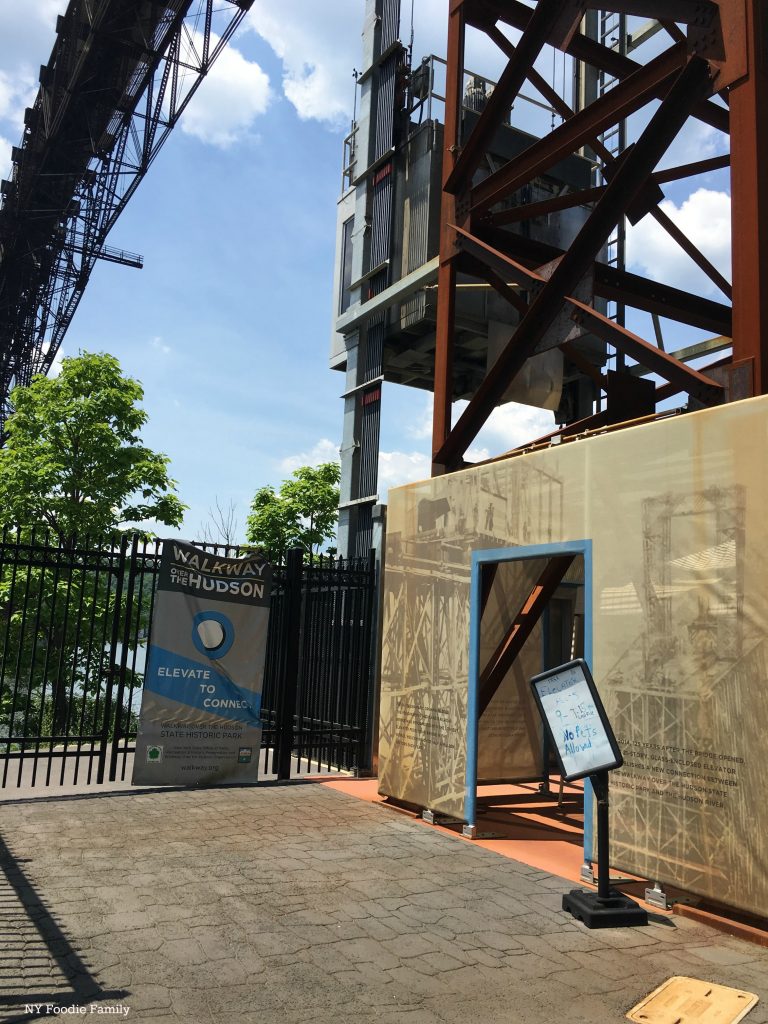 Within walking distance is the Poughkeepsie train station, the Mid-Hudson Children's Museum,the Poughkeepsie Ice House on the Hudson restaurant and more.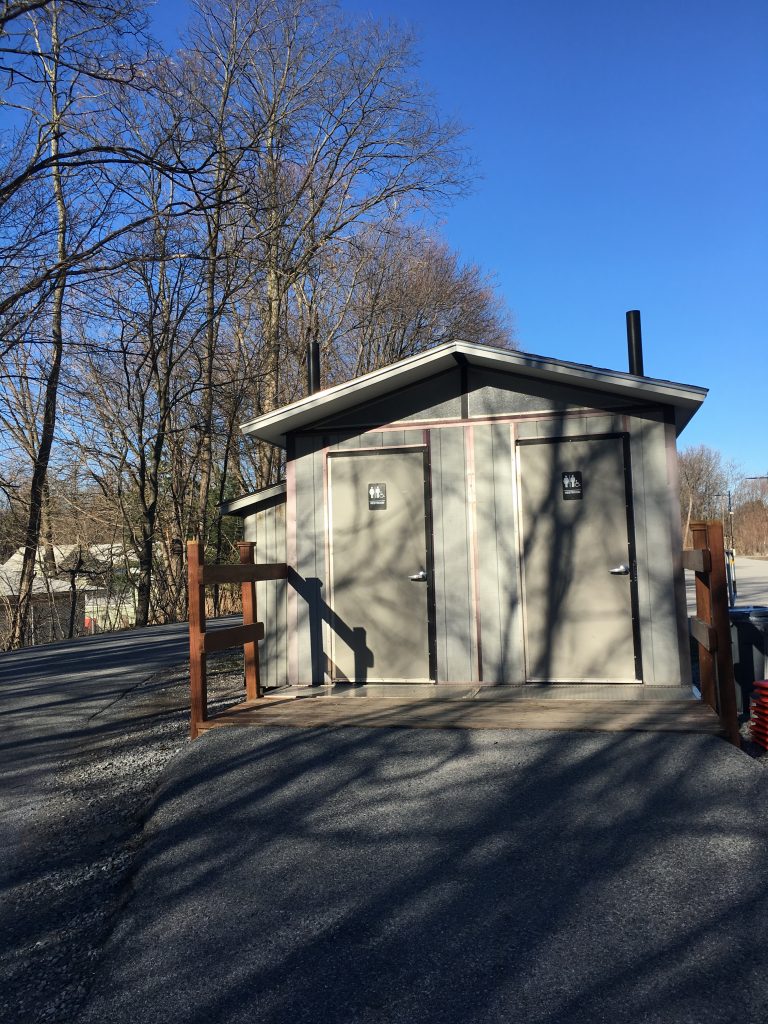 Other important things to note is that there are bathrooms at both entrances that house self-composting toilets with hand sanitizer only, no sinks or running water.  There were no changing tables for babies and toddlers.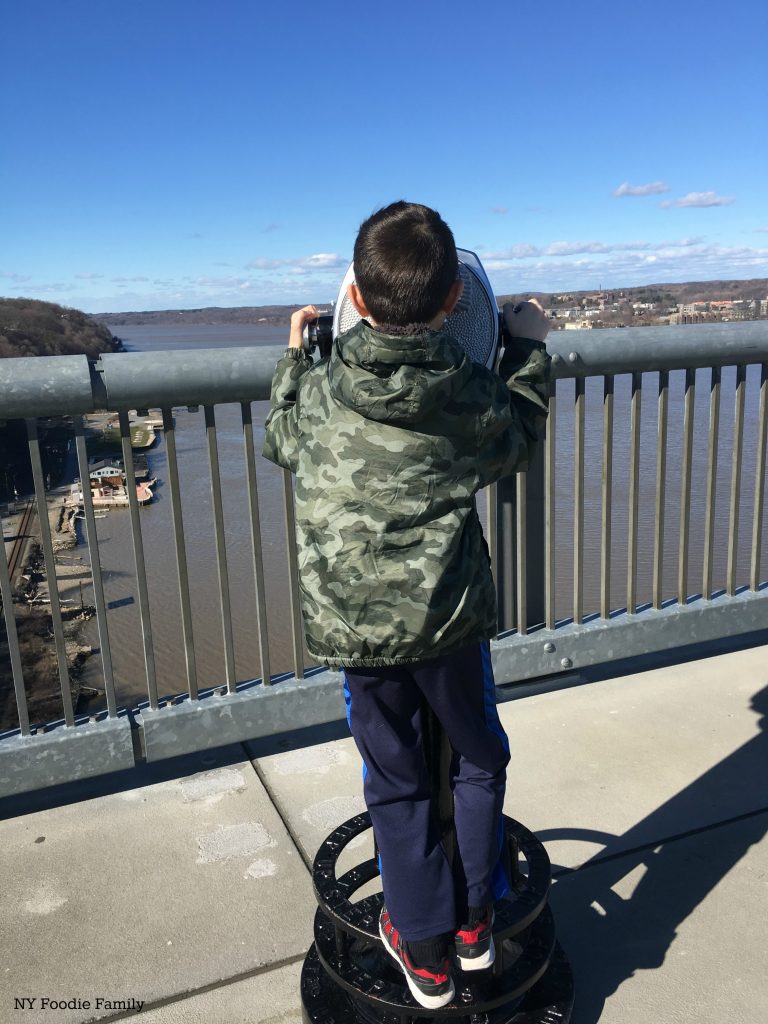 Although the bridge isn't that long, if walking it with kids be ready to take frequent breaks! Strollers and wagons are allowed on the walkway.  There are benches in a couple of spots along the bridge that are great photo spots as well as a place to rest tired feet for a few minutes.  Bring quarters and your kids can enjoy using the coin operated binoculars.  I also recommend bringing water or beverages (or be prepared to purchase them!), as from personal experience, your kids will get thirsty, especially if it's hot!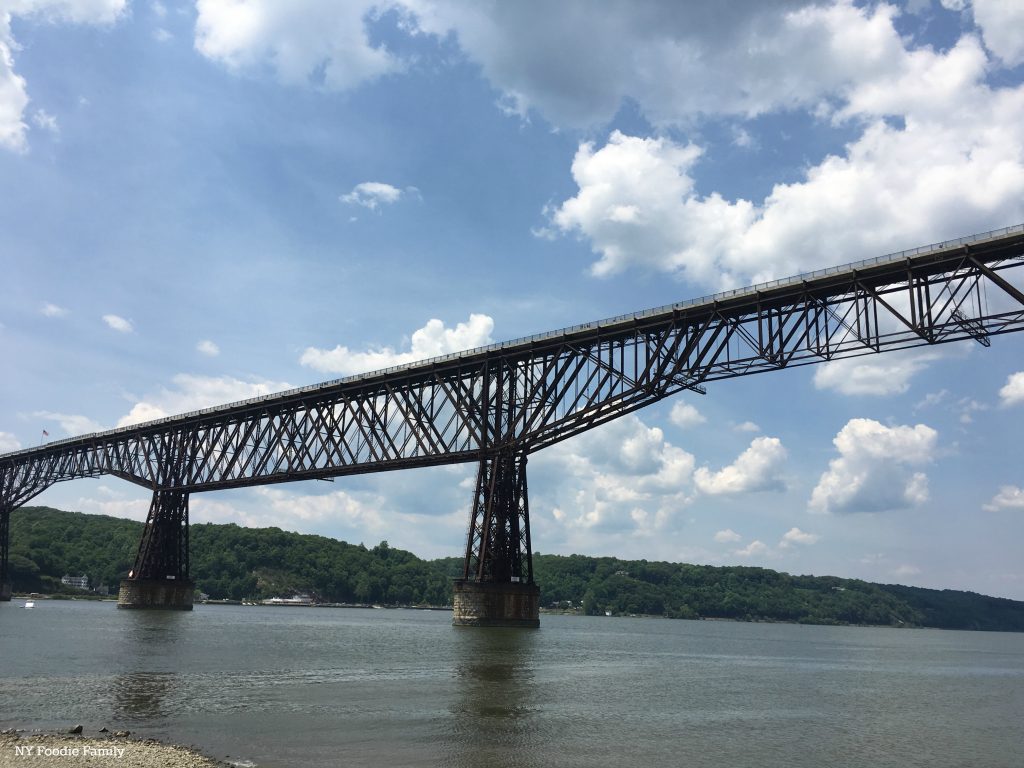 Spend an hour or a day visiting the Walkway Over the Hudson!  As you can see in the picture below, there is lots to do in the area.  Regardless, the walkway is a Hudson Valley experience you should not miss!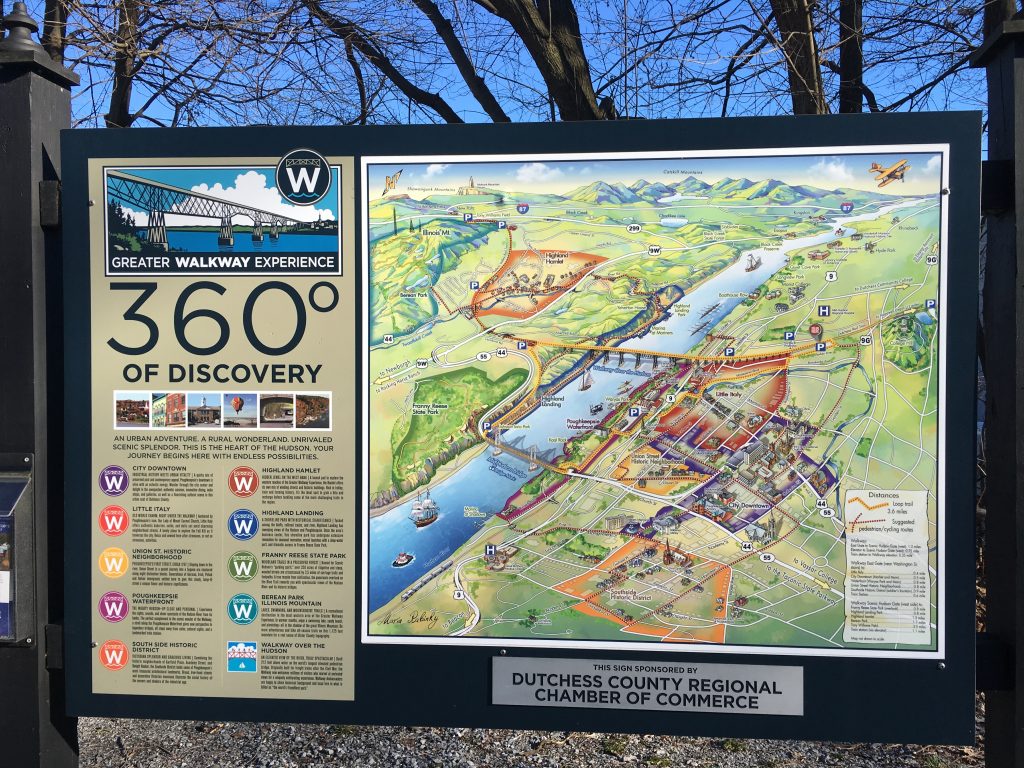 The Details:
Walkway Over the Hudson State Historic Park
Poughkeepsie Entrance:
61 Parker Avenue
Poughkeepsie, NY 12601
Highland Entrance:
87 Haviland Road
Highland, NY 12528
Hours:  6:30 AM to sunset (varies depending on the month – check here for the schedule)
Elevator operates from 9 AM to one hour before park closing
Parking:  $5 (for four hours) to park in the New York State parking lot
Empire passes are accepted
There is a free parking lot on Parker Avenue, before the state parking lot entrance
The bridge is 1.28 miles long and is 212 feet above the Hudson River.