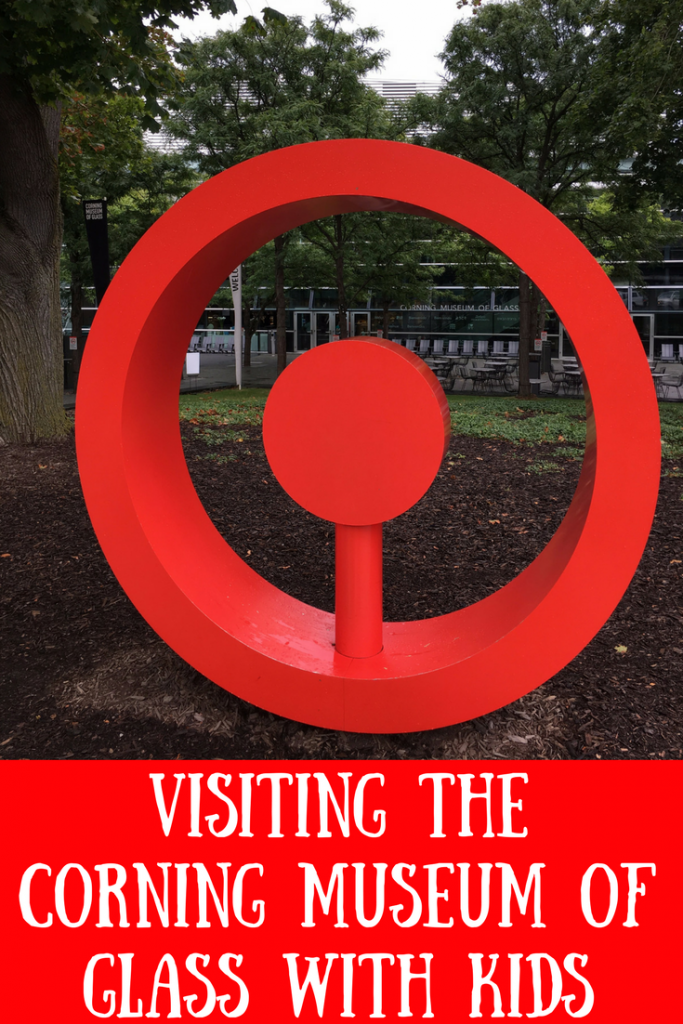 (Thank you to the Corning and the Southern Finger Lakes and the Corning Museum of Glass for hosting us.  As always, all opinions are my own.)
The first thing people associate with Corning, NY is the Corning Museum of Glass (CMOG). There are a bunch of good reasons why so many people come to the Finger Lakes region of New York each year to visit this museum. It houses an extensive collection of glass, with pieces dating back 3,500 years. Guest artists visit from around the world and give demonstrations of their work.  Plus, there is a Changing Exhibitions Gallery with new pieces being shown regularly.
You might not think a building full of glass is a great place to bring kids.  However, after recently visiting with my two children (ages 9 and 11) I can tell you that this museum is indeed a kid-friendly destination. I will admit, visiting with kids creates a very different experience of the museum versus visiting on your own or with other adults.  You will still have a great time.  To help you get the most enjoyment from your trip, here are some tips for visiting the CMOG with kids: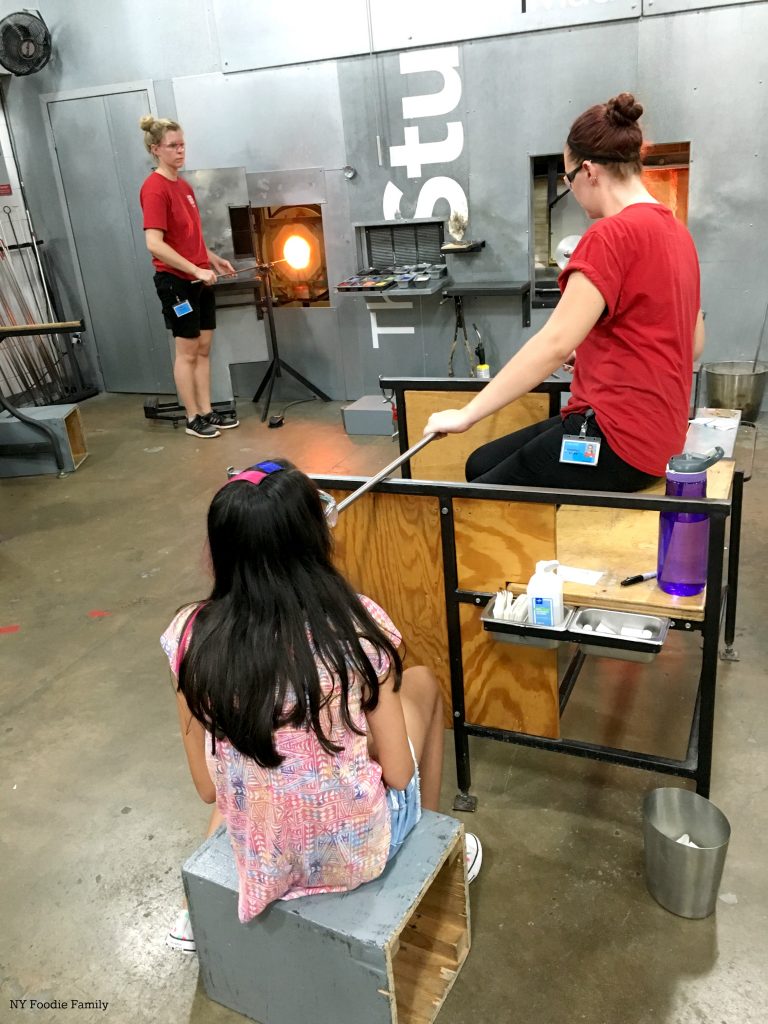 1. Prior to your visit, sign up for a Make Your Own Glass project – These projects are created in The Studio, located in the building across the parking lot from the CMOG.  Projects range in price from $13 for sandblasting to $30 for hand-blowing glass ornaments, glass forming flowers, fusing picture frames and more.  There are recommended age ranges for each project.  Classes fill up quickly and if you wait until the day of your visit, they might be all booked up.  This is a memorable experience for the kids, plus they will have a keepsake from the visit to take home.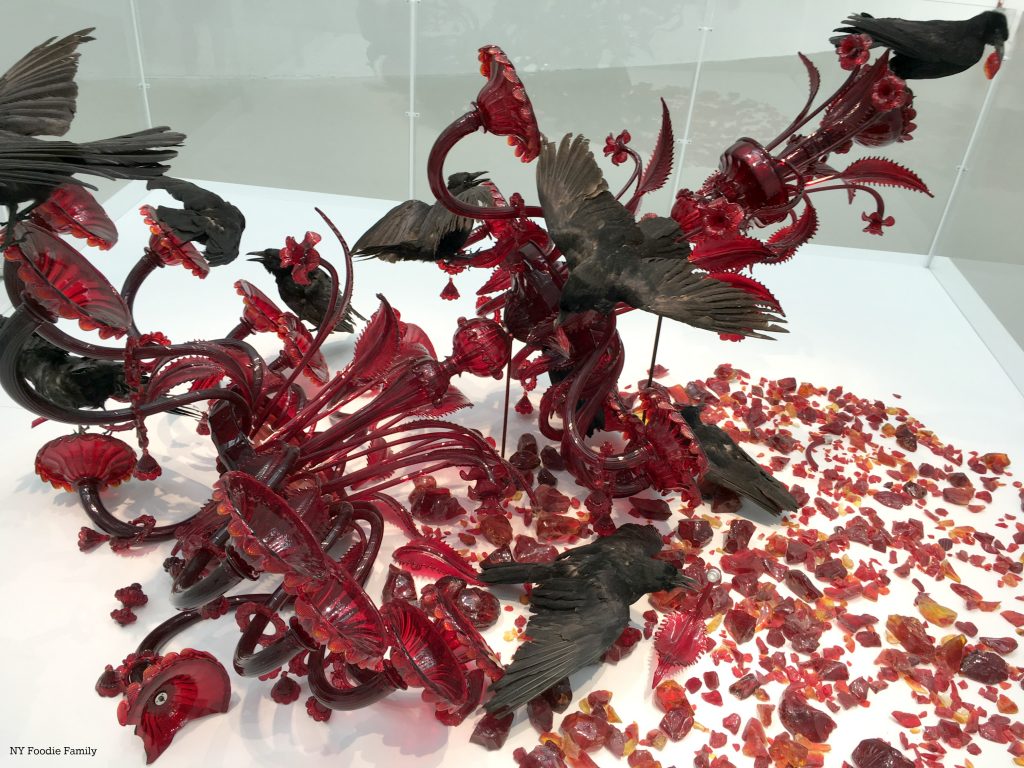 2. Visit the Contemporary Art + Design Wing – There are many glass exhibits throughout the museum.  However, if you are short on time, I highly recommend you make sure to visit this exhibit.  This wing is part of a 100,000 square foot addition that was completed in March of 2015.  This section is spacious and bright with large, colorful, eye-catching exhibits, sure to interest even the youngest children.  Although we didn't download GlassApp, the museum's app, there is a Scavenger Hunt available on it for this wing.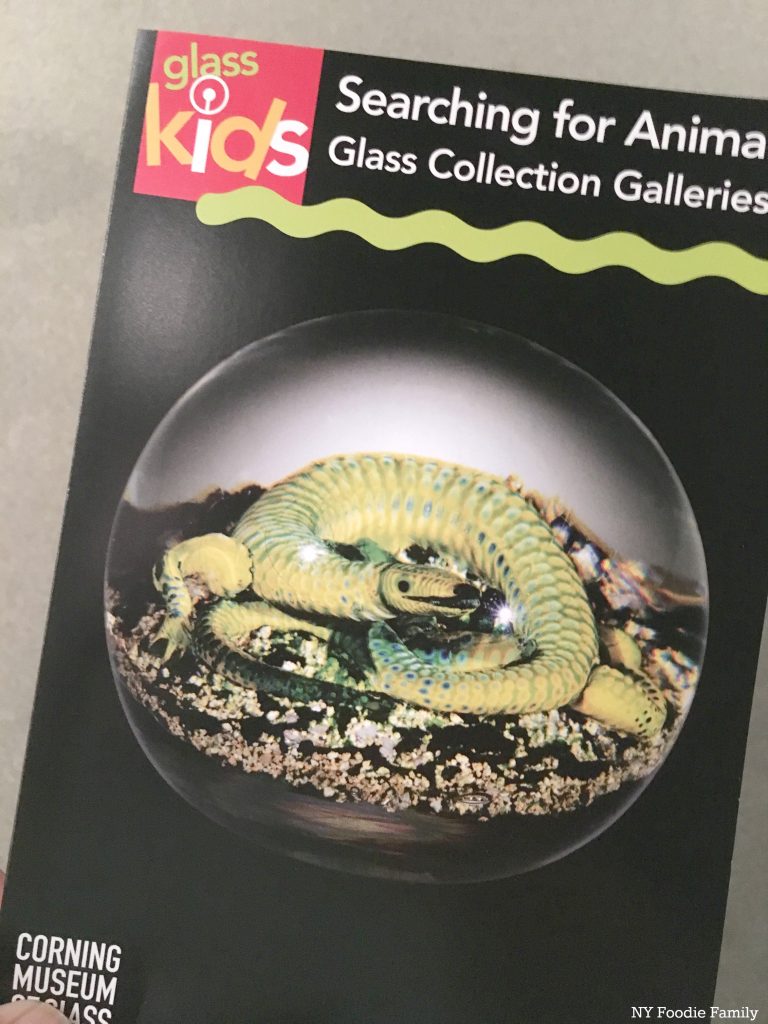 3. Participate in a Gallery Hunt in the Glass Galleries – Near the entrance to the Glass Collection Galleries, there are several different gallery hunt booklets and pencils.  While there are no prizes for completing the gallery hunt, it will help give kids a focus while walking through the galleries.  These galleries have hundreds of pieces of glass and it can be a bit overwhelming for children. My kids enjoyed the "Searching for Animals" gallery hunt.  You can also download the different gallery hunt sheets as PDFs from the museum site to have before your visit.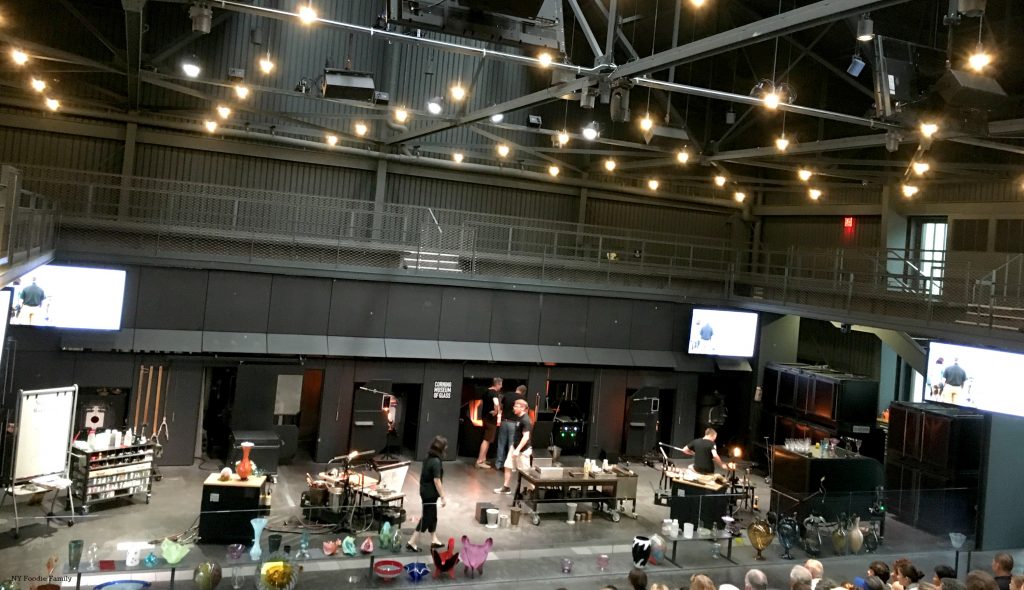 4. Watch at least one glass demonstration – There are many different glass demonstrations held throughout the day.  The demos range from 15 minute glassbreaking, optical fiber and flameworking demos, to 30 minute hot glass demonstrations.  Each demonstration is held many times throughout the day, in one of six different locations.
During our visit we sat and watched two different hot glass demos.  We saw one in the Courtyard Hot Shop before we even entered the museum, and the other in the Amphitheater Hot Shop.  The amphitheater demonstration has a special camera inside the furnace so you can watch the glass being heated on one of the many large screens.  The shows are narrated, so you learn about each step of the glass making process as they are happening. It's amazing to watch a glob of molten glass turn into a pitcher or a sculpture in a span of 30 minutes! These demonstrations were one of the kids' favorite things to do at the museum.  We probably could have sat there ALL day and just watched the gaffers (master glass makers) create different pieces.  At some of the demos, the gaffers give away some of their glass pieces.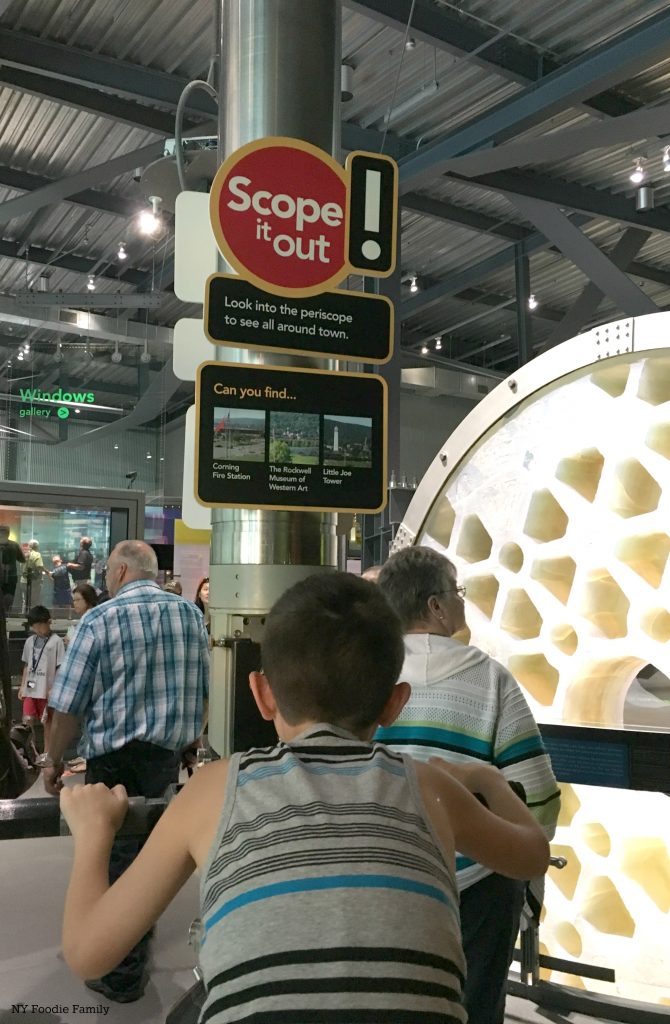 5.  Visit Innovations – This is the hands-on section of the museum.  Here kids can look through a periscope and see a 360 degree view of the town of Corning.  They can also look through a telescope, see the difference between regular glass and Low-E glass, bend glass, try to break glass, and participate in several other activities.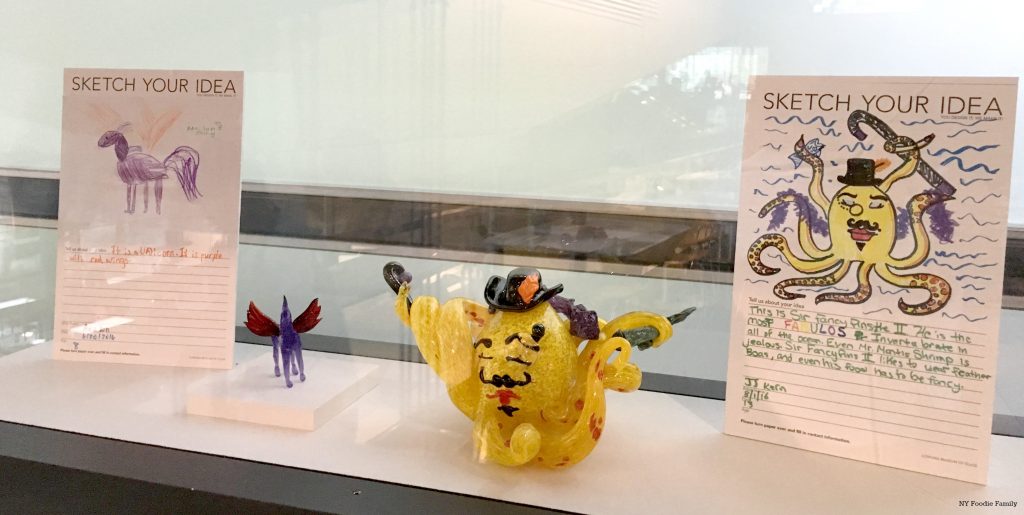 6.  Make a stop at the "You Design It; We Make It" – This is a great place to take a little break and let your children's inner artist come out.  In this little area, kids can use paper and markers to create a design.  If they are lucky, their drawing may be chosen to be recreated in glass!  Each week, glassmakers from the Hot Glass Demo team choose two drawings to recreate in the Amphitheater Hot Shop during a special "You Design It; We Make It!" demo. The Flameworking team also chooses a drawing daily to create at a special Flameworking demo.  Both of my kids sketched designs which unfortunately were not chosen.
7.  Make use of the two consecutive days –  Your ticket is good for two consecutive days and I advise you to make use of it!  Let your kids temperaments and attention spans factor into how you structure your day.  If they are really into watching the glass demos, you may want to spend a large portion of one day watching the various scheduled sessions.  Consider visiting in the morning one day and the afternoon on the next.
The Details:
The Corning Museum of Glass
One Museum Way
Corning, NY 14830
(607) 937-5371
Parking:  Free parking
Hours:  Daily 9 AM – 5 PM (9 AM – 8 PM Memorial Day through Labor Day)
Admission:  $19.50/adults, $16.60/55 Plus, AAA members, military and Students with ID, Free/children 17 and under  (**Tickets are valid for 2 consecutive days)
Tips:  
There are plenty of seasonal activities and exhibitions.  If you will be visiting during the holiday season, try to plan your visit to take advantage of the seasonal fun.
Food is available in the Cafe (open 9 AM – 5 PM).  Here you will find soups, salads, sandwiches, pizza and more. Sample prices:  $2.50 for a slice of pizza, $8.95 for a Chicken Salad wrap, $10.95 for a Southwest Steak Salad. There is also a coffee bar serving locally sourced coffee and tea.
You can bring your own food as well.  If the weather is nice, there are picnic tables to use outside.
There is a huge gift shop selling all types of glass items from jewelry to decorative items.  There's even a section with items created in-house.  Not everything in the gift shop is expensive!  You can find glass items including ornaments, flowers and marbles for under $10.
If you need to charge your phone, there are outlets in the "You Design It; We Make It" area.