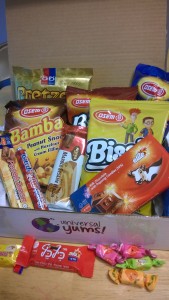 There's something fun about getting a surprise package in the mail!  After waiting for months, I finally got off the wait list for ipsy and was receiving make-up bags each month.  The Weekend Chef was getting a monthly subscription to Birchbox for Men.  However, as fun as these boxes were to get every month, there's only so many male grooming products out there that the Weekend Chef could use.  For myself, I just don't wear make-up very often, so most of the products went unused in the cute bags I received each month.  We decided to cancel our subscriptions and find something the whole family could enjoy.
As food lovers, what a better subscription for our family to enjoy than a food-themed one?!!!  But, there are so many different ones out there to choose from.  Well, we decided to try Universal Yums!  This is an international snack subscription box that started in December of 2014.  Each month they send a selection of snacks from one particular country.  Previous countries include Scandinavia, China, Italy, Brazil and Germany.  Unfortunately, you cannot currently order a previous month's box.  The selection includes a mix of salty, sweet, spicy and more.  You can choose between either The Yum Box (6 or more snacks in each box) for $13 or The Yum Yum Box (13+ snacks each month) for $25.  Of course we decided to opt for the larger, Yum Yum Box.
I received an e-mail on a Wednesday that my May box had shipped and the box arrived on Friday, shipped 2-day priority mail.  May's snack box theme was Israel.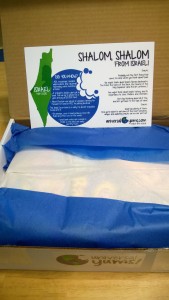 When you first open the box, the snacks are wrapped in tissue paper that looks like the flag of the country.  an information card is enclosed that provides facts about the featured country as well as a run-down of the products included in the box.
So what was included in the box?
1.  Original Bamba – This was a 1 ounce bag of Bamba peanut snacks.  These have the appearance of a puffed cheese doodle with a peanut butter flavor.  They only have four ingredients, peanuts, corn, palm oil and salt.  The adults thought these were okay, the kids liked them a lot.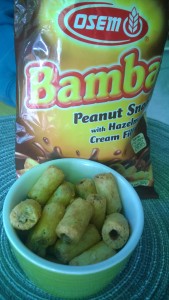 2.  Bamba with Hazelnut Crème Filling – This was a 2.1 ounce bag of Bamba snacks that are similar to the original, but include a hazelnut filling.  The flavor reminded the Weekend Chef of Reese's Puffs cereal, with a hint of chocolate and the shape reminded him of Combos.  We all enjoyed these and this was my daughter's favorite snack in the box!
3.  Elite Popping Milk Chocolate – This was a 3 ounce chocolate bar and definitely won has most fun item in the box.  This is a chocolate bar that contains Pop Rocks so with every sweet bite you get a popping party in your mouth!  This was the Weekend Chef's favorite snack in the box!
4. – 7.  Toffee Fruit Chews  – The box contained four of these fruit chews – 2 strawberry, one peach and one green apple.  We all got to have one.  The kids liked these, the Weekend Chef and I thought they were okay.  They tasted like fruit toffee and were okay.  This was my son's favorite snack in the box!
8. Falafel Bissli – This was a 2.5 ounce bag of super crunchy little falafel-flavored sticks.  Prior to eating these, I made falafel so the kids would be familiar with the flavor.  Although they weren't the biggest fans of these, these were my favorite snack from the box.  I love falafel and thought these snacks were flavorful.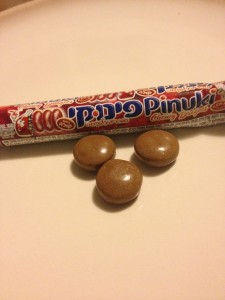 9. Pinuki Cola Dragees – This roll included 12 pieces of cola-flavored candy.  Our son really liked these, but no one else did.  I'm a big soda fan and to me, these had an "off" type flavor that didn't remind me of the alleged cola flavor.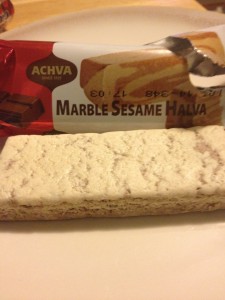 10. Achva Marble Sesame Halva Bar – This 2.45 ounce bar was the family's least favorite snack in the box.  From the wrapper, our daughter thought it would have a chocolatey-flavor.  Boy was she disappointed!  This bar was chalky and dry with a sweet flavor that none of us liked.
11. Pesekzman Elite Classic Chocolate Bar – This 1.59 ounce milk chocolate bar consisted of five squares that had a wafer-like hazelnut filling.  This was one of my favorite candy's in the box  The wafer filling reminded me of the inside of a Ferrero Rocher chocolate.  The Weekend Chef wasn't a big fan of this one, but that meant one square for everyone else and two squares for me!
12.  B&B Pretzels Mega Sesame Sticks – This was a 5.3 ounce bag of pretzel sticks.  These sticks are baked, not fried and are covered in sesame seeds.  They are pretzels…….nothing special, but a decent size portion of the snack.
13. Kif Kef Chocolate Bar – This 0.65 ounce candy bar was about the size of a snack size Kit Kat bar.  Even the name Kif Kef sounds like Kit Kat.  It tasted like a Kit Kat bar to us.  This was a "snack size" serving so we each only got a bite.
14.  Mini Elite Hazelnut Chocolate Bar – This 0.63 ounce chocolate bar was the size of a Snicker's snack size candy bar.  Again, we each only got  a small taste of this candy bar.  This had a nougat-like filling with hazelnuts.  The Weekend Chef thought this was similar to a Snickers bar, which the info card compared it to (and he didn't look at the card!).  I didn't think it tasted like a Snickers and it wasn't my favorite.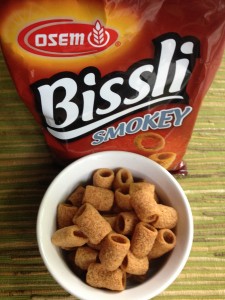 15.  Bissli Smokey snacks – This 2.5 ounce bag of crunchy wheat snacks had a smoky flavor to them.  My son thought they had a "bacon-y" flavor and liked them, where my daughter thought they were just okay.  I love salty, crunchy snacks, so I enjoyed these a lot.  While the bag notes that it's 2 1/2 servings, if I was eating these out of the bag, I'd eat the whole thing in a sitting!
This was a fun box of snacks!  Although we didn't love everything, it was a great experience getting to try new snacks from another country.  There was a great mix of sweet and savory.  Size-wise, the majority of the snacks were shareable for our family of four where we each got a decent taste of each snack.  Although, we literally each only got a bite of the couple of snack-size chocolate candy bars.   We paced ourselves to try about one snack a day, so the fun of our box lasted for quite a bit of time.   Although now I can't find it, I thought that I had read somewhere that Universal Yums! was not going to be sending chocolate items during the summer months (probably so you don't have a melty chocolate mess!).
While this box is fun and tasty, as a former teacher, I feel like this box is a great teaching tool as well.    Although this was only our first box, we enjoyed it a lot and the Weekend Chef and I think it's a fun way for the family to experience a new culture together!  Be sure to check out tomorrow's Armchair Travel:  Israel post on how we extended our learning about Israel after receiving our snack box!
*We purchased this box.