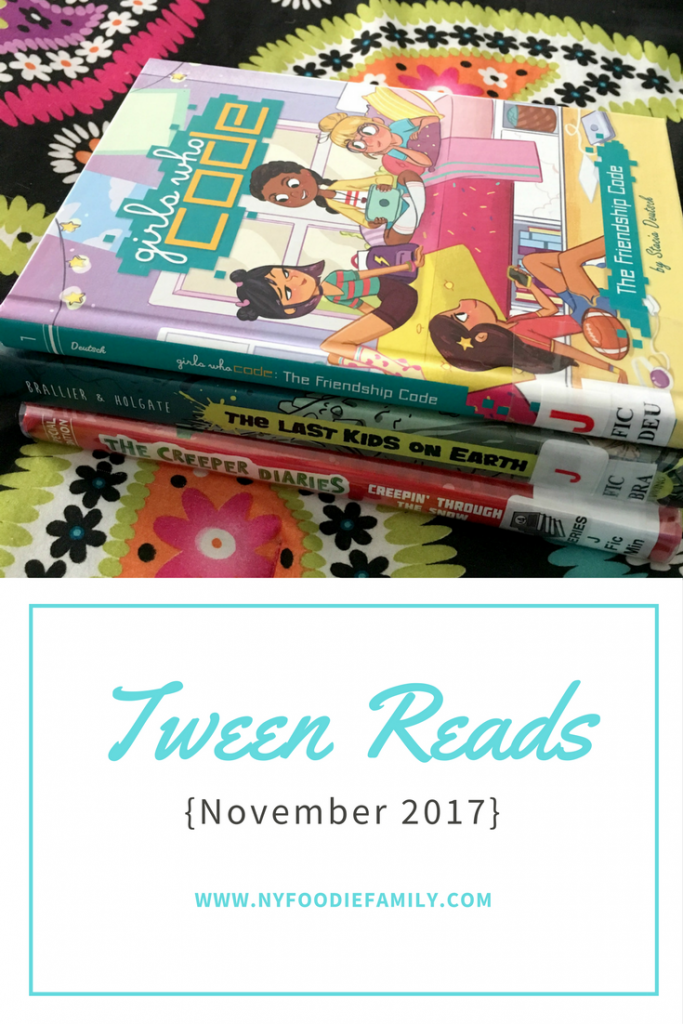 I am blessed to have two children who have inherited my love of reading.  At ages 9 and 11, my children read so many books a week that I cannot keep up.  I wanted to start a new feature highlighting some of the best books that they have read each month. Although I cannot read every book that they do, I also wanted to add my input and review of some of the middle grade fiction books that I am able to read.  I hope this becomes a helpful resource for parents looking for book recommendations for their tween readers.  Here is the first November 2017, first edition of The Tweens Read.
Books That I Read:
The Friendship Code (Girls Who Code #1) by Stacia Deutsch
Published:  August 2017
Pages:  144
Source:  borrowed from the library
Mom Rating:  4 out of 5 stars
Mom Review:  I heard about this new series and put the first book on hold at the library.  The book is created in partnership with the nonprofit, Girls Who Code.  In this first book in the series, Lucy has joined the Coding Club at school.  She is frustrated that the club isn't moving as fast as she'd like and she is grouped with girls that she doesn't know very well.  Then she ends up getting cryptic messages that she needs help to solve. Although the girls in this book are in middle school, it reads like a younger book. While schools have been teaching coding to kids as young as Kindergarten, you still don't hear about many girls who are really into it.  Coding is introduced to readers in a fun and simplified way.
Ghosts by Raina Telgemeier
Published: GRAPHIX,  September 2016
Pages:  256
Source:  borrowed from library
Mom Rating: 3 out of 5 stars
Tween Rating: 4 out of 5 stars
Mom Review:  Like my daughter, tweens might be familiar with some of Telgemeier's previous books like Smile and Sisters.  Ghosts is a graphic novel with a telling title, since the book is about ghosts.  Catrina's little sister Maya has cystic fibrosis.  Their family moves to Northern California for Maya's health.  As they explore their new neighborhood they discover that there are ghosts all around them.  This book was inspired by Dia de Los Muertos.  This was the first children's book that I've read that has a character with cystic fibrosis.  I thought the author did a good job of describing the illness.  There has been some controversy over the accuracy of how Dia de Los Muertos is depicted in the book. If this is a child's first book about the Day of the Dead, they make get a skewed idea of what the day is really about. This book is different than Telgemeier's other graphic novels, which are more realistic fiction based.  She has a large tween following and both my kids read and liked this book.
READ BY THE 9 -YEAR-OLD:
Creepin' Through the Snow (The Creeper Diaries Special Edition) by Greyson Mann
Illustrated by:  Amanda Brack
Published by: Sky Pony Press, October 2017
Pages: 176
Source: borrowed from library
Tween Rating:  3 out of 5 stars
This is a holiday, Christmas-themed book where Gerald Creeper Jr. is trying to survive the holidays.  He spent all the emeralds his parents gave him and needs a way to make them back.  This series is told in diary format with lots of illustrations throughout.  I have not read any books in The Creeper Diaries series.  My son is a fan of Minecraft and I thought that he'd enjoy this book.  I discovered that this was the first book that he's read in the series, but he enjoyed it enough that he wants to read the others.
Dog Man Unleashed by Dav Pilkey
Published by: Graphix, December 2016
Pages: 224
Source: borrowed from the library
Tween Rating: 4 out of 5 stars
The Dog Man series is written by Dav Pilkey, the same author who writes the infamous Captain Underpants series.  Dog Man Unleashed is the second book in the Dog Man series. In this book Dog Man tries to take down Petey the Cat, who has escaped from jail.  This is a graphic novel and my son loves this series.
The Getaway (Diary of a Wimpy Kid #12) by Jeff Kinney
Published by: Amulet Books, November 2017
Pages:  224
Source: purchased
Tween rating: 5 out of 5 stars
The Diary of a Wimpy Kid series is one of the few that my kids have to own every single book.  The Getaway was just published this month and of course we had to pick it up at the school book fair.  In this book the Heffley family takes a holiday tropical island vacation for some rest and relaxation.  Of course their Christmas vacation getaway doesn't go as expected.  Both kids enjoyed this book a lot.
The Last Kids on Earth by Max Brallier
Illustrated by:  Douglas Holgate
Published by: Viking Books for Young Readers, October 2015
Pages: 240
Source: borrowed from library
Rating: 3 out of 5 stars
This is the first book in a three book series.  A monster attack has turned most of the people of Wakefield into zombies.  Jack Hunter is a 13-year-old who with some friends must battle the zombies.  This book has lots of illustrations.  It totally does not sound like a book that I'd enjoy.  My son thought the book was okay but isn't interested in continuing the series.  However, I'm sure this story line will appeal to some middle grade readers out there.
READ BY THE 11-YEAR-OLD:
No Better Friend by Robert Weintraub
Published by: Little Brown Books for Young Readers,  May 2016
Pages: 304
Source:  borrowed from the library
Rating:  4 out of 5 stars
This is  the adapted middle grade edition of Weintraub's New York Times bestselling novel of the same name.  This book tells the true story of air force tech Frank Williams and Judy, a pointer dog who meet as prisoners of war during World War II. Together, they help each other survive to freedom.  The book contains photographs and informative sidebars that help tell their story.  My daughter really enjoyed this book a lot and said it gave her a better understanding of World War II.
Treasure Hunters:  Secret of the Forbidden City by James Patterson and Chris Grabenstein
Illustrated by:  Juliana Neufeld
Published by: Little, Brown and Company, September 2015
Pages: 448
Source:  borrowed from the library
Rating: 4 out 5 stars
This is the third book in Patterson's Treasure Hunter series.  Co-author, Chris Grabenstein, is the author of the Mr. Lemoncello's Library series which both my kids really enjoyed.  In this book, Bick and Beck Kidd are taken on an adventure to Europe and Asia as they try to buy their mother's freedom from pirates.  My daughter enjoyed all of the action in the book and the accompanying illustrations and plans to continue reading the series.