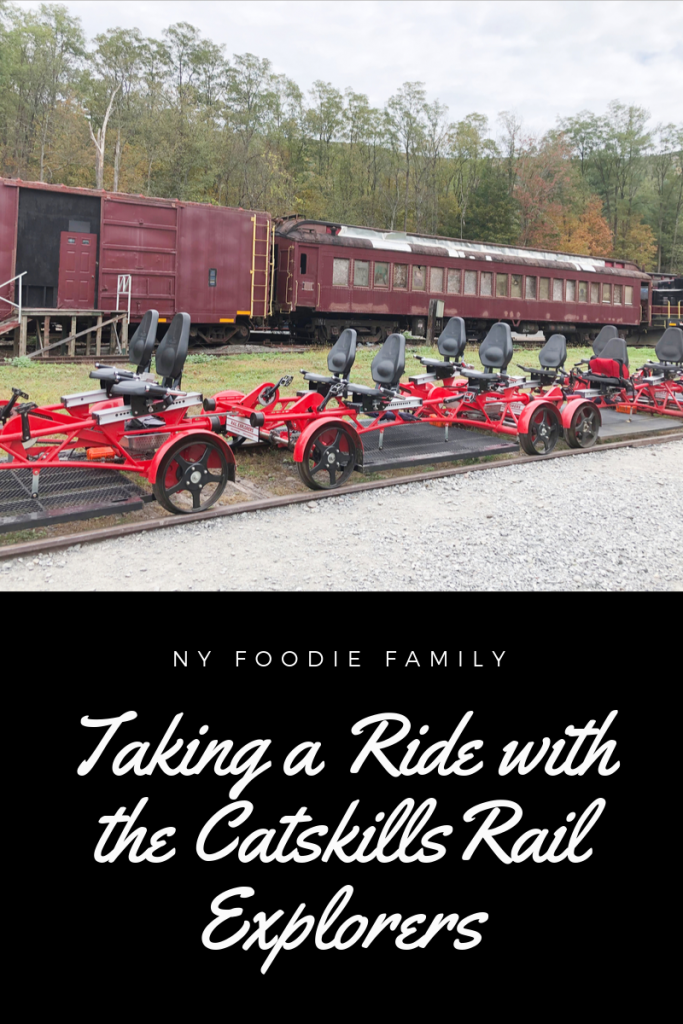 Imagine you and your family are gliding through the forest along railroad tracks. As you advance, you can see and hear the Esopus Creek rushing by. You may spot birds and wildlife among the trees that border the track. Well, you don't have to imagine this, you can actually enjoy this experience up in the Catskills!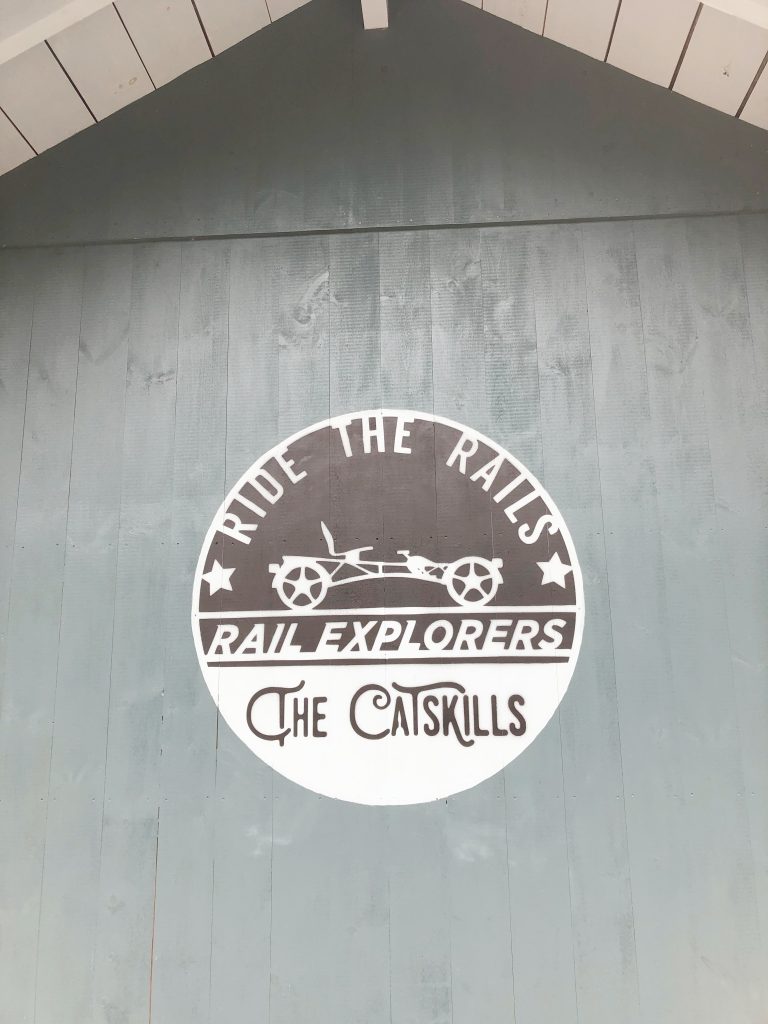 The Catskills Rail Explorers is located in Phoenicia, NY, in Ulster County. It shares its parking lot with the Empire State Railway Museum, which was unfortunately closed the day of our visit.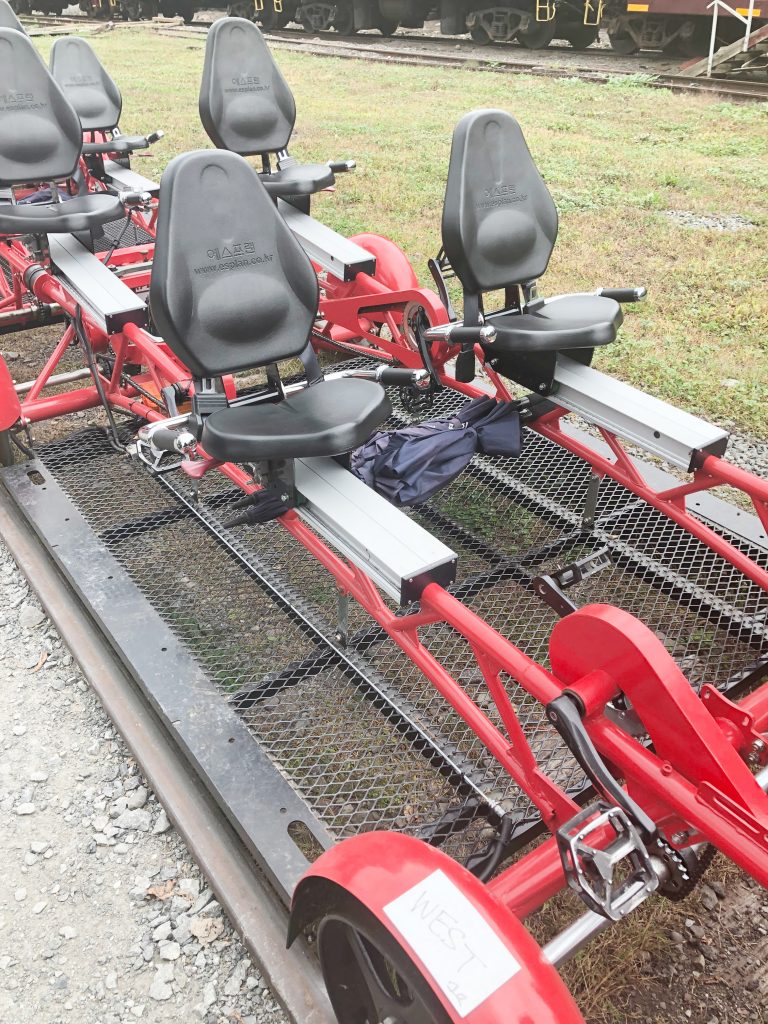 When you book a ride with Rail Explorers you can choose a tandem explorer, for two people or a quad, which seats up to four riders. They make this a family friendly experience and children of all ages are able to enjoy riding. However, everyone needs a seat. The seats are adjustable and are able to be moved closer to the pedals.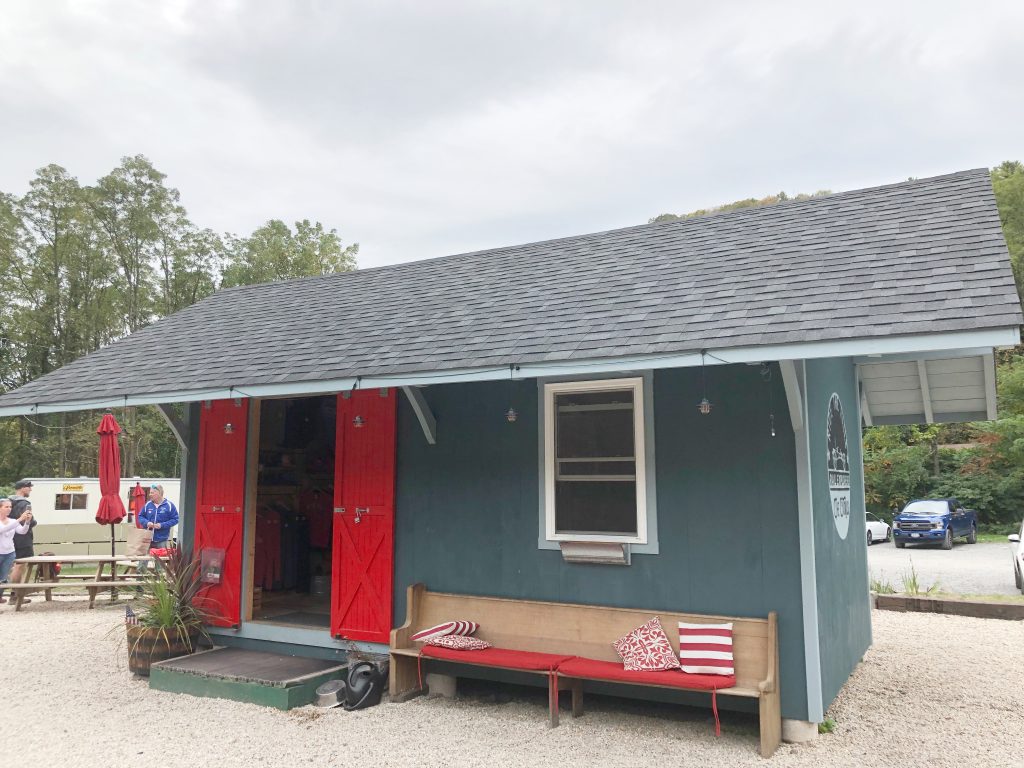 When you arrive you must first check in. Waivers must be signed and here you can purchase water, clothing and souvenirs. The explorers are preassigned and labeled with name cards, so there's no need to rush to get a certain explorer.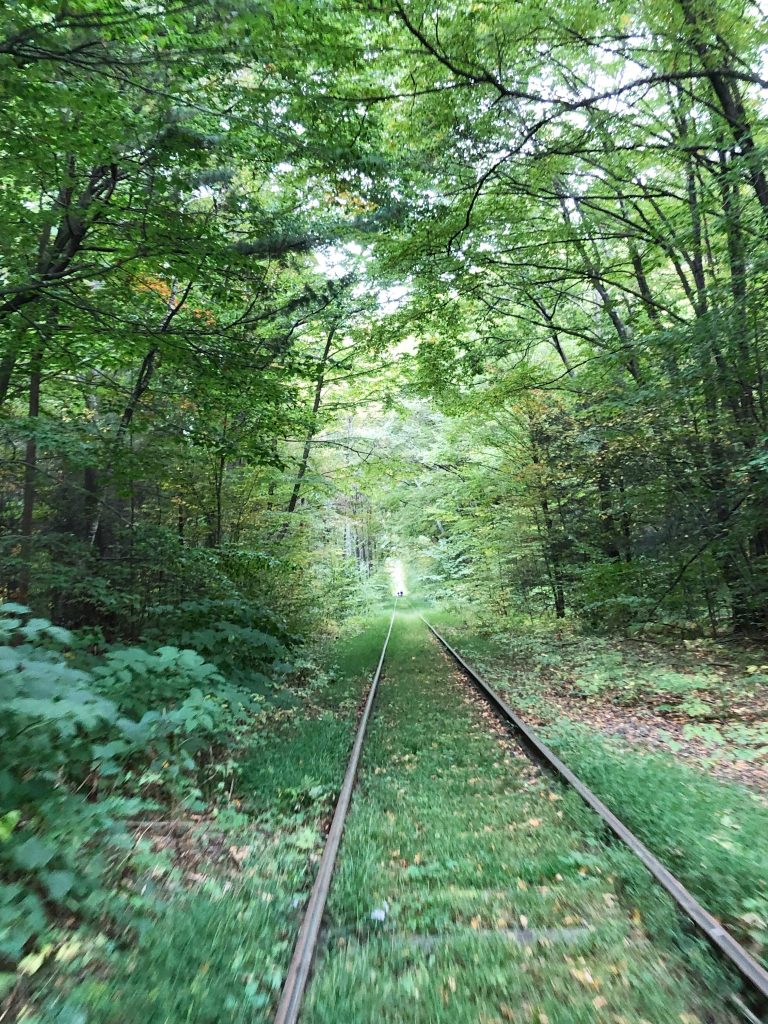 The Catskill ride is 8 miles round trip and travels along the Esopus Creek and through the woods of the Catskill Mountains. The explorers come with electric motor assistance, so you are not pedaling entirely on your own! This is especially helpful for families with young children!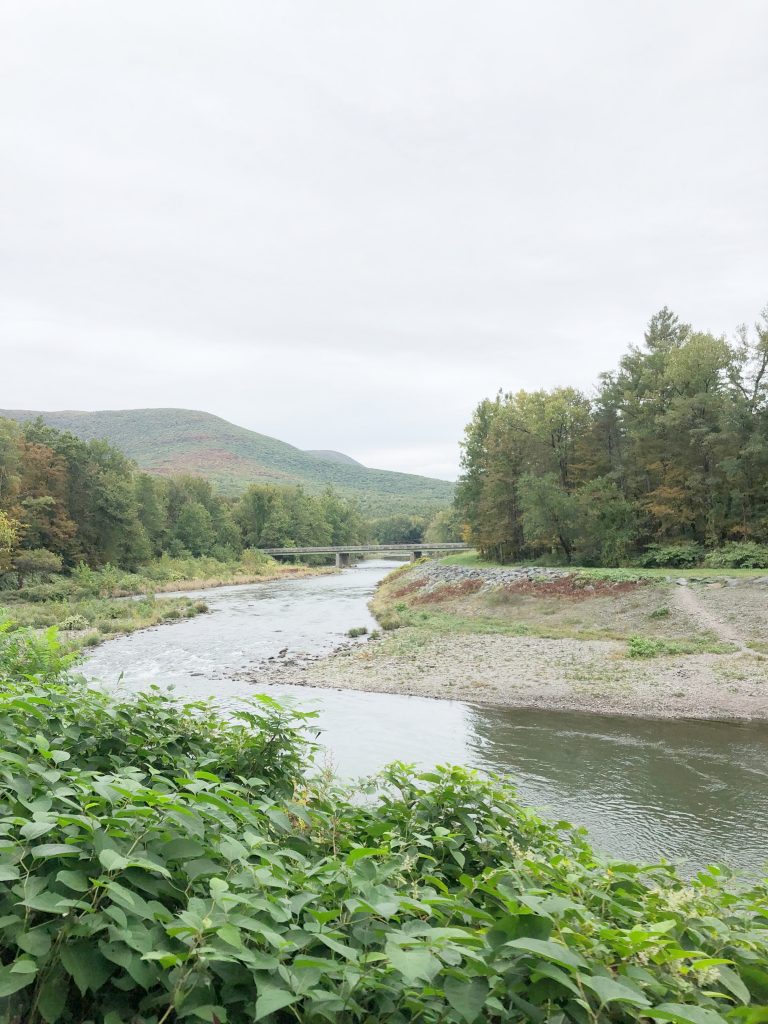 Each explorer rides independently and travels at their own pace. It's really beautiful to see the mountain views and ride along the Esopus Creek.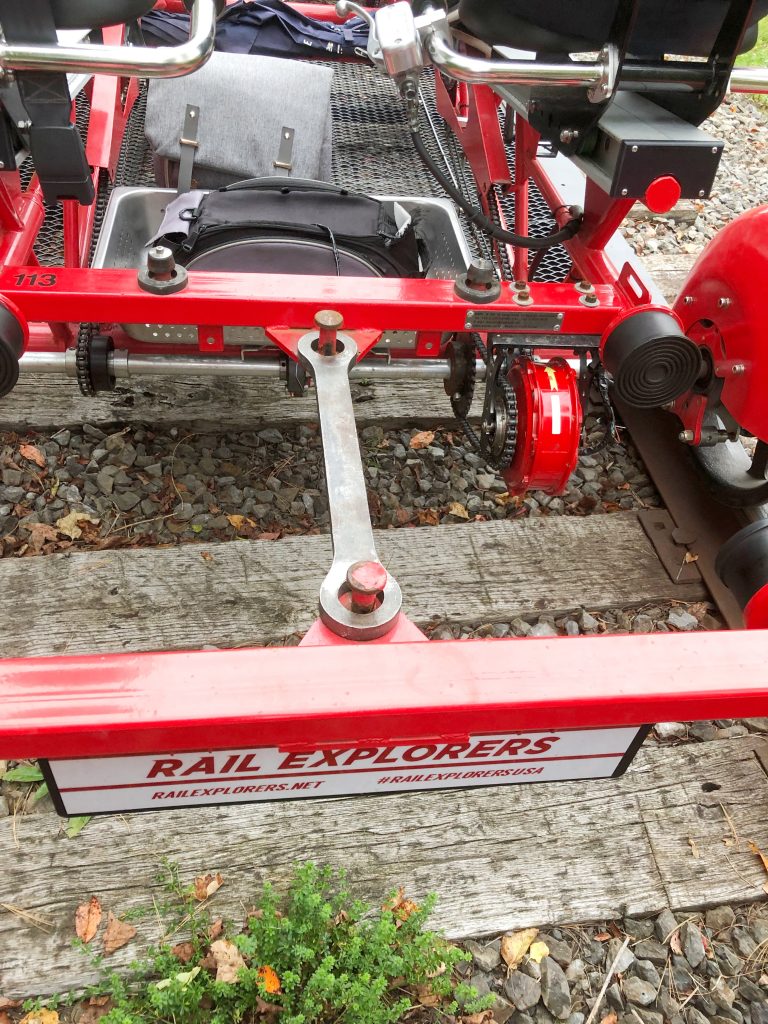 The only time that all explorers are connected is when crossing Route 28. It is super safe, as railroad crossing barriers come down across all lanes. Plus, a Rail Explorer guide stands in the street with flags until everyone has crossed. Tandem and quad explorers can be connected for the entire ride if you have a large party and want to ride together.
Safety, as I mentioned, is taken seriously by Rail Explorers. Besides the main Route 28 crossing, there are a couple of side streets that the railway crosses. A guide stands in the intersection and will direct traffic for the explorers to safely cross. These crossings may also involve high fives with your guide as you pass!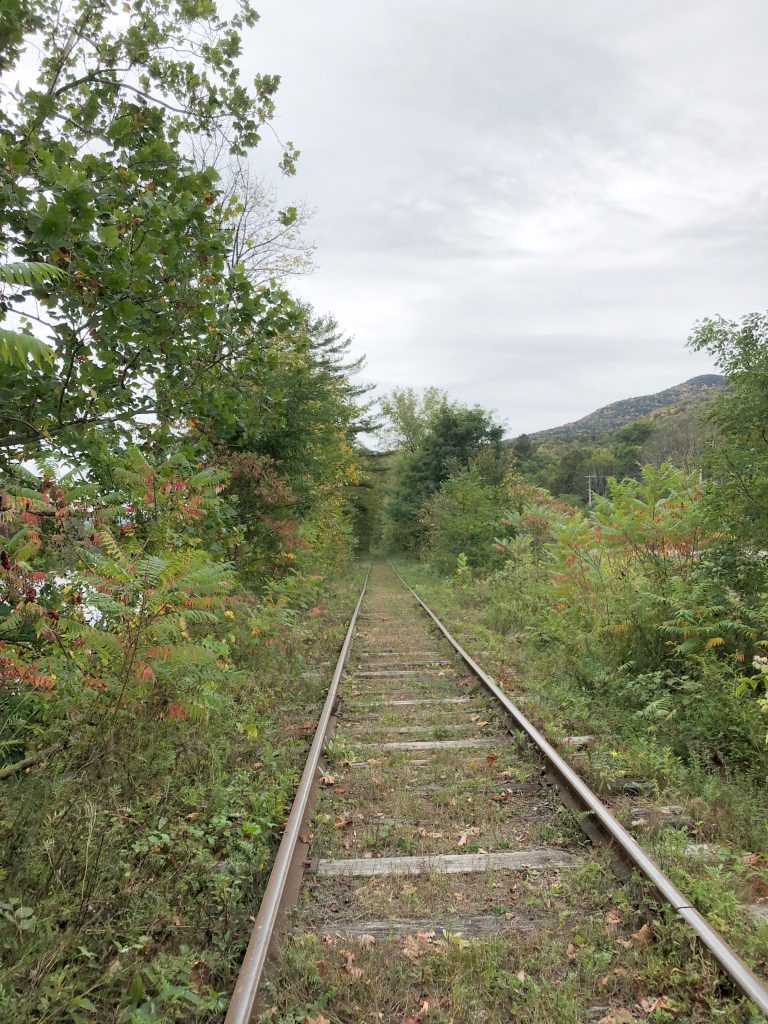 At the end of the 4.1 mile trail, there is an approximately 15-20 minute break while the guides turn the explorers around for the trip back. It's fun to watch them do this while you stretch your legs. There is also seating available where you can relax and take a snack break.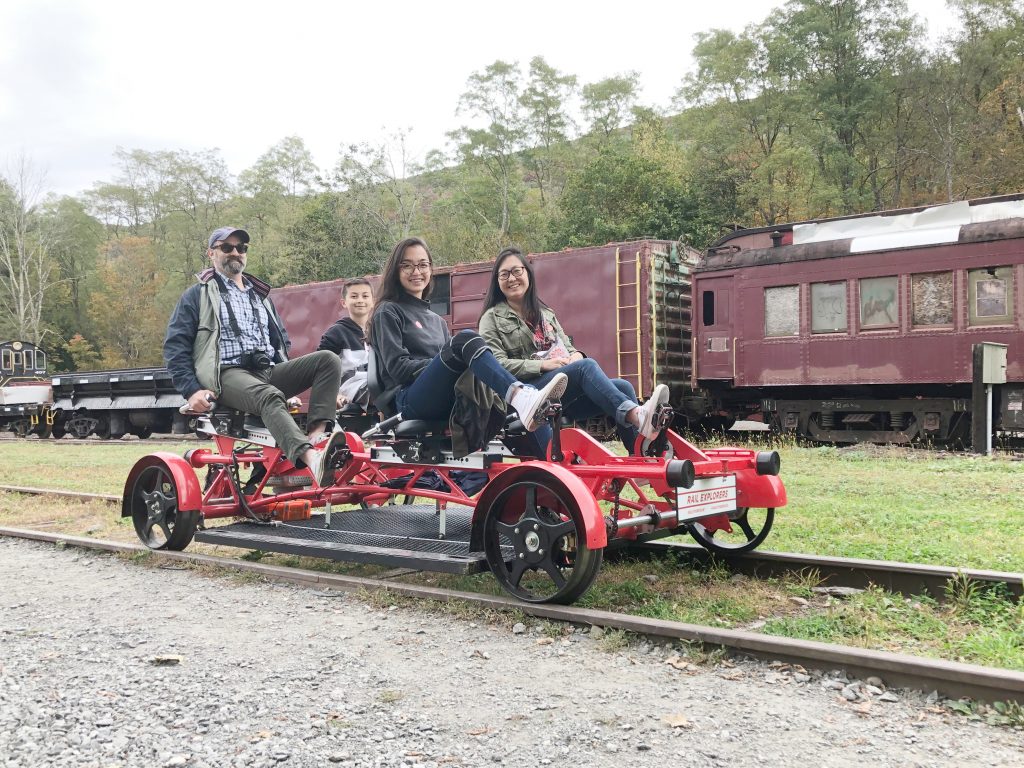 Be sure to take the Rail Explorer guide up on the offer for a family pic before heading out for your ride!

The first leg of the trip was much easier for us than the return. After the explorers were turned around and we were headed back it started to rain. Fortunately, there are umbrellas in each explorer. However, during the ride our pedal assistance motor stopped working. We had to pedal the entire trip back on our own….which was slow and a lot of work! But we did it and got a great workout!

A visit to the Catskills isn't complete without a ride on the Rail Explorers! It's such a unique and fun experience that is great for all ages. Check out our short video:

(Thank you Catskills Rail Explorers for hosting us. As always, all opinions are our own.)

The Details:
Catskills Rail Explorers
70 Lower High Street
Phoenicia, NY 12464
1(877) 833-8588

Hours of Operation: Thursday – Sunday, now through November 3
Parking: Plenty of free parking is available in their lot.
Price: $85 for a tandem explorer (2 riders, $42.50/person), $150 for a quad explorer (up to 4 riders, $37.50/person)

*They ask that you arrive 15-30 minutes before your scheduled tour. A waiver needs to be signed and they want to ensure that all parties have arrived.

*Dress accordingly! We visited at the end of September and it was very chilly! Be sure to bring sweatshirts and jackets, depending on when you visit.

*The rail explorers go out rain or shine. They have two large umbrellas on the quad if needed. However, you may want to wear or pack rain gear if there is rain in the forecast.

*There are storage baskets in the back of the explorers where you can keep loose items and belongings.

*Bring drinks and snacks. There is a 15-20 minute break where they turn the rail explorers around. This is a great time to hydrate and refuel.

*Check out the website for special tours! They are currently running a stargazing evening tour with hot cider and donuts (Saturday at 7 PM) and a Beer and Pretzels tour (Fridays at 4:30 PM).

*Rail Explorers currently operate in two other locations: Las Vegas and Rhode Island.

You make also enjoy reading: