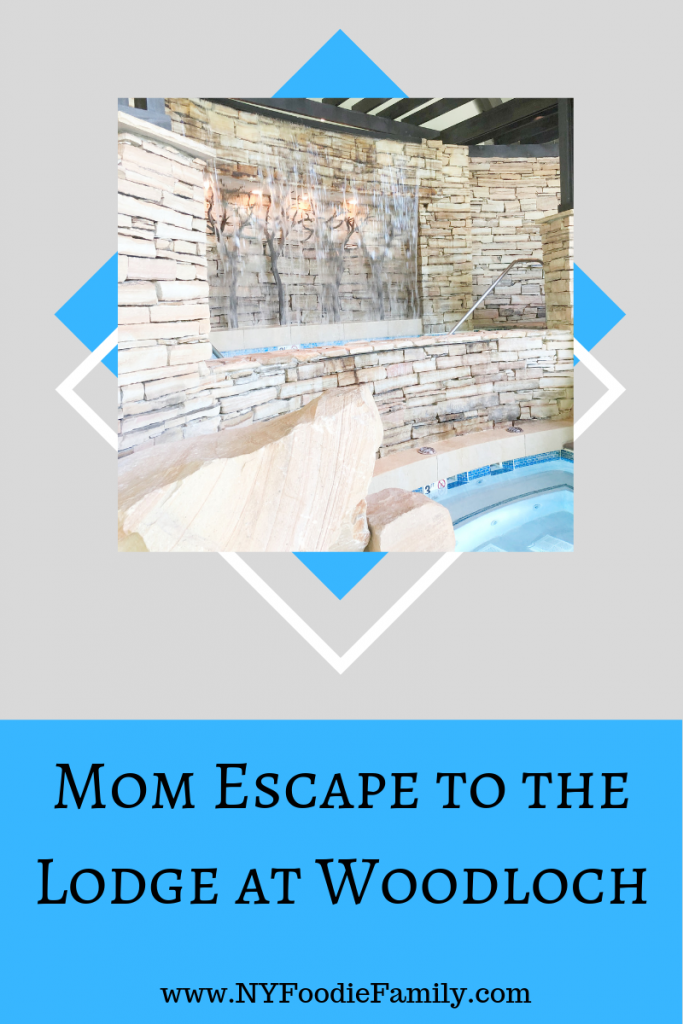 Crossing the state line into Pennsylvania, it's as if the sign knew what my trip's purpose was: "Welcome to Pennsylvania- Pursue Your Happiness" This solo mom escape was my very abbreviated, but much needed, respite from everyday life – my job, my kids and my husband. This was my time to focus on myself. For months, I'd been expressing to my husband that I needed to get away. "Go," he said, supportive of my needs.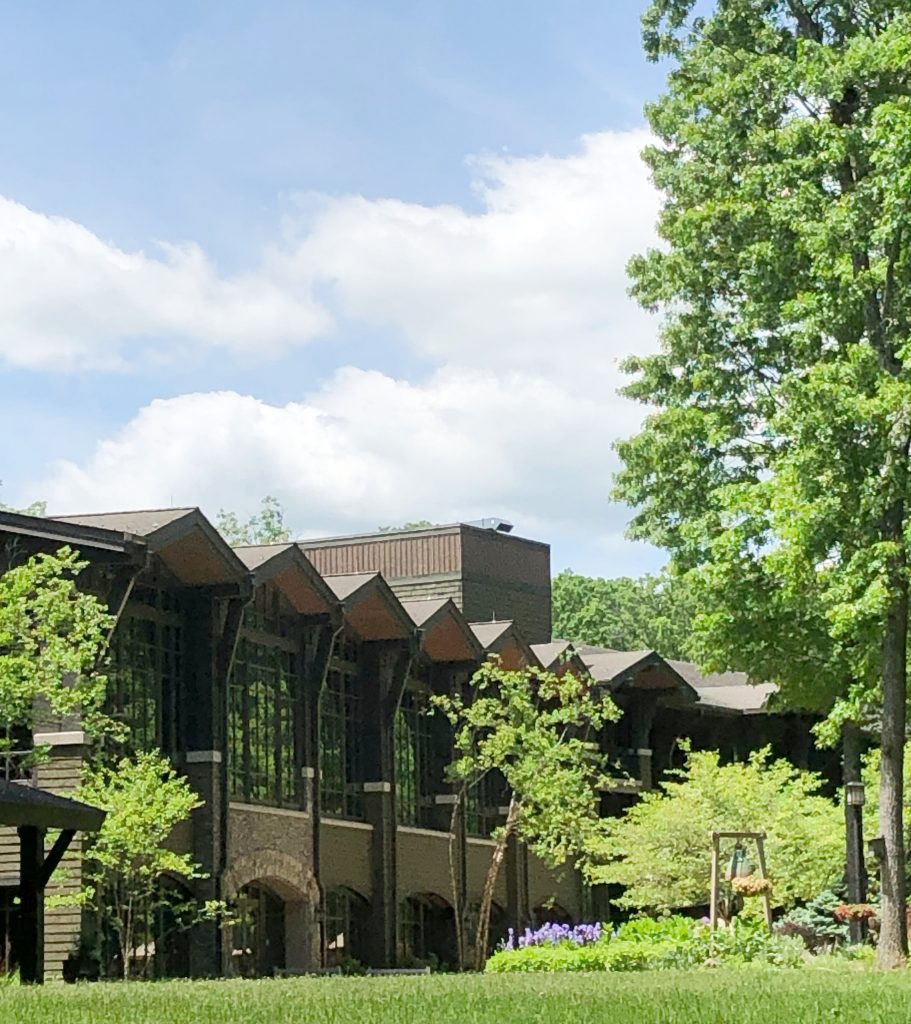 And so, after some research, I decided to visit the Lodge at Woodloch. The Lodge fit all of my requirements – a short driving distance from home, adults only, and a focus on health and wellness.
The Property:
The Lodge at Woodloch is located in Hawley, PA, less than a two hour drive from northern Westchester County. It is one of the three family-owned and operated Woodloch properties (the family-friendly, Woodloch Resort and the golf course community at Woodloch Springs are the other two) located on over 500 private acres.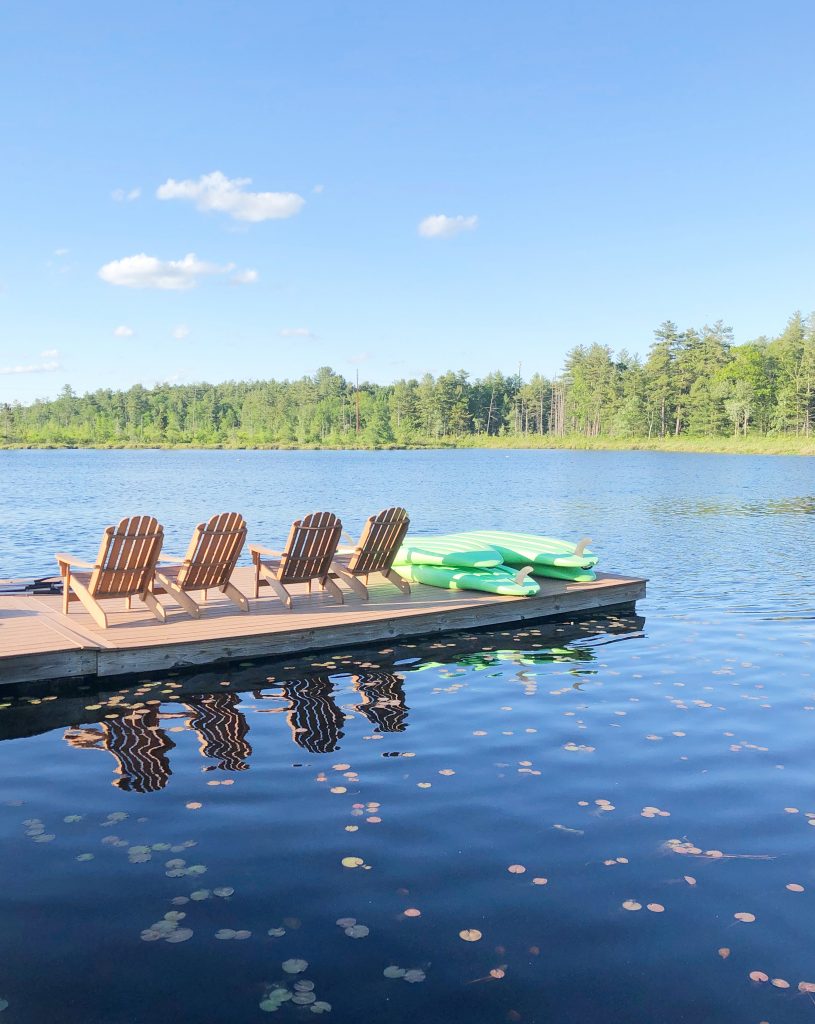 The property consists of the main Lodge as well as Little Lake Teedyuskung, a Cranberry Bog and lots of wooded forest. Blackmore Farm is walking distance from the Lodge and supplies some of the produce used in the restaurant.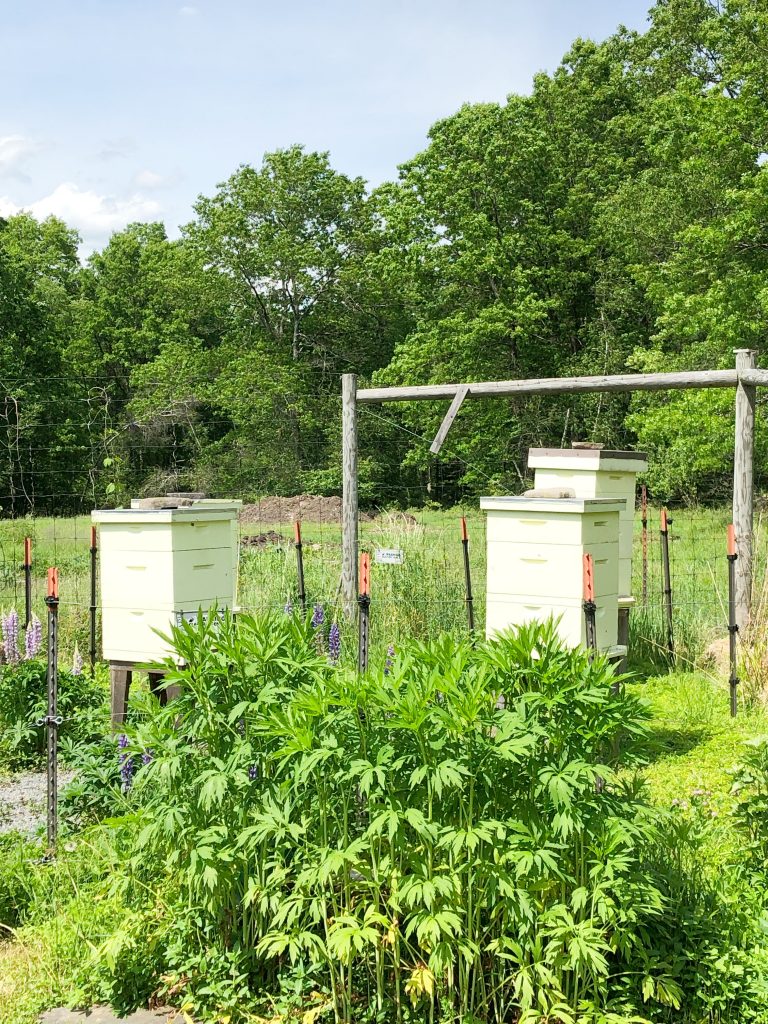 There are also functioning hives, with bees that help pollinate the garden and will eventually provide honey for spa treatments and the restaurant.
As I pulled up to the front gate, Robert was there with a huge smile and a warm and welcoming greeting. He checked my name off a list of incoming guests and directed me to the Lodge entrance. Once I arrived, the valet was there ready to take my bags and park my car. When I approached the front desk to check in, they greeted me by name and welcomed me with a
complimentary refillable water bottle, labeled with my name to avoid confusion with the other guests, and a tote bag. Every employee who I encountered during my visit was always friendly, helpful and had a warm smile.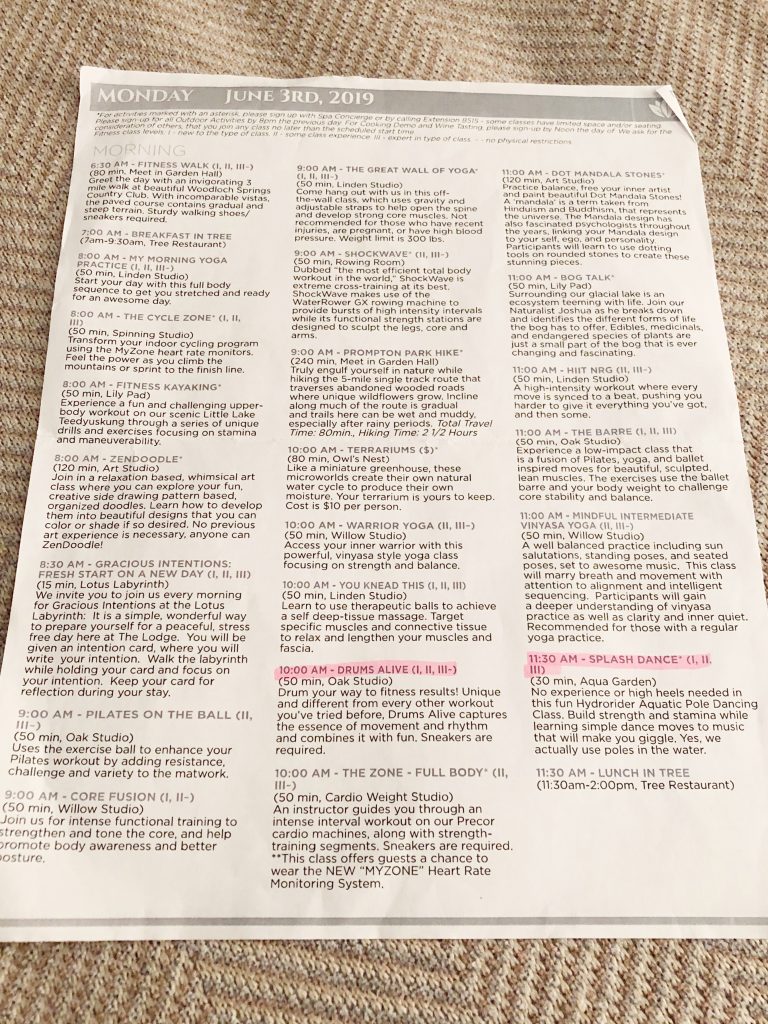 Activities:
The Lodge at Woodloch is an all-inclusive resort with meals and activities included. However, some of the art classes do have fees. What drew me to the Lodge was the variety of activities they offered. With a focus on mind, body and soul, there is something for everyone. The daily activity schedule is conspicuously posted all throughout the Lodge. However, I'm the personality type who printed out the activity schedules for each day of my stay and highlighted all of the activities that I wanted to do!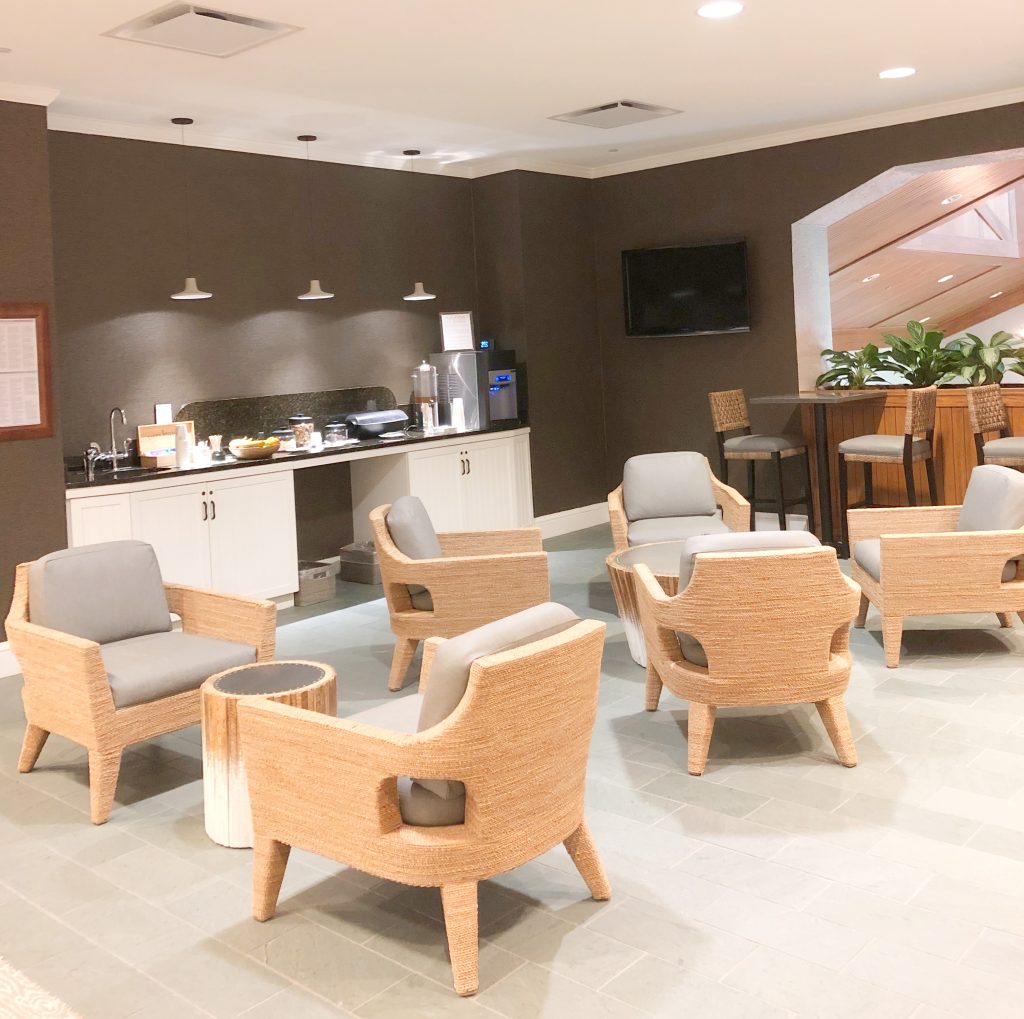 The third floor of the Lodge contains the three exercise studios (Oak, Linden and Willow) as well as a cardio gym, rowing room and sitting area with a snack and hydration station. One thing I noticed is that there is no shortage of quiet sitting areas. They are everywhere throughout the Lodge and Spa.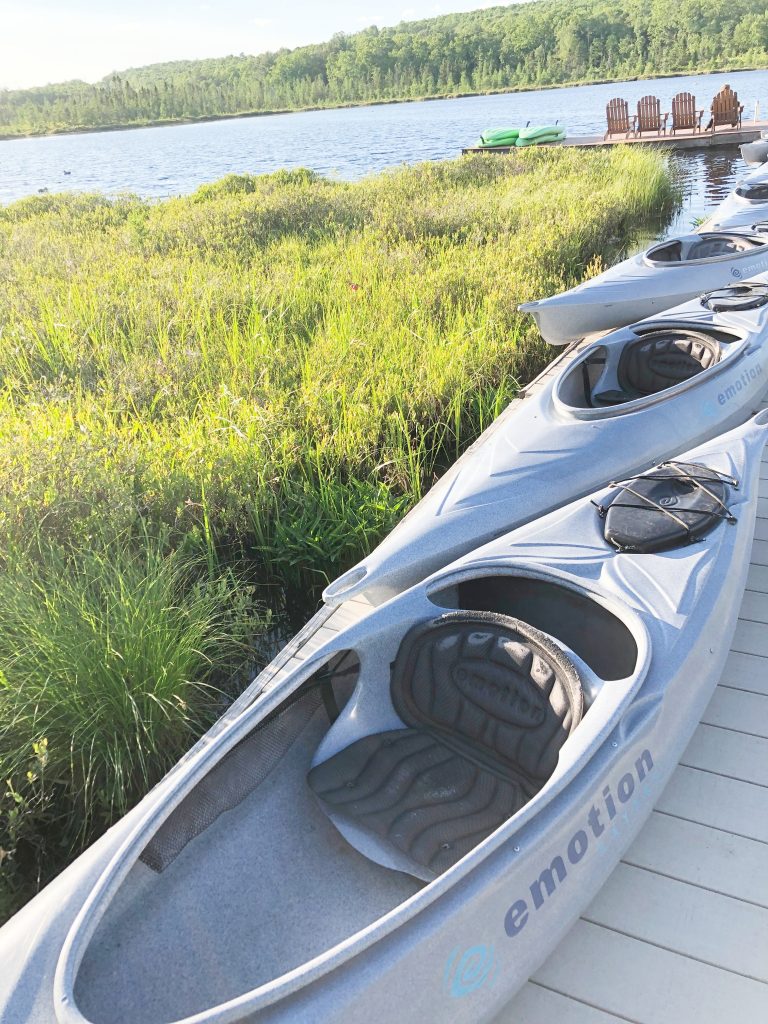 I wanted to take advantage of all of the different fitness classes they offered. The first day, I enjoyed Drums Alive with Ashley ,where we drummed to upbeat music using exercise balls placed in step risers. This was such a fun and energetic class. I took a Splash Dance class with Christy using weighted poles in the water and basically pole danced in the pool. I've never taken a pole dancing class, so I don't have anything to compare it to. It was, needless to say, another fun class. Later in the day, I took a Journaling for Self-Discovery Class with Susan, where I was given inspiration and resources to help me journal. I ended my evening with an after-dinner evening kayak ride with Ryan.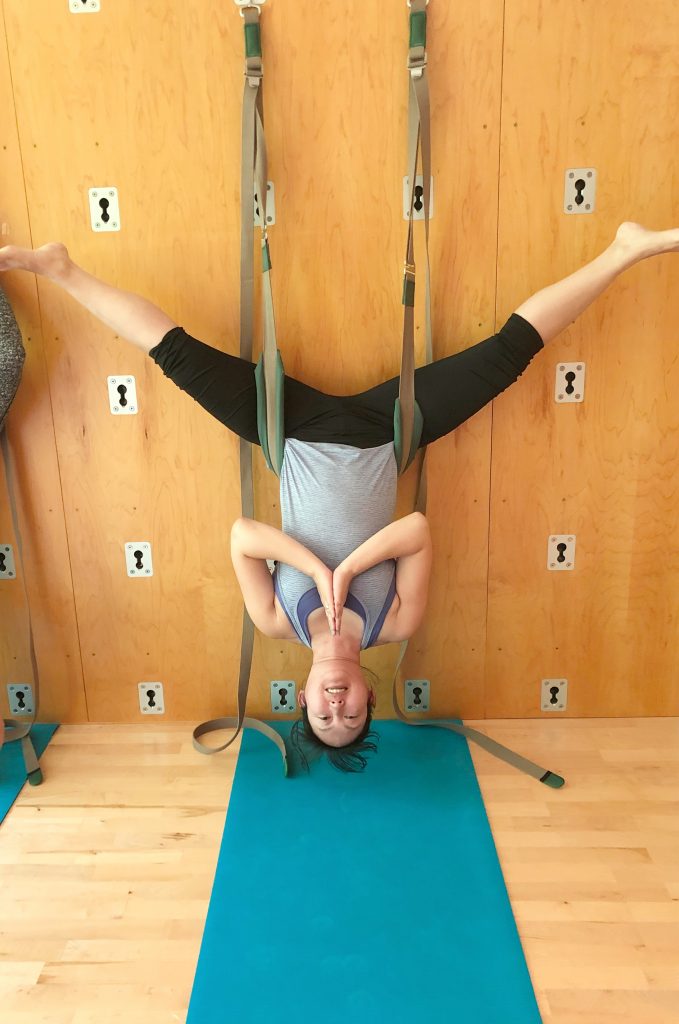 I started the second day with an 8 AM Chakra Meditation class with Alicia. One of my goals this year was to start meditating. I'm hoping this class helps inspire me to start my journey. Next, I took a Barre class with Retta. I've taken barre classes before so knew what I was getting myself into! Right after that, I took a Tower Power Class with Alicia. This is a Pilates class using a Tower (an apparatus attached to the wall). While I've taken Pilates classes before, I had never taken a Tower class. I really liked it and felt movements were more controlled using the resistance springs. Immediately after, I took my final fitness class of the day: the Great Wall of Yoga, again with Alicia. I really enjoy yoga and have taken classes at my local gym and have practiced at home. Using adjustable straps in this class took it to the next level, as I was practicing yoga while literally hanging off the wall! In the afternoon, I took The Ritual of Tea class, as I've started drinking more tea, especially in the evening.
I didn't take any of the "Creative Discovery" classes during my stay. It's not because I didn't want to. I just didn't have enough time. Many of the classes they offered were two hours. During my visit, classes included Zendoodle, terrarium building, Dot Mandala Stones, Pebble Art, Patchwork Painting, Basic Calligraphy and Decorative Lettering, Decorative Birdhouses and more. Most art classes had a nominal $10 fee.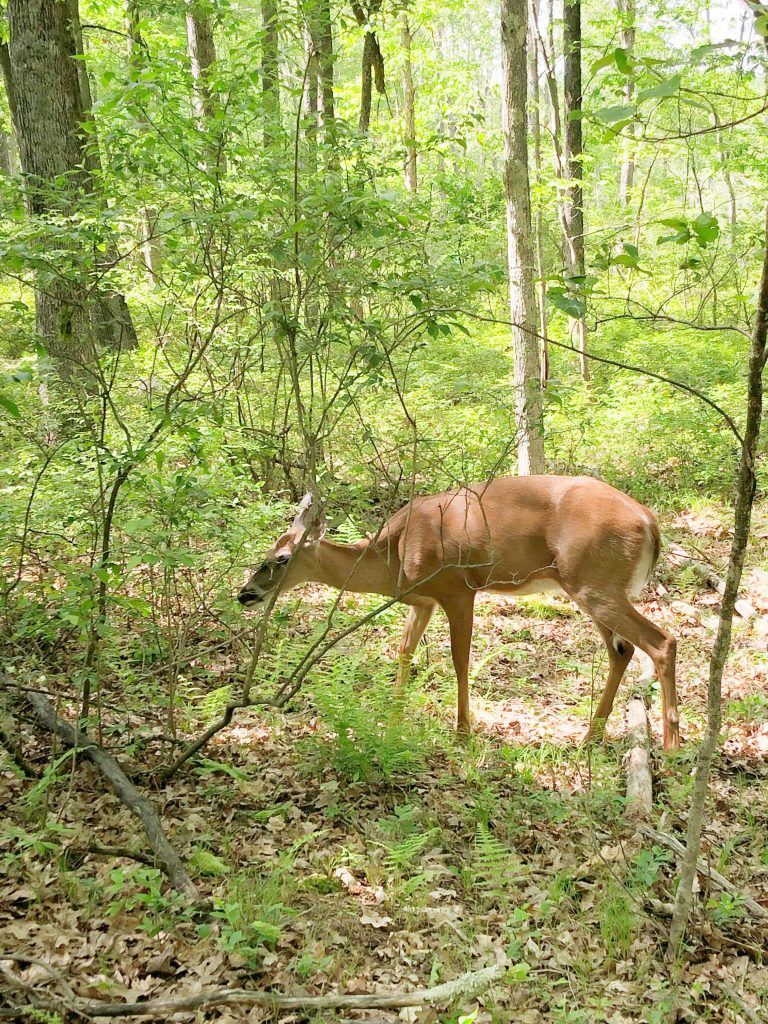 For those drawn to nature, there are many outdoor activities including guided hikes, Bog Talk, Basics of Birding, Forest Bathing, Basics of Mountain Biking, Forest Yoga, Garden Tour, Tenkara (a Japanese style of fly fishing) and more. As you can see, there is plenty of wildlife in the woods. On a short walk around the property I saw three deer and was able to get pretty close to them! There is also an archery range and an outdoor exploration center called The Lily Pad that has kayaks, stand-up paddle boards and more.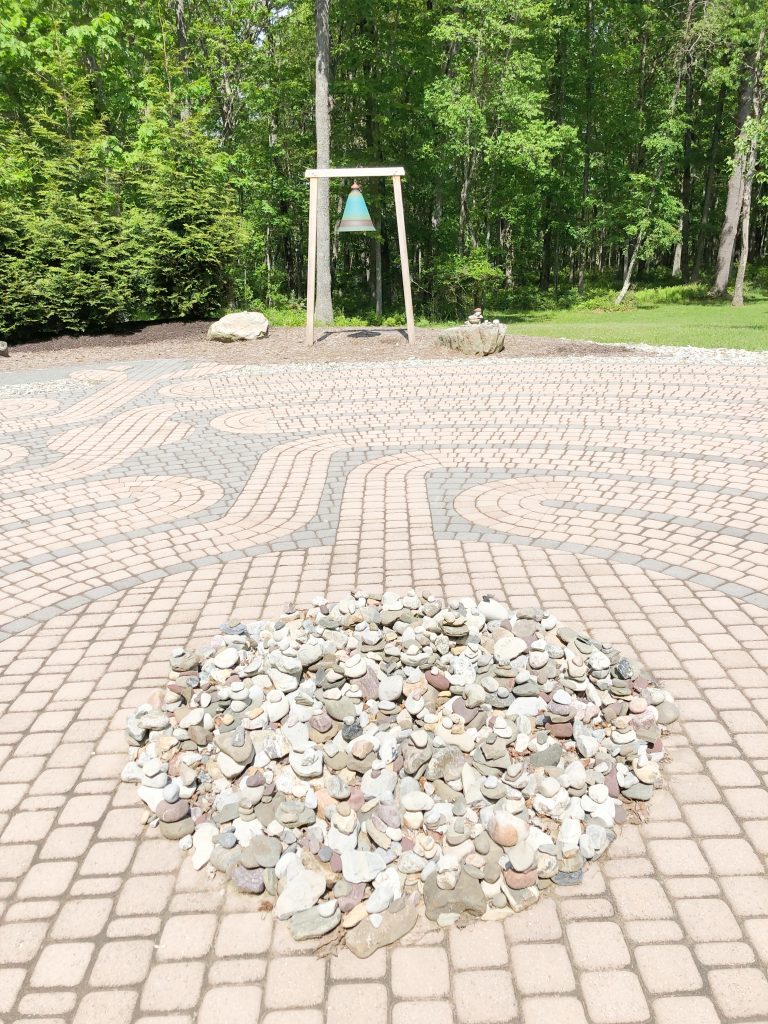 There is also a Lotus Labyrinth on the property. This is a peaceful place for meditation and quiet reflection.
Every instructor was friendly, encouraging and patient, whether there were two people in the class or 15. They were also all very punctual: starting class on time and ending promptly so you had enough time to get to your next activity.
The Spa: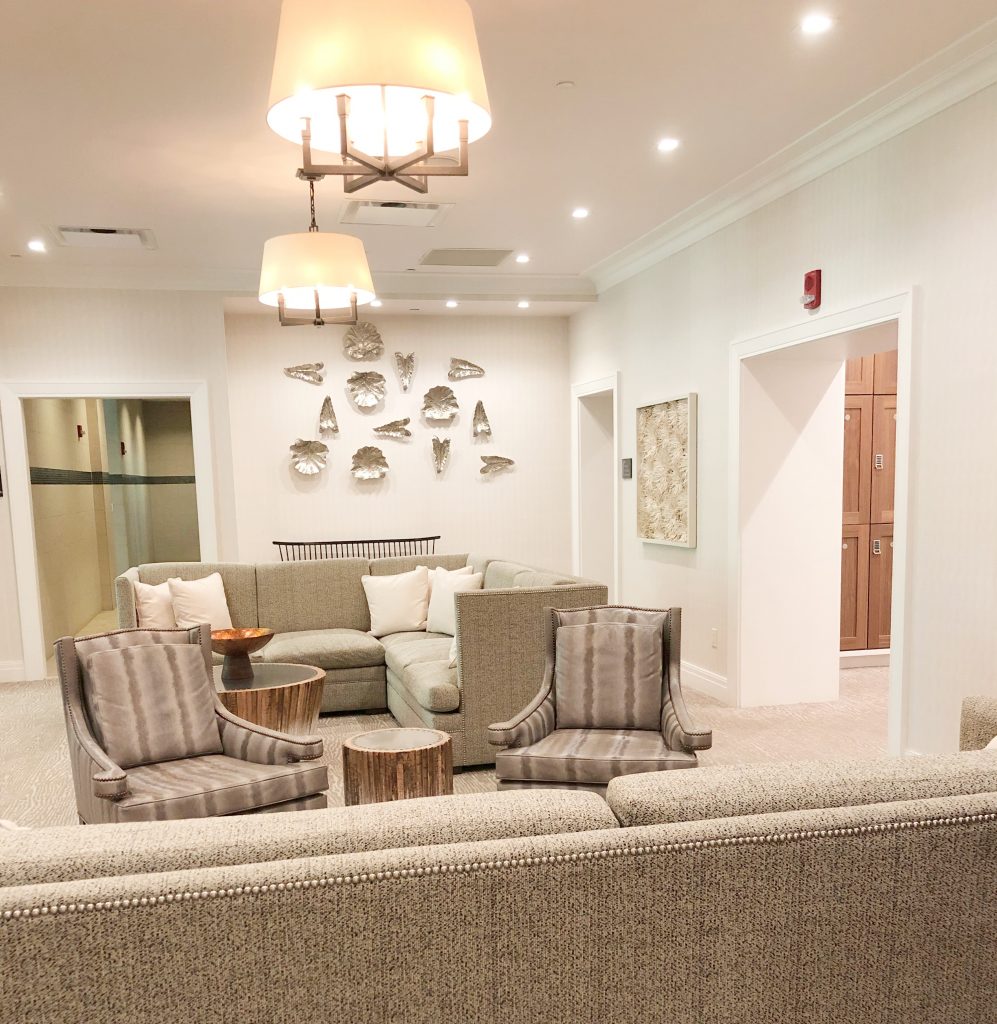 The spa has separate women's and men's retreats that include showers and changing rooms, saunas, steam rooms and whirlpools. There are also a couple of different sitting areas in the spa as well.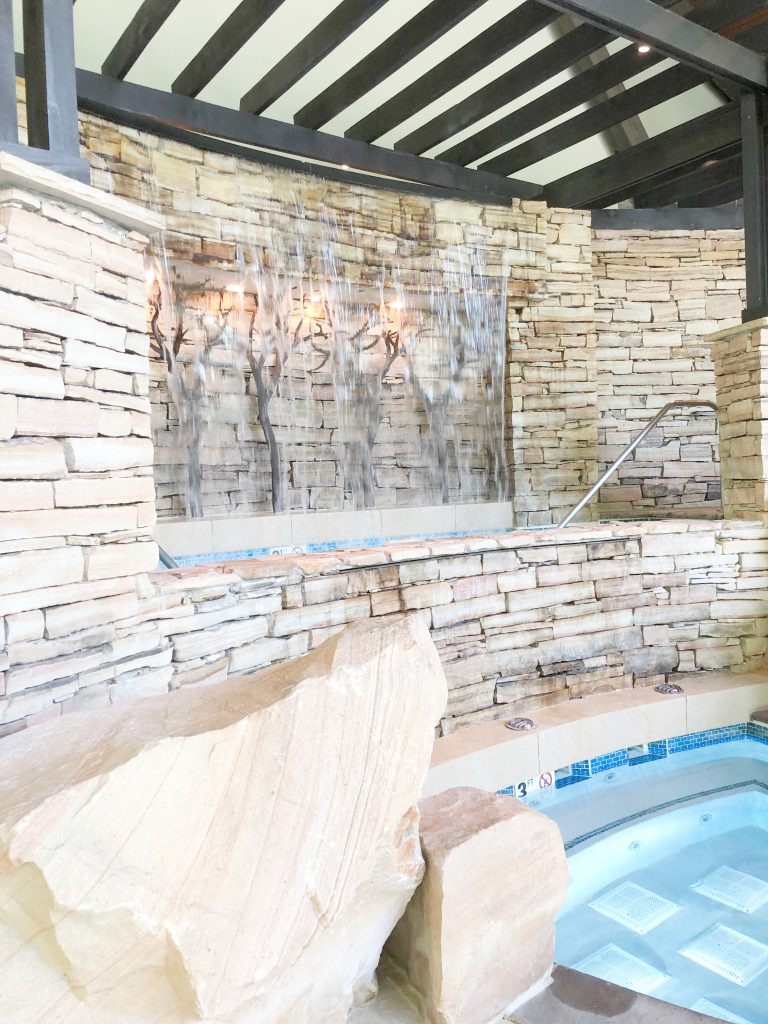 The Aqua Garden has an indoor pool where the aqua fitness classes are held. However, the most remarkable features of the Aqua Garden are the two heated soaking pools with HydroMassage Waterwalls. I might have spent the majority of my spa time here! There is also an outdoor whirlpool which is open year-round. The changing room has walls of digital lockers. Inside each locker is a fluffy spa robe. At the spa desk you can request a pair of sandals. It was nice to be able to store my things while I was at my spa treatment and the Aqua Gardens and not have to worry about carrying a key.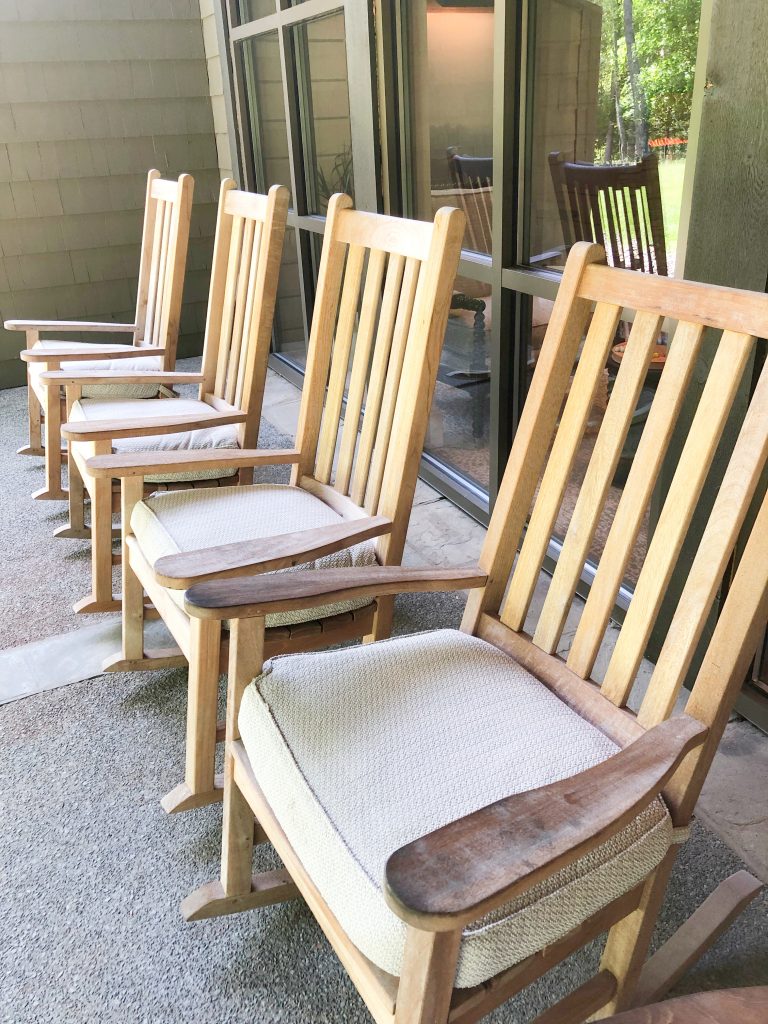 The treatment rooms are in the downstairs area of the spa, as well as the co-ed Whisper Lounge which includes an outdoor porch and rocking chairs. Relaxation and comfortable seating are the big focus here!

Prior to my visit, I booked the Rosemary Awakening, the spa's signature treatment. The treatment starts with a rosemary and mint body polish (exfoliating scrub). A quick shower is followed by a full body massage with shea butter and essential oils. The treatment ends with a scalp massage and a foot massage. Amy, my massage therapist was great. She explained each step of the treatment and checked in to make sure I was enjoying myself. Even though I was completely unclothed for the treatment, she was so adept in draping the towels and sheets that I was never exposed or uncomfortable. Needless to say, this treatment was AMAZING and left me feeling so relaxed.
If full body treatments aren't your thing, the spa offers facials, massages, sleep treatments, FLOAT therapy and more. You can also visit the Lotus Salon for hair cuts and styling, or to get a manicure or pedicure.
The Accommodations: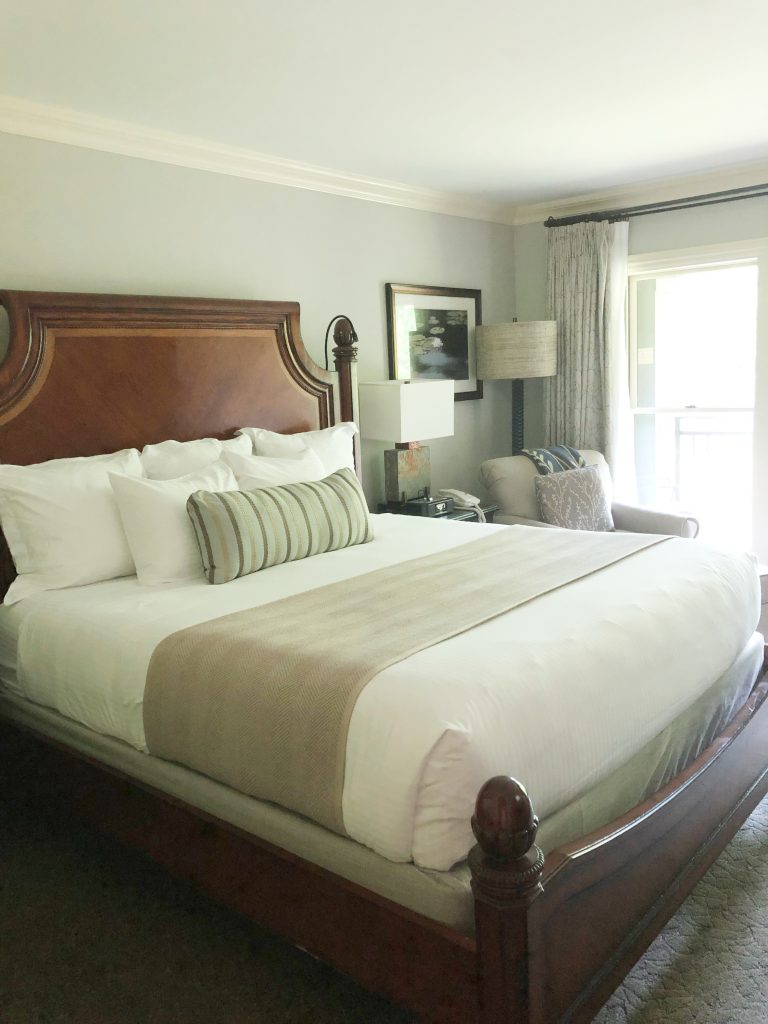 I stayed in room 322 during my visit. The room is a Veranda Classic Standard with a King bed. There is a large flat-panel TV and a mini refrigerator. There is also a comfy chair and a rocking chair in the room (again, plenty of cozy seating!). The room also has a desk with a salt lamp on it, which I thought was a nice touch. The bathroom has double sinks, a marble walk-in shower and a private toilet.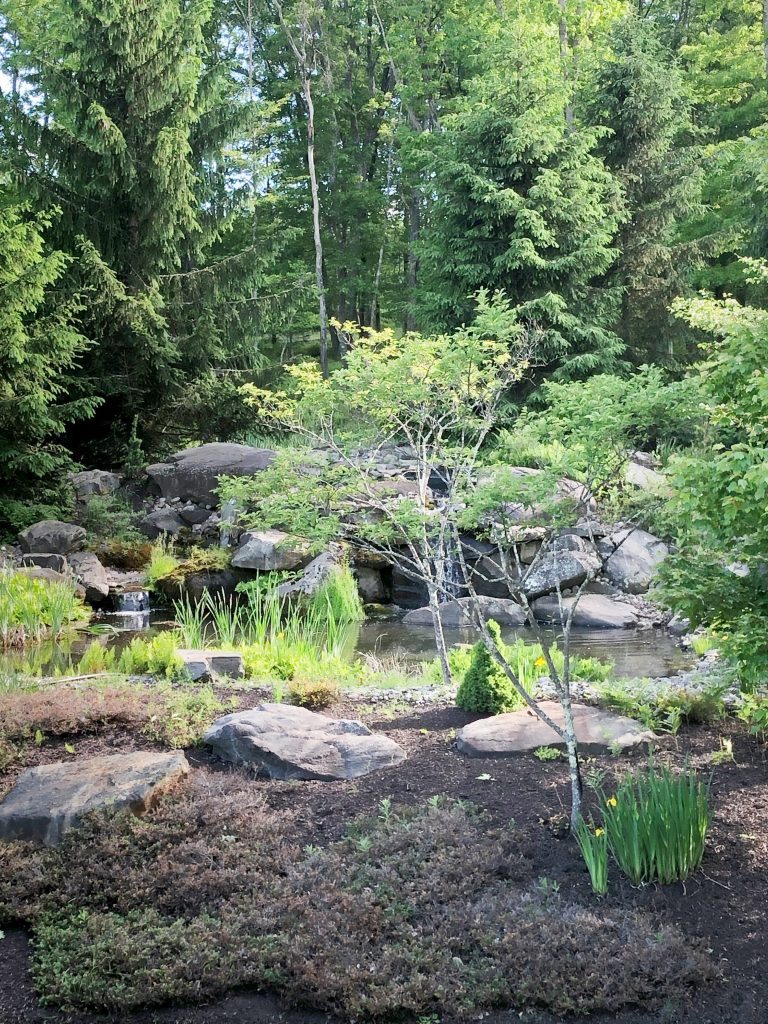 The best thing about this room was the private veranda with this view! During the day I kept the veranda doors open and enjoyed listening to the rock garden waterfalls. I woke early and enjoyed drinking my morning coffee on the veranda while I read my book. This was extra special quiet mom time!

The Food: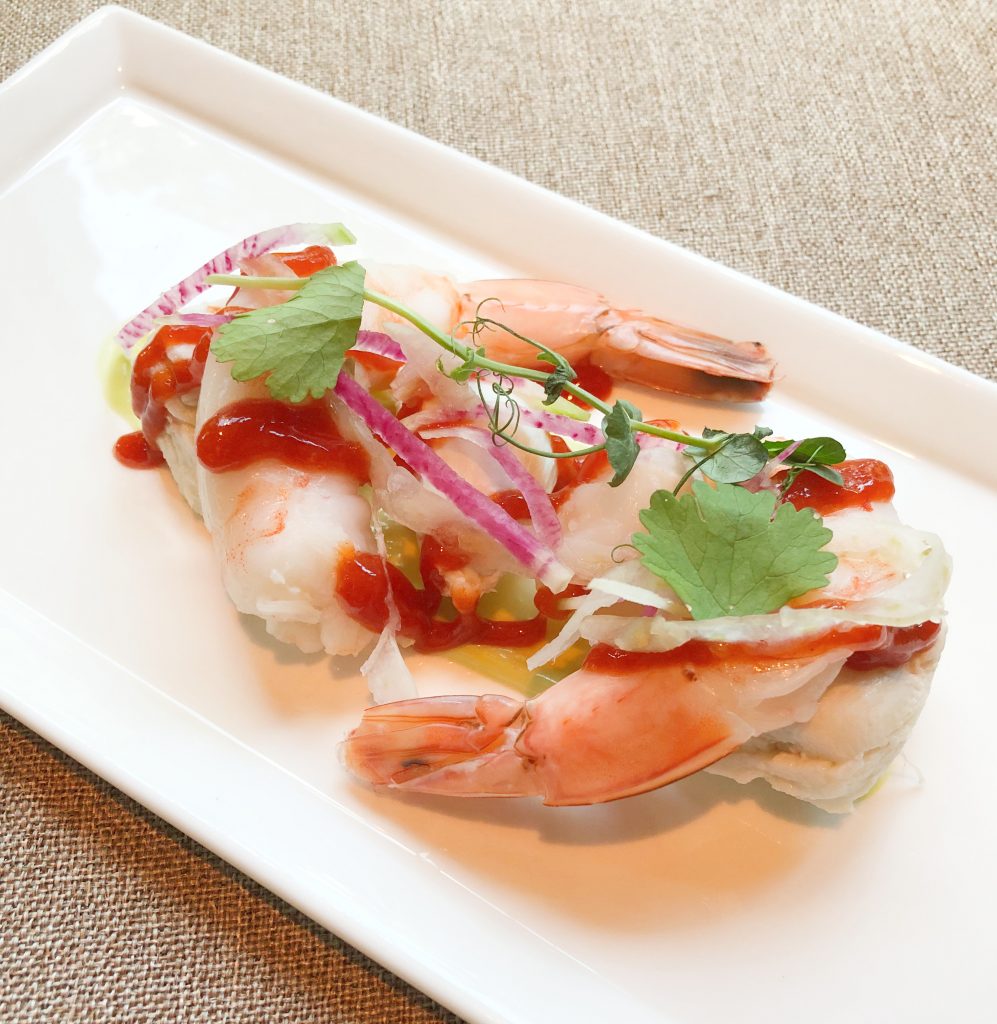 Executive Chef Josh Tomson, graduate of the French Culinary Institute in NYC, leads the dining team. He incorporates farm-to-table dining into the menus and tries to use local products, including produce from the onsite Blackmore Farm, whenever possible. All meals are served in Tree, the onsite restaurant.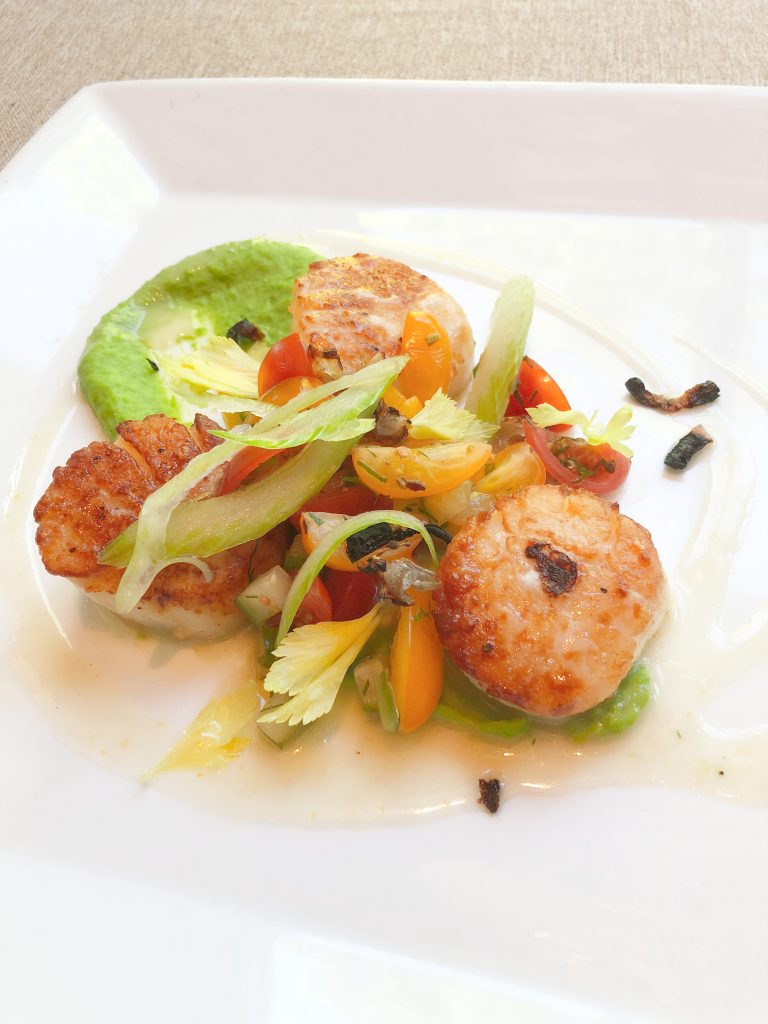 Three meals are included in the price for each night of your stay, (dinner on the day of your arrival and breakfast and lunch the next day). There are menus for each meal where you can choose from several different options. Each selection is labeled as to whether it is vegan, vegetarian, gluten-friendly or contains nuts. Many of the items can also be made gluten-friendly or vegan upon request. They have daily specials at each meal as well. Dinner starts with an amuse bouche and then includes an appetizer, salad, main course and dessert. My dinner started with a chilled strawberry soup amuse bouche, then I chose the Colossal Crab and Shrimp Cocktail, the Signature Salad and the Seared Scallops with a Green Pea Puree. For dessert, I had that night's special: a Skillet Cookie topped with Vanilla Gelato and Chocolate Sauce.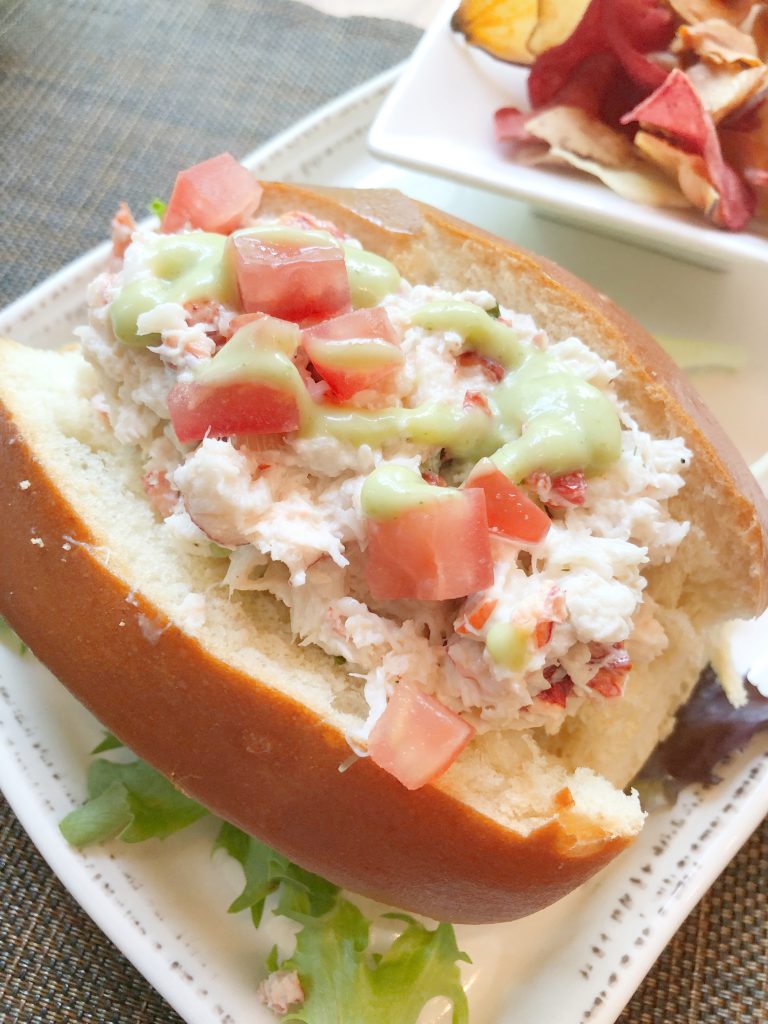 For breakfast the next day, I enjoyed an Open Faced Mushroom Omelet and some fresh fruit from the buffet. The buffet also had a yogurt and oatmeal bar, as well as a variety of baked goods and even a frittata. For lunch, I ordered the Lobster & Crab Roll, which, according to my waitress, is one of their most popular dishes. I had a small bowl of Potato Leek Soup and made a salad from the salad bar.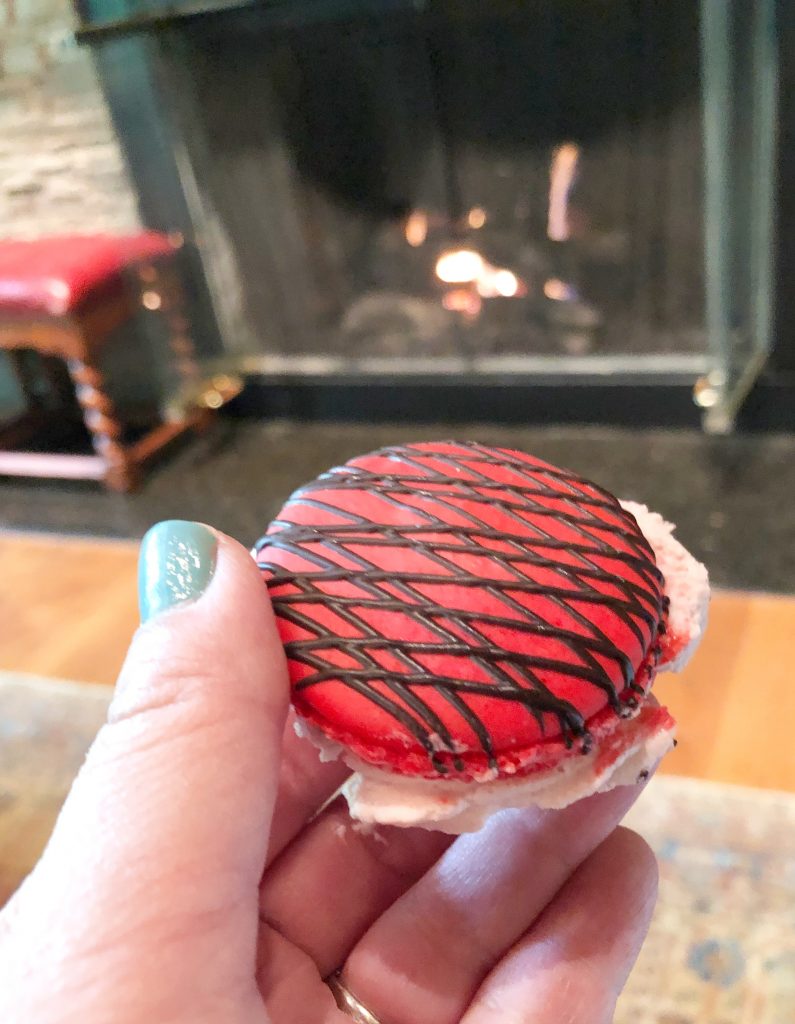 As a self-proclaimed foodie, I thought the food was quite good. The presentation was beautiful. Portions aren't huge, but they are satisfying. All of my seafood dishes were excellent. At lunch and dinner there were several options that looked good and I wished my husband was there so we could share dishes! I found dessert and the sweets offered at the snack bar to be so-so.
I have to admit, eating was the only time during my stay that I felt awkward visiting by myself. I don't think that I've ever previously dined alone in a restaurant setting. I brought my notebook to take notes of my visit and a book and I was okay, but it did feel a little uncomfortable. If you prefer, room-service is available for a small fee.
During my stay, the majority of the guests were women; either groups of friends or mothers and daughters. My daughter is still a couple of years short of being old enough to visit, but I can see us visiting the Lodge together. In the meantime, my husband will hopefully accompany me on my next trip here!
If you are looking for a mom escape, I highly recommend visiting the Lodge at Woodloch. Whether you choose to visit solo, like I did, or with a group of friends, your stay here will be super relaxing and fun…everything you need to rest and rejuvenate yourself before returning to reality.

(To see lots more pictures of my visit, please check out my Lodge @ Woodloch Instastories! I received a media rate for my stay as well as a complimentary spa service to facilitate my review. As always, all opinions are my own.)
The Details:
The Lodge at Woodloch
109 River Birch Lane
Hawley, PA 18428
(570) 685-8500

Check-In Time: 4:00 PM
Check-Out Time: 12 Noon
However, you can participate in the classes and activities and/or make spa appointments earlier/later than the check-in and check-out times. Luggage can be stored in the bell hop closet until your room is ready or you are ready to leave.

*This resort is for individuals ages 16 and older.

*It is recommended that spa treatments be booked in advance. They do book up quickly.

*Activities on the schedule marked with an asterisk (*) have limited space and require guests to sign up in advance with the spa concierge. Please be courteous and call the spa concierge to cancel an activity or class that you signed up for but are unable to attend.

* Dinner is served from 5:30 PM – 8:30 PM but reservations are required. Casual dress is recommended. While resort bathrobes and/or workout attire can be worn in the dining room for breakfast and lunch, it is not permitted at dinner.

*Alcohol is available during meals at an additional cost.

*The Lodge encourages guests to unplug. Cell phone use is not allowed in public areas.

*Gratuities are included in your package rate. However, I did leave a cash tip for housekeeping and the valet.

*Check out their website for specials and deals.