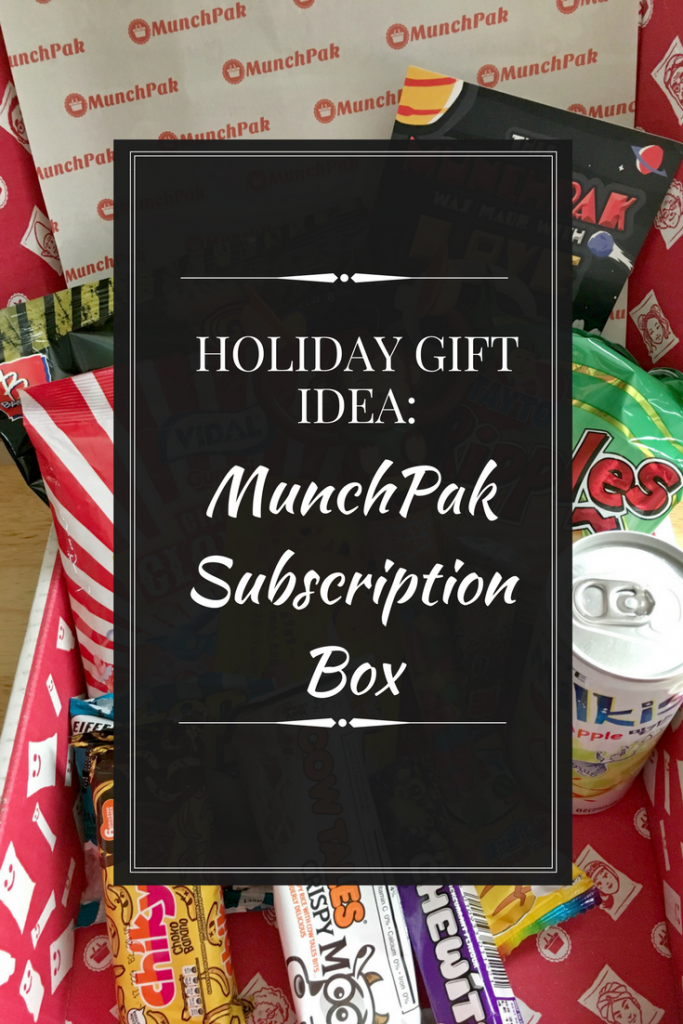 (This post contains affiliate links. Thank you for supporting this blog.)
The holidays are quickly approaching.  Are you like me and frantically trying to figure out what to get everyone on your list?  Do you have some hard to shop for people?  The ones who don't seem to need anything?  Or, you don't want to get people "stuff" that they don't really need.  How about giving a MunchPak subscription box? My whole family loves when this box arrives. We enjoy sampling the snacks over a couple of weekends throughout the month and discussing which ones are our favorites.
Inside each MunchPak box is a selection of international snacks from around the world.  The snack selection includes candy, cookies, chips and depending on what box size you choose, even drinks.  What's even better is you can decide how frequently you or your gift recipient receives each snack box.  You can choose from 5+, 10+ or 20+ snacks per box.  Then you decide how long of a subscription you want to send.  Do you want to give a one time box or send a box for 3, 6, or 12 months? If you prefer that your recipient chooses which box they'd like, you can send a gift card instead. Bookmark this post, because on Cyber Monday (November 27), you can save 50% off a MunchPak subscription! Otherwise, you can save 25% off subscriptions the rest of the week.  Regular price subscriptions start at just $9.95 depending on which box you order!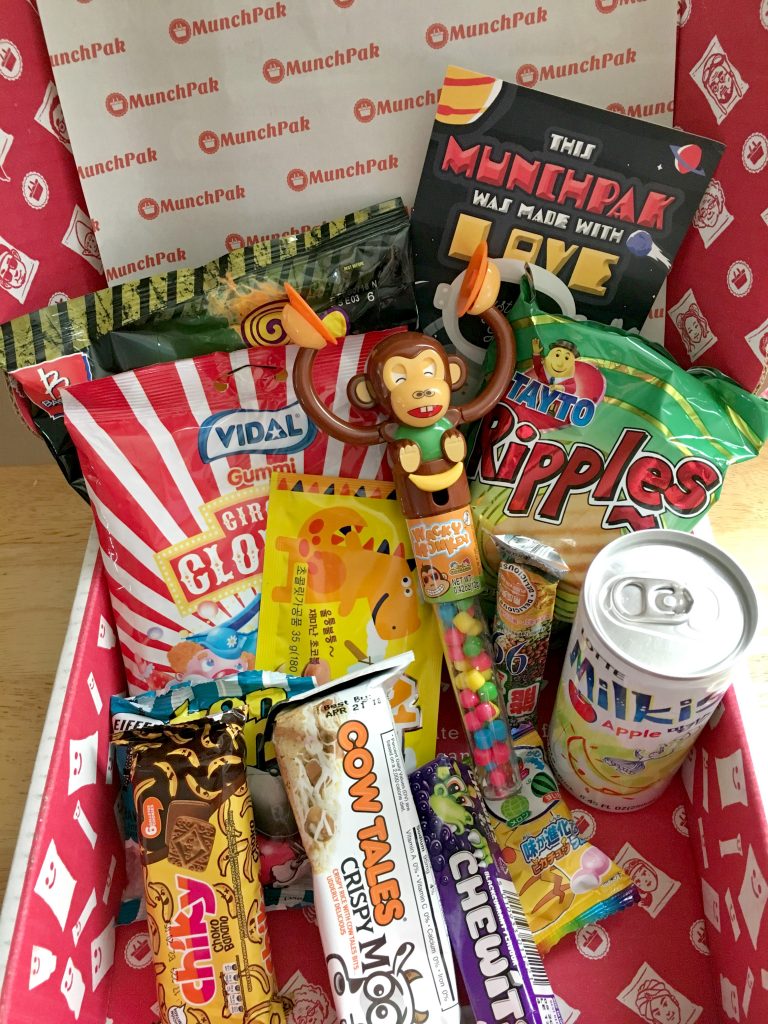 Are you wondering what comes in this box?  Like I mentioned, there's a variety of different types of snacks.  You will receive chips, cookies and candy.  The snacks will come from all different countries from around the world.  Although there is not a card included to tell you where the different snacks come from, they do have an app that allows you to scan the UPC code and find out more.  Many of the products have the country of origin right on the label.  Otherwise, I visit the MunchPak site and search the shop to find out more info.  Curious to see what a box looks like?  Here is a review of our most recent MunchPak box!  Inside our November box was: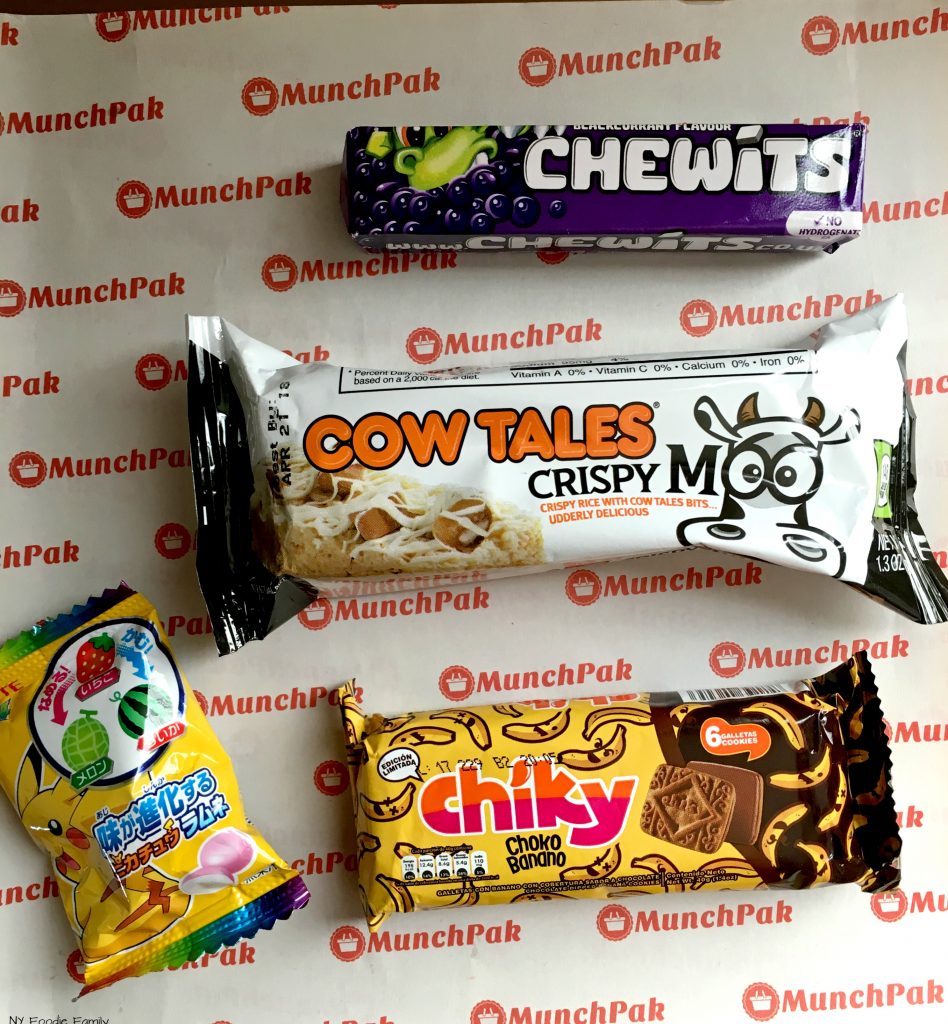 Chewits (Blackcurrant) – (Candy from United Kingdom) Our box had the blackcurrant flavor of Chewits.  This is a candy from the United Kingdom.  The squares are individually wrapped.  They start out hard but as you suck on them, they get soft and chewy.  The blackcurrant flavor reminded me of a berry/grape flavor.
Cow Tales Crispy Moo Bar – (Candy from United States)  I had previously heard of the Cow Tales brand of candy before receiving this box.  My daughter had even gotten a Cow Tales candy trick-or-treating on Halloween.  This is a crispy rice bar with marshmallows.  It's very similar to a Rice Krispy treat with little caramel bits on top.
Chiky Choko Banana Cookies – (Cookie from Costa Rica)  These are banana cookies with a bottom layer of chocolate.  The banana flavor was very faint.  Six cookies came in the package.
Lotte Pikachu Ramune – (Candy from Japan)  The packaging of this candy appealed to my Pickachu-loving son.  Inside are pink balls of candy.  They have a strawberry flavor on the outside and as you suck on it, the texture and flavor changes.  We found the flavor to get sour and then grainy with a banana flavor.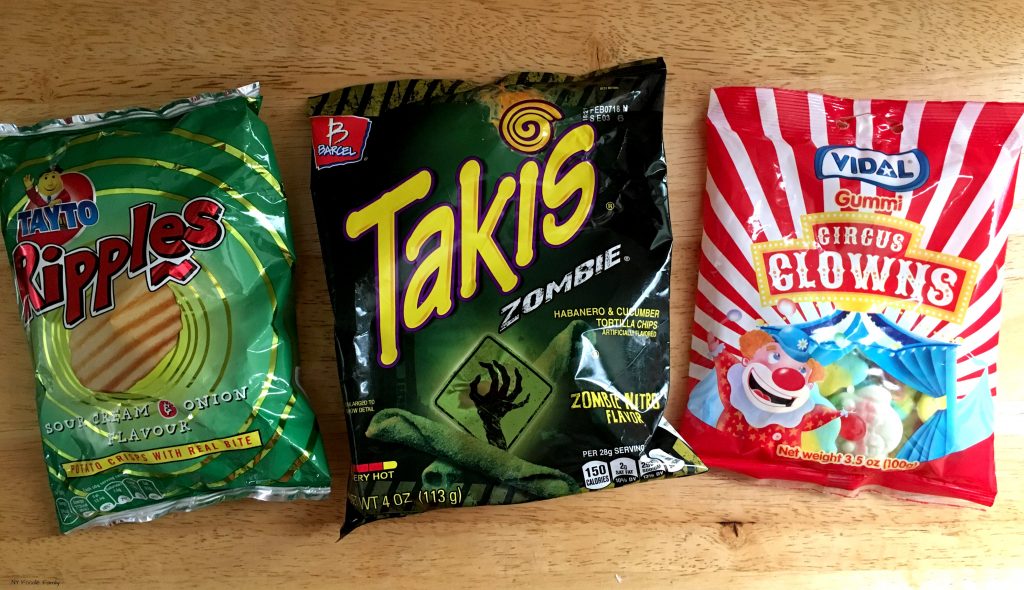 Tayto Ripples (Sour Cream and Onion Flavor) – (Chips from Ireland) These are Ireland's take on sour cream and onion potato chips.  They were nice and crisp with a light sour cream and onion flavor.
Takis Zombie Habanero and Cucumber Tortilla Chips – (Chips from Mexico) These are a seasonal chip produced by Takis.  I personally wasn't a fan of the habanero and cucumber flavor combo.  I found them to be hot and sour.  However, my husband really enjoyed these.  He thought the green coloring was unnecessary though.
Vidal Gummi Circus Clowns – (Candy from Spain) Our family loves gummy candy.  These clowns come in different colors but are all cotton candy-flavored with a cherry-flavored nose.  I found these gummies to be a bit hard and on the chewier side.  I couldn't really discern the cotton candy flavor.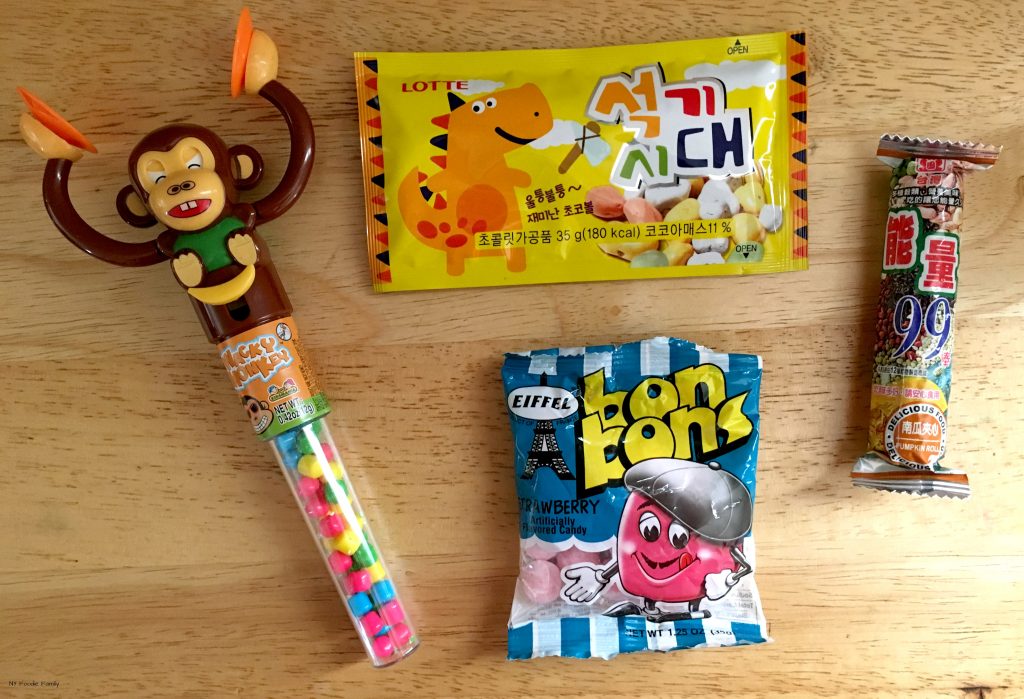 Lotte Stone Age Chocolate – (Candy from South Korea)  These are different colored candy covered chocolate eggs.
Kidsmania Wacky Monkey – (Candy from Mexico) This was also a super fun candy.  The package has a monkey that claps its cymbals together with the push of a button.  Yes, my son kept the monkey after we finished the candy! The candies are multi-colored, crunchy, sweet bites similar to a SweeTart flavor.
Eiffel Bonbons (Strawberry) – (Candy from France) This candy comes in several different flavors, but we received strawberry.  These have a powdery coating on the outside and are chewy strawberry-flavored balls.
Pei Tien Energy 99 Sticks (Pumpkin Roll) – (Snack from Taiwan) I wasn't sure how to classify this snack.  It's not really a chip, cookie or candy.  The outer shell looks and tastes like a puffy cheese doodle without the orange powder or cheese taste.  Inside is a sweet filling, that you couldn't tell was pumpkin flavored unless you saw the package.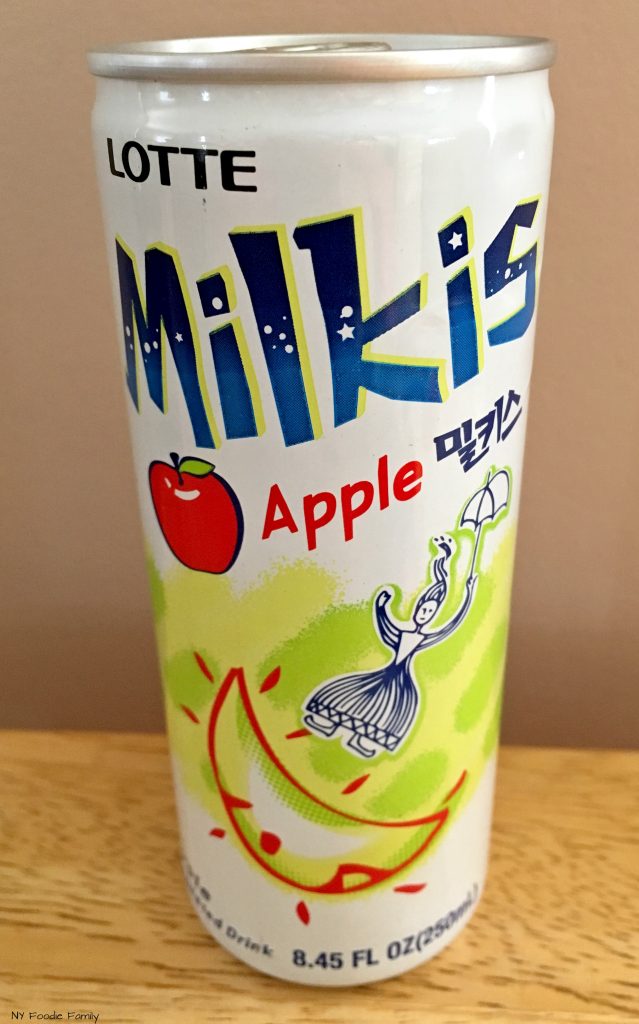 Lotte Milkis Apple Soda – (drink from South Korea) This is a new flavor of Milkis sodas.  Its a creamy bubbly apple juice that tastes extra sweet.
Every box is a surprise of snacks.  This subscription box is a lot of fun and a perfect gift for any foodie or snack lover on your holiday shopping list!