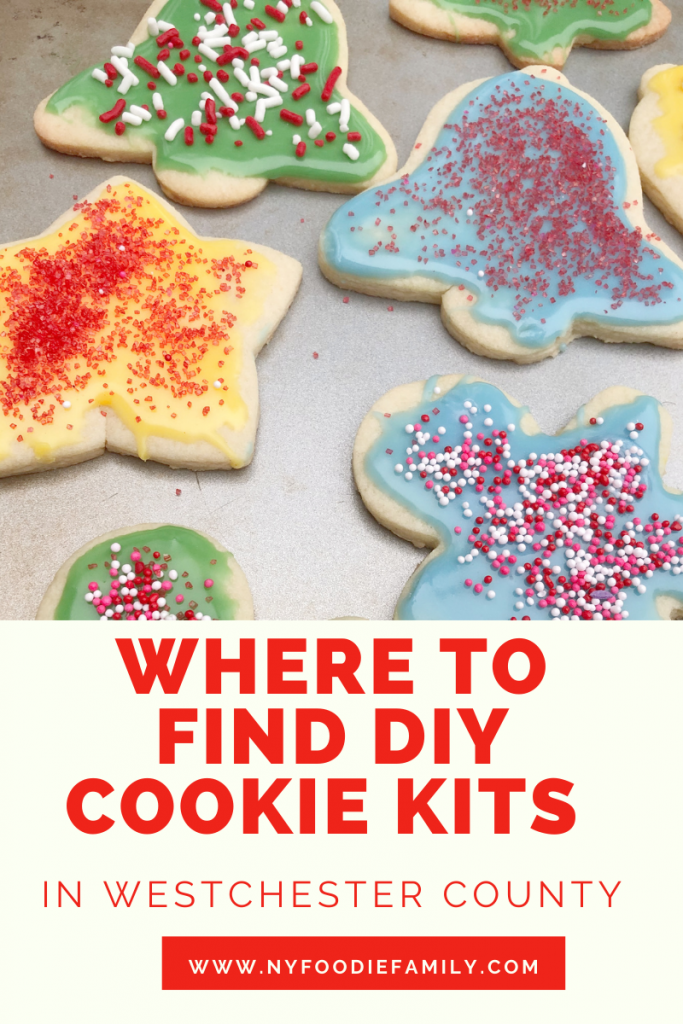 Cookie decorating is a fun, indoor holiday activity! It keeps the kids entertained and you end up with a tasty treat to enjoy! I am fortunate that my kids are old enough to help make sugar cookies which we recently did. However, making the cookie dough and then letting it chill, baking the cookies, making the icing and then finally getting to decorate the cookies takes a lot of time!
Here are some of the places in Westchester County where you can purchase DIY holiday cookie decorating kits. Everything is prepped, packaged and ready so you can immediately get to the fun part, decorating! Most of these businesses require you to preorder the kits. If you want them in time to do with the kids over the holiday break, get your orders in soon!
*Please check with the vendor directly for the most up-to-date prices and information.
Flour and Sun Bakery: (Pleasantville) Kits cost $15.00 and include 6 cookies (2 different shapes) with 2 tubs of royal icing and sprinkles.


Flowerbake by Angela: (Pelham) Flowerbake by Angela sells puzzle cookie decorating kits. You can purchase a baked cookie kit which includes an instruction sheet as well as all the cookies and icing, a dough kit – which includes a ball of cookie dough, cookie cutters, icing, parchment paper and instruction sheet or a cookie dough mix kit – which includes the sugar cookie mix, cookie cutters, icing, parchment paper and instruction sheet. Prices range between $35=$38. Available for pickup or delivery.
Mama Ingram Bakes: DIY Christmas cookie kits – $15 for 6 cookies or $30 for 12 cookies. Kits include cookies, icing and sprinkles.

Sugar Mama by Kim: (New Rochelle)
Kim sells DIY cookie kits that include 12 cookies, 3 bags of icing, a container of sprinkles and decorations for $35. She also sells Paint Your Own cookie kits. Each cookie is $6 each or 6 for $30. Orders are submitted via a form that can be found on her Facebook page.
Sugar & Sweets by Stacey (Yonkers)
Sugar & Sweets by Stacey is selling Winter themed cookie kits. They are $39 and includes 12 cookies, 3 icings, 6 popsicle sticks and 2-3 containers of sprinkles. There are 4 different themed kits to choose from: gingerbread men and women, snowflakes and snowmen, mittens, hats and penguins and ugly sweaters. They are also selling stencil cookie kits for $33. These kits include 6 cookies and 3 paint brushes. Orders can be picked up in Yonkers or delivered.
Wildly Cakes: (White Plains) Cookie kits are $35 and include 12 baked cookies in the shape of your choice, frosting to match the theme, sprinkles and directions. Orders must be placed one week in advance. Pickup in White Plains. Delivery is available for an additional fee on a first come, first serve basis.