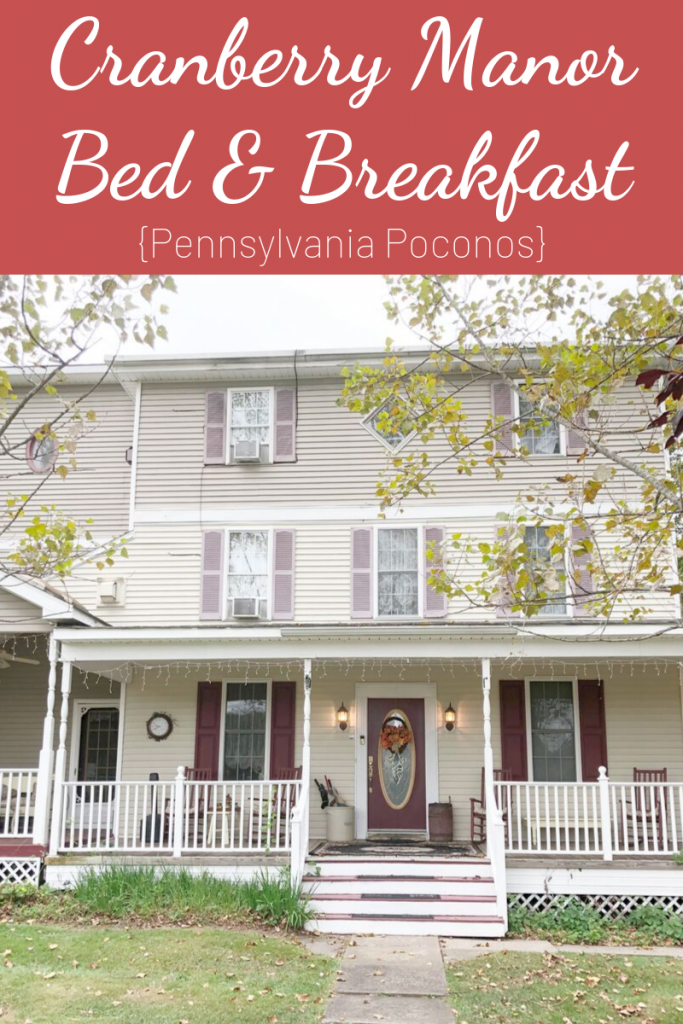 Dana and I are fairly new to the bed and breakfast scene. Besides our recent visit to Cranberry Manor, the only other bed and breakfast that we visited was a couple of years ago when he turned 40. When my 40th arrived last month, I decided that I also wanted to go to a B&B to celebrate my birthday. After a little research, we decided to stay at the Cranberry Manor Bed and Breakfast in the Poconos. It's roughly a two hour drive from northern Westchester County, a perfect distance for a one night stay. Plus, all of the reviews I read were very positive.
Why a bed and breakfast?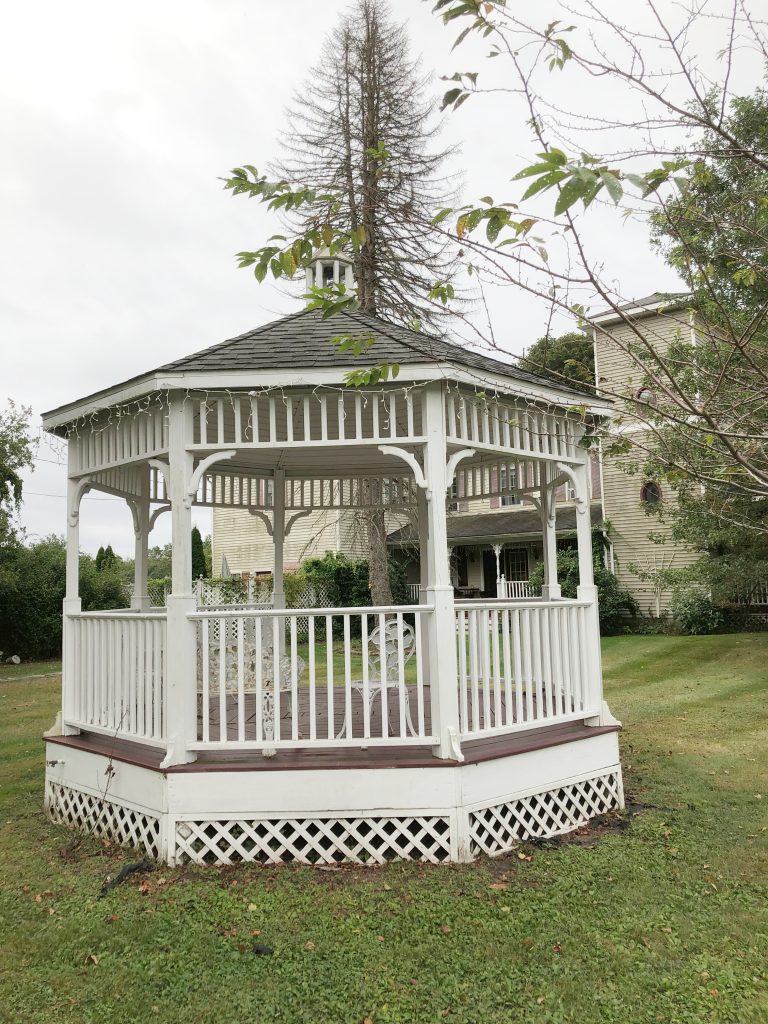 Bed and breakfasts are small and intimate. They are usually old houses that have been renovated and restored to accommodate guests. A big plus is the "breakfast" part of a bed and breakfast. Not only is the home cooked meal included in the price of your stay, but it's usually delicious and filling. But most importantly, bed and breakfasts cater to adults. All of the B&Bs that I've looked into do not allow children to stay.
Cranberry Manor Bed and Breakfast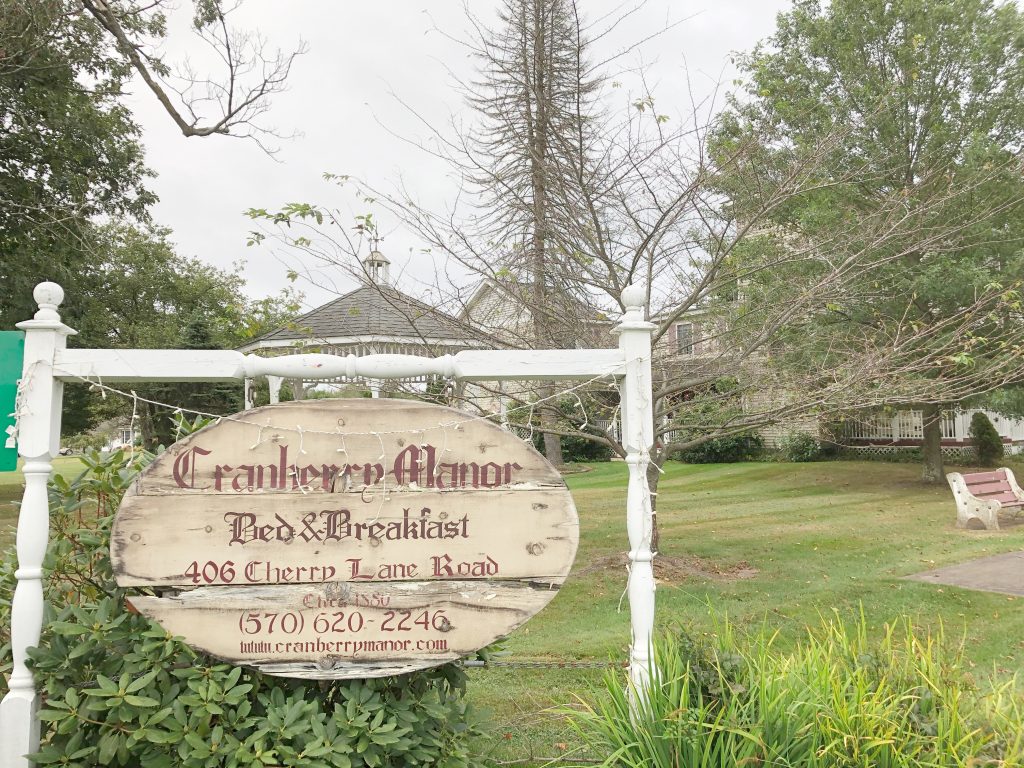 The Cranberry Manor Bed and Breakfast is a house that dates back to the 1880's when it was a boarding house. Its most recent owners Sharon and Ric Anderson have been running the bed and breakfast since 2007. Sharon formerly had a career in IT support. She and her husband moved up to Pennsylvania from the South for what she thought would be a tech job. But when that fell through, they ended up purchasing the bed and breakfast.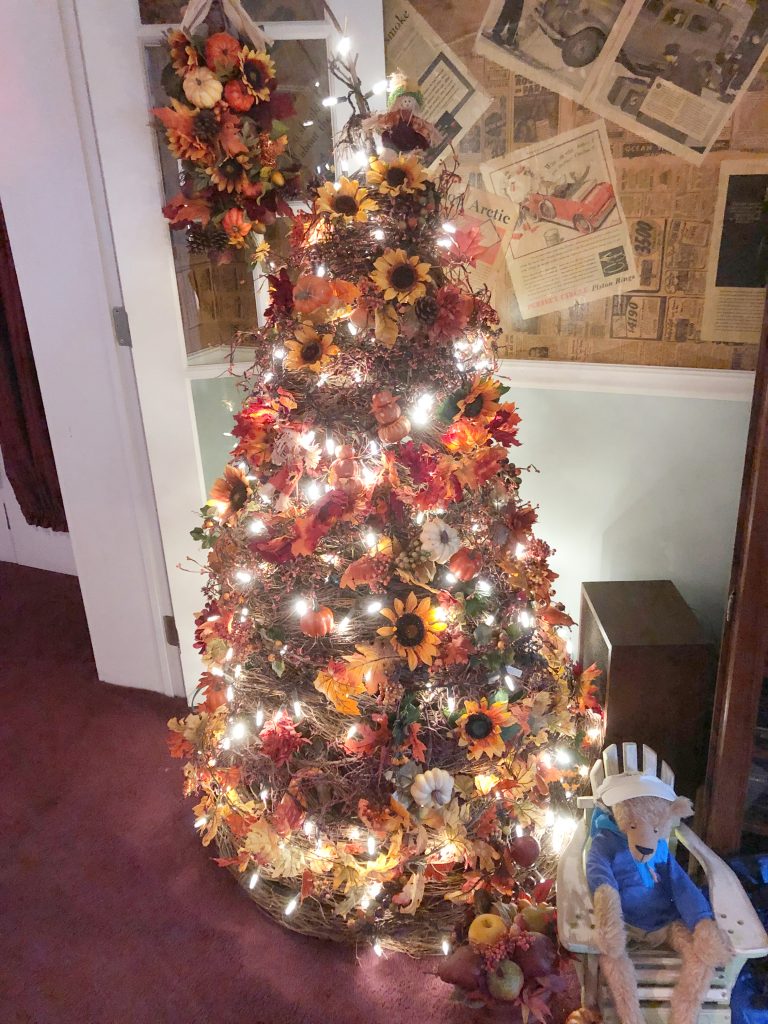 Cranberry Manor has a cozy, homey feel. I love the holiday tree that Sharon made out of grape vines and decorates for the different seasons.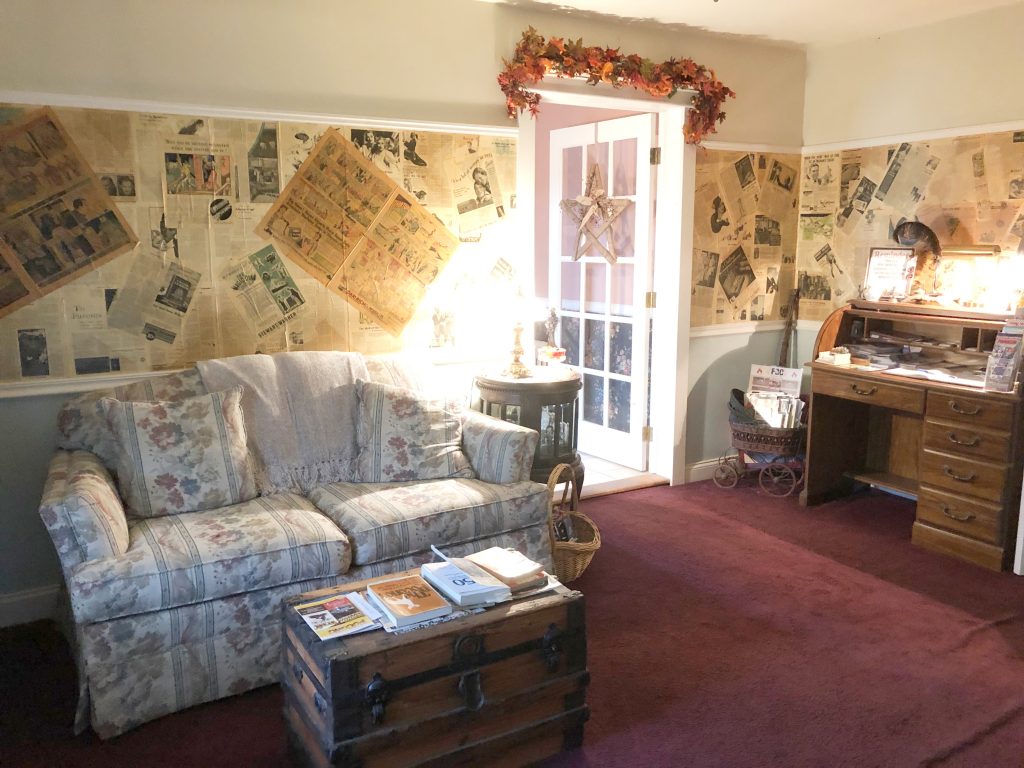 There's a community sitting room that has books, games and lots of brochures for local attractions and restaurants. The walls are decorated with antique Collier's magazine pages that were discovered in the walls during a renovation! There's a large dining room where guests dine for breakfast.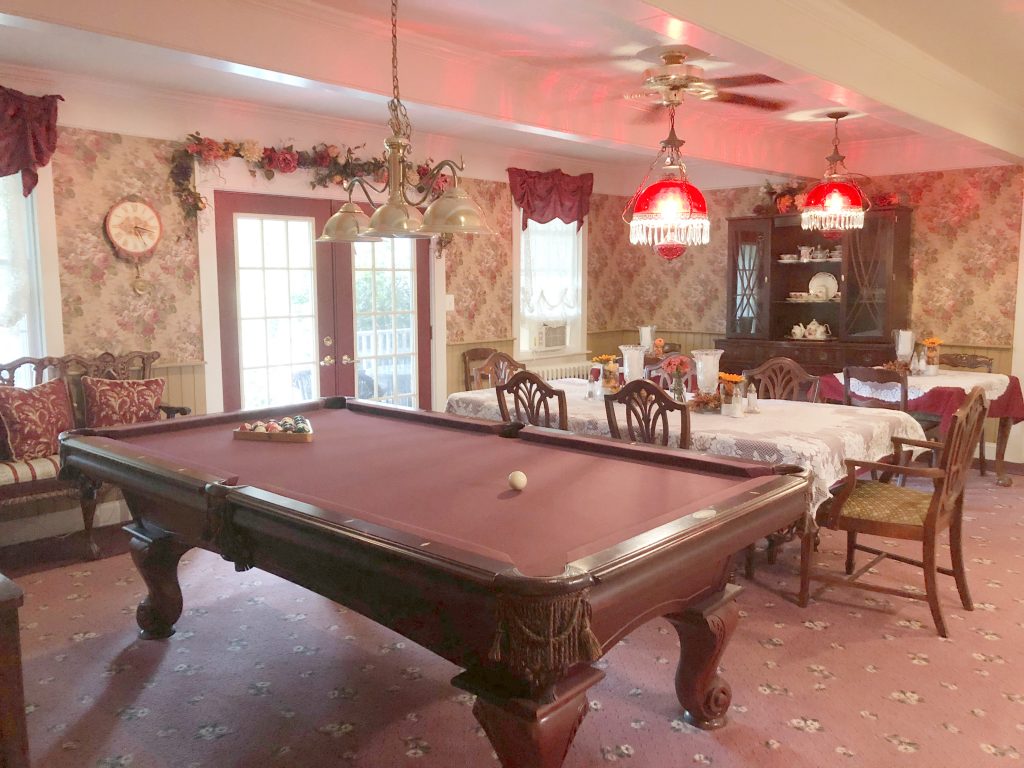 The dining room also has a billiards table that visitors are welcome to enjoy. Unfortunately, we didn't get a chance to play during our short stay.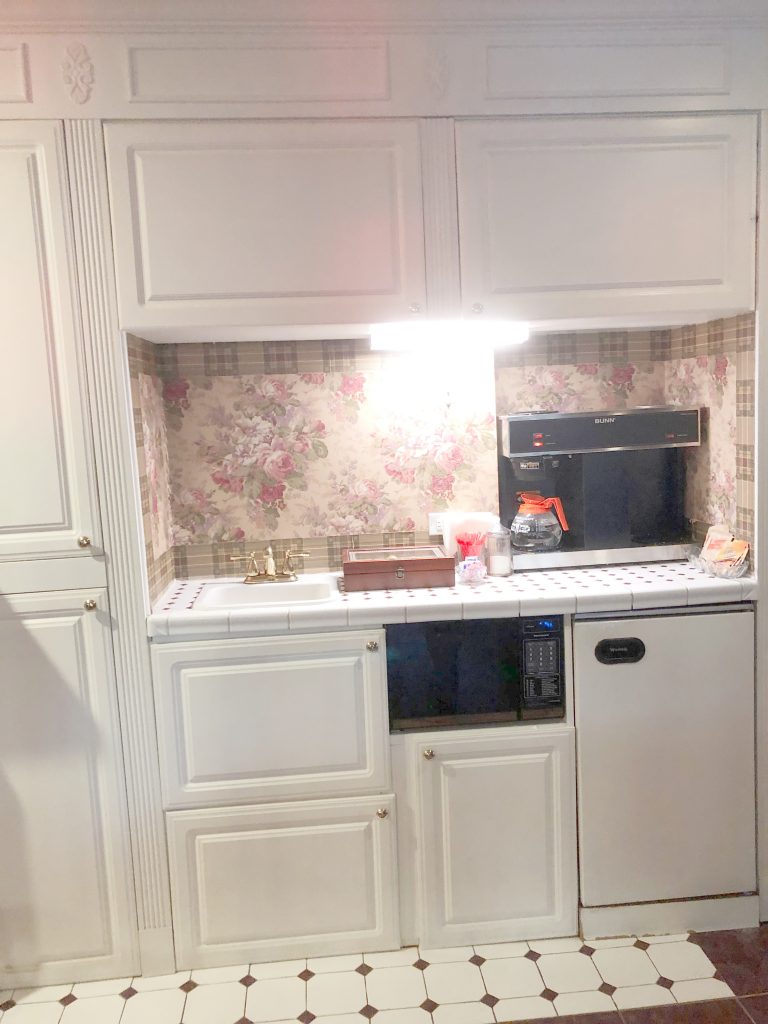 There's a Butler's Pantry in the dining room as well. It includes a refrigerator stocked with sodas and bottles of water, and tea and hot cocoa can also be made at anytime. It was nice that, after returning from dinner, Dana was able to walk downstairs and make me a hot mug of tea. Sharon asked him what time we were planning to be downstairs the following morning; a fresh pot of coffee waiting for us when we came down.
Cranberry Manor has five different rooms, each uniquely decorated with a Victorian feel. My husband and I just happened to stay in the "Victorian Room". It has a queen bed with a half-canopy.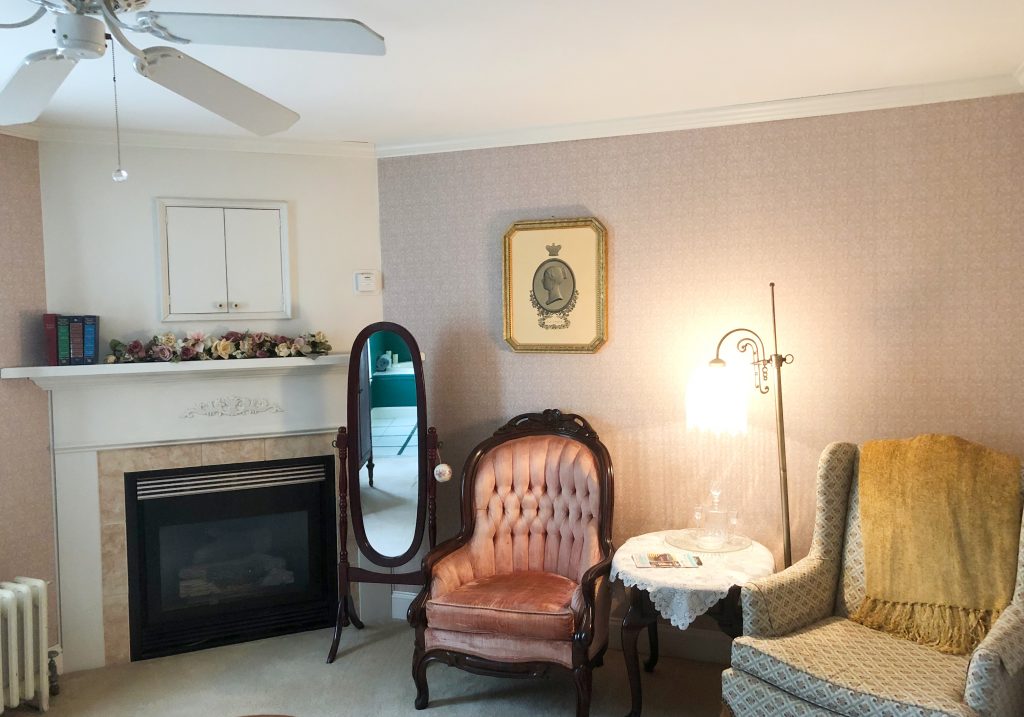 There is a small seating area and a gas fire place. Although space is a bit tight for modern amenities, I would have enjoyed a larger television in the room. It was hiding with the cable box in the little nook above the fireplace.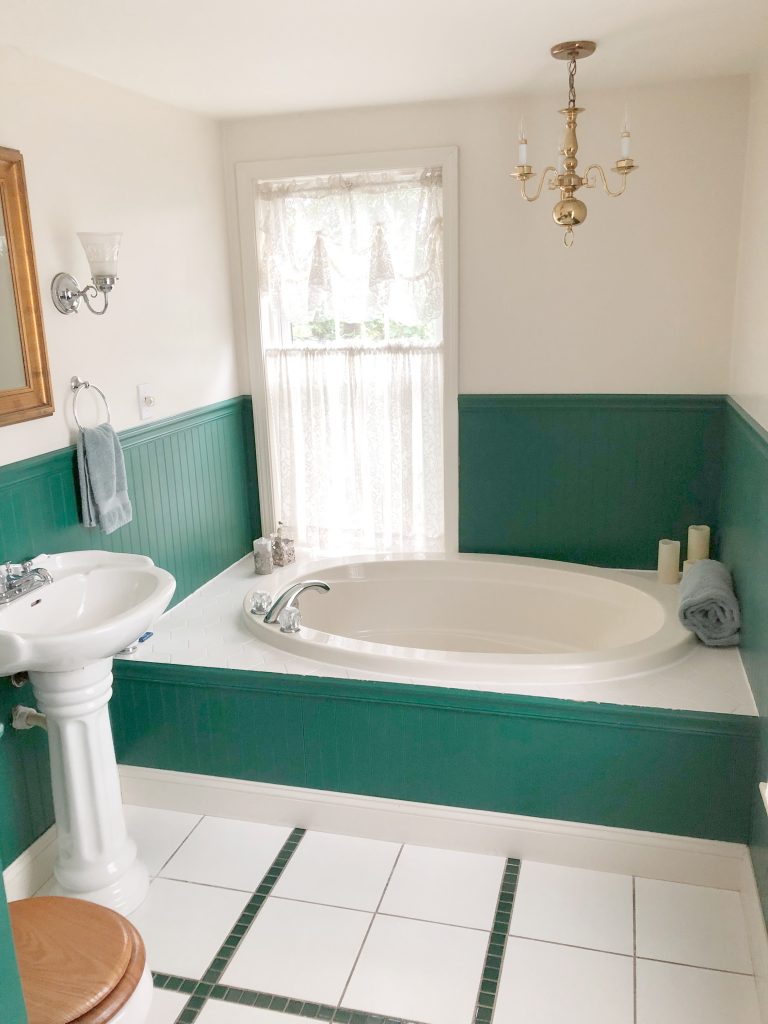 Each room has its own private bathroom with both a shower and large soaking tub.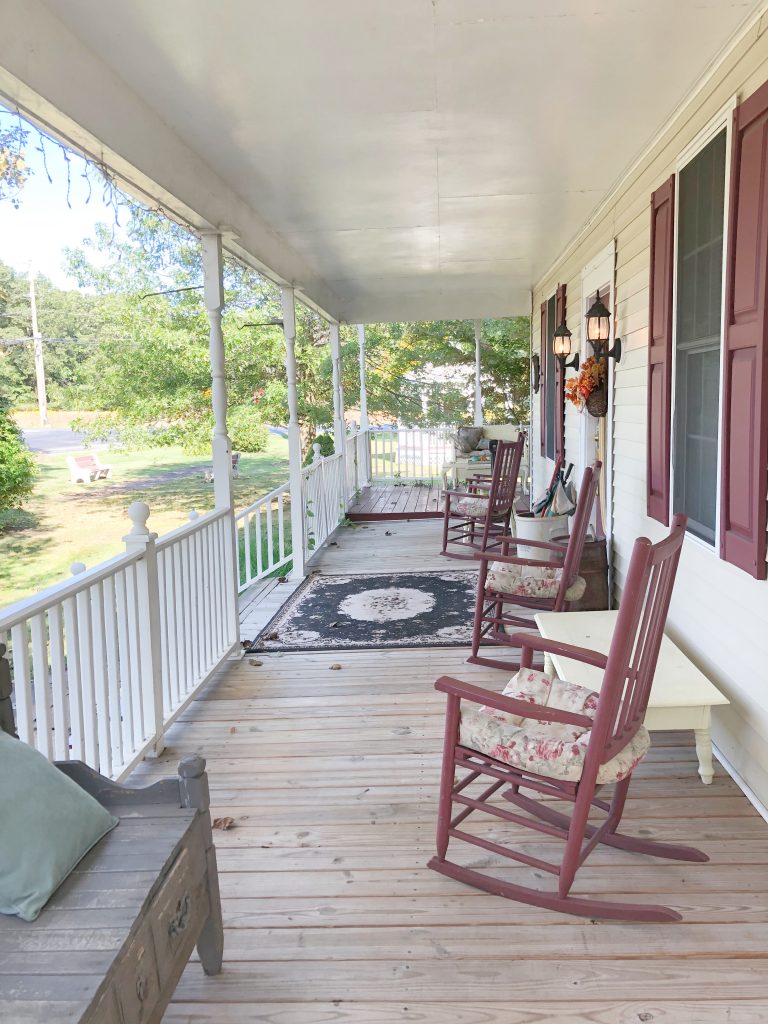 One of my favorite parts of Cranberry Manor is the large wraparound porch. There are a variety of seating arrangements, including a bench swing, several rocking chairs and cushioned seating areas. It was nice to be able to sit out there before breakfast and read, while we enjoyed a cup of coffee.
Breakfast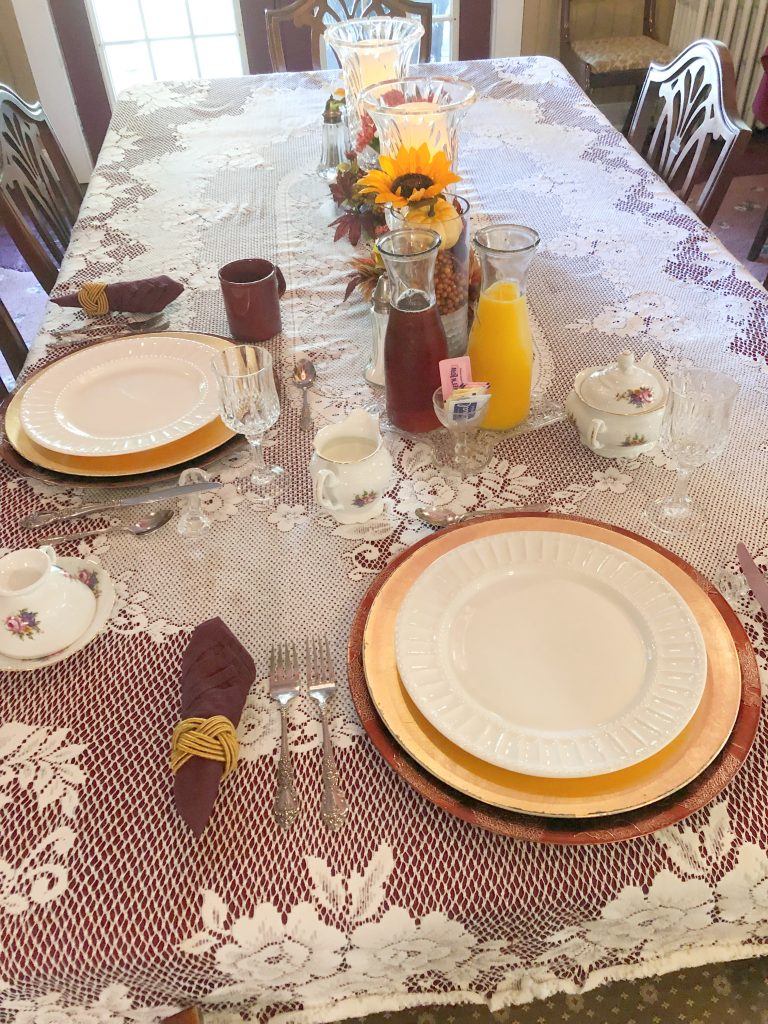 On Sunday mornings Sharon serves breakfast at 9 AM. Look at how pretty the place settings are!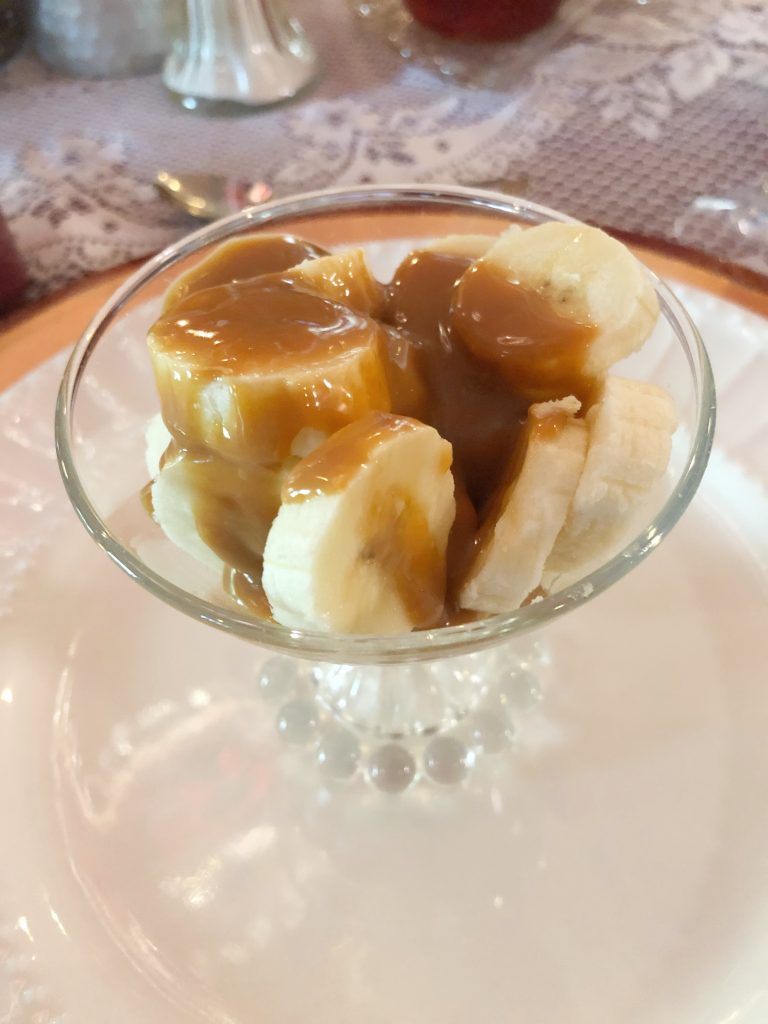 Our breakfast started with sliced bananas drizzled with homemade caramel sauce.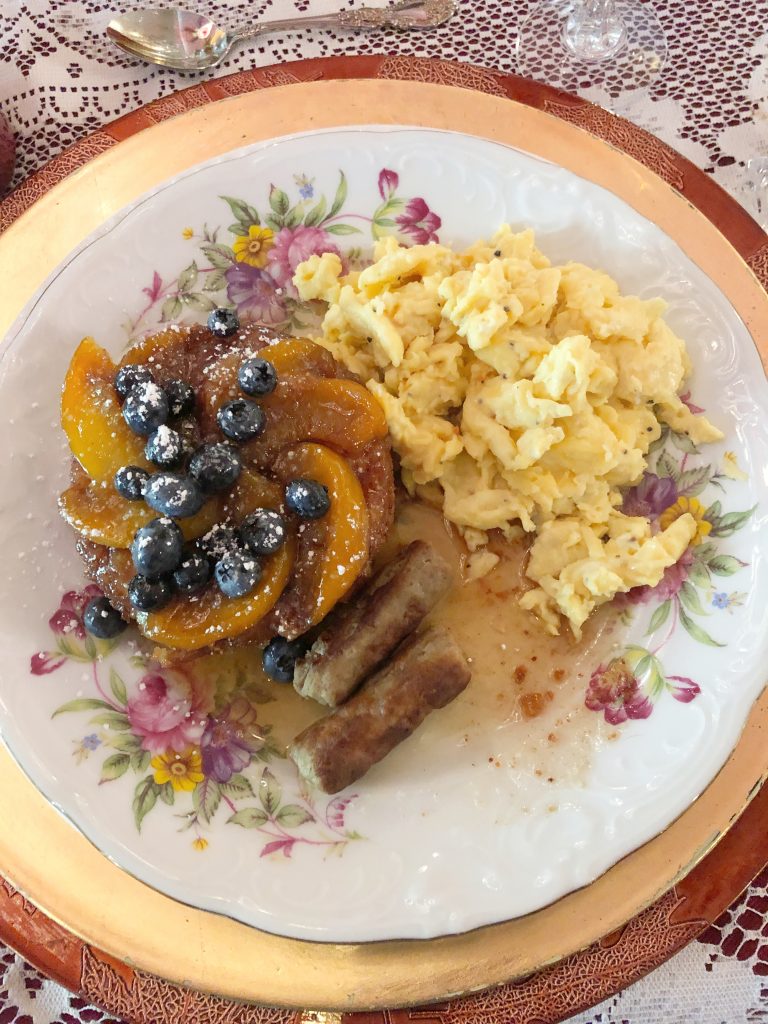 We then enjoyed blueberry peach french toast, scrambled eggs and sausage. I was stuffed by the time breakfast was over. We were the only guests that night during our stay in September. So Sharon asked if she could join us for breakfast and we had a lovely time chatting with her.
Guests are given two keys when they arrive. One opens the front door and one that opens their bedroom. While Sharon and Ric live on property, they live in the space beyond the kitchen, separate from where guests stay. If you are in need of ideas of things to do or places to eat, Sharon is full of recommendations and information.
If you have never been to a bed and breakfast, I highly recommend giving Cranberry Manor Bed and Breakfast a try. It's not too far away from Westchester County and is conveniently located to various Pocono attractions and restaurants.
The Details:
Cranberry Manor Bed and Breakfast
406 Cherry Lane Road
East Stroudsburg, PA 18301
(570) 620-2246

Price: $145 – $175 a night, depending on which room you choose and when you visit.

*Although some weekends require a two night stay, give Sharon a call. Depending on the date(s) of your visit, you may be able to stay for one night like we did.

*There is plenty to see and do in the area. But if you just want to relax and hang out at the bed and breakfast, you are more than welcome to do that as well.