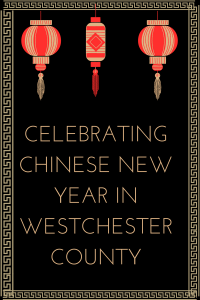 Chinese New Year begins this Saturday, January 28th.  This year is the year of the Rooster.  There are several events where families can celebrate Chinese New Year in Westchester County and the surrounding areas.  Although we are not Chinese, I am fortunate that we live in an area where there are many opportunities for families to experience different cultures and experiences.  You can read all about Chinese New Year in this post.
Although this information was accurate at the time of posting, please check individual websites for the most accurate and up-to-date information.  
Free:
Saturday, January 28, 2017 (Chappaqua, NY)
The Chappaqua Library  is hosting an all ages Chinese New Year celebration from 3-4:30.  The event is free but pre-registration is required.
Saturday, January 28, 2017 (Carmel, NY)
Although the Chuang Yen Monastery is not normally open during the winter for visitors, they will be open on January 28 for a Chinese Lunar New Year Blessing Ceremony from 9 AM – 5 PM.
For a Cost:
Saturday, January 28, 2017 (Greenwich, CT)
The Chinese Language School of Connecticut is hosting their 15th Annual New Year's Celebration.  This event will take place from 11 AM to 3 PM at the Greenwich High School Student Center in Greenwich, Connecticut.  Festivities include a dragon dance, a Chinese Buffet, music, crafts, demonstrations, performances and more. Tickets cost $30/child, $45/adult.
Saturday, February 25, 2017 (Purchase, NY)
The Westchester Association of Chinese Americans (WACA NY) is hosting their Chinese New Year Celebration on February 25, 2017 at SUNY Purchase College.  The theme this year is "Culture and Traditions of the Chinese New Year Festival" and will include food sampling, calligraphy, paper crafts and more as well as dance, martial art and musical instrument performances.  Early bird tickets are available until February 13 and cost $15/child, $20/adult.
Saturday, March 11, 2017 (Mahopac, NY)
Dragon and Crane, an "American Chinese Cultural Center" located in Somers, NY is hosting their Chinese New Year Celebration on March 11, 2017 at the Putnam National Golf Club.  This celebration includes an appetizer and cocktail hour, performances, buffet dinner, dessert and awards ceremony.  Non-member tickets cost $43/child, $75/adult.