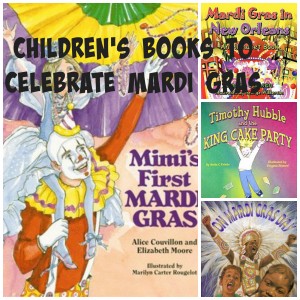 Mardi Gras is quickly approaching.  On February 9, the holiday will be celebrated with King's cake and parades down in New Orleans.  Here are some Mardi Gras books to read with the family to celebrate!
Non-Fiction Books:
Mardi Gras in New Orleans:  An Alphabet Book by Karen Jansen
Rating:  3 out of 5 stars
This picture book goes through each letter of the alphabet and relates it to the celebration of Mardi Gras.  Each page is accompanied by what appears to be a colorful graffiti-inspired chalk illustration.  The text of this book is a bit busy.  The author uses alliteration for each letter so there are several sentences of text for each letter.  Every word on the page that begins with the featured letter is colored and the sentence from one page sometimes flows into the sentence of the next letter's page.  Almost all the important concepts of Mardi Gras are touched upon or named in the text, but descriptions of them are not provided.  This book is okay to supplement your Mardi Gras reading, but does not provide enough information to make it a primary reference to learn about the holiday.
*This book was borrowed from the library.
Fiction Books:
Mimi's First Mardi Gras by Alice Couvillon and Elizabeth Moore
Rating: 4 out of 5 stars
In this lengthy picture book (yes, this is not a quick bedtime read!) Mimi goes to her first Mardi Gras.  She eats beignets for breakfast and gets dressed up as a princess before heading out to celebrate Mardi Gras with her parents.  Mimi's parents explain many of the sights that she sees.  She gets to taste cotton candy for the first time and collects beaded necklaces.  Although this is a fictional picture book, I think it does a nice job of describing a child's first experience of Mardi Gras.
* We borrowed this book from the library.
On Mardi Gras Day by Fatima Shaik
Rating:  3 out of 5 stars
This picture book depicts the Mardi Gras experience  through the eyes of two young children.  From the parades to the food, author Shaik drew upon her own childhood experiences to write this book.
*We borrowed this book from the library.
Timothy Hubble and the King Cake Party by Anita C. Prieto
Rating: 4 out of 5 stars
This is a cute fiction picture book that helps explain New Orleans tradition of King Cake during Mardi Gras.  Timothy Hubble's family has just moved to New Orleans.  When he receives an invitation to his new friend and neighbor Adam's king cake party he's not exactly sure what to expect.  Adam and his twin sister Amanda explain what a king cake is and when and why the parties are held.  The explanation seems to worry Timothy even more…. a baby in the cake?  Girls at the party?  What happens if he doesn't get the baby?  And what happens if he does and no girl wants to be his queen?!  This book does a good job of explaining the king cake tradition to young children, as well as touching upon worrying too much and making new friends.
*This book was borrowed from the library.