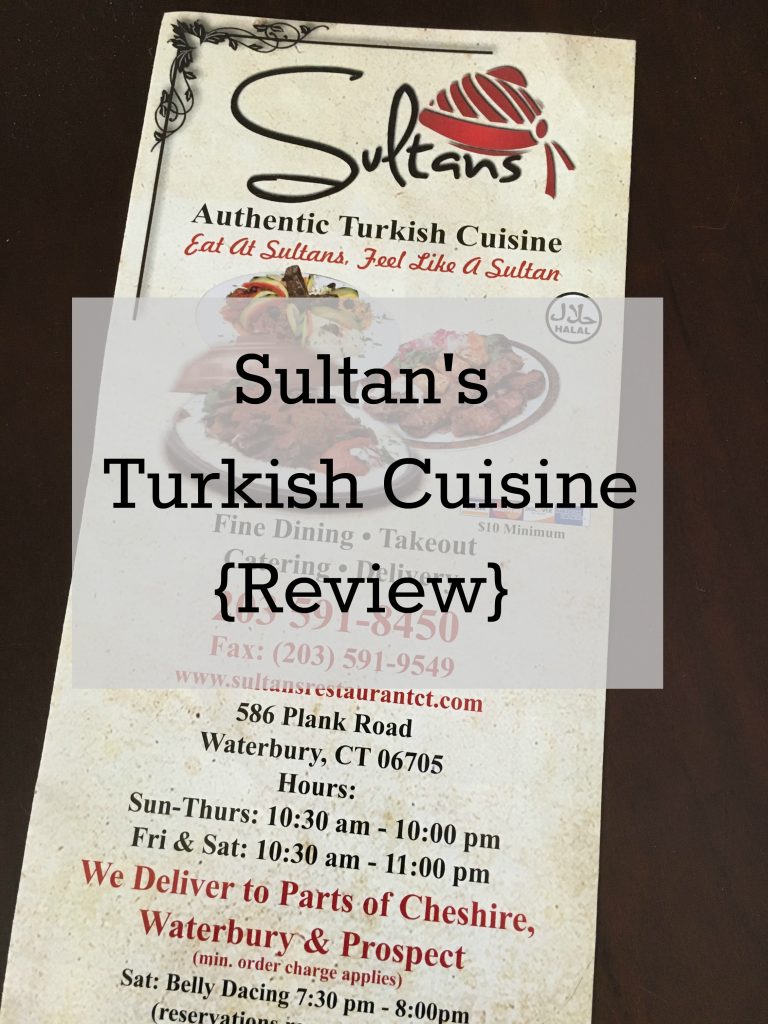 While traveling from Westchester County, New York to my parent's house in Rhode Island, we pass Sultan's Turkish Cuisine as we travel through Waterbury, Connecticut.  Located at 586 Plank Road, the restaurant is visible and located, right off I-84. We've driven by this restaurant countless times and finally, on a recent trip back from Rhode Island decided to stop for a late lunch.
The restaurant was empty when we arrived around 1:45 PM on a Monday afternoon. However, as our lunch progressed, the restaurant started to fill up.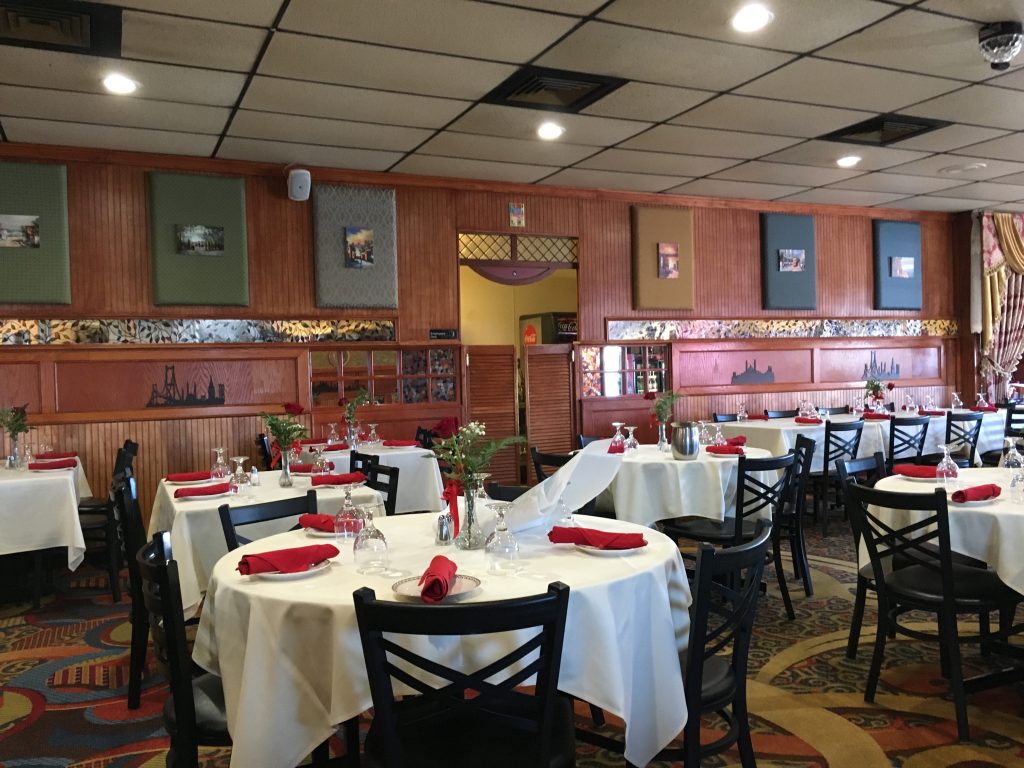 The dining area is large with both tables and booths.  The interior walls are hung with decorative artwork, while elaborate drapery hang from the windows.
Turkey is a transcontinental country with parts in both Western Asia and Southeast Europe. The cuisine is influenced by its location, with key ingredients include lamb, beef, rice, fish, eggplant and nuts.  Spices often used include parsley, mint, sumac, cumin, Za'atar and paprika.
My husband and I were slightly familiar with Turkish food, as we recently had a Turkish-themed supper club dinner. However, this was our family's first time dining at a Turkish restaurant.  To get the most variety and be able to try different dishes, we opted to share a small mixed cold appetizer platter and a small mixed hot appetizer platter.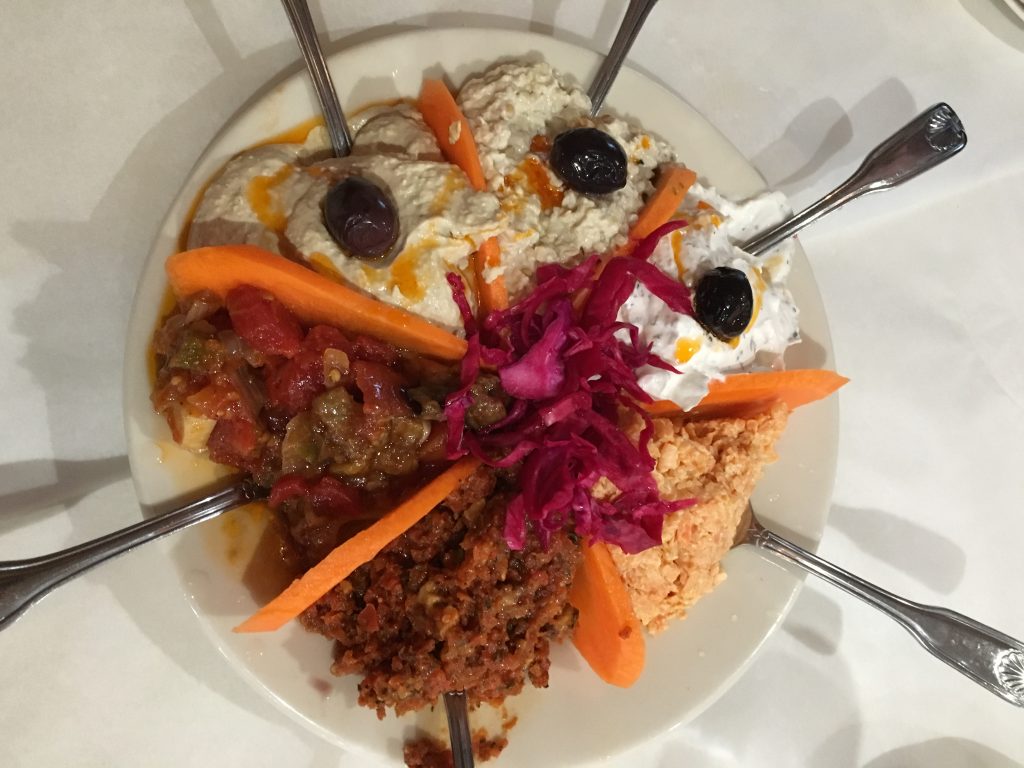 The small mixed cold appetizer platter ($13.99) included (from top left (11 o'clock) on the plate) Humus, Bababganush, Haydari, Havuc Tarator, Antep Ezpe and Soslu Patlican. I was expecting lavash bread (a puffy bread often served with appetizers) or some other type of pita to put these spreads and dips on but we weren't given any.  Instead, we used the crusty bread that was placed on our table when we arrived.
Humus – pureed chickpeas with olive oil, tahini, garlic and lemon juice.  We are not new to humus.  Although I usually buy it, rather than make it, it's usually a staple in our fridge.
Babaganush – pureed roasted eggplant blended with tahini, olive oil, lemon juice and garlic.  I love babaganush!
Haydari (Labne) – pressed yogurt mixed with garlic, olive oil, dill and crushed walnuts.
Havuc Tarator (Carrot Dip) – Carrots, mayo, sour cream, olive oil and lemon juice.
Antep Ezpe (Muammara) – A blend of tomatoes, red bell peppers, hot long green peppers, parsley, garlic, walnuts and pepper paste.  This spread was a bit spicy.
Soslu Patlican (Sauced Eggplant) – A mixture of fried eggplant cubes, red and green peppers and garlic topped with the chef's special tomato sauce. This was one of my favorites of the cold appetizers!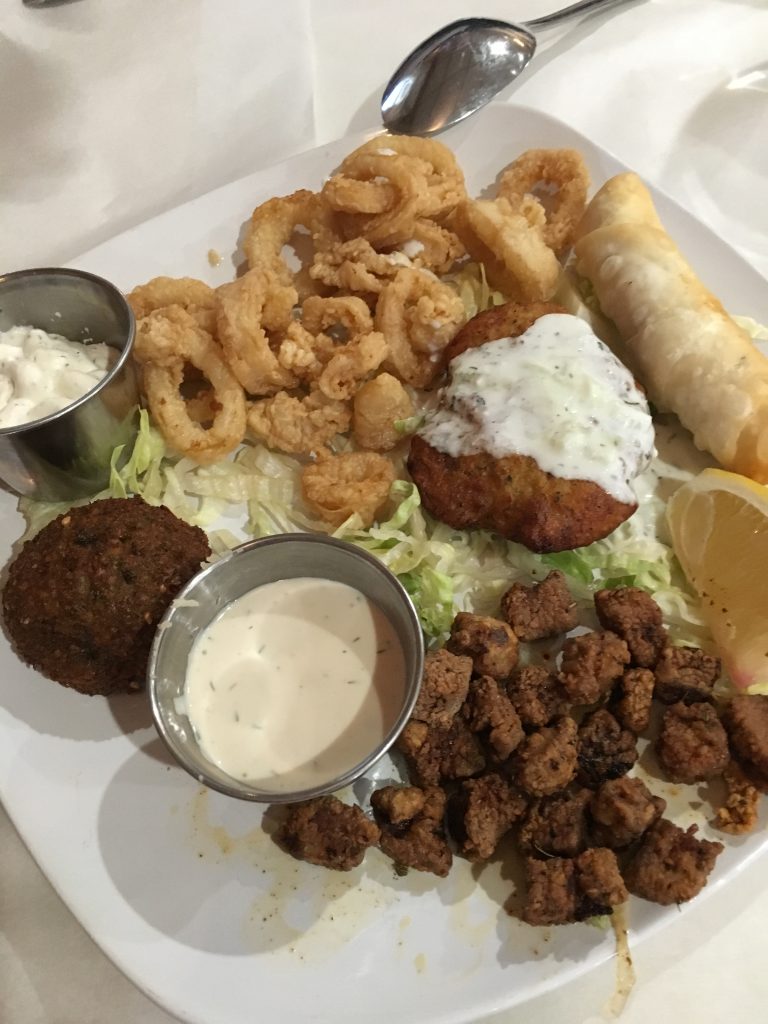 The small mixed hot appetizer platter ($12.99) included (from top 12 o'clock) Calamari, Mucver, Sigara Borek,  Arnavut Cigeri and Falafel.
Calamari – Deep fried calamari served with the chef's special sauce.
Mucver (Zucchini Pancake) – Combination of zucchini and fresh herbs and spices, served with yogurt sauce.
Sigara Borek – Cigar-shaped, fried crispy pastry filled with feta cheese and fresh parsley.
Arnavut Cigeri – Floured and deep-fried calf's liver cubes pan seared with garlic and herbs.
Falafel – Deep-fried mixture of chickpeas, parsley, onions, garlic and Middle Eastern spices.
The only other hot appetizers not included on this platter include Izgara Kalamar (grilled calamari), Kizartma Fuve (potato pancakes) and Imam Bayildi (stuffed eggplant).  While I found the variety of the platter to be good, the portions were not conducive to sharing.  Splitting several of the above items between the four of us meant we each literally only got a bite.  A large platter though would have been way too much food for us.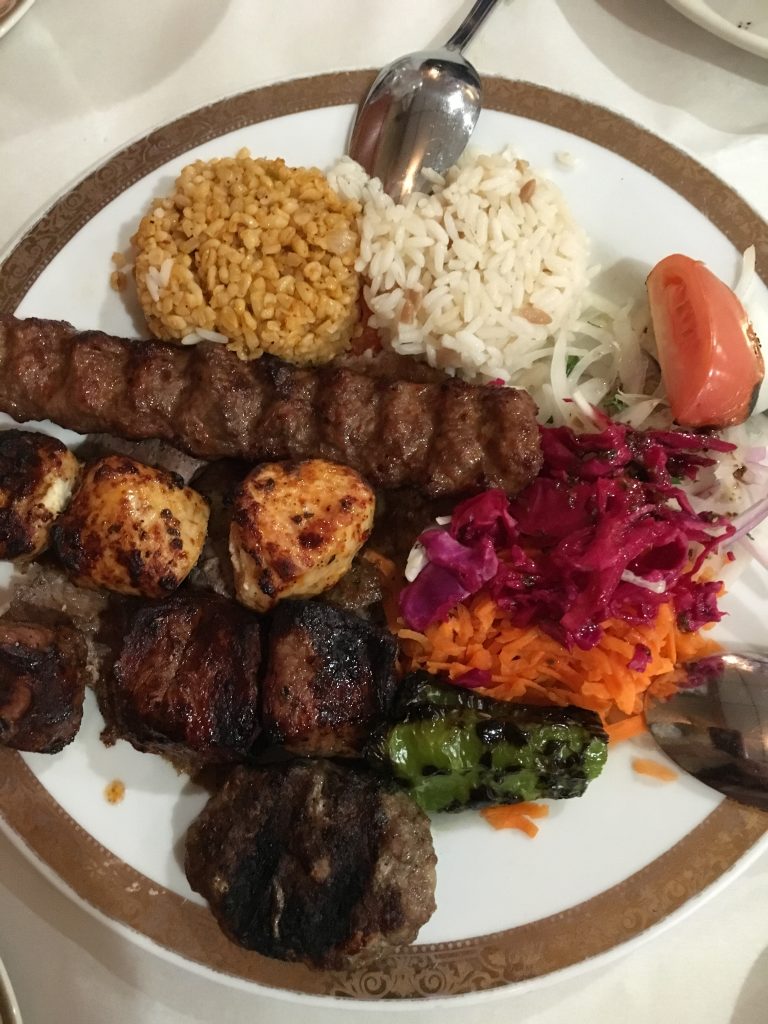 Finally, for the main entree we shared the Mixed Grill Kebab Plate ($23.99).  This included Chicken Shish (cubed chicken), Lamb Shish (cubed lamb), Kofte (Turkish meatballs made of ground lamb), Adana (ground lamb seasoned with red bell peppers) and Doner (Thin slices of seasoned lamb and beef slow-cooked on a large, vertical spit). All kebab entrees are served with a side salad, and both white and bulgur rice.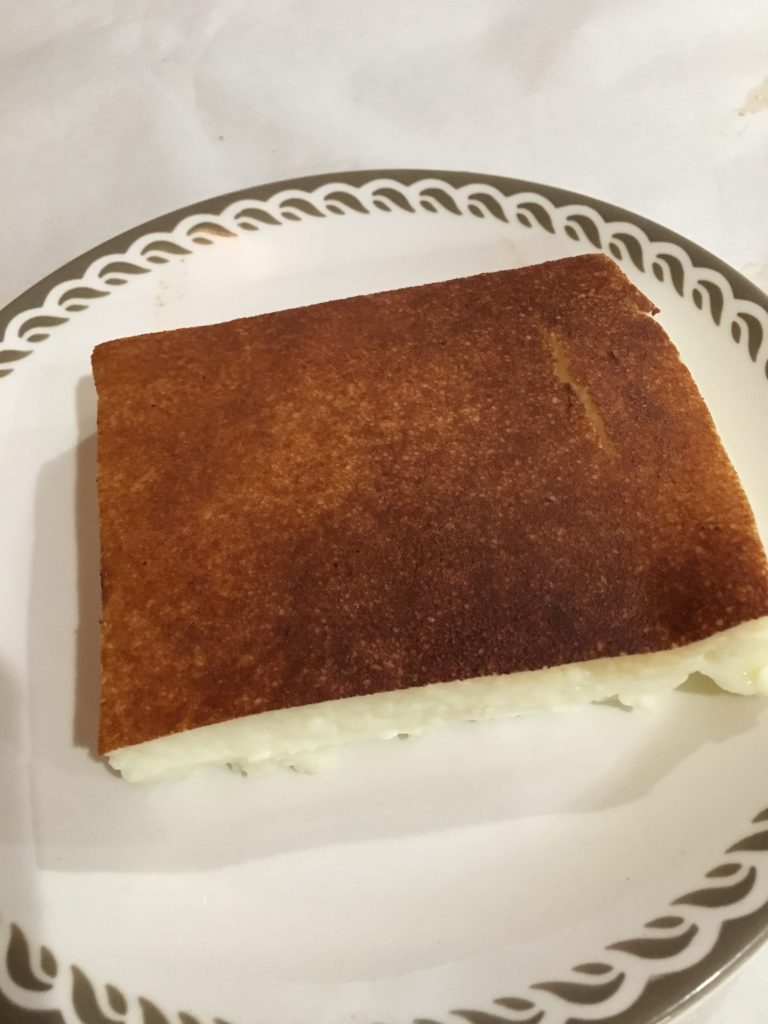 Although stuffed, we couldn't leave without trying a dessert!  The dessert menu included Baklava, Kunefe, Revani, Sekerpare, Sutlac and Kazandibi.  We ordered the Kazandibi ($5.95), pictured above, to share among the four of us.  It's a vanilla-based milky pudding with a caramelized top.  This had a similar texture and taste to creme brulee.
Baklava – A sweet pastry made of layers of filo, filled with chopped nuts and sweetened and held together with syrup.
Kunefe – Shredded filo dought stuffed with cheese then soaked in a sweet sugar-based syrup.
Revani – Baked semolina soaked with the chef's special syrup.
Sekerpare – Baked soft balls of pastry dipped in a thick, lemony, sugar syrup.
Sutlac (Rice Pudding)  – Sweet vanilla based mixture of milk and rice baked in the oven.
A variety of tea and coffee, including Turkish Coffee and Turkish Tea,  are available and can be ordered by the cup or kettle.
We had a great experience at Sultan's Turkish Cuisine.  Although I don't have prior dining experience to compare it to, the food we had was delicious and tasted authentic. The restaurant is family-friendly and offers a variety of dishes including vegetarian.  I liked how there was no issues with the four of us sharing the two appetizers and one entree. Our waiter even complimented on our "eating family-style."  Since we obviously don't eat Turkish often, this was a great way for us all to taste a variety of items from the menu.  Saturday evenings the restaurant has belly dancers from 7:30 – 8:00 PM which would be a fun experience for the kids to see!  The restaurant also offers takeout and delivery.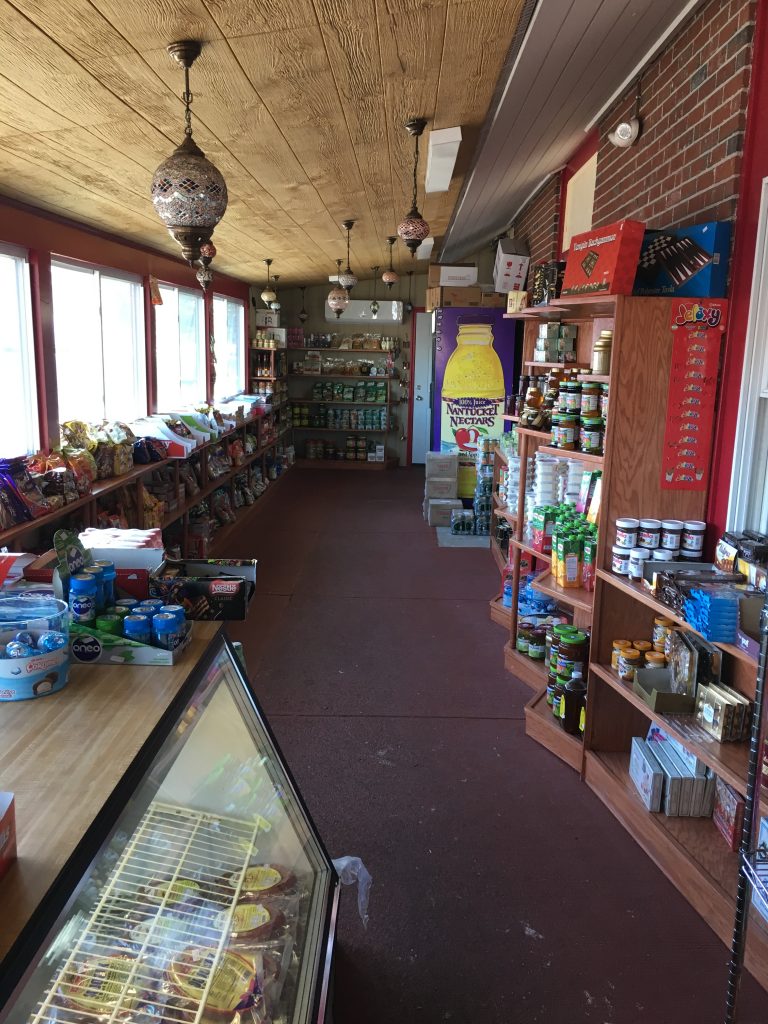 Attached to the restaurant is a small grocery shop selling all kinds of Turkish food products.  We of course couldn't leave without picking up a few different types of candy to try!
The Details:
Sultan's Turkish Cuisine
586 Plank Road
Waterbury, CT 06705
www.sultansrestaurantct.com
Hours:
Sunday – Thursday:  10:30 AM – 10:00 PM
Friday & Saturday:  10:30 AM – 11:00 PM
Price:  $$
Appetizers: $4.99 (lentil soup) – $20.99 (large mixed cold appetizer plate)
Kebabs:  $13.99 –  $26.99
Entrees:  $12.99 – $25.99)
Desserts:  $4.95 – $7.95
Recommend for families:  Yes
Overall Recommendation:  Yes